There's nothing better than using your freshly picked produce to experiment with new vegetable recipes in your kitchen. A great way to use all your cucumbers, cherry tomatoes, and green beans without anything going to waste. Getting to try out fresh recipes can help inspire and motivate any gardener. Plus, using fresh vegetables from your garden helps you to save on your grocery bill. That's why we've put together this list to help you create crisp salads, hearty casseroles, and delectable side dishes.
The following recipes using garden produce will allow you to show off your homegrown veg and create wholesome, flavourful meals for your whole family. Just read on to discover five new ways to enjoy your fresh garden vegetables.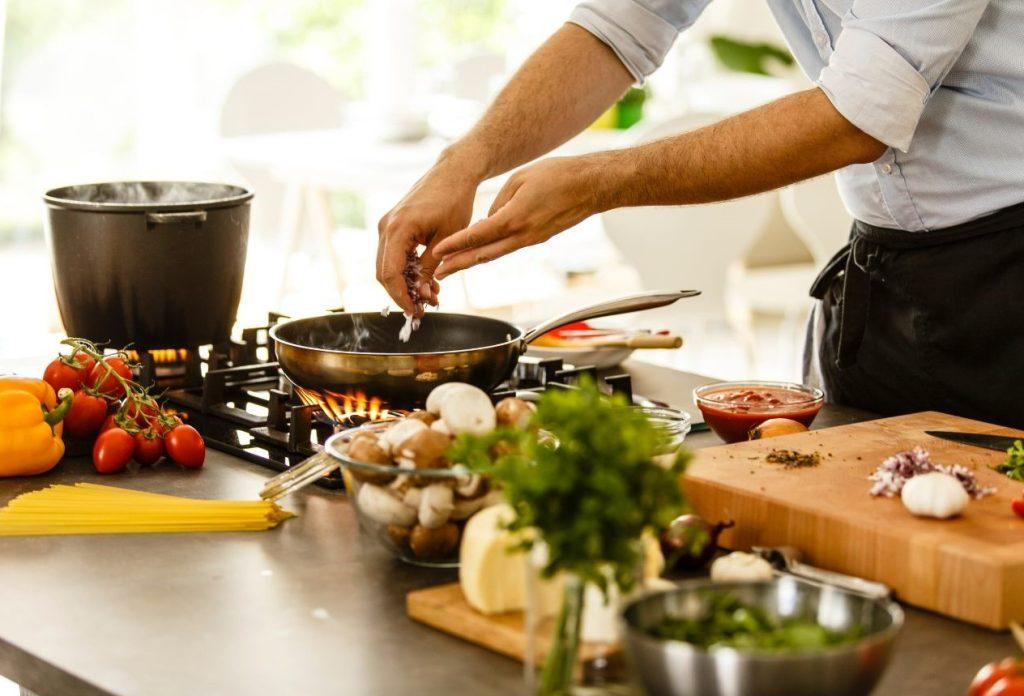 Stuffed peppers
Ingredients
4 large peppers
Olive oil
1 large chopped onion
2 cloves of garlic
500g of beef mince
2 cans of chopped tomatoes
100g of grated cheese
1 beef stock cube
2 tablespoons of tomato ketchup
Basil
Oregano
Method
Heat your oven to 200C/180C fan and heat some olive oil in a large pan.
Add the onion to the pan and cook for a few minutes. Then add the beef and garlic and cook until the meat is browned.
Add the tomatoes, stock cube, ketchup, and oregano to the pan. Give everything a stir, season with salt and pepper, and cover the pan with a lid. Let the mixture simmer for 30 minutes.
While you let it simmer, chop the peppers in half (or alternatively, scoop out the insides). Be careful to remove all the seeds. Place on a roasting tin, season, and bake for 20 minutes.
Once the mince is cooked, scoop it into the peppers. Add some cheese to the top and return to the oven for 10 minutes. Place basil leaves on top before serving.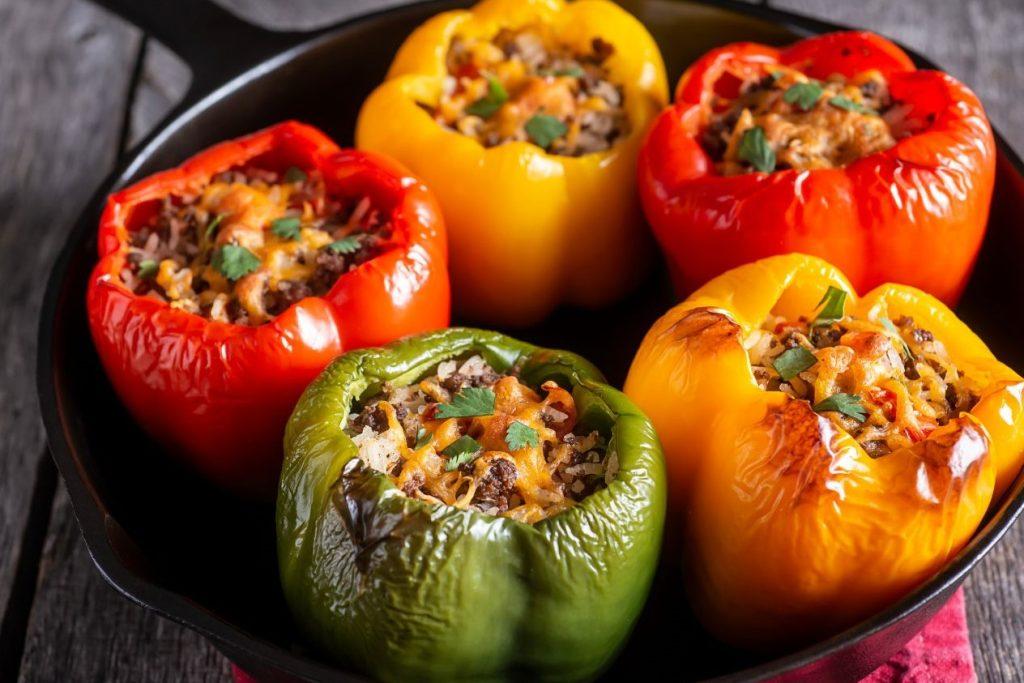 Squash casserole
Ingredients
2 tablespoons of olive oil
2 crushed garlic cloves
1 teaspoon of cumin seeds
1 tablespoon paprika
1 sliced onion
225g of cubed sweet potato
1 chopped red pepper
1 chopped butternut squash
400g of canned chopped tomatoes
200ml red wine
300ml vegetable stock
75g of bulgur wheat
Grated cheese (to serve)
Greek yoghurt (to serve)
Method
Heat the olive oil in a large pan over a medium heat and then cook the onion and garlic for 5 minutes until the onion has softened.
Add the cumin seeds and paprika, then cook for a further 2 minutes. Add in the butternut squash, sweet potato, and red pepper. Toss with the spices and onions for a further 2 minutes.
Pour in the red wine, vegetable stock and tomatoes. Let the mixture simmer for 15 minutes.
Add in the bulgur wheat and then cover with a lid. Leave to simmer for a further 15 minutes until the wheat is cooked, the veg is tender and the juices have been fully absorbed.
Add cheese and greek yoghurt to taste and serve up.
Roasted pepper frittata
Ingredients
2 tablespoons of olive oil
100g of feta cheese
1 thinly sliced red onion
900g of sliced red and yellow peppers
6 medium eggs, beaten
1 bunch of chopped spring onions
A splash of double cream
Method
Heat the olive oil in a large pan and fry the onion for 5 minutes until softened.
Slice your peppers into strips and add them to the pan along with the onions and chopped spring onions. Fry for a further 2 minutes.
Preheat the grill to a high heat.
Beat the eggs with a healthy splash of the double cream. Season with salt and pepper, and then pour over your vegetables. Sprinkle the feat cheese over the mixture and cook for 5 minutes over a medium-high heat.
Wait until the frittata is almost set, and then transfer to the grill and cook until the top is puffed and a healthy golden colour. We recommend serving with some warm bread and a nice, fresh salad.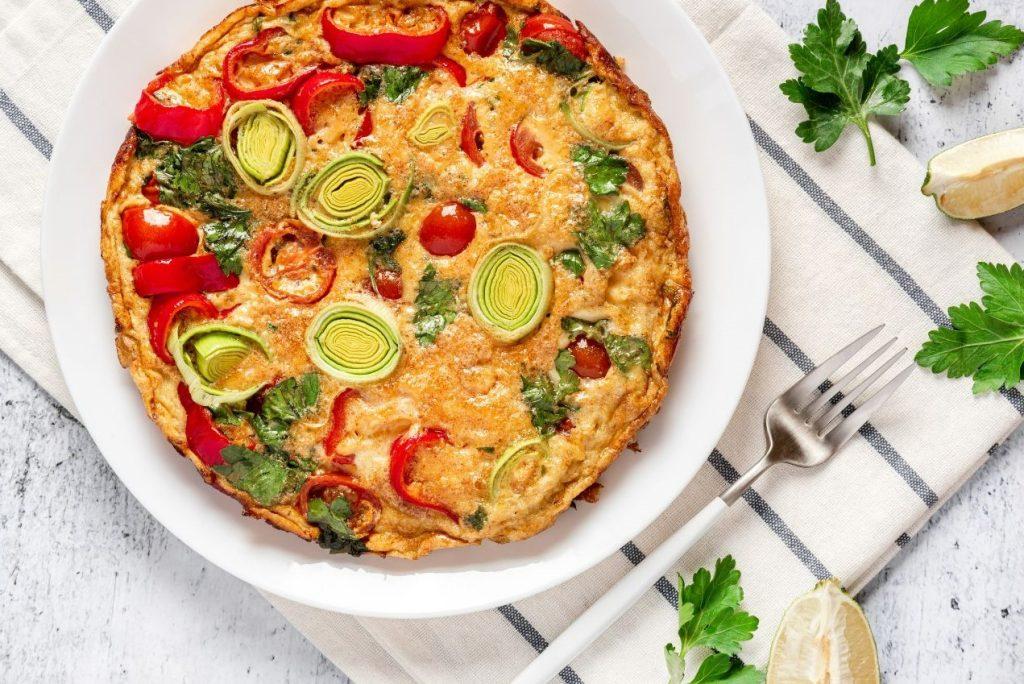 Greek salad
Ingredients
4 large tomatoes
1 peeled and chopped cucumber
1/2 a red onion, thinly sliced
16 olives
85g of feta cheese
1 teaspoon of dried oregano
4 tablespoons of olive oil
Method
Cut the tomatoes into thick wedges and place them into a large bowl along with the chopped cucumber, onion, olives, dried oregano, feta cheese chunks and olive oil.
Stir the ingredients together in the bowl, season with salt and pepper, and serve with some warm pitta bread.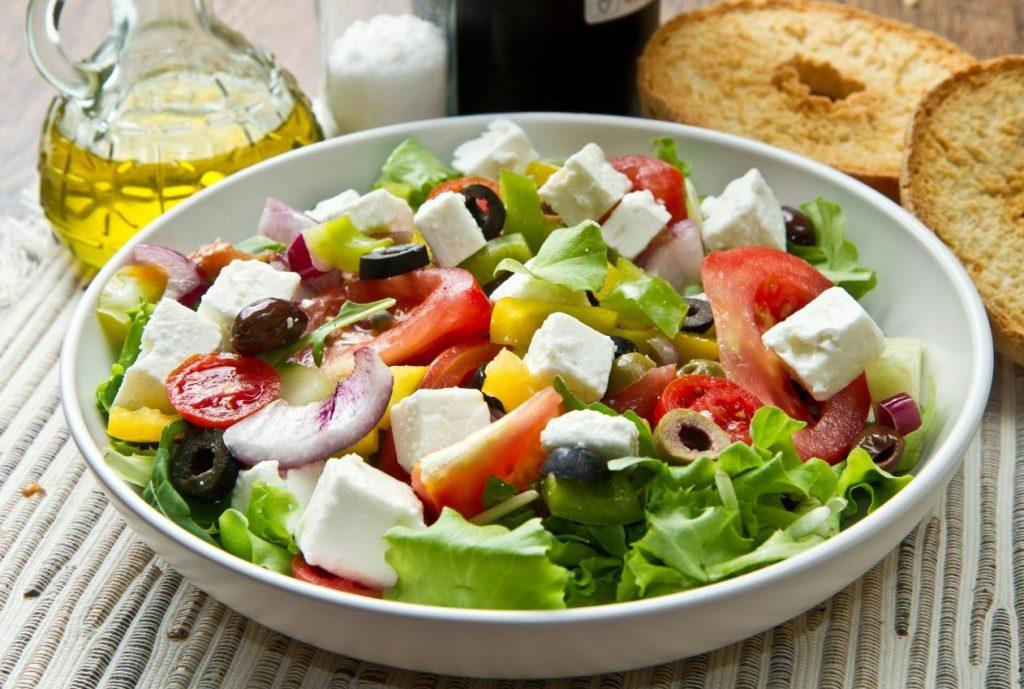 Ratatouille
Ingredients
1 medium onion
2 aubergines
2 red peppers
3 garlic cloves
4 courgettes
4 large tomatoes
5 tablespoons of olive oil
1 tablespoon of red wine vinegar
1 teaspoon of sugar
Basil from your herb garden
Method
Cut the two aubergines into 1.5cm chunks, as well as cutting the four courgettes into 1.5cm slices.
Peel the two red peppers from stalk to bottom and then cut into bitesize chunks.
Use a knife to score a small cross at the base of the tomatoes and then place them into a heatproof bowl. Pour boiling hot water over them and leave them to sit for approx 20 seconds. Then pour the hot water away, replace it with cold water and leave to cool.
Once cooled, peel the skin from the tomatoes. Quarter them, scraping away any seed with a spoon and then slice them up.
Place a pan over medium heat on the stove and pour in 2 tablespoons of olive oil once hot. Brown the aubergines for 5 minutes on each side until they are soft, and then place them to the side.
Place some more olive oil in the pan and then fry the courgette pieces for approx 5 minutes until they turn golden but are not fully cooked. Repeat this process for the peppers.
Cook your thinly sliced onion in the pan for 5 minutes, then add the three garlic cloves and continue to cook for a further minute.
Tear some basil leaves from your plant and stir the red wine vinegar, sugar, tomatoes and half the basil into the pan.
Return all the vegetables to the pan and cook for a further 5 minutes. Add a sprinkle of salt and vinegar, and serve with the rest of your basil.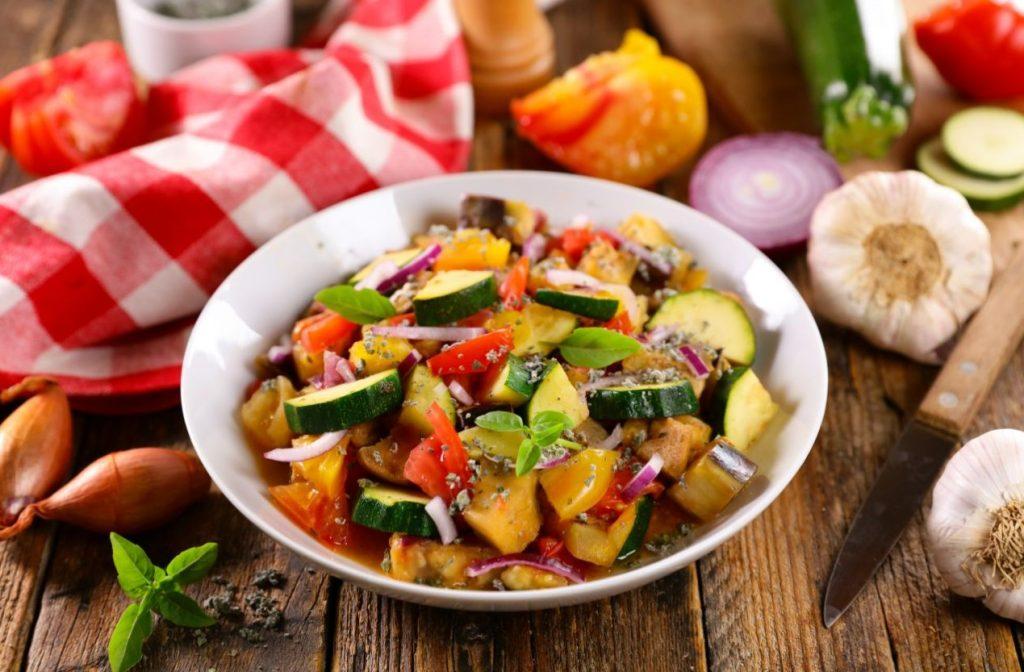 What next?
We hope these recipes make using your garden produce even easier. Before you know it you'll be whipping up a delicious lunch or dinner using garden fresh ingredients in no time. If you don't currently have any vegetables planted in your garden, check out our online shop to get started. Plus, if you're curious to learn more ways to make your garden great, pop over to our knowledge hub. Please don't hesitate to share your own recipes with us on social media (@gardeningexpress). We would love to hear from you!