As the vibrant colours of summer slowly give way to the cosy hues of autumn, it's time to shift our gardening focus to create an inviting outdoor haven that embraces the season's beauty. You can transform your outdoor space into a warm, inviting retreat with a few simple touches. Here are some delightful ideas to make the most of your autumn garden design.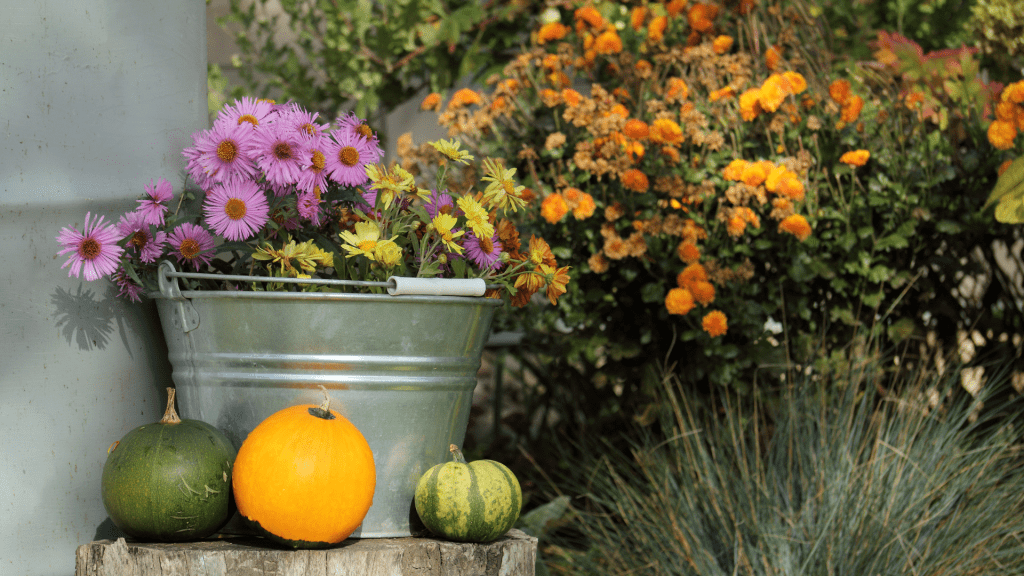 Autumn Colour Palette for the Garden
The autumn colour palette in a garden is a captivating array of warm and vibrant hues that evoke feelings of cosiness, nostalgia, and transformation. Deciduous trees and shrubs begin their stunning metamorphosis as days shorten, and temperatures drop, turning leaves into an array of reds, oranges, yellows, and browns.
Choose plants known for their autumn foliage, like Maples with fiery reds and oranges, Oak trees with rich russet tones, and Viburnums with vibrant reds and purples. Place these strategically for a dynamic tapestry of colours.
Balance is key; aim for contrasting and harmonising shades for visual interest. Layer different heights and textures, with taller trees at the back transitioning to shorter shrubs and groundcovers. Add evergreens or plants with attractive bark or berries for contrast and structure against the changing backdrop.
1. Decorate with Pumpkins
While pumpkins are iconic for Halloween, they're also fantastic elements for autumn garden decor. Arrange them thoughtfully – on front porches, in rustic barrels, or along steps – to infuse your outdoor space with a burst of autumn colour and charm. Try hollowing out a pumpkin and repurposing it as a bowl for dried flower arrangements, adding a touch of elegance to your autumn garden design. Want more ideas for decorating with pumpkins? Check out our article here.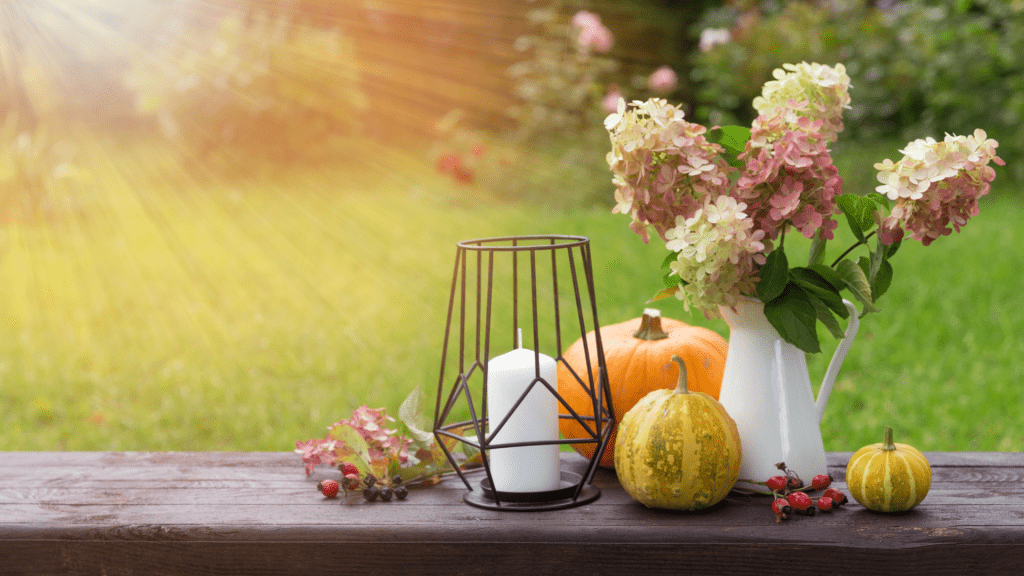 2. Add Fairy Lights or Garden Lanterns
Extend the hours you can spend in your garden by embracing the soft glow of fairy lights or lanterns. String waterproof LED lights in warm yellow or orange hues across tree branches or around trunks to create a captivating luminosity. These twinkling lights complement the autumn colour palette and create an enchanting ambience that pairs perfectly with a cup of hot chocolate and a cosy blanket.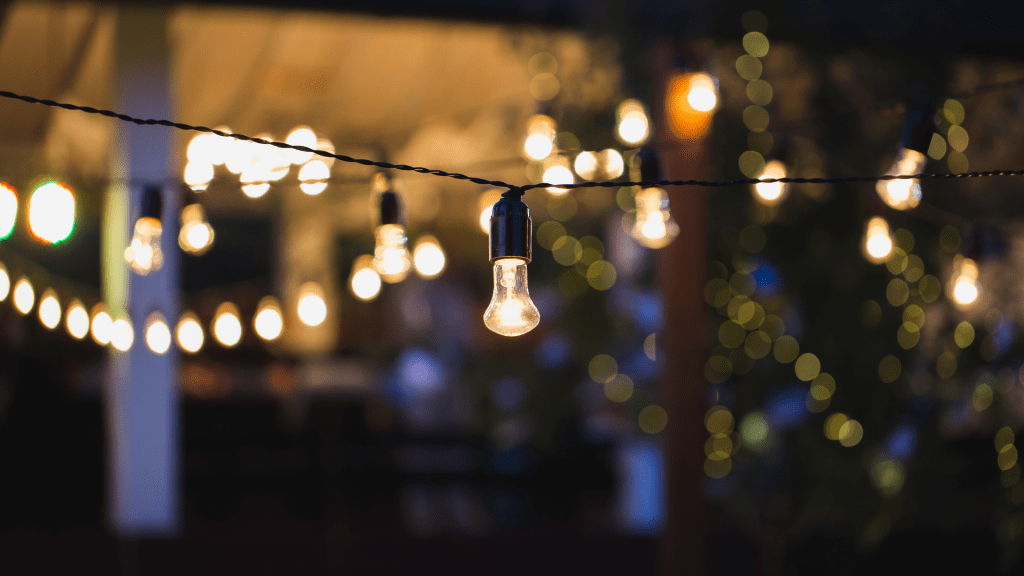 3. Utilise Wool Cushions & Fluffy Blankets
Elevate the comfort of your garden furniture by introducing cosy wool cushions and fluffy blankets. These inviting textures make your seating areas more appealing and ensure you stay warm and snug during crisp autumn days. Adding these tactile elements to your garden furniture enhances the welcoming atmosphere, encouraging you to savour the beauty of your autumn garden.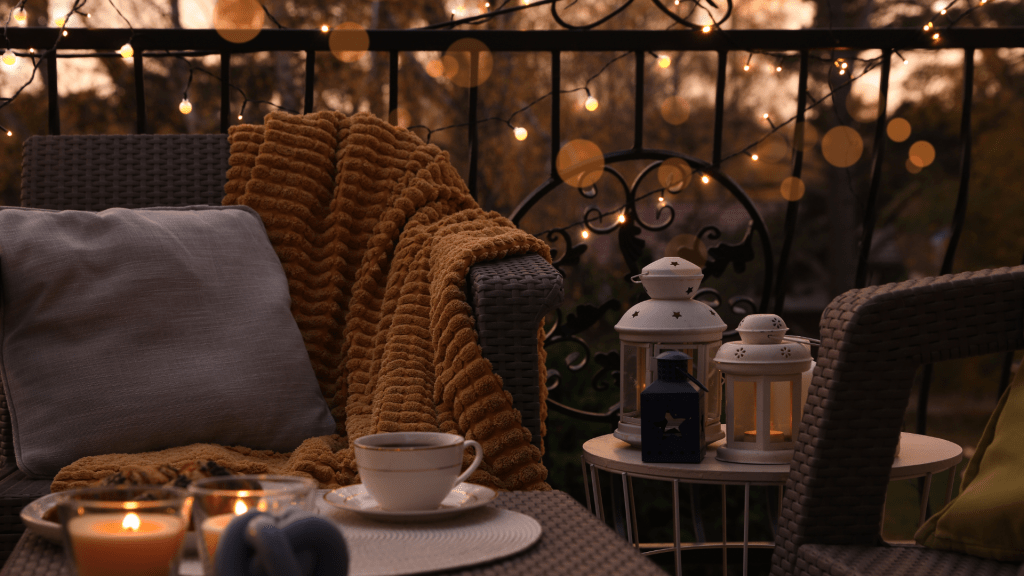 4. Decorate With Autumn Wreaths
Infuse your garden with the rich hues of autumn by strategically placing wreaths throughout your outdoor space. Craft your wreaths using natural materials such as twigs, overgrown climbers, and other organic finds. Adorn tree trunks, fences, shed doors, and gazebos with these charming decorations evoke the spirit of autumn and invite admiration from all who stroll through your garden.
5. Plant Hardy Flowers in Upcycled Containers
As you prepare to bring your tender plants indoors for the winter, consider upcycling old containers to add a touch of colour to your garden. Repurpose items like food pots, watering cans, and even rubber boots by giving them a fresh coat of paint and drilling drainage holes. Fill these containers with robust, cold-resistant plants like Hellebores, Ilex, Camellias, and winter Clematis. These hardy blooms will inject vibrancy into your autumn garden while enduring the cooler temperatures.
6. Add a Firepit to Your Garden
Don't let the chill discourage you from spending evenings in your garden. Embrace the cosy ambience of autumn by incorporating a firepit or outdoor heaters. A fire pit can become the heart of your garden, radiating warmth and providing a captivating focal point. If you're concerned about making permanent changes to your landscape, opt for a portable fire bowl or a fire pit table that you can rearrange as needed. Not sure where to get a firepit table from? Check out the Alfresco Tradings Firetable collection.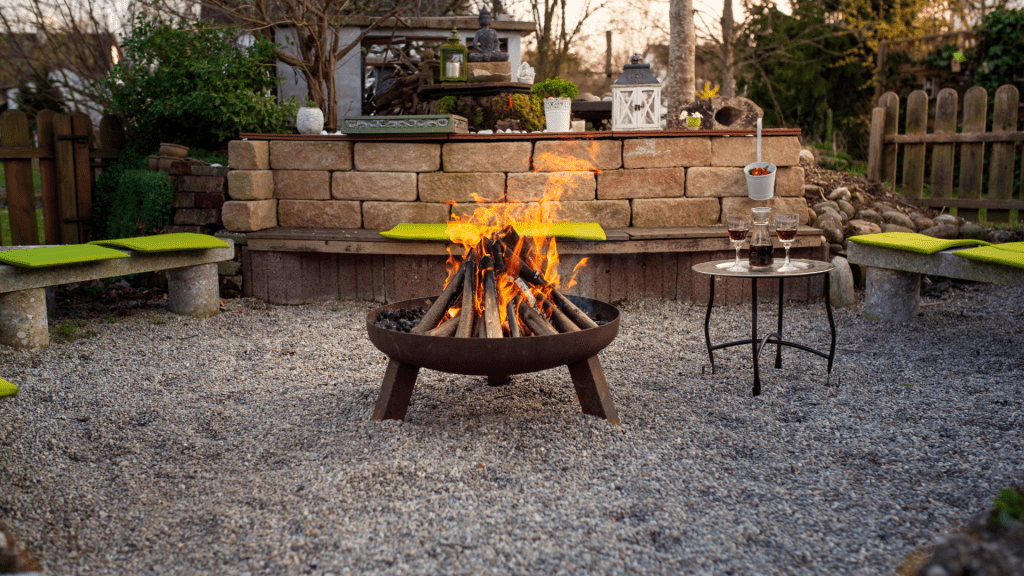 7. Hang Homemade Bird Feeders
Embrace the sights and sounds of nature by attracting more birds to your garden during the colder months. Craft simple hanging bird feeders using a mix of birdseed and gelatin, shaping them with cookie cutters. Hang these feeders from tree branches to create a delightful display while nourishing our feathered friends.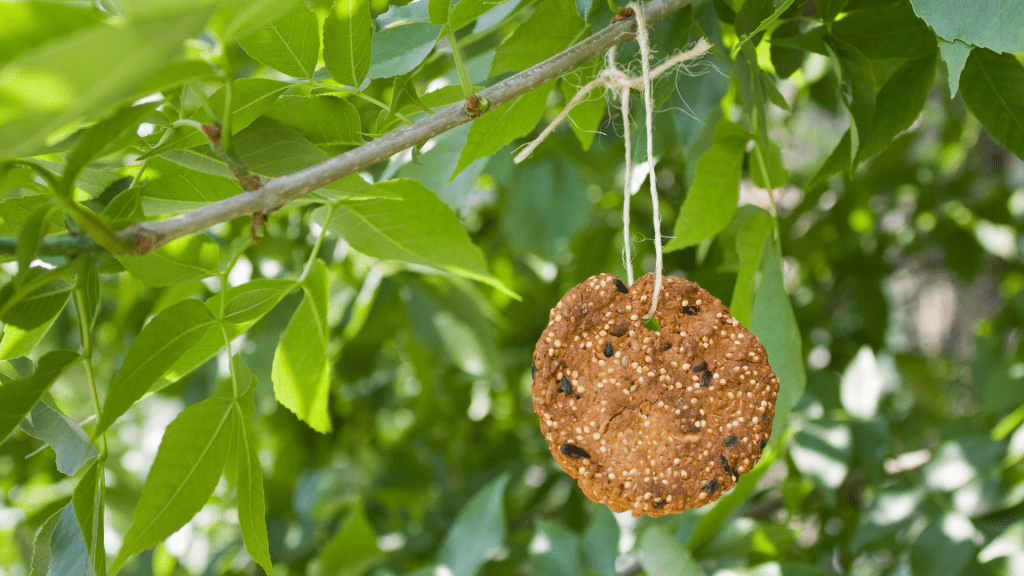 8. Autumn Picnic
Transform your garden into a picturesque picnic setting. Drape plaid blankets and bring vintage picnic baskets to evoke a rustic and inviting atmosphere. Don't forget additional pillows, blankets and warm clothing to make the experience more enjoyable.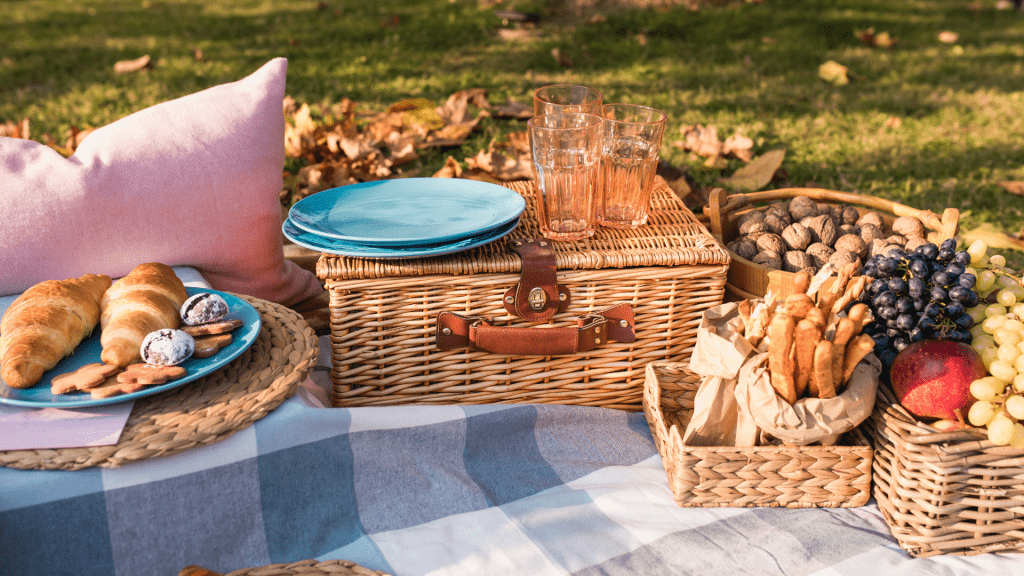 9. Rustic English Tea Party
Elevate your autumn garden design by hosting a charming English tea party amidst nature's beauty. Employ rustic wooden furniture, vintage tea sets, and mismatched chairs to create a cosy and inviting ambience. Drape burlap runners, tablecloths, and adorn tables with floral arrangements featuring late-blooming flowers like Asters and Chrysanthemums. Introduce blankets and cushions to seating areas, ensuring guests stay warm and comfortable.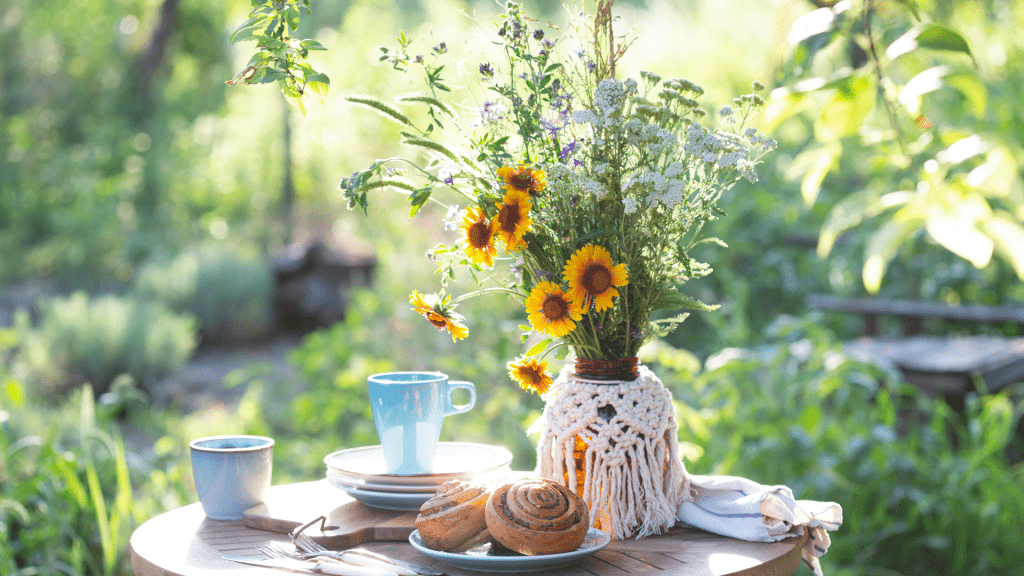 Conclusion
As the air becomes crisper and the leaves autumn, your autumn garden design can evolve into a cosy and welcoming retreat. With these creative ideas, your garden furniture becomes an integral part of this transformation, inviting you to savour the magic of autumn in every corner of your outdoor sanctuary. So, bundle up in your favourite blanket, sip on a warm drink, and relish the tranquil beauty that autumn brings to your garden.