As the days get shorter and the weather turns cooler, it's time to shift our focus from lounging in the garden to preparing for the autumn and winter seasons. Taking care of your garden furniture during this time is crucial to ensure it remains in excellent condition and ready for use when warmer days return. Whether you have classic oak pieces or modern rattan furniture, we've covered you with practical tips to maintain and protect your beloved outdoor furniture throughout autumn and beyond.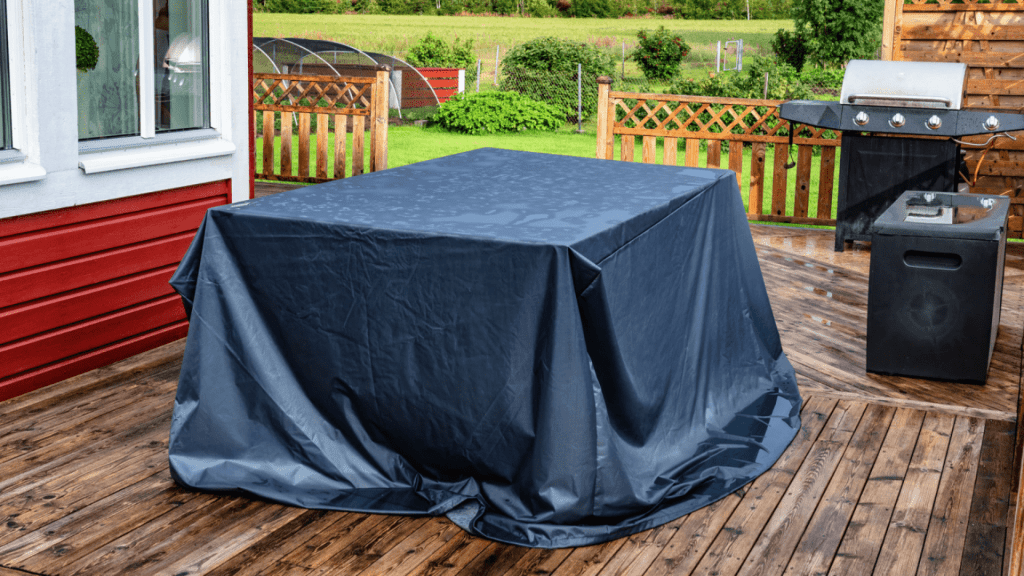 Cleaning Your Garden Furniture
Before the autumn rains set in, cleaning your outdoor furniture thoroughly is essential. Dirt, moss, lichen, and bird droppings might accumulate over the summer, and these can retain moisture, leading to potential issues like rot. To keep your furniture looking its best, follow these simple steps:
Choose the Right Cleaning Tools: Use a stiff brush (avoid metal ones) to remove dirt and debris. Warm water and a pH-neutral detergent work well for general cleaning. For stubborn stains, consider using sugar soap or a wood cleaning solution.
Clean Shady Areas Carefully: Pay extra attention to furniture placed in shady spots, as these areas tend to be cooler and damper, making them more susceptible to moisture retention.
Protect Furniture Feet: If your furniture is in constant contact with grass or soil, consider placing a piece of slate or quarry tile under each foot to prevent moisture from seeping into the wood.
Outdoor Furniture Covers
While most outdoor furniture is naturally resilient and can withstand the elements, some gardeners prefer to use covers during the autumn and winter seasons. If you choose to cover your furniture, here are some helpful tips:
Invest in Quality Covers: Opt for high-quality covers to measure your specific furniture pieces. Well-fitted covers with good air circulation will prevent the buildup of mildew.
Clean and Dry Before Covering: Make sure your furniture is clean and dry before covering it. Moisture trapped under the cover can lead to mould and mildew, so checking periodically and providing proper ventilation is essential.
Consider Custom-Made Covers: If you have unique furniture or specific requirements, consider getting custom-made covers for a perfect fit and maximum protection.
Storing Your Garden Furniture
When autumn turns to winter and the weather becomes harsher, you have several options for storing your garden furniture:
Store Indoors: Whenever possible, store your furniture inside a garage, shed, or any other suitable indoor space. This provides the best protection against the elements.
Use Protective Covers: If indoor storage is not feasible, use high-quality covers to shield your furniture from rain, snow, and frost. Remember to lift the cover occasionally to allow for proper air circulation and prevent condensation.
Move to a Sheltered Spot: If you must leave your furniture outdoors, try to move it to a more sheltered area in your garden. This will minimise exposure to harsh winds and rain.
Different Materials, Different Care
Different materials require specific care to keep them in top condition. Here are some tips for each type of garden furniture:
Wooden Garden Furniture: Clean it annually to remove dirt and algae, then treat hardwood with teak oil for preservation, while softwoods need preservatives, wood paint, or oil. Check and tighten any loose screws.
Wrought Iron and Steel Furniture: Clean thoroughly and promptly treat rust spots. Sand, fill holes, prime, and paint the metal to restore its beauty.
Aluminium Garden Furniture: Use a soft-bristled brush to remove dirt, wash with hot water and soap, and apply water and vinegar for polishing. Avoid abrasive materials that could damage the surface.
Plastic Garden Furniture: Wash regularly with hot water, soap, or a pressure washer. Use bleach on white plastic furniture to remove stains.
Rattan and Wicker Garden Furniture: Vacuum with a soft brush attachment to remove dirt and dust between the weaves. Wipe with a damp cloth to remove remaining dirt or mildew. Store indoors or under proper coverings during winter.
Conclusion
Taking the time to care for your garden furniture during autumn will reward you with beautifully preserved pieces that can be enjoyed for years. So, don't forget to clean, protect, and store your furniture appropriately as you prepare your garden for the colder months. When spring arrives, your outdoor oasis will be ready for another season of relaxation and enjoyment!
Read our other articles here to learn more about caring for garden furniture. Or shop our garden furniture here.