How to create a small garden with impact
These days, many of us live in crowded, urban areas and outdoor space is a precious commodity. Most town gardens are less than five metres square and many new build schemes leave little room for a 'decent' garden. Half of the population in modern cities live in flats with their outdoor space limited to a small balcony area. It's not all bad news, though, as space is no longer a barrier to being a gardener. With the right plants and design, any size space can become a garden. This guide will help you to create a beautiful garden in a small space, utilising some of the best plants for this task.
The small garden has an advantage as it can be entirely unique, a reflection of a person's character and the rest of their living space. At the same time, every plant in a small garden has to work hard to earn its place; this means long flowering periods and year-round interest.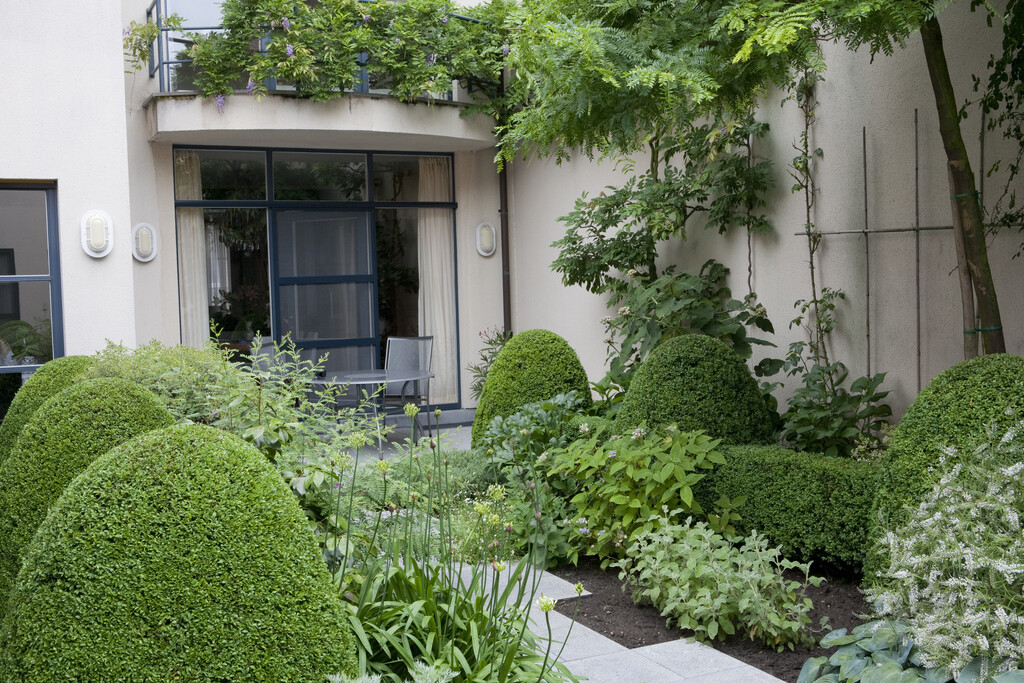 Small garden design but big personality
It's always good when starting a small garden to have a clean slate. Start by removing old features and unwanted plants, creating a blank canvas. Now look at the aspect: is it sunny, shady or windy? This can have an impact on how you use the space and what plants are best suited for it.
Measure the space. Where space is limited, consider how the garden will be primarily used. A table and chairs for morning coffee? Supplementing the kitchen? An area to sunbathe? Or, do you simply want to fill it with plants?
It is important to think of this small space as a cubic area. In other words, think about how you can utilise the vertical space in the garden. You can increase the size of your small outdoor space 3-fold by filling the cube with gardening artefacts and plants. If you have a balcony, are there any railings you can use? Are there walls that can be used for climbing plants? Can containers or frames be mounted on the walls? To bring out the full potential of a small garden, add some depth to it – a small garden is never flat.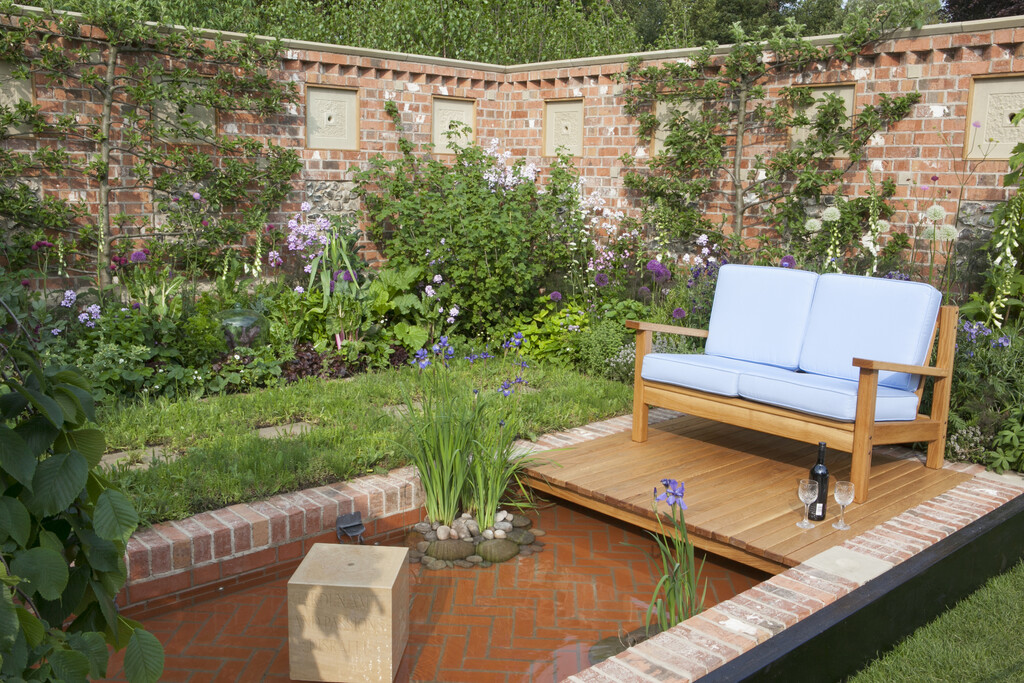 How to design and create a small garden in 12 easy steps
Measure: Measure the space you have available and take a note of anything that has to remain in the garden, or ugly external elements that you would rather cover up, or distract from. Take a good look at your boundaries. In a small garden, the fence lines play a significant role in defining the look and feel of the garden.
Design: Think of design ideas and how you can maximise the space you have. In a small garden it is vital to identify the longest axis (from one corner to the opposite corner.) This can help to draw the eye across the garden, giving the impression of more space. Identify where you will sit in the garden and where to site key features. Consider your boundaries – do the fences work and can they be kept? Look around for inspiration – our small garden ideas guide should help.
Theme: Consider having a theme or style for the space. Examples of garden styles would be cottage garden, Japanese garden or exotic jungle garden. The small garden – not unlike a bedroom or living room – can be a reflection of the resident's personality. Without deciding upon a style, it is easy to end up with a mismatched range of both objects and plants in the garden. Identify which plants you are putting in your garden and their position. Even if you are not a plant lover, browse our 'Best Plants for Small Gardens' guide below, for some inspiration: plants can help to create a cohesive garden style.
Use: It is crucial to consider what the primary use of the garden is going to be. With a smaller space, try not to overcrowd it. For example: it is unlikely that you will be able to fit in a large seating area, decent greenhouse and vegetable patch. If you try to be too ambitious with the limited space available, your garden will look cluttered and overly small. It is far better to commit to a specific usage, such as entertaining. Then, you can define a generous seating area with a focal point to enjoy when relaxing.
Verticals: It is essential to utilise all the available space in a small garden; this includes vertical space. Raised beds made from sleepers can be used for planting and for doubling up as seating. Use a trellis to support climbers and clothe walls – you can also use hanging baskets and wall pots to decorate fences, walls or railings, especially where balconies are concerned. Planting in tiers can make a much greater use of the space and adding containers will create further planting pockets. Arches and mini pergolas can give additional height and dimension. Your small, cubic space will now be well and truly filling up.
Clear: It is time to start clearing the garden, so you can begin this transformation.
Mark out: Use lengths of rope or spray paint to mark out pivotal elements of your design on the ground, determining if the initial design will work when built. Changes can still be made to the design at this point, if needed.
Build: Building your hard landscaping elements comes next, including paths, seating areas and structures. This really does give the garden its skeleton structure, ready for plants to soften up the overall look.
Soil: Ensure that you have inspected and tested the soil, improving it with compost and organic material where necessary. You can never spend enough time understanding your soil and improving its structure. Soil properties are paramount to a successful garden of any size.
Plant: It's time to bring your garden to life by introducing plants and softening that hard landscaping mentioned earlier. This is the most exciting time in the whole process – you finally get to appreciate the work you put in!
Dress: You can now add your garden furniture; any pots and ornaments that you would like to add. Consider all ornamentation against your design, ensuring the continuity of your chosen theme.
Feed: As a final step, you will need to feed and water the garden until the plants establish themselves. Watering thoroughly will encourage your plants to establish deep, healthy roots.
Best 15 plants for small gardens
Don't let having a small garden stop you from creating something special. Browse our list of the best plants for small gardens; spend some time planning out how to get the best results from your garden. If your garden is north-facing or shady then read our guides on dealing with these tricky areas.
Description:
A true specimen small tree, perfect for the centre of a small garden. This Acer has a real presence and is impossible to walk past without stopping to study its delicate, feathery, dissected leaves. These leaves cloak the entirety of the plant and are a rich, dark purple colour. If this isn't enough, the leaves turn an incredible orange-red colour in autumn, earning it the name 'Firecracker' and making it the envy of all passers-by. For a small garden, this tree is perfect as it will grow slowly over many years to reach 3 metres in height and width.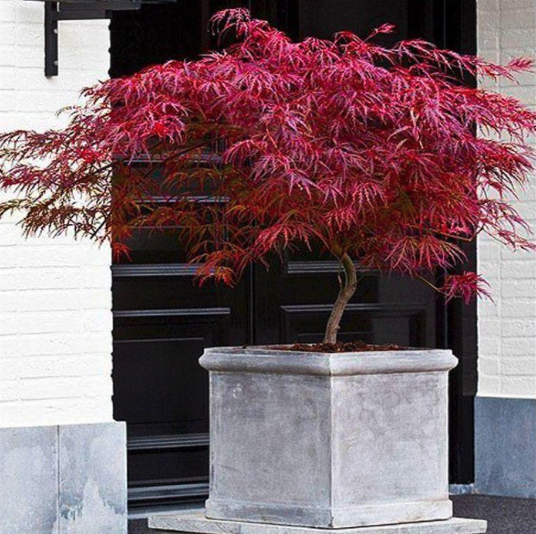 Care:
These plants will tolerate a wide range of soils, enjoying plenty of organic matter added to the planting pit and in use for an initial mulch. They will then appreciate an annual mulch in early spring as the soil warms up and a leaf-littered compost as they are a forest plant. Mottled shade is good for these trees as they establish, with attention to watering if in a container and in the first few seasons in open soil. Learn more about caring for Acers here.
Use:
Position your Acer so it can be seen from inside your property, it will draw your eye into the garden and provide a reason to venture out. It is an incredible plant for softening hard landscaping and creating a calm state of mind. With good feeding and making sure that the soil does not completely dry out, this 'Firecracker; will happily thrive in a container.
Tip:
These beautiful Acers grow as second-story plants in their natural environment; they like dappled shade. If growing them in containers avoid keeping them in the hot dry sun all day as this can cause scorching leaves that curl and brown up.
---
Description:
A small plant with a big personality, this small spreading, ground-covering plant is a real character and perfect for a small garden. This evergreen perennial, with its dark purple, near black glossy leaves, spreads out aided by its creeping stems and forming mounds of 20 cm plus. In late spring to early summer, short spikes of deep blue flowers are born, which look stunning against the dark leaves. Ajuga 'Black Scallop' is happy in the sun but is a good plant for a shady space.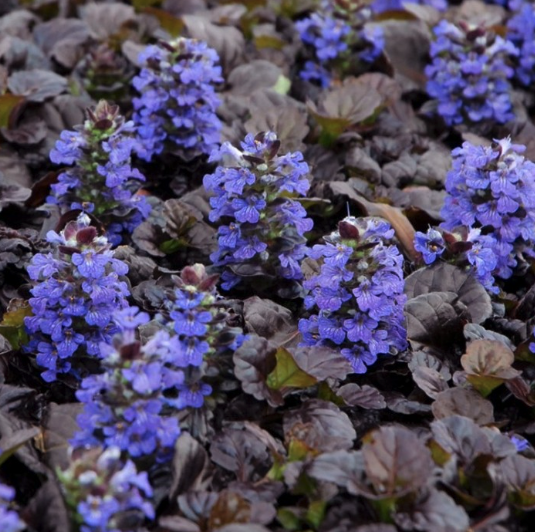 Care:
A hardy little character tolerant of most soils but dislikes waterlogged conditions Add some good compost before planting. Once established, their thick ground cover will prevent further weed seed germinating by blocking light to the soil. Pick it over from time to time. Remove dead leaves to reduce the chances of disease.
Use:
Great for protecting soil and as an underplanting for bigger plants. Plant around the base of a specimen tree like a Japanese Acer to contrast foliage. Softening the edge of a large container is another option. In a raised bed planted with ornamentals, use Ajuga to grow along its edge softening the hard lines. In colder weather and darker conditions, the leaves of Ajuga get darker; in lighter, warmer conditions, they will be greener.
Tip:
Roots will drown in water-logged soil, starved of oxygen. It will also destroy soil structure and wash out nutrients. If soil is suffering from excessive water dig in plenty of compost and grit, preferably in the autumn and save the planting until spring.
---
Description:
A hugely underrated shrub that is both tough and has excellent seasonal qualities. Beautiful small glossy leaves show up small white flowers that appear in early summer. As the growing season comes to an end this Cotoneaster puts on an autumnal display of red bright red berries for the end part of the year.
It is the wooden frame of the plant that benefits the small garden, its amazing herringbone branch arrangement is a great feature, and this wooden framework can be trained flush against a hard surface like fences, walls and railings. This cracking little plant will get up to a metre plus height and width, preferring to grow in full sun. It has an added little bonus of not being fussy about growing in exposed conditions.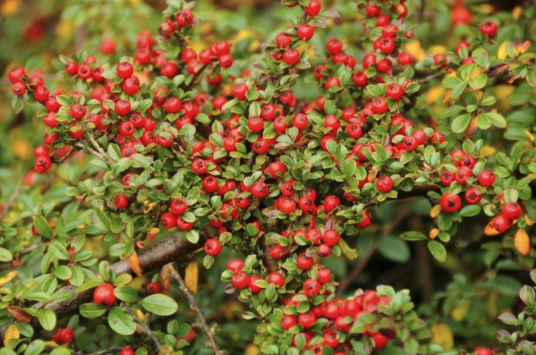 Care:
This is a tough plant that grows in all soil types. Once planted the plant just gets on with it. When planting, add organic matter to its planting pit, mixed with a small sprinkle of Bonemeal to aid the establishment of its roots.
Use:
The amazing herringbone framework will disguise unsightly objects like storage chambers. Plant as an informal hedging subject along the top of a wall in a stepped or terraced small garden. For balcony gardeners, it will last a good few years in a container.
Tip:
Pruning to a node is good gardening practice when removing live material from a plant. A node is a part of a shoot or stem that breaks into leaves or new side shoots. Pruning just above this growing point will prevent the shoot from dying back to a growing point and, in turn, prevent unsightly wood and infection by disease.
---
Description:
The small garden needs big characters, and this little Euonymus is certainly one of them. A hardy semi-evergreen perennial shrub. Its oblong, variegated leaves develop a pink tinge in winter. In colder regions or more exposed gardens, it may drop its leaves, but they will soon re-appear in springtime. This reliable little plant will reach a height of 30 to 50 centimetres and is tolerant of a wide range of soil types. Usefully it can grow happily in sunshine or partial shade.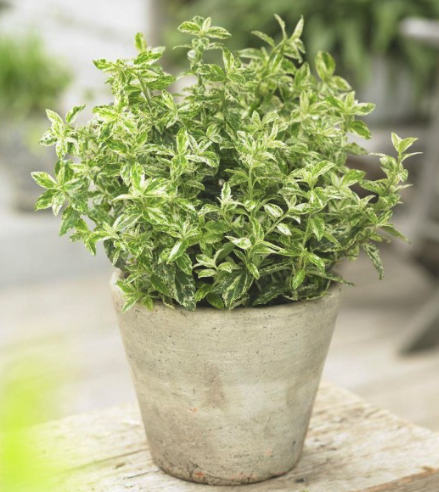 Care:
This is a nice easy plant to grow, and its variegated foliage brings a small space to life. There are a few things we can do to help it on its way. A good handful of compost at planting time with a sprinkle of slow-release fertiliser will help it quickly establish. Each spring, a light organic mulch and a couple of foliar feeds, preferably with seaweed extract, will keep the plant healthy. Trim back with shears from time to time, removing the growing tips to encourage bushiness. A pick-over of any dead leaves is beneficial.
Use:
Harlequin is a great plant for use as a low hedge. In a small garden, it can edge a planting space or even a raised bed. Regularly clipped it will soon form an attractive low hedge. It will not mind being grown in a container as long as it is kept moist and has a good supply of nutrients that must be supplemented. If room is really tight then a single specimen or small group will look good in a staggered mixed border.
Tip:
Variegated shrubs will sometimes produce shoots that contain no variegation at all. This is known as reversion and in order to retain the beauty of differing colouring leaves prune out any reverting shoots.
---
Description:
Geranium Rozanne is a multi-award-winning plant, and for very good reason. It is a sizeable mound-forming Geranium producing abundant blue flowers from May through September. The stunning blue flowers complement the distinctive sizeable white eye centre luring bees all summer. When drawing up a list of the best plants for small gardens, Geranium 'Rozanne' should always appear near the top.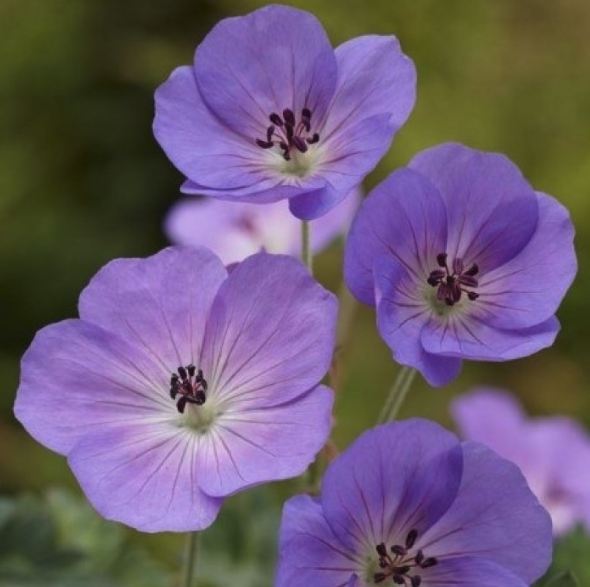 Care:
Geranium Rozanne has a preference for moist but well drained soil. Remove flowered stems and ideally cut back old leaves to encourage fresh leaves to be produced and maintain its form. Rozanne is a very robust plant which happily thrives in both sun and shade.
Use:
Geranium Rozanne is an absolute stunner in any size and styled garden. Dotted around at the front of borders, Rozanne can draw the eye around a garden offering interest through its long flowering season. Rozanne is a versatile plant that can be used in containers, hanging baskets and as ground cover.
Tip:
Geraniums provide the perfect companion to roses providing ground cover and the perfect foil to the height of roses. Drift planed through a cottage garden, Rozanne more than earns its keep.
---
Description:
Perfect for a small garden, this award-winning, bushy evergreen perennial will happily sit in a border or container. Reaching a height and spread of 75 centimetres plus, the erect spires of purple-mauve blooms are perfectly complimented by its small, narrow silver-grey-green foliage. Flowering from spring through to early winter, it is no wonder that Erysimum 'Bowles's Mauve' was shortlisted for Plant of the Century. It loves a growing space that sits in full sun.
Care:
This Erysimum craves full sun, ideally in a neutral or alkaline soil that is poor to moderately fertile, provided that it is well-drained. The keep at its best, trim after flowering to prevent Erysimum 'Bowles's Mauve' from becoming leggy.
Use:
With a nine-month flowering period, it is no surprise to see this Erisymum used by many gardeners and designers. The silver foliage allows this plant to combine with so many others. Try it with blue and white flowers for a cool display, or yellow and orange for a more adventurous gardener.
Tip:
'Bowles's Mauve' is the perfect value plant for a small garden. It can fit beautifully within a variety of planting schemes including coastal, cottage, gravel and Mediterranean. They look beautiful at the front of borders, drawing your eye around the garden, though they can also provide impact when planted in drifts.
---
Description:
The Mahonia is a beautiful evergreen shrub with real architectural qualities. In a small garden, this plant can be treated as a real standout specimen shrub which has the special quality of flowering in late summer through autumn and even stretching into winter. The leaves are narrow and spine free, making it different from other Mahonia, whose leaves are usually spiky. These spires of yellow flowers sitting apically atop individual stems are also scented – some say that the scent is honey-like. These flowers are followed by blue-black fruits. It is an evergreen, upright, compact shrub with a height and spread of 1.2 metres, making it ideal for a small garden space. This Mahonia is happy in both sun and partial shade, and will take an exposed, north-facing aspect – ideal for a more challenging garden.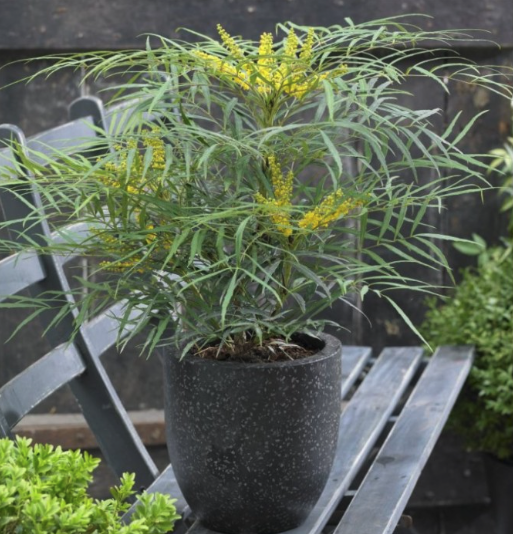 Care:
Mahonia tolerates all ranges of soil but needs moisture, even happy in soil that gets waterlogged. A good bucket of compost or other organic matter is a rule at planting time and in subsequent years in early spring. Water to establish and in times of extended dry periods.
Use:
Use this stunning Mahonia as a single plant in prime position, or the centrepiece in a mixed shrub border. It will sit under taller trees that cast shade if required; as long as it is fed from time to time it will grow well in a raised bed or border.
Tip:
If a garden soil is heavy clay, then there is something to bear in mind. Clay soils form sub-soil pans which are areas of solid clay which do not allow the water to drain through. If planting in heavy clay or digging in lots of compost, make sure that you fork the soil at least a spits depth (a spade or fork's head) to break up any such pan.
---
Description:
One consideration to be made is the scents used in a small garden. A small space filled with the sweet smell of a fragrant plant will really bring a garden to life. This amazing plant – with its glossy, lanceolate leaves – flowers throughout the winter, producing small but abundant white flowers which are followed by red, purple or black berries. It is a compact, evergreen shrub and reaches a metre in height and spread. Sarcococca Confusa is an under-appreciated shrub, capable of withstanding a north-facing aspect, all soils and it will grow in shady conditions, also.
Care:
Mulch these plants every spring and provide a liquid feed in early summer, using a good Tomato or Seaweed extract. Pinch out apical growth to encourage lacteal branching, giving a bushier and more dense effect. This is a tough plant that requires no pruning, noted for tolerating pollution and neglect.
Use:
It is good to block plant Sarcococca, though this is not always possible in a small garden space. If planting into a border, a group of three-to-five will really make the best impact. Alternatively, plant on the edge of a pathway or corner so that you can really enjoy its excellent foliage and sweet winter scent.
Tip:
When pruning, it is good to be aware of a plant's apical growth. This is the very top of a shoot or step and can dominate a plant's growth. To encourage plant bushiness and side growth, prune out the apical growth.
---
Description:
Acer Palmatum 'Going Green' is a stunning shrub or small tree that provides a dazzling display of autumnal colour. Its value in a small garden is in providing year-round interest as its foliage transitions through a spectrum of colours.
Tiny, inconspicuous green flowers precede red-winged seeds towards the end of summer. However, it is the fine-toothed green leaves which turn orange and then red that provide the most impact. Acer Palmatum 'Going Green' is a slow-growing Acer, reaching 2 metres in height and spread. It is perfect for the smaller garden or large border.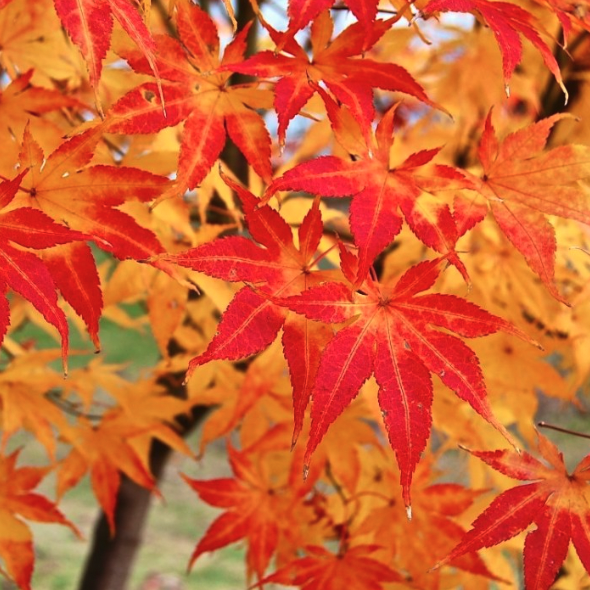 Care:
Acers grow in any moist, well-drained soil and either full sun or dappled shade. Protection from strong winds is necessary otherwise the fine leaves can be scorched. This is what makes Acers so perfect for small, sheltered gardens. They will grow well in containers which can be moved for more protection from the freezing winter winds.
Top dress with multi-purpose fertiliser around the base in late spring to encourage healthy shoots. Learn more about caring for Acers here.
Use:
Acer Palmatum 'Going Green' can be grown either as a shrub or tree providing valued height in the small garden. Guaranteed to be the star of your garden in the late season, 'Going Green' will encourage you to spend more time outside, when many other plants are losing their appeal.
'Going Green' can be grown in a pot, making it the perfect focal point in how it draws your eye to wherever you might choose to position it.
Tip:
Planting against a plain, dark green backdrop will really show off your 'Going Green' as its colour morphs throughout the year.
---
Description:
For gardeners looking to create a rustic, natural effect in a small garden, the Brunnera is the perfect addition. Brunnera Macrophylla is a relaxed looking plant with large heart-shaped leaves which form herbaceous clumps spread by underground stems (rhizomes.) The greatest advantage of this plant, though, is its ability to live in deep shade; its ground-covering nature means that it is a perfect example of a plant allowing the gardener to use all available space. To further grab your attention, Brunnera produce sprays of small, bright blue flowers in spring. This is a plant with will naturally spread if allowed to do so and it will reach up to around 50 centimetres in height.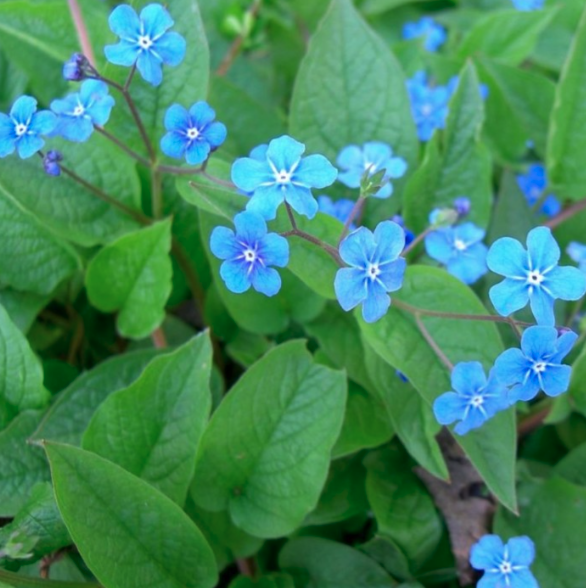 Care:
This is a tough plant that needs very little attention once established, but it will enjoy a good feed of compost or leaf mould, preferably in spring. Practise the DDD rule: removing any dead, diseased or damaged plant material to discourage any potential fungal problems.
Use:
There are many ways to utilise Brunnera. Plant in a woodland style with a tier of a deciduous tree, or under-plant with a small drift of evergreen shrubs, using the Brunnera as ground-cover. Raise the crown of the evergreen shrubs by carefully pruning out the lower branches, thus allowing the perfect planting area for Brunnera Macrophylla. A bonus of growing these plants that is well worth noting, is that they are loved by our friends, the Bees.
Tip:
The foliage of Brunnera, or any herbaceous ground-covering plant, can often be a favourite place for slugs and snails to hide and feast. Check under the leaves if you see any damage and remove them by hand if needed. A half cup of beer sunk in the soil should do the trick in ridding you of molluscs and the same can be said for Organic pellets. However, we do urge you to consider the wildlife and balance of the garden, to try and encourage birds and hedgehogs to help take care of the problem for you.
---
Description:
The genus of Heuchera is now a firm favourite of the gardener, offering evergreen foliage and dainty sprays of white flowers. Its compact size makes it perfect for the small garden space. Heuchera 'Palace Purple' bears stunning crimson leaves with a satin sheen. This semi-evergreen perennial is a clump-forming, 30 centimetre tall plant that makes for an eye-catching ground-cover display when planted in large numbers. This is a shade-loving plant that is perfect for offering year-round interest in gardens of any size.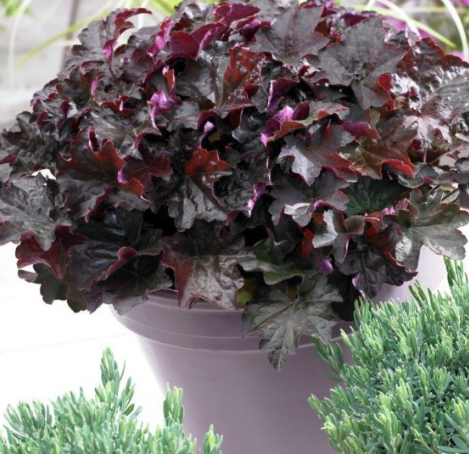 Care:
Dig in plenty of compost prior to planting out, as the Heuchera does like its roots in a fertile, free-draining soil. Its leaves are fairly fine, so pick over any damaged or dead leaves from time to time and top dress it with compost in the spring. A Seaweed liquid feed in late spring is another good practice.
Use:
This is definitely a plant that looks better in numbers and being allowed to form natural drifts. With small gardens this may not always be possible. However, you can plant them in a staggered group of around three to five plants at the base of some shrubs with partial shade to really bring out the best in these Heucheras. For those with quite a restricted space, they can also grow easily in containers.
Tip:
Get familiar with the descriptions of the forms and behaviour of plants when thinking about your garden. Perennial, annual, deciduous and evergreen are all terms that you will hear often in relation to the growth cycle of plants. The choices you make will greatly influence how your garden changes throughout the season.
---
Description:
At first a Willow tree is not the first plant one would think of when it comes to a small garden. This Black willow is a bushy shrub that will not get beyond 3 meters in height and spread but its size can easily be contained with careful pruning. Named commonly the Black Willow the name reflects its striking black coloured catkins that appear in early spring, these catkins have orange-red anthers that turn deeper orange as they age.
The leaves are grey and downy in the early part of the season before greening up but this characteristic, mixed with the fantastic black catkins really makes this Willow a potential star in any small garden. It has a further seasonal effect with its young winter stems are red and downy. This Salix plant prefers loam or clay soil, so might baulk at chalk soils, but it is not all bad news as it is happy to live in a container.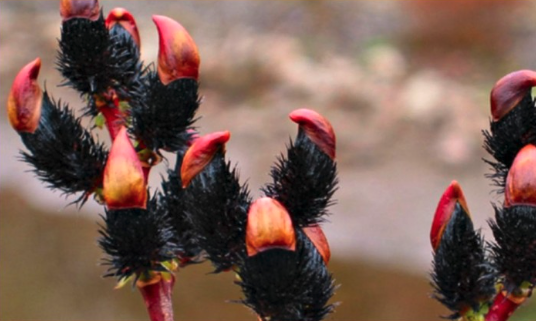 Care:
Choose a sunny spot for this beautiful plant but bear in mind that, as with most Willows, they prefer the soil not to get bone dry. Attention to watering in the first season after planting will encourage the roots to develop, as will a top dressing of Bone Meal fertiliser. Add compost to the surface of your soil around the plant, repeating this mulching each spring. To maintain its young, coloured wood and encourage new colourful shoots, prune out any ageing wood in late winter, being careful to maintain its shape.
Use:
A pair of 'Kurome' in pots sat on a patio, balcony, or small terrace, look striking in a small garden. If displaying them like this, under plant with some ground cover, such as colourful summer and spring seasonal bedding. If this does not appeal, this plant should be treated as a specimen so plant it in pole position in a mixed border. The spring display of young wood and catkins look stunning with cut flower displays.
Tip:
Now and again, tiny Aphids may gather on the growing tips of plants like Salix. Controlling this promptly will nip any future infestations in the bud. When there are just a few of these tiny flies, just rub them off between your fingers. In the longer term, encourage birds like blue tits into the garden and plan to attract Ladybirds and Hoverflies as their larvae will chomp Aphids in great numbers.
---
Description:
Sedum Autumn Joy is a wonderful plant in any sized garden, flowering from summer through until late Autumn. Succulent, green leaves are topped by rusty-red-pink flowers attracting insects and butterflies to your garden. Grows to a height and spread of 60cm. The RHS bestowed its Award of Garden Merit upon Autumn Joy, ensuring its ongoing appeal to gardeners.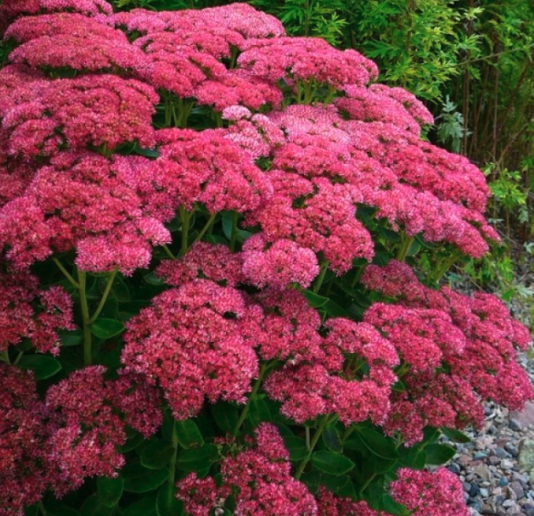 Care:
Leave the flower heads on over winter so they can catch a frost and look magical in the garden. Cut back old heads during February-march and then mulch with well-rotted garden compost.
Use:
Used at the front of a border Sedum Autumn Joy will extend the flowering season of your garden well into Autumn. Over winter the frosted seed heads look simply magical demanding you go and inspect them during the colder months. Planted alongside Ajuga, they threaten to be the stars of your garden.
Tip:
Well-established Sedums can tend to become a bit soft and flop over. If this happens, try cutting back every third stem to the ground, this can lead to firmer, upright plants.
---
Description:
Pieris japonica 'Polar Passion' is a small compact evergreen shrub that adds real character to any small garden. This beautiful Japanese native small shrub will flush red shoots of new growth in spring, followed by small dark pink and white cupped flowers from March through May. These flowers look incredible against the dark leathery green foliage. It is happy to grow in a sunny aspect but also in partial shade and can grow under larger trees.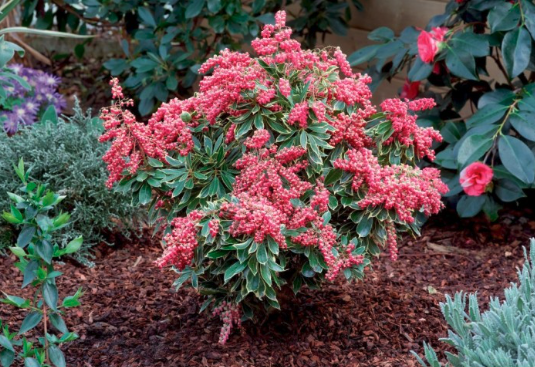 Care:
Pieris prefers loam-rich soil that doesn't get waterlogged. It will struggle on clay, but this can be resolved by mixing plenty of organic matter, seaweed meal and horticultural grit into your planting pit, also fork the base of the planting hole to aid draining. You'll be glad to hear that it's possible to grow Pieris in containers also in which it may be advantageous to use Ericaceae compost. Water this plant well after planting and in extended dry periods. Add leaf mould as a mulch each spring with a pinch of slow-release fertiliser.
Use:
In a small space, this plant will look great planted singly in a small mixed border or raised bed. A couple of them in attractive containers that enhance their stunning attributes, placed on a terrace is also food for thought.
Tip:
Some plants will not be happy if they are not grown in low pH or acidic soil conditions. If you are on chalk soil but still want to grow Pieris, Rhododendrons or Heather, grow them in containers but make sure you use Ericaceous compost, as this will provide the right growing conditions. It can also be added to the planting pit if growing acid lovers in open ground.
---
Description:
Is any garden complete without a Rose, many gardeners would say not. They are certainly integral to the style of British gardens, appearing not only as live specimens but also in our art, poetry and general culture. The good news is that they are an excellent candidate for the small garden. Roses are of course renowned for their flowers, and this one produces creamy white-edged petals with a cherry-red border. Like all the best Roses, it also scented, filling a small garden with perfume. Rose Nostalgie grows as small deciduous shrub reaching 80 to 100 centimetres in height and will require a sunny aspect.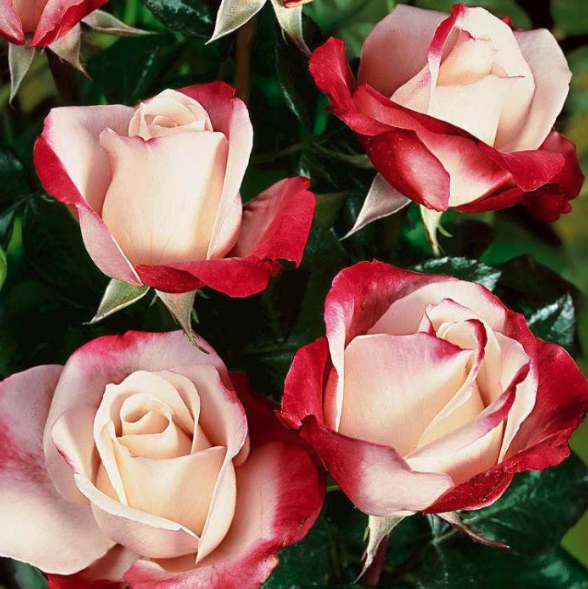 Care:
Roses like a rich fertile loam to get the best out of them, a good thick mulch, 7.5 cm in the depth of well-rotted manure applied at planting and in future years ins spring will keep them in tip-top condition. Additional Potash feed will encourage flowering. Once the leaves drop in autumn prune back by a third and then a further third in spring to encourage strong new shoots that will produce a flower. Keep the frame of the Rose open by cutting out any crossing and rubbing wood. During the growing season pick off any damaged or diseased leaves to reduce any Black spot fungus, and remove dropped leaves in the autumn also as this further controls this fungus. Watch for Aphids on the flower buds, rub off with fingers or apply an organic fertiliser. Learn more about rose care here.
Use:
Dotting in numbers of two or three through a mixed border or as a compartmentalised area like a raised bed, surrounded by Lavender will make these plants stand out. If room is plentiful, it will look fantastic in a small drift with an evergreen ground cover at its feet.
Tip:
Roses are often targeted by a fungus called Black spot. The circular black marks in a big infestation of this can distract from the beauty of the Rose. If just a few, it is not a worry, it is an indication that the air is clean as this fungus is pollution sensitive. However, if it is rife, it is important that when the leaves drop in autumn that you collect and remove them all from the soil. This will greatly reduce the chances of reinfection the following spring.
---
Small garden ideas and inspiration
If you are looking for inspiration for your own garden why not take a look at our small garden ideas guide where we have collated lots of great garden ideas together? Look around your local area to get an idea of what plants grow well and look for great planting combinations.
Designing in a small space is much more difficult that you might at first think as people still need people sized 'things'.

Karen Chamberlain – garden designer
---
For further information on establishing a wonderful garden, read our guide to garden design principles.
Notes
When starting in any garden it is always important to understand the unique conditions of your garden space. No two gardens are identical, with every garden having its special microclimates, soil, and growing conditions. All our guides and information are provided as general guides, and garden owners need to do their own research for each and every plant before planting. We cannot accept responsibility for plant establishment and survival in individual gardens.
Download Booklet
Download our printable garden style: Small Gardens – How to make the most of a small space and the best 15 plants for small gardens