Hellebores are classic winter interest plants, with elegant blooms in various colours. These perennials have a long flowering period, lasting well into spring. Mainly evergreen can even brave the cold, they are hardy, compact, and low maintenance. Their flowers provide valuable nectar for early pollinators.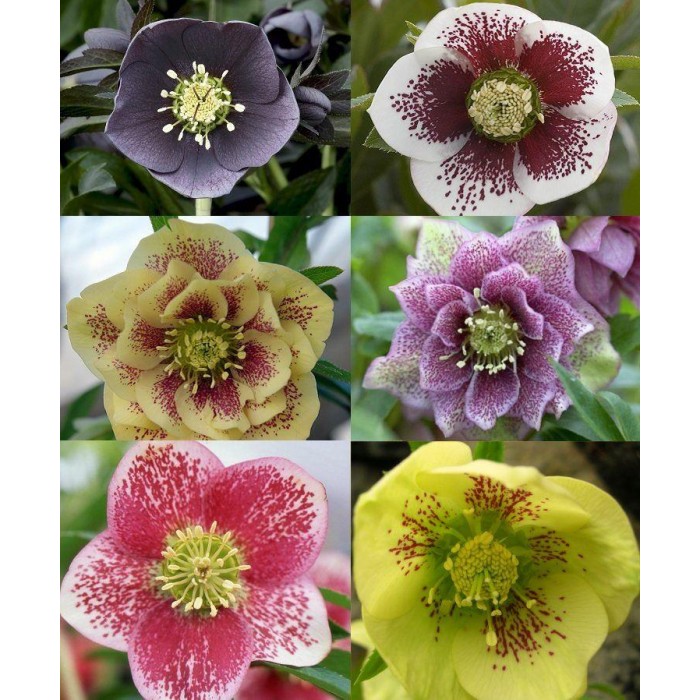 Growing Conditions:
Soils
Moisture
pH
Position
Chalk
Clay
Loam
Moist but well drained
Alkaline
Neutral
Light / dappled shade
Needs sun for part of the day
Planting Hellebores:
These should only be planted in containers as a temporary display, they grow best in borders. Dig lots of organic matter, such as garden compost, into the entire planting area. Position plants at the same level they were growing in their original container. Space plants 35–45cm (14–18in) apart. Lay a mulch of organic matter over the soil to help stop it drying out. Water well after planting and water to keep the soil moist for first 4 weeks.
Caring for Hellebores:
Water established plants regularly over dry spells. Container grown hellebores need watering frequently as they can dry out very quickly. To help them grow and stop losing too much water, keep them out of the sun in summer.
Apply a general-purpose fertiliser to hellebores grown in borders. For container grown hellebores, feed regularly with a balanced liquid fertiliser to encourage flowering. For extra care, spread a layer of mulch around the plants each year.
In autumn, remove any damaged or diseased foliage. In late spring, remove the old stems and ageing leaves to encourage new growth. Leave seedpods if you want plants to self-seed.
Download Hellebore Care Guide: