Holding bright red berries during winter and white flowers during summer, Holly truly is a sight to behold. This evergreen is a haven to wildlife with its prickly smooth, dark green foliage. Making a wonderful, blended bush line, utilised as an occasional contained specimen or in a courtyard, Holly makes a wonderful addition to any garden year-round.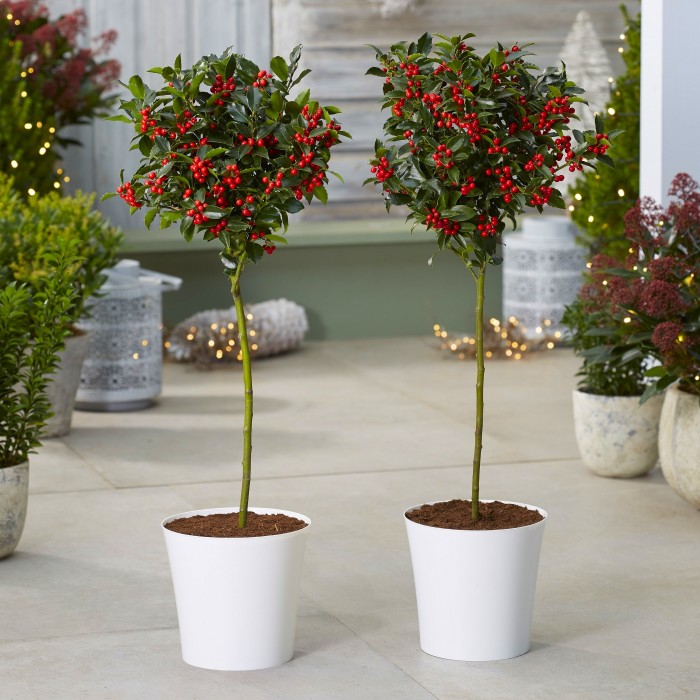 Established Holly Size:
Max height: Up to 12 meters
Max spread: 4-8 meters
Time to max height: 20-40 years
Growing Conditions
Soils
Moisture
pH
Position
Chalk
Clay
Loam
Sand
Moist but well drained
Acid
Alkaline
Neutral
Full sun
Partial sun
Planting:
Container grown hollies can be planted at any point in the year, but preferably in autumn, winter, and spring. Simply dig a hole 60cm x 60cm x 30cm and add a layer of compost to the base of the hole. Place the roots in the planting hole and adjust so that the tree is at the same depth as it was grown, and the top of the roots are level with the soil surface. Fill with more organic matter and the excavated soil and fill in the planting hole. Water in well and add a granular general feed over the soil around the tree. To form a hedge, plant each holly with 60cm gap between each.
Care:
Once planted and properly established, hollies need very little care and attention. They may need regular watering during prolonged dry periods in summer, especially when young and establishing in the soil.
Feed with a general granular plant food in spring and cover the soil with a thick mulch.
If any pruning is needed, it can be carried out at any time of year, although this is best done in spring to optimise berry production.
Pollination and berry production
With evergreen holly, you will generally need 1 male for every 20 female hollies. These hollies can be up to 500 feet apart – although 300 to 400 feet is typically recommended.
Winterberry (deciduous) holly needs to be closer than evergreen holly. You'll want to plant 1 male for every 5 to 10 females. Plant the male holly within 50 feet of the female holly.
Download Care Guide
Shop Holly 'Ilex'