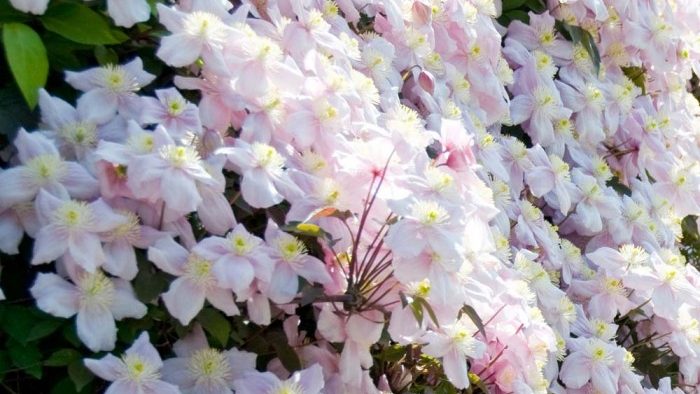 Clematis can make a great addition to any garden if cared for correctly. After receiving your plants make sure you water your plant until the soil is moist, then check over the plant to make sure it is in good condition.
For the best results, grow in the following conditions:
Soil: Fertile, moisture-retentive, well drained soil
Position: They thrive in full sun, but there are some varieties that tolerate shade
Add plenty of organic matter when planting
It is important that you remove the plant from its nursery pot, so plant in a container or in the ground as soon as possible. Water the plants in small amounts regularly until established. The soil should be kept moist at all times, we recommend watering close to the base to ensure the roots are getting the needed water. If planting against a wall or fence, dig the planting hole so that the root ball sits 30cm from the base, use a bamboo cane to help the plant reach the permanent support if needed.
Caring for your clematis after establishment
In summer, feed frequently with fertiliser. Check out the RHS guide to fertilisers
Prune depending on grouping
In spring, top-dress clematis grown in pots, remove the top 5cm of old compost and replace with a fresh layer
Prune out and burn stems with signs of fungal disease
Clematis Groups
Group 1
These are early-flowering, blooming in winter and spring. This group doesn't need pruning, but if you would like to, you can remove old/damaged stems after flowering.
Group 2
These create show stopping flowers in spring and summer. Without pruning at the start of the year, they will not look as good. Prune weak and damaged growth and prune again after first flowering to a pair of buds halfway down the stems to allow them to flower again in late-summer.
Group 3
These produce flowering on the current seasons growth, so it is vital you prune. Prune this group every February or March.
FAQ's
Is clematis better in pots or ground?
Clematis can be grown in large containers that have good drainage
Can you grow 2 clematis together?
For a fuller look, you can grow two clematis together but it is best to have them both from the same pruning group to make pruning in the future easier
Do you cut back clematis every year?
Each year, around March, prune back all the stems to a set of buds 12 inches from the ground.
Should I deadhead clematis?
Yes you can deadhead clematis. We suggest deadheading in the first year as this will encourage more growth
Why are clematis being or need to be pruned in winter?
"Clematis require regular pruning. This is because the flowers develop based on the growth of the current year. There will be a tangled mess of old and new growth if you don't prune, and only some of the plant will have flowers. Late in the winter, when buds are just starting to appear, pruning is done.

Clematis can be winter-pruned by simply cutting back all stems to 30 centimeters above the ground. When daytime temperatures rise and the soil begins to warm, new shoots can grow quickly, so keep an eye out for them," says Chris Bonnett, a gardening expert for The Express.
Download Care Guide
Shop Clematis Now