Purchased one of our Nordmann Fir Christmas trees from our Christmas section? Or are you wondering how to keep a fresh-cut Christmas tree lasting longer? Our horticultural experts have gathered their top tips to keep your tree looking fresher for longer.
No need to add sugar, cut the tree at an angle, or drill holes in the trunk. Keeping your tree fresh and green doesn't involve all those old tricks you have likely heard floating around. In fact, most of those 'tricks' are overcomplicating the simplicity of caring for a tree. So why not get the most out of your Christmas tree this year and look at these tried and tested tips?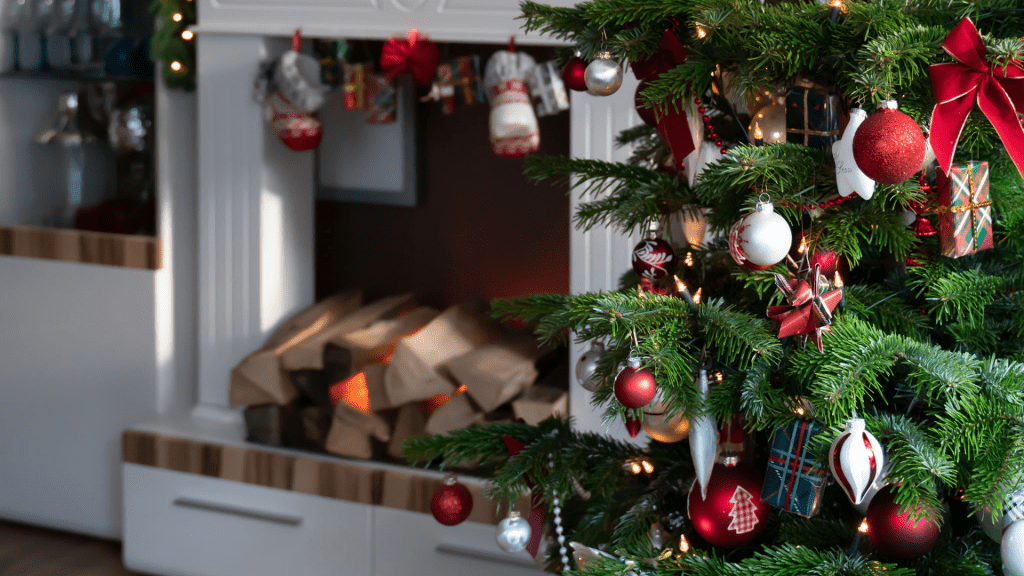 What Christmas Tree Should You Buy & When?
Knowing when to buy your Christmas tree can be difficult, but it depends on what type of tree you choose. Below, we cover the three main types of trees, their advantages, disadvantages and when to buy them. To make it easier, decide if you will keep your tree inside or outside, then pick based on that. We like a potted or pot-grown tree for outside the house and fresh cut for the inside.
Artificial Trees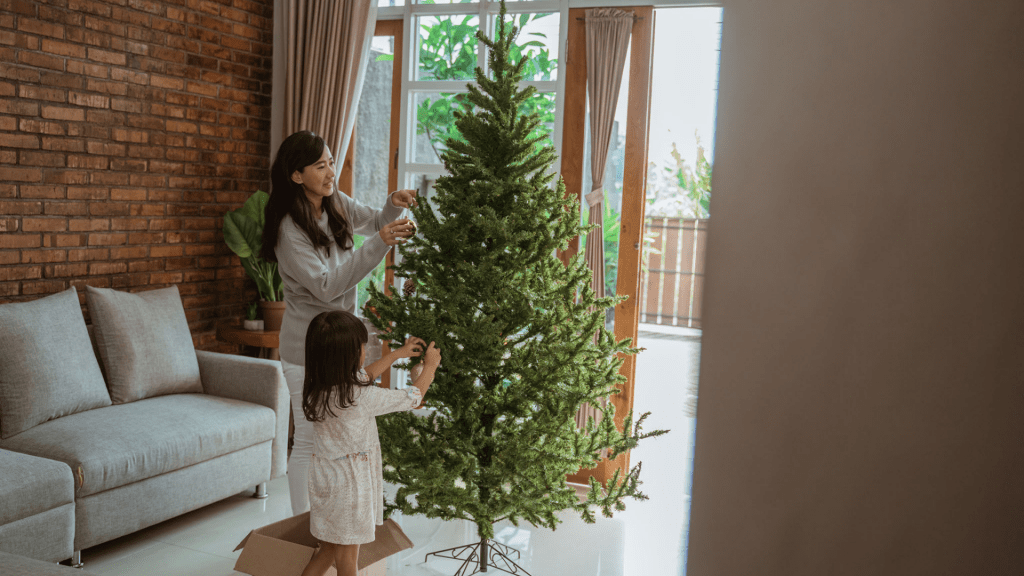 Artificial trees are the most cost-effective and stress-free option. They can be purchased at any point in the year. These trees are flame retardant and need no maintenance at all as they don't drop any needles. They can stay up for as long as you want and come in many designs. Artificial trees come boxed and are easy to store until it is time to decorate. Making them perfect for those looking for a cleaner, long-lasting Christmas tree option. This type of tree can be found in a wide range of shapes, sizes, colours, and styles, making it the perfect fit for every home and design preference. But it is not all perfect. Artificial trees can sometimes look phoney and synthetic. They also need time to assemble and space to store for the rest of the year.
Potted Christmas Trees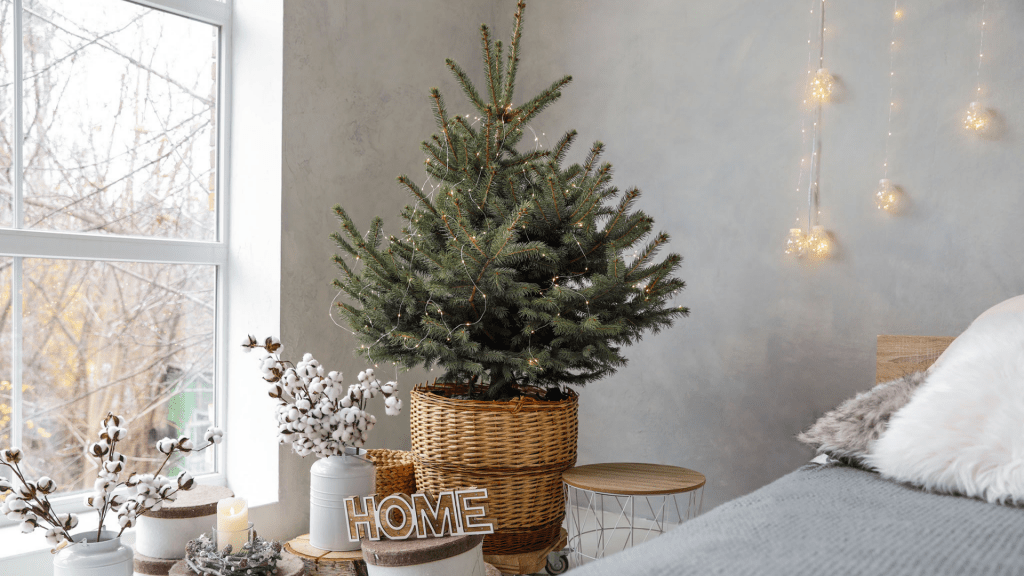 A potted Christmas tree is a great option for those wanting to buy a real tree that can be used for several years. Keeping your potted Christmas tree outside is the best way to ensure it will last for as long as possible, but they can be placed indoors for a short period of time. Most potted trees come in pots with heavy bases, enabling them to stand strong against winds or rain. But you must make sure to water them regularly.
Once the festive season is over, these potted trees can be planted into the ground as they have an intact root ball. Potted trees will continue to grow with regular watering throughout the year. By the time Christmas comes around again, you can dig up and repot your tree to use for another year. We have a full 'Care for A Potted Christmas Tree' guide if you wish to learn more.
Cut Christmas Trees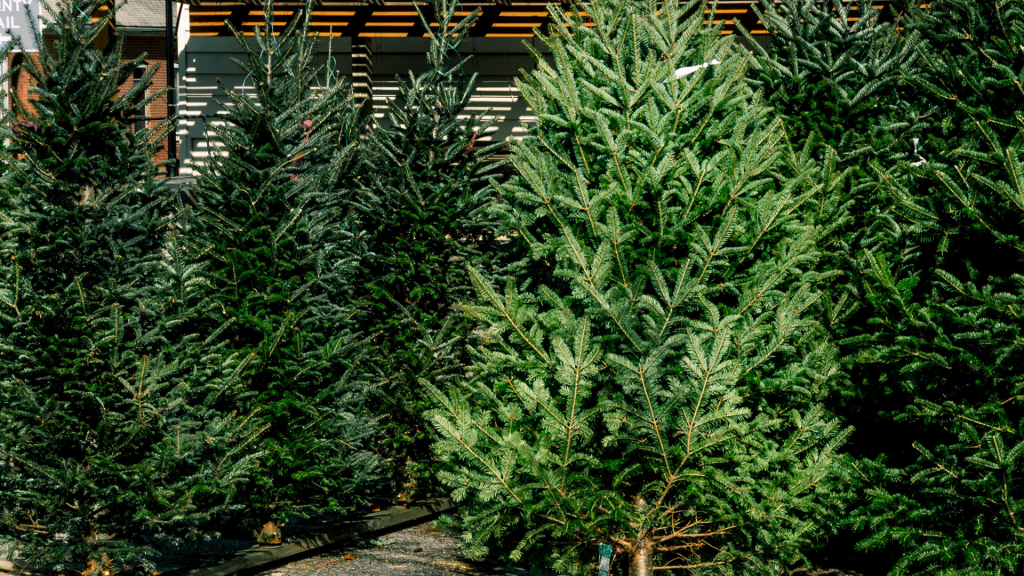 Fresh-cut Christmas trees like Nordmann Firs are perfect for filling the home with the scent of Christmas. These are the most popular festive trees found in UK homes, as they are available in various sizes and styles. It is important to remember that cut trees have an expiry date of sorts; they often only last for an average of 4 to 6 weeks. This needs to be factored in when deciding when to buy the tree so that your tree stays looking good until the big day.
Tree Sizes
When choosing your Christmas tree, it is also important to remember what size you should buy. We have a quick guide to help you with this:
3ft or under: These are ideal if you want to have a tree in the bedroom, sat on top of a cabinet or a tabletop.
4ft to 5ft: Perfect for rooms with small spaces and lower ceilings
6ft to 7ft: This size tree is most popular for average ceiling heights
8ft to 12ft: Great for homes with high ceilings, an entrance foyer, or large hallways
Slim or full: Slim trees are ideal for those tight spaces, whereas, full trees add depth to open-plan rooms or bay windows
Half tree: A half tree is ideal for corners or against walls as they take up minimal space in a room compared to whole trees
Caring for a Cut Christmas Tree
Once you have chosen and purchased your cut Christmas tree, you must start caring for it immediately. Follow our tips for the best results to keep your tree fresh for longer.
Please note: Due to unseasonably warm weather, Christmas trees are losing their needles faster than usual, you can prevent this by cutting a layer at the base of the trunk and placing in water.

December 2022
Before bringing indoors:
Place the tree in water before moving indoors
Be prepared for your tree. If you are getting your tree delivered, have a bucket with around 2 litres of water waiting outside to put the tree in right away. This will ensure the longest possible life for your tree in the home.
Carefully remove the netting
Once the tree is in the bucket of water, you can carefully remove any netting protecting the tree. Try not to bend or snap any branches along the way.
Let the tree relax
Allow the tree to sit and relax for as long as possible, around 2 to 4 hours. The longer you keep it outside, the longer the life of your tree over the festive period.
Cut a layer off the bottom
Once the tree has been sat for a while and you are ready to move it indoors, you can give the tree trunk a little cut. By cutting a small layer off the bottom of the trunk, the tree will be able to soak in more water.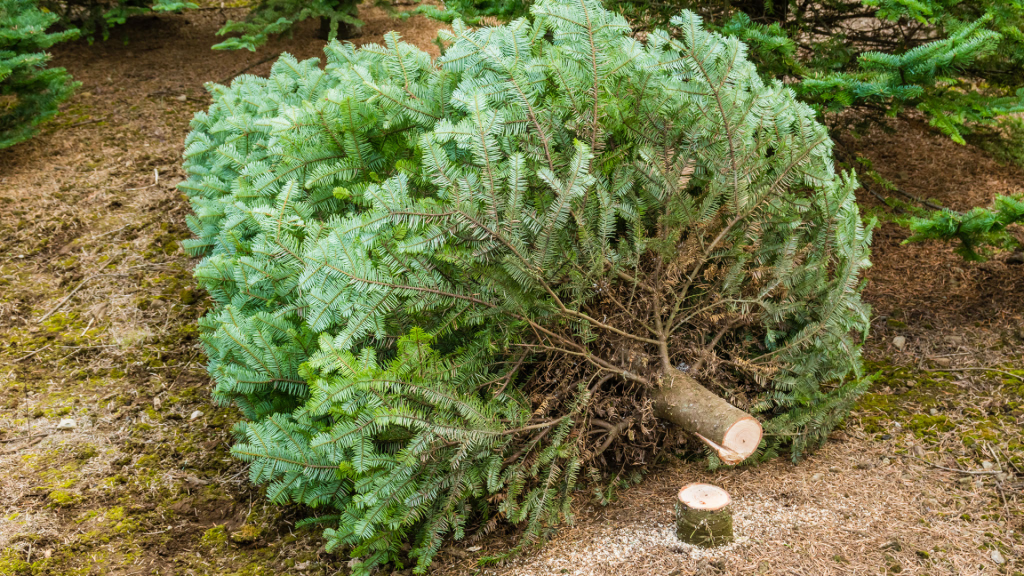 ---
Bringing indoors:
Choosing the right stand
Make sure you use the right tree stand; it must be sturdy and well-built. The last thing you want is for the tree to tip over whilst decorating. The opening must be wide enough to fit the tree trunk and hold at least 4 litres of water. Shop our Christmas Stands here.
Keep the tree watered
After placing the tree in its stand and securing it, make sure to give it fresh tap water immediately. It is best to use warm, not hot, water the first time you fill your tree stand. This allows the sap to move more freely around the tree. Aim to keep at least the bottom 2 inches of the trunk submerged in water at all times; this may mean adding water several times a day.
Leave out the gimmicks. You have likely heard about adding sugary drinks or corn syrup in the base to keep your tree alive, or maybe you have heard about using some special tree food. Don't! All your tree truly needs is lots of fresh tap water.
It may also be worth considering using a humidifier in the room your tree is in. Running a humidifier near your tree can help prevent it from drying out, plus it's good for your own health.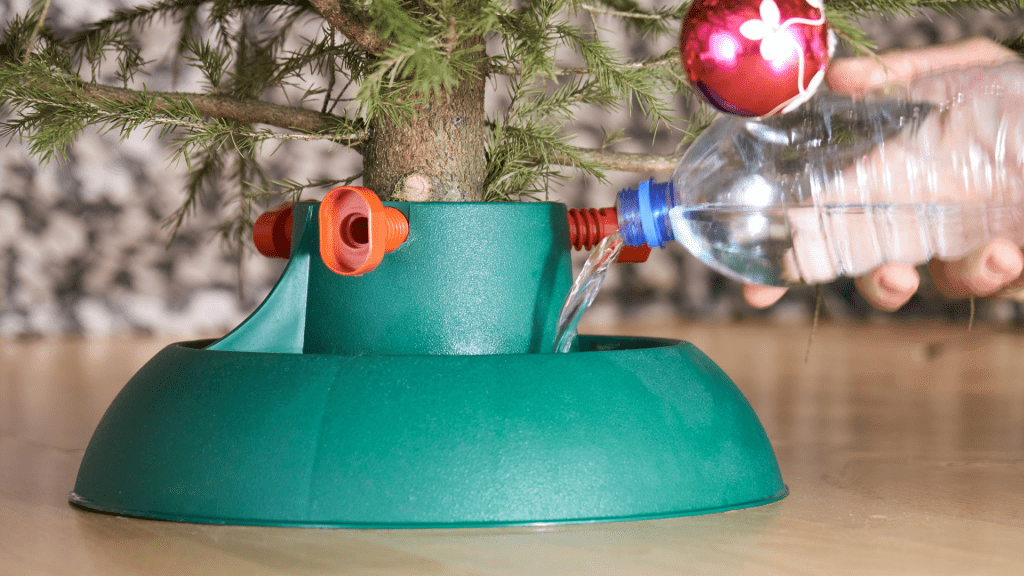 Don't let your tree overheat
Avoid placing your tree by a fireplace or heater; too much heat will dry out the tree fast. Consider placing your tree near a naturally cool window, the colder air drafts that sneak in will help keep the tree cooler. Ideally, your tree should be positioned somewhere to get a few hours of natural light each day, even without direct sunlight.
It is also worth thinking about using LED lights instead of the standard tree lights, which often get hot. Shop LED tree lights here.
Once Christmas is over:
Don't take your tree down too late
If you wait too long to take your tree down, you'll have more dead pine needles to deal with. But we do have a quick tip for clearing those pesky fallen pine needles: use your hoover hose – skip the lovely attachments and use the hose directly to draw up the needles.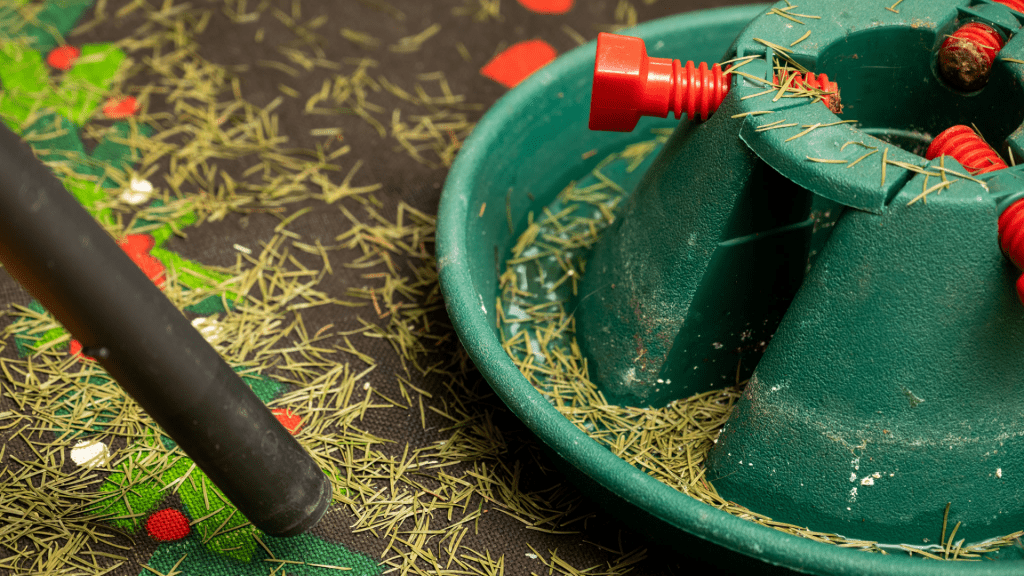 Dispose of your tree correctly
Where possible, recycle and reuse your tree. There are many different ways to use your tree in the garden after Christmas, we have a few ideas and more information on disposing of a Christmas tree here.
Tips for Decorating Your Christmas Tree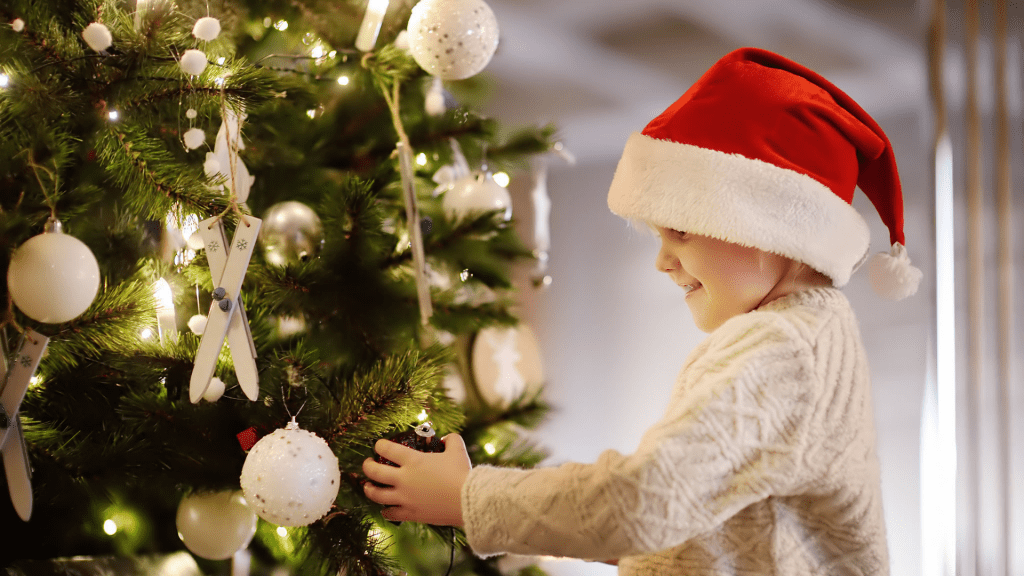 Many happy memories come from decorating a Christmas tree with the family. Which makes decorating a tree perfectly, very important. To help with this we have a recommended order to decorate your tree:
Lights. Put your lights on the tree first, be it vertically, horizontally or entwined, your lights should go on first. Once your lights are on, take a step back, make the room as dark as possible and check you are happy with them. It can be hard to move tree lights once you have decorated so make sure you are happy with them. We have a lovely little guide to different tree lights below, which might help you if you want to shake it up a little this year.
Hang your bigger baubles first, filling those larger gaps. Then add the smaller baubles and ornaments however you like. There is no perfect formula for decorating a tree, it is all up to your personal preferences.
Clip on any decorations like butterflies, roses, and birds on the tops of layers on the ends of branches. We have a lovely selection of floral decorations that go well with almost any tree theme.
Use tree skirts to keep the base looking smart and tidy, and of course, finish off by placing gifts under the tree.
Or don't decorate your tree! In recent years the 'naked tree' has become very popular. Not everyone enjoys decorating the tree, many people only put on a set of warm-coloured lights and call it a day. It may sound boring to some, but it's very classic, simple, and elegant.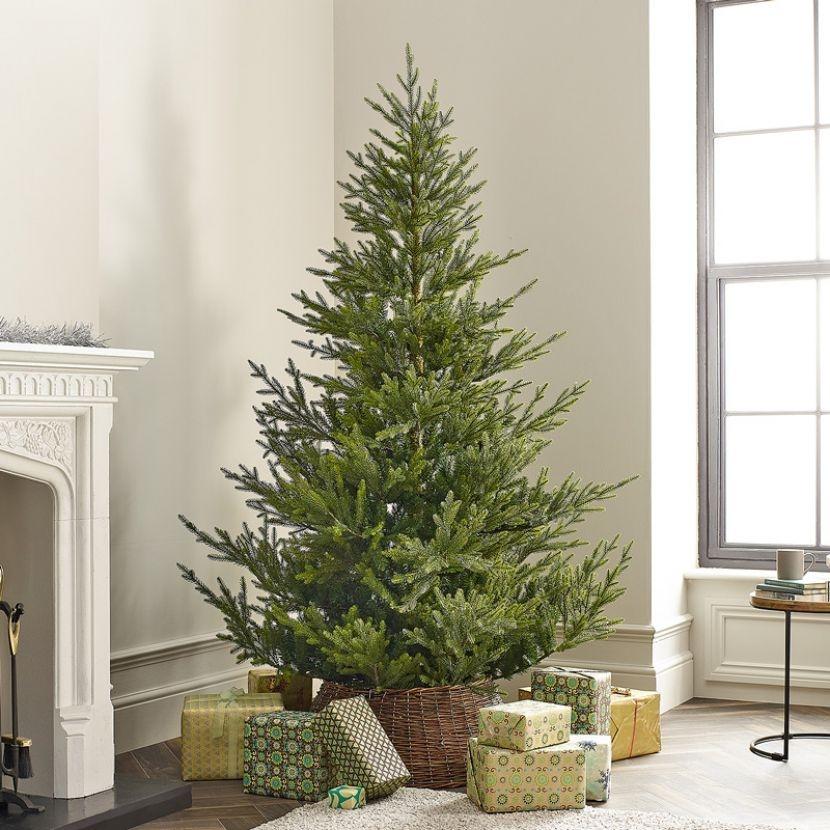 Choosing Your Christmas Tree Lights:
There are four different types of tree lights which are very popular, including:
Battery-operated light: perfect for trees too far away from a plug socket or on outdoor trees
Twinkly: a popular brand of app-controlled lighting for an impressive display which changes colours and patterns, controlled directly from a smartphone
String lights: traditional lights for trees in a range of lengths, colours and wire colours
Cluster lights: like string lights but with even more bulbs on the wire to give a brighter appearance
Christmas Tree Pet Safety Tips
The holidays are never complete without a decorated Christmas tree, adorned with our favourite ornaments. All these things are great fun for us, but they're also intriguing to our pets. Pets are curious investigators — if you bring something new into your home, you can be sure they'll inspect it. So decorating a tree during the holiday season might be a bit more difficult with a pet in your home. Luckily, you can use a few simple tricks to help keep pets safe this Christmas.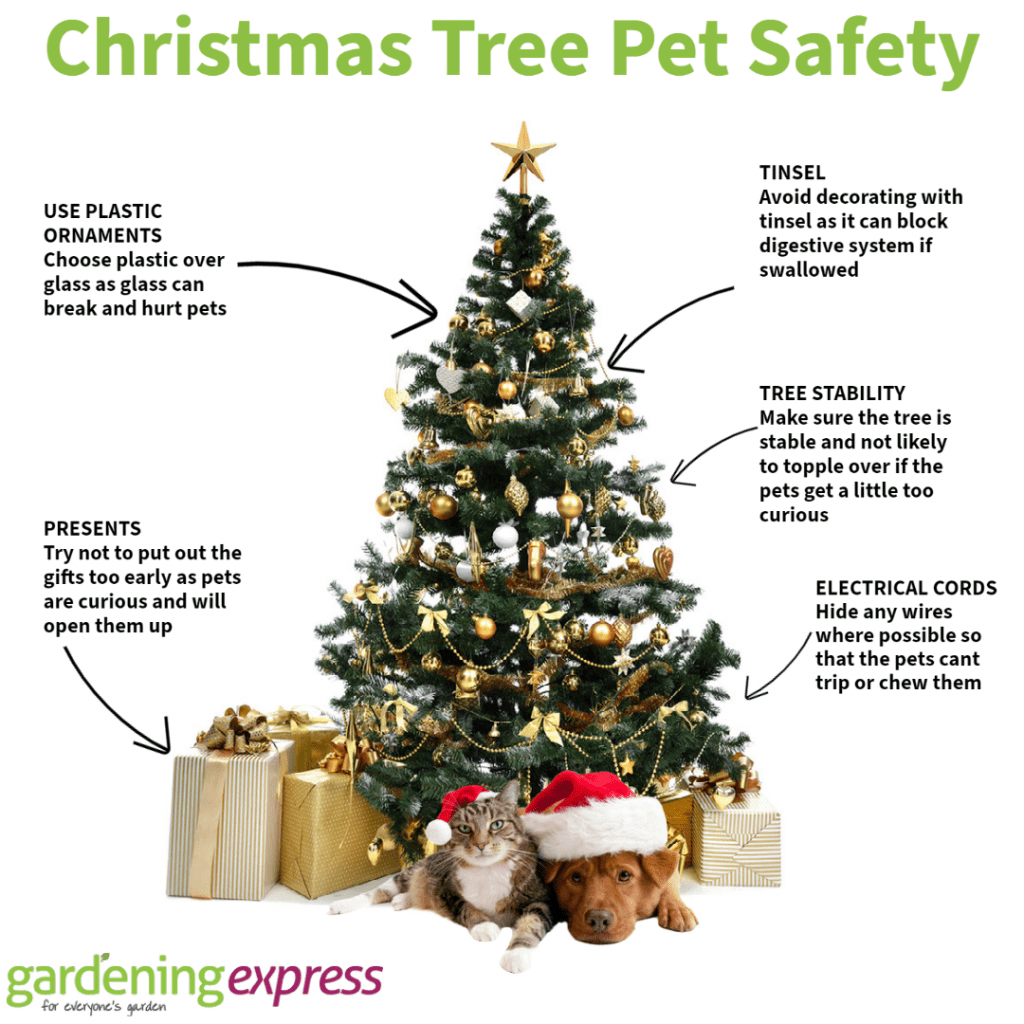 FAQ's
Should I spray the branches of my cut Christmas Tree?
"No. There is no proof that spraying your tree with water or adding sugar to the tree water helps. I do recommend using a humidifier in the room that your tree is located to help the tree retain water, but directly spraying the tree could just aggravate it and cause diseases on the tree," says Chris Bonnett, a gardening expert for The Express.
How can I ensure that my Christmas tree absorbs water effectively?
To help your Christmas tree absorb water efficiently, consider using a Christmas tree stand that allows for adequate water retention and absorption. Additionally, monitor the soil moisture regularly and adjust the watering routine as necessary.
What are some tips to keep my Nordmann Fir Christmas tree fresh and vibrant?
To keep your real tree fresh and vibrant, always give it a fresh cut before placing it in the tree stand, keep it well-hydrated by providing sufficient water, and position it in a cool location away from direct heat and sunlight.
What are the key differences in caring for pot-grown Christmas trees versus cut trees?
When caring for a pot-grown Christmas tree, it's essential to monitor its soil moisture and ensure it receives adequate water, while a cut tree requires regular fresh cuts and ample water in the tree stand to stay fresh throughout the festive season.
How can I properly dispose of my real Christmas tree after the holidays?
After the holidays, consider recycling your real Christmas tree as garden waste or through designated tree disposal programs in your area. This ensures that the tree is properly repurposed and contributes to environmentally friendly waste management.
Are there specific types of Christmas trees that require unique care methods?
Different types of Christmas trees may have specific care requirements based on their species, such as varying water needs and environmental preferences. It's important to research and understand the specific care recommendations for the type of tree you select to ensure it thrives throughout the holiday season.
Conclusion
We hope this article has been useful in helping you choose your tree, care for the tree over Christmas, and decorate and protect your pets over the festive season. We also have other articles, such as:
You can also shop our full Christmas section here