Introduction to Cottage Gardens
What is a Cottage Garden?
The 'cottage garden' is a quintessentially British garden and it's a natural, free-flowering area of plants which aims to always be colourful. The plants in this garden should all have a role to play at differing times of the year: producing flowers through spring and summer, displaying autumn colour and then, finally, contributing those beautiful, frosted stems – common with herbaceous plants – during the winter. It is designed to encourage wildlife, particularly our pollinators, which bring an extra layer of life to the garden.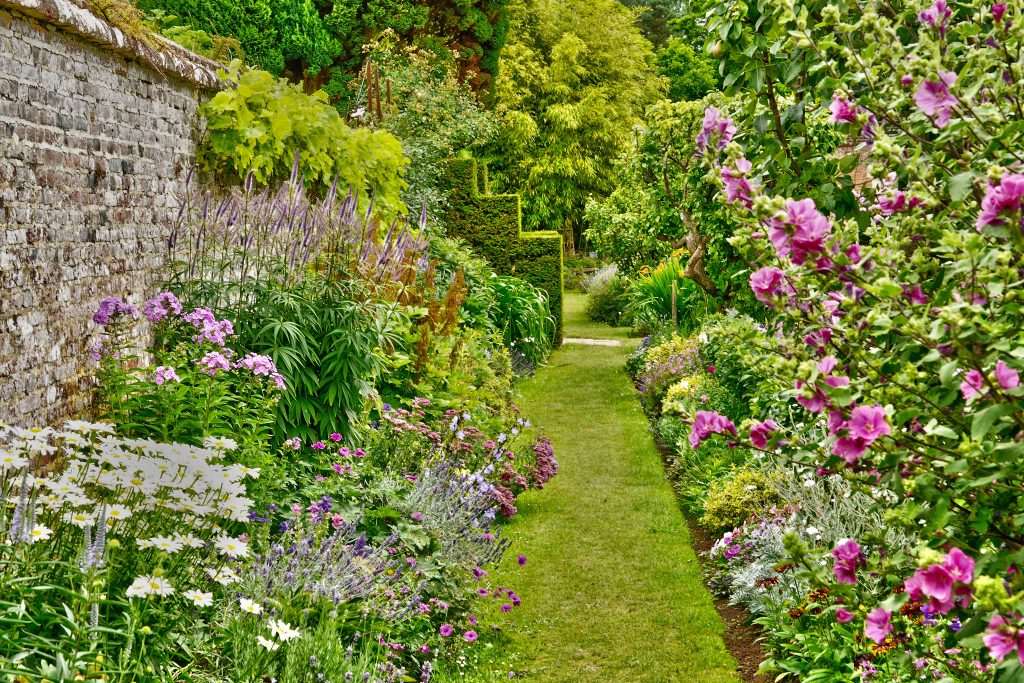 What are the elements of a Cottage Garden?
Be bold and adventurous when planting a cottage garden; plants should be in drifts, grouped in numbers of odd denominations such as 3's, 5's, 7's or 9's. These drifts form full planting spaces and enhance the characteristics of each plant species. This full style of planting also has the added benefit of reducing maintenance work such as watering or weeding.
Another great planting tip is to utilise the blending of hot and cold colours. Hot colours such as yellows, oranges and reds can be planted together while whites, blues and pastels can be used along a planting border or in a group of pots. Staggered heights and different plant forms and textures should also be encouraged.
---
Is a Cottage Garden high maintenance?
For many people, the cottage garden represents the ultimate vision of natural beauty, with drifts of blowsy flowers and borders crammed full – all vying for attention. Unfortunately the traditional cottage garden does demand a significant amount of work and upkeep; this includes deadheading, cutting back, staking and other routine jobs to maintain its beauty.
You need to consider how much time and effort you want to put into your garden and adjust your ambition accordingly. It may be wise to start by dedicating a portion of your garden to the cottage garden style, to see how you get on before fully committing. Alternatively, why not consider a hybrid style? This can be done by introducing extra evergreen shrubs to offer some ground cover and reduce the burden of the maintenance needs. Great examples include stunning Hebes and Escallonia shrubs.
---
How to create a Cottage Garden in 10 easy steps
Site Survey: Choose a sunny site where possible, before undertaking a soil analysis to help with plant selection. Soil testing kits are inexpensive and extremely beneficial, helping to ensure that you choose the right plants for your garden type. Traditional cottage garden plants are associated with bright sun so you may struggle with borders in shade. Cottage gardens work well with small garden spaces and larger estates, you need to adjust the scale of the elements you include to fit the space.
Design: Sketching out a design on paper, choose the plants you want to use. It always helps to make a few notes on each plant – as you can reference this when planting, and in the future as well – but it is beneficial to carry out a bit of preparation before planting.
Clear: Remove any existing weeds or unwanted plants, making sure that you are being thorough with this.
Prepare: Fork in organic matter, such as compost or manure. Some slow-release fertiliser can be added too.
Mark out: Use a spray line to mark out your design of the flower beds. You can also use a garden hose to mark out the edge of the beds and paths as an alternative.
Plant: Get planting! Make sure that each plant is properly firmed in to establish your cottage garden plants – this is crucial for the growing season.
Water: Watering is fundamental as your plants put down roots. A few liquid feeds with a fertiliser such as Seaweed extract, diluted and watered on, will help the plants to establish. It is worth noting that watering early in the morning is the best practice, making sure to always water your plants directly and not by simply spraying with a hose from a distance.
Mulch: Mulching, or spreading compost around your plants on the soil surface, is highly beneficial with reducing weeding and watering as well as feeding the plants. Stake any taller plants with canes and twine if conditions are windy.
Dead head: Remove any dead flowers or leaves with decent secateurs as the season progresses, to promote new growth when the plants are ready. It should be noted that any 'non-woody' plants should not be cut down to the ground in autumn, their bronze stems should be left to be coated in winter frost in order to protect the roots and shield important wildlife.
Cut back: Cut back your plants in early spring when the new foliage starts to appear at ground level.
---
If you think that you need a big garden to have an idyllic cottage garden, that is not the case. It can be created on a small scale or even in containers.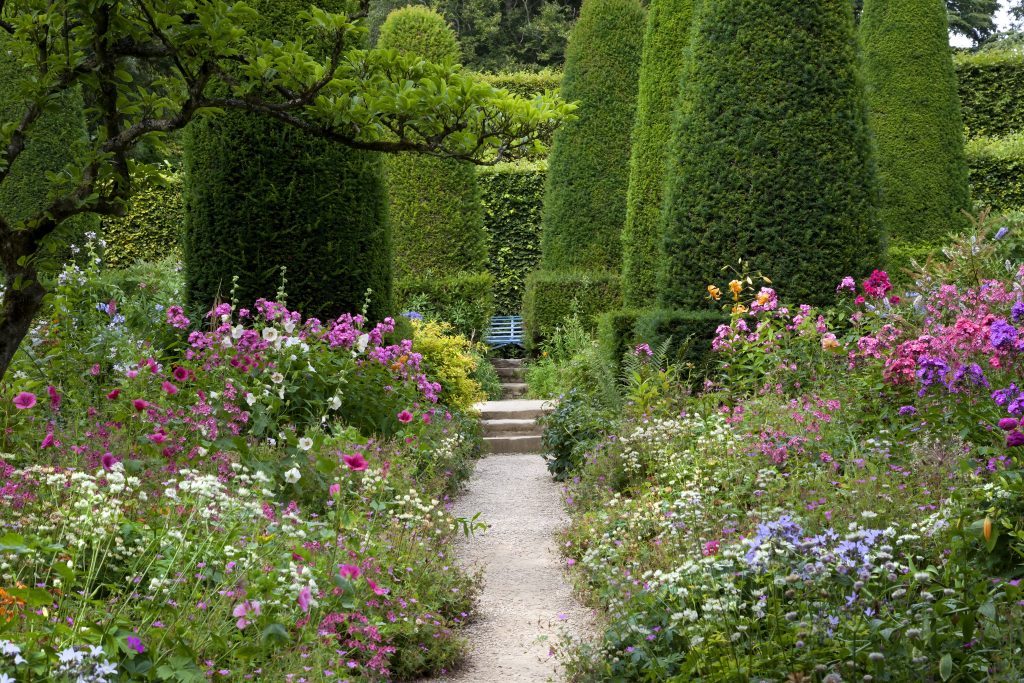 ---
---
For many people, cottage gardens scream herbaceous perennials (those plants that flower in the summer before disappearing in winter) and yet that doesn't have to be the case. You can experiment with a range of plants and mixed borders where you combine perennials with shrubs, bulbs, trees and others. We have compiled the following list of the best plants for a cottage garden.
Description:
No cottage garden should be without Dianthus or as they are affectionally known 'Pinks'. Low growing and hummock forming they are perfect for the front of a cottage border or even at the edge of a container. If you can try to plant near a window so you can appreciate the scent on an early summer's day. The Bees will always buzz around your Pinks, so it's not a bad idea to plant them near any Veg patch if you have one. They will flower right through the summer and are happiest in fertile, free-draining soil.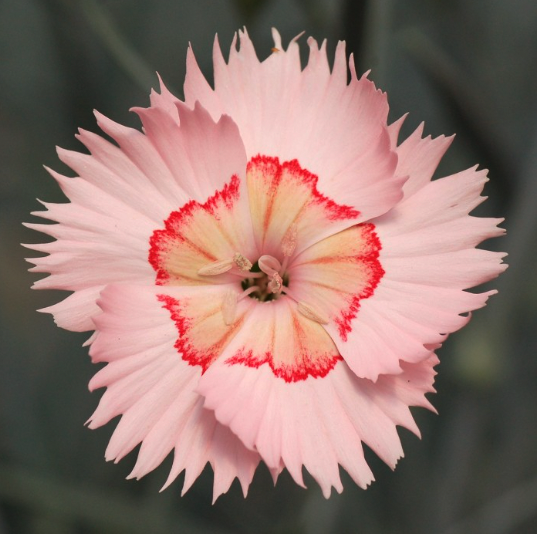 Care:
Dianthuses are not particularly fussy plants and grow away happily in a sunny position, they may struggle in heavy clay soil, so if that's what you have mixed a lot of compost and grit into the area they are to be planted, this will aid the drainage of the area and stop your Gardening Express Dianthus from getting too wet at their feet.
Use:
Plant your Pinks a trowel's head apart, ensuring they are well firmed in and water in prolonged dry conditions. Pick off dead flowers to encourage further flowering.
Tip:
Dead heading, the removing of spent flower heads will encourage the plant to produce more flowers.
---
Description:
Loved by gardeners all over the land, it's another Gardening Express plant that a Cottage Garden cannot be without. Its mass of purple flower spikes that appear in mid to late summer is so striking against the backdrop of its grey-green foliage. They hover on stems above the leaves in abundant numbers. Lavenders prefer not to be planted in cold winds so plant in a fully sunny spot in a South, East, or Westerly aspect.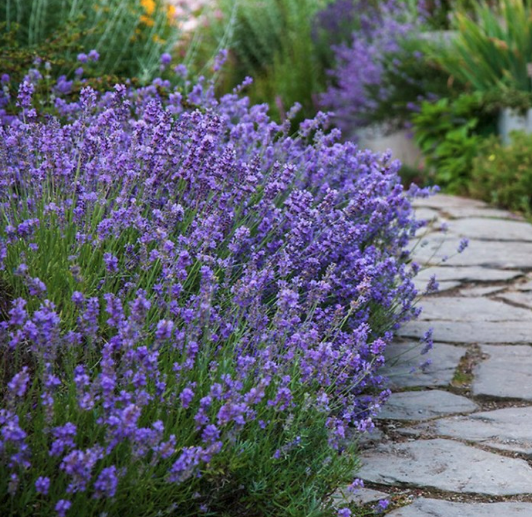 Care:
Lavenders are not fans of heavy wet soils; in fact, they thrive in quite poor soils in their natural habitat. If your soil is clay by nature, dig in plenty of compost and horticultural grit to the planting area.
Lavender will also greatly benefit from gentle pruning after flowering; cut the flowers heads back but take a couple of centimetres of foliage too; this will keep your plants compact and stop them hollowing out in the centre as they age. Water them as they establish, important in the first season, and add a little organic mulch around their base in mid-summer to boost them.
Use:
A small group of plants planted near the front of the border or in a container make for a specimen feature, however, it also looks fantastic as a low hedge or planted in a drift, spaced out and interplanted with a shrub or ground cover Roses. It is not only loved by gardeners but whilst flowering the buzz of our Bumble Bees is audible around these Lavender; they love it too.
Tip:
Why not site a couple of Bee hotels nearby your Lavenders, our pollinators have been suffering in recent years and need our support and consideration in our gardens.
---
Description:
Nothing short of plant royalty in the Cottage Garden, this Gardening Express rambling rose variety is. The perfect rose for any cottage garden, this vigorous climber is perfect for growing on an arbour or garden wall. Flowering from late spring into the summer the semi-double crimson flowers and subtle scent are sure to win many admirers.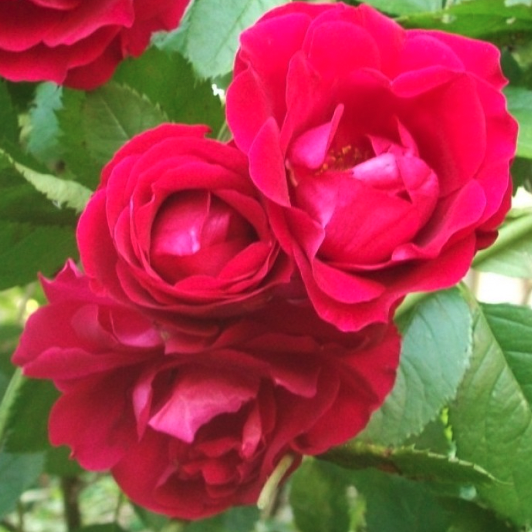 Care:
Upon planting and indeed every spring a Rose will much appreciate a nice thick mulch of bagged Manure. They are quite hungry plants, so a couple of liquid feeds through the growing season will encourage vigour. Dead-head any spent flowers cutting back to just above the next set of leaves. Come late winter, cut out any dead or crossed rubbing wood using a decent pair of secateurs. Every few years cut out any old, gnarled stems the Gardening Express Rose has produced.
Roses can get affected by some fungus-like Black spots on their leaves. If the infection is bad, make sure you clean away the fallen leaves in autumn; as it is on them the fungus will over winter. Aphids may also take a fancy to young growth and flower buds, rub off with fingers or spray with water gently. Failing that use an organic fungicide. Learn more about caring for a rose here.
Use:
One or two of these magnificent plants, trained in a sunny position on trellis or an upright wooden stake, will give height colour and, most importantly, character to the Cottage Garden. Underplanted with a group of Lavender or Hydrangea makes this Rose stand out, and once it is established, it will give years of service.
---
Description:
Modern gardeners are blessed with having so many varieties of our favourite plants. All this gives us a wide choice of colours which we can suit to our tastes and garden conditions. Digitalis x valinii Foxlight 'Plum Gold' (PBR) gives us upright bright pink flowers with a rich plum and gold speckled throat. Their striking appearance justifies their appearance in any cottage garden. Offering great value in any garden, this stunning variety continues to produce flowers late into summer and even Autumn in warmer areas.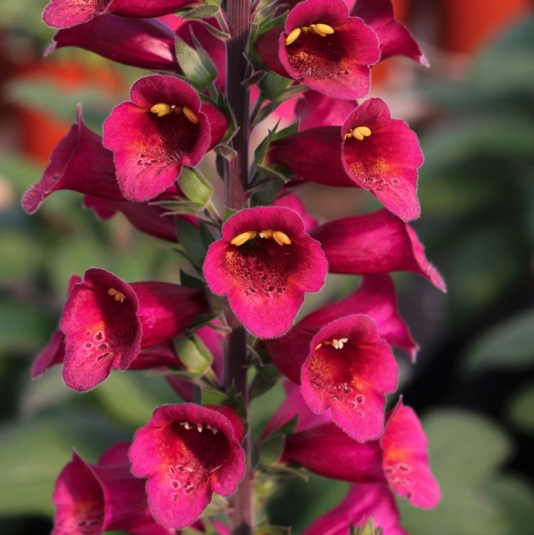 Care:
When planting out Foxgloves, some Organic matter around their feet will be welcome, as would a mulch as they establish. Cut off the dead heads of flowers to entice a second flush. Most Gardening Express Digitalis may set seed in your garden, but they may not come true (colour may change), but as Gertrude Jekyll, probably one of the most famous cottage gardeners once said, they are all welcome. Water as they establish in early to late spring and watch for slugs when they are young and tender.
Use:
'Plum Gold' is picture perfect planted in a nice drift, maybe against a brick wall, rising out of a slightly lower growing herbaceous plant like a white Phlox or Peonies.
Tip:
If your garden is a little breezy or susceptible to gusts of wind use Bamboo canes to secure their long, graceful flower spikes of Digitalis.
---
Description:
This is an amazing carpet-like plant; calling it a living carpet describes its nature perfectly. It hugs the ground tightly and creeps from its growing crowns to conquer its territory. It is when it flowers though, that it looks incredible; its tiny flowers cover the area in a bright colour; in this case, your Phlox will produce violet-blue flowers that engulf the foliage in late spring to early summer. This Phlox is happy in exposed conditions and tolerates a wide range of soils but prefers a sunny aspect so plant in a South or West facing aspect.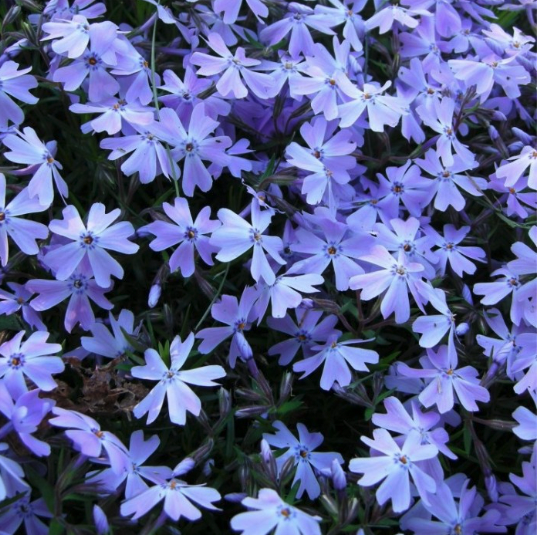 Care:
Add some horticultural grit and a touch of organic matter when planting; they will enjoy decent drainage and a sunny position. A golden rule, is water to the base of plants, early in the morning during the first season and after that very little fertiliser or water is required apart from the occasional liquid feed with seaweed extract. Its foliage is quite tough once it gets going, so pests are not a problem; just watch for slugs when it is young. Give it a very light haircut after flowering with pair of florist scissors to keep the plants compact.
Use:
Phlox is a stunning lilac blue. It's ideal against any rocks or large stones you may have at hand and perfect for the front of a border, beware of putting in any tall planting behind it and think about how you ascend height but planted in drifts this merits a place in any Cottage Garden.
Tips:
Plants like this Phlox that form mats can collect dead foliage from other plants over time, keep an eye out and pick off old fallen leaves, particularly in autumn.
---
Description:
This is a tough shrub that never lets you down, it's a sturdy reliable plant you cannot really go wrong with this. 'Rodeo Deep Purple' is a popular favourite of high-end florists who value the enormous mop-heads which cover the plant all summer. Hydrangeas grow best in dappled shade although they will survive in sunshine and will tolerate a wide range of soils. This particular variety will grow to a height and width of 1.5 Meters.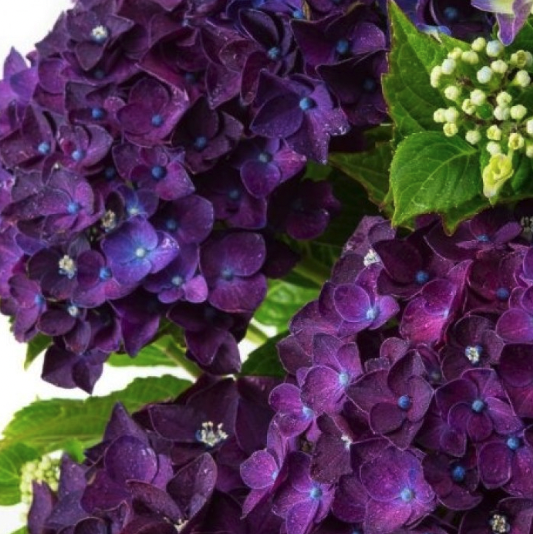 Care:
To get the best from this plant add lots of organic matter to the planting pit, they will enjoy a yearly mulch in early spring once they are established. Leave dried flower heads and stems through the winter as this will protect the plants roots and overwintering insects. Cut back by half in late winter, early spring, as new buds break, prune with decent secateurs to outward facing buds, cut just above a bud avoid die back. Learn more about hydrangea care here.
Use:
Thus, shrub ca be used in a variety of cottage garden settings, if space is aplenty then a small grove of plants, numbering three or five will really create an impressive display, especially if planted among taller deciduous trees. If room is limited, planted as a single specimen in a mixed border and surrounded by lower herbaceous colour will really set this Hydrangea's personality off.
Tip:
Although it is good to leave the flowerheads over winter, you can however pinch a few flowerheads for the vase inside, they make great a great fool to cut flower arrangement.
---
Description:
Wisteria is a plant that requires an investment of both time and patients, but it has to be noted that very few climbing plants bring such a presence to a garden. To many the Wisteria above a door frame, on a pergola or growing on the front of a house is the perfect backdrop to a cottage garden. This variety will grace your garden with cascades of stunning blue-mauve flowers with white centres from May to June that are also fragrant. The plant will reach a height of 4-8 metres in time and prefers a South or westly aspect in sun or partial shade. 'Amethyst Falls is deciduous, and its leaves will give a beautiful autumnal display at the end of the summer.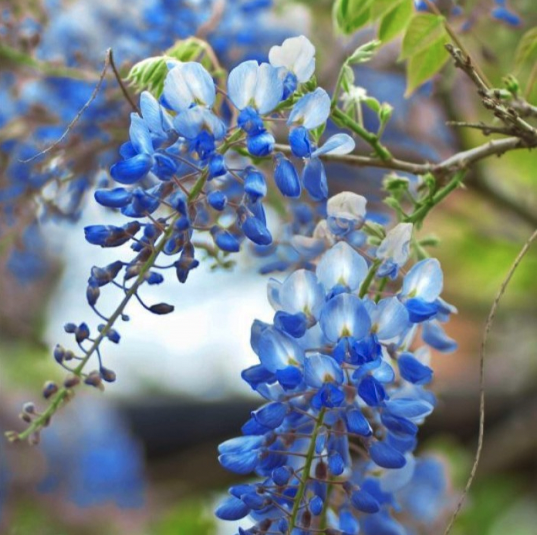 Care:
Wisteria 'Blue Moon' likes cool roots and a sunny crown, so make sure once it's planted it gets a good thick mulch of bagged manure around its base. Be patient when waiting for its spectacular flowers; it may take a few seasons, a Potash feed will help encourage but in general its worth a few seasons' wait. Once your wisteria is growing away it's time to establish a framework. Cut back new growth to two buds in late winter, the fresh new growth in spring will produce the flowers; it's also good practice to cut back the new whippy growth after flowering. Frequent watering in the first season is really important for this plant.
Tip:
It's important to provide support for a Wisteria, use simple system like wire and vine eye screws, secure the Vine eyes to the timber or mortar surface upon which you want to grow your Wisteria and then tie and tighten the wire between them. Tie in any Wisteria stems using soft twine.
---
Description:
'Best in show' at the Chelsea flower show in 2019; this is Hydrangea royalty and will fit seamlessly into a mixed cottage garden border. This deciduous shrub reaches around 1.2 metres in height and width and has a long flowering period, starting in spring and extending all the way until autumn. They are lace-cap white that may tinge with pink with age and are set off by the dark green leaves. This Gardening Express plant will be happy planted in all aspects of the garden but will need shelter from cold biting winds, it is happy growing in partial shade or sunshine. It will produce good autumn colour at the end of summer, contrasting its fading flowers.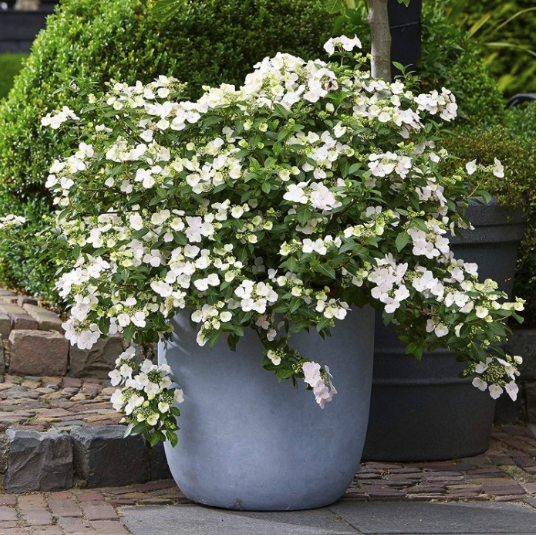 Care:
Apply good organic matter at planting time and as a mulch each spring. Deadheading should be undertaken in late winter or early spring to prepare for the new flowering season. A sprinkle of Comfrey pellet in spring will provide a well balanced fertiliser. Water well after the first few months of flowering. Learn more about hydrangea care here.
Use:
Prostrate growing habit good for design. Contrast this habit with vertical, columnar deciduous trees or large shrubs. Alternatively use them dotted through a herbaceous border. With attention to watering and occasional feeding, 'Runaway Bride' can be grown in a container.
Tip:
Create some leaf mould, this is great mulching material and a great soil conditioner and there is plenty of it come autumn. Create a bay using chicken wire and wooded stakes and store fallen leaves in there, turning them occasionally and water if they get dry. Apply to the soil when well-rotted.
---
Description:
This large, vigorous Clematis is a natural addition to the Cottage Garden. Its fragrant white flowers are beautifully offset by its dark green foliage. Producing 5cm wide flowers from early-mid spring makes it a welcome early star of the cottage garden. The evergreen foliage offers vertical coverage all year round making it a gardener's favourite. Plant your Clematis in a south, East or West facing position and keep the base shaded and cool.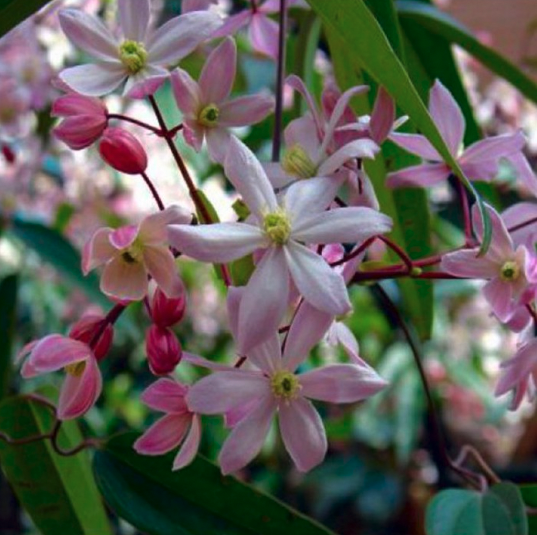 Care:
This Clematis looks great when planted in mottled sunlight although a nice sunny wall also brings out the best of it. Moist, free-draining soils are its preference so a good mulch at planting and in future springs. Remember to water in the first few months and when there are periods of dry weather. Prune after flowering in mid-late spring, 'Apple Blossom' flowers on shoots produced in the previous summer. Regular pruning makes for strong growth, otherwise, they may become knotted and full of dead wood. A sprinkle of slow-release fertiliser in spring will help your plant along.
Use:
A free climbing plant that can scramble up trellis or on free-standing support like an obelisk, rising out of a border of herbaceous planting. This plant is great at softening of hard surfaces like walls.
Tip:
When planting Clematis dig a deep planting hole, add loads of organic matter this will create a moisture retentive substrate, make the planting pit slightly deeper than the root-ball and loosen roots before planting to encourage them into their new surroundings.
---
Description:
A sturdy Herbaceous perennial that is often favoured by artists wishing to paint flowers. They are beautiful additions to the cottage garden. 'Callies Memory' variety offers dark green foliage which grows up to 80 cm, but it's their stunning semi-double ruffled flowers produced in a blush apricot shade that wins so many admirers. Peonies can grow in a wide range of soils but will not like water-logged conditions. They like the sunshine but will take partial, dappled shade.
Care.
It is good to avoid very windy areas if growing this Peony, staking and support with canes may help if your garden is a touch breezy. Deadheading is important as this will encourage further flowering. Feeding in the early part of the season of Potash or seaweed extract, applied as a liquid feed will strengthen these plants. Keep an eye out for slugs, a combination of traps, barriers and physical removal will offer slug protection but if an infestation is really bad then apply organic pellets. A good thick mulch of compost at planting and in spring is advisable.
Use:
The Peony is a classic, elegant cottage garden plant, a favourite of plant breeders and revered in Asia. Plant in pride of place as a single specimen or block group planting if going into a substantial herbaceous border. It can be grown in a container if regularly watered and fertilised. They can also be used for cutting flowers.
Tip:
Every few years in autumn or early winter, dig up and divide your Peonies. Wash off the roots and let them soften in the shade for a few days. Then cut back roots to 15cm and pot up in decent compost with any crown buds facing upwards.
---
Many other plants could have made our list. Stunning Hibiscus, Hydrangeas, Lavenders and Lilacs could enhance any cottage garden. The beauty of cottage gardens is in the planting mix. Feel free to experiment.
---
Cottage garden Inspiration and ideas
For further cottage garden ideas and inspiration, take a look at this stunning Pinterest board. If you fancy visiting an amazing cottage garden, try either Hidcote Manor or Barnsdale both are rammed full of amazing plants during summer.
For further information on establishing a wonderful garden, read our guide to garden design principles.
Notes
When starting in any garden it is always important to understand the unique conditions of your garden space. No two gardens are identical, with every garden having its special microclimates, soil, and growing conditions. All our guides and information are provided as general guides, and garden owners need to do their own research for each and every plant before planting. We cannot accept responsibility for plant establishment and survival in individual gardens.
Download booklet
Download our printable garden style: Cottage Gardens – What are they? How do I create one? The best plants to make a cottage garden.