What gardening tools do you really need?
Are you finally ready to dig into starting your very own fruit and vegetable garden? We can't blame you. Being able to pluck some lettuce, strawberries or juicy plum tomatoes from your very own back garden will not only save you money and give you a great sense of satisfaction, but it will also help you to minimise waste and stay healthy. But before you can reap the benefits of your first harvest, there are some essential garden tools you'll need to get started.
Tools for planting
Trowel
A trowel is an essential piece of gardening equipment that is used when planting, transplanting and potting seedlings. It has a flat blade with a pointed tip that is great for digging up weeds and small holes, planting and transferring seedlings.
We recommend trying out a few different trowels in person if you can. This way you'll be able to handle a variety of sizes to see which one fits most comfortably in your hand. Try to purchase a trowel that has a stainless steel head, as this will be a more durable option that will last longer in your tool kit. Our Ash & Steel heavy-duty hand trowel is a great option as it has a durable, easy-to-hold wooden handle and a sleek stainless steel blade.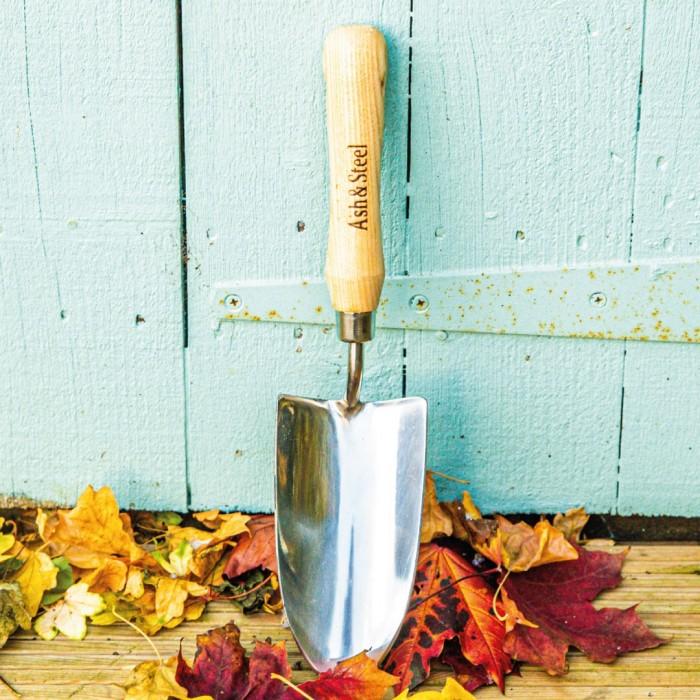 Fork
Used for loosening soil before you get to planting, a garden fork is a must-have on your list of tools to buy. It helps to improve the drainage of your soil by creating small holes and is also useful for turning compost and removing debris from your garden bed.
We have a fabulous full-sized carbon steel digging fork that is perfect if you are working in a large space. It has a sleek leather strap on the handle, making it easy to grip and comfortable to hold. However, if you are just starting out or would prefer to plant in a small raised bed or allotment, you should check out our smaller, carbon steel hand fork.
Garden rake
Similarly to a garden fork, a rake also helps to remove debris from the soil in your garden. However, it is primarily used for levelling soil before planting. This is an important step because a level surface allows water to drain evenly and promotes even growth for your plants. A rake is also perfect for creating little furrows for your seeds to be planted in.
Our Ash & Steel heavy-duty rake is a great option. It's a full-sized, long-handled garden tool, so you won't have to worry about straining your back bending over to even out your garden. Made from stainless steel with an easy-to-grip wooden handle, it is also durable and looks great.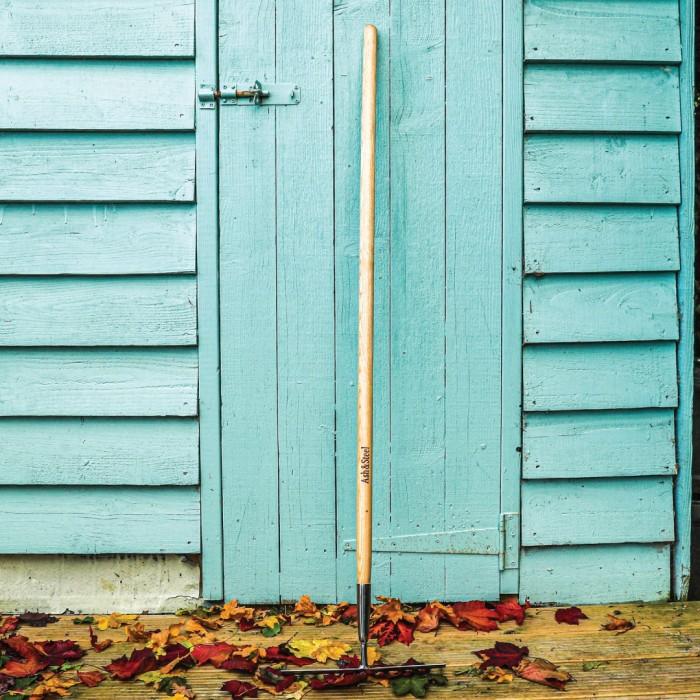 Watering can
You certainly don't need to be a gardening expert to know all about this essential item and just how important it is. Failing to water your plants simply prevents them from growing. So, it's important to have a watering can on hand to ensure that you can reach every easy-to-miss spot.
You likely already have one knocking about in your shed. However, if you don't, when going to purchase consider how large your space is and how much water your plants require. This will help determine the capacity of the watering can you'll need to buy. It's also important to look for one with a good handle and grip, ensuring that it's easy to carry around the garden.
Labels or markers
Labels are an often overlooked piece of equipment, yet these inexpensive little markers are guaranteed to come in handy. Helping you to keep track of what you have planted and where (this is especially useful with seeds that take a while to grow), they prevent confusion and help with gardening maintenance. For instance, if planting seeds with different watering requirements, keeping track of what you have planted and where will help you to avoid overwatering and waterlogging plants.
Tools for harvesting
Gardening gloves
Having a good pair of gloves is essential for gardeners of all levels. They will keep your hands clean when digging and also protect them from scrapes and scratches. We recommend looking for gloves that are made from non-slip materials and designed to provide cushioning for your hands, reducing strain and helping to prevent callouses. You can buy both light and heavyweight gloves depending on the type of gardening you're planning on doing. So, it may be worth having a think about how intense your gardening will be before you go to purchase. Shop gardening gloves here.
Fruit picker
Certain tools like fruit pickers may not be necessary for beginner gardeners, but for those who are more experienced and looking to level up their kit, this tool is great to have on hand. The tool has a long pole with a basket or claw-like attachment at the end that allows you to It will pick produce from areas (like fruit trees) that can be hard to reach, snagging your fruit with ease. Available in a variety of sizes and price ranges, purchasing a fruit picker saves you from having to run up and down a rickety ladder to pick your produce, cutting back on both time and effort.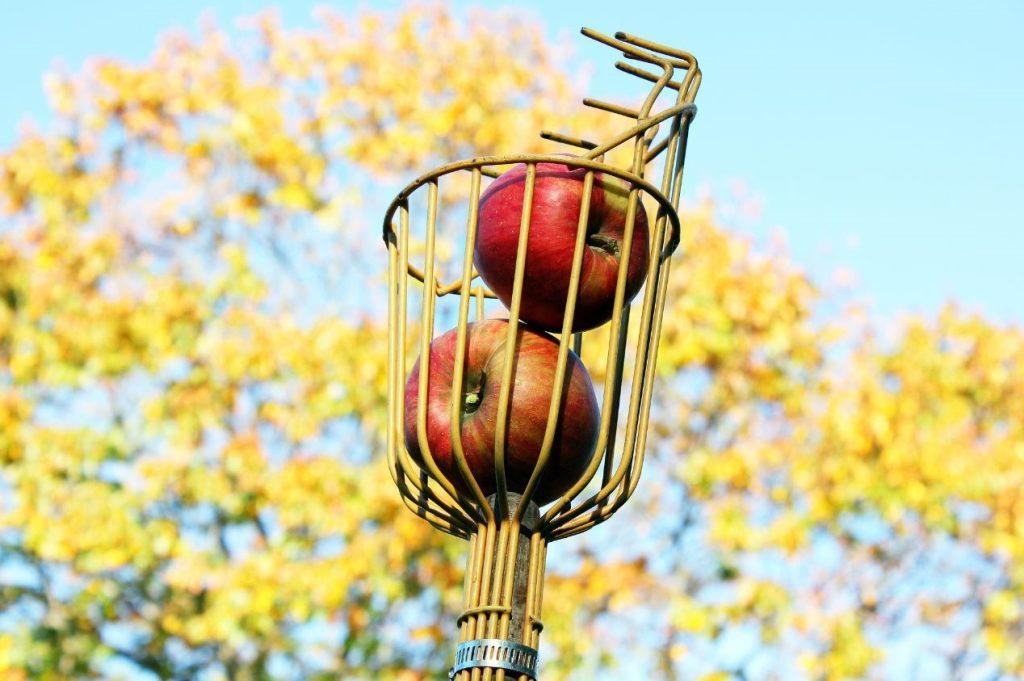 Garden kneeler
Make gardening easier (and more comfortable) by picking up a kneeler. An often-overlooked tool, this simple garden pad can really save your knees from strain and injury. The soft cushioning material provides a barrier when you're completing gardening tasks in a planter or directly in the ground. It also saves you from getting grass stains or dirt on your clothing.
We recommend choosing one that has been made from a durable, water-proof fabric that is lightweight and has a non-slip surface. You can even purchase a higher-end version that comes with its own handles to make it even easier to raise and lower yourself to the ground. This tool would make a great gift for the gardeners in your life who don't already have one. Once they start using it they'll wonder how they ever did without one! Knee pads can also be used if you prefer.
Harvest basket
Great when growing your own vegetables, a basket will allow you to transport your freshly-picked produce in style. Keeping your fruit & veg fresh and free from damage, it's the perfect garden accessory. You can even use it to transport your hand tools.
Before purchasing it's best to think ahead and consider the size of your fruit & veggie patch. This will help you determine the size of basket you need. You'll also want to think about materials. Wicker baskets are effortlessly stylish but can be prone to splintering. If you want a basket that will last a lifetime think about getting a good-quality plastic or metal one. You can even select a perforated version. This will allow for easier cleaning, as you can place the basket right under your garden hose to wash off any dirt and the extra water will just flow right through.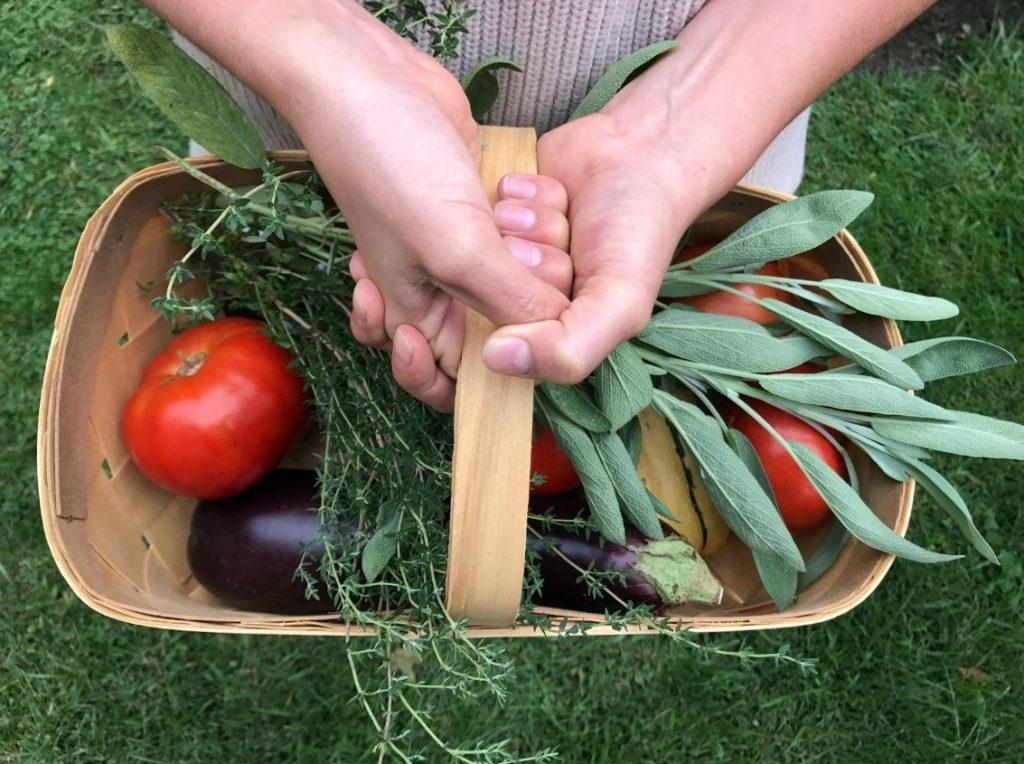 Garden Knife
A gardening knife is great to have on hand to cut off a ripe piece of fruit or chop an overgrown branch. You can select a knife with either a straight or serrated edge, depending on your needs. For instance, when harvesting tomatoes a straight-edged knife will do the job nicely, quickly and efficiently by cutting them from the vine. However, you may have trouble using the same knife to cut through branches, roots and dense clumps of soil, so we would recommend going for a knife with a serrated edge.
It's also important to check that the knife is comfortable to hold, easy to grip and made from high-quality steel to ensure it is sharp and durable enough to fulfil your needs.
Garden shears
A truly versatile tool, having a good pair of garden shears can really save you a lot of time and energy. No one likes the thought of picking produce using just their hands. This will only lead to struggling to get tomatoes off their vines or popping raspberries when trying to separate them from their stems. That's why this tool is worth its weight in gold to gardeners. Plus, shears are also great for shaping and pruning your plants to encourage more growth. Just snip away any dead or diseased leaves or stems to keep your plants happy and healthy.
Pruning saw
Much like garden shears, a pruning saw is used to cut your plants. However, with its sharp teeth, it is much more heavy-duty and is mainly used for cutting thicker branches to prune fruit trees or bushes. It also is quick and efficient at removing dead or diseased branches, protecting your plant and keeping your fruit healthy. When shopping for a pruning saw we recommend choosing a stainless steel option that is resistant to rust and selecting the size of the blade according to what you have planted in your garden. For instance, an apple tree will require a bigger saw than a berry bush.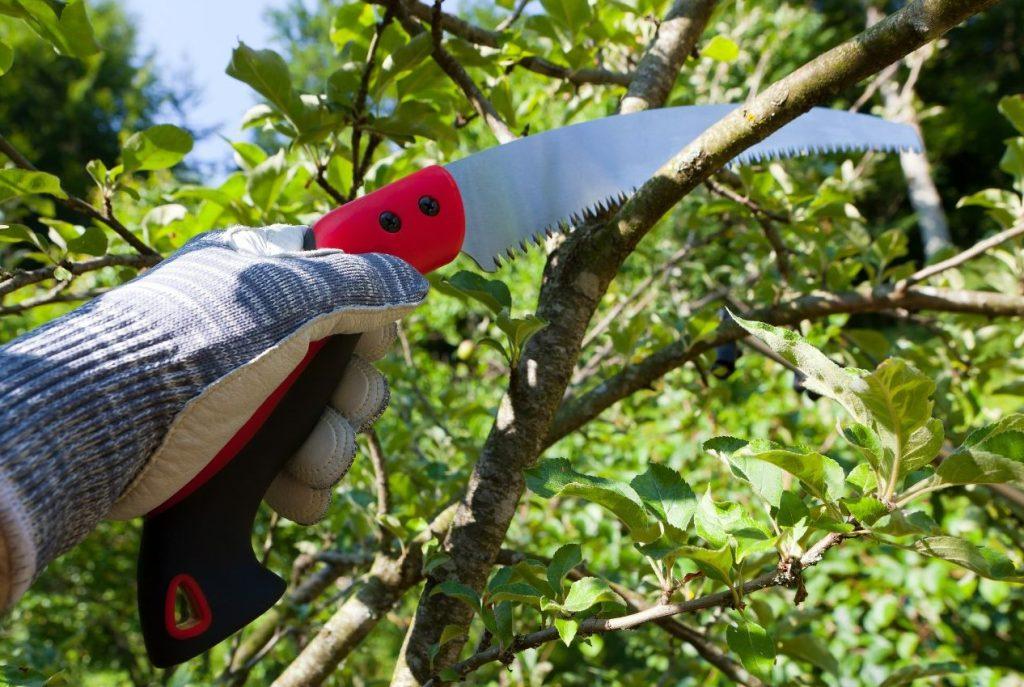 We hope this list has been a useful guide, helping you to identify the basic tools you need to start your very own fruit and veg garden. Once you have gathered your equipment, you'll be ready to start planting and before you know it you'll be sampling some delicious produce right from your garden. To get started you can shop our fabulous range of tools.
We know that finding the right equipment can be difficult, so once you've got a great collection together, make sure that they are well looked after so that they'll last for many years to come. To understand how to properly maintain your tools check out our guides on how to keep them clean and sharp. You can also discover our full collection of articles on our knowledge hub.