A cultivar whose green and gold variegated leaves turn pink when it gets colder. From March to July, it produces green bracts with red flowers in the centre. It covers the ground and smothers the weeds.
Grow Euphorbia Ascot Rainbow in well-drained soil in full sun to partial shade. After the flowers have faded, trim back the stems. When working with euphorbias, gloves are a must because the milky sap can irritate the skin.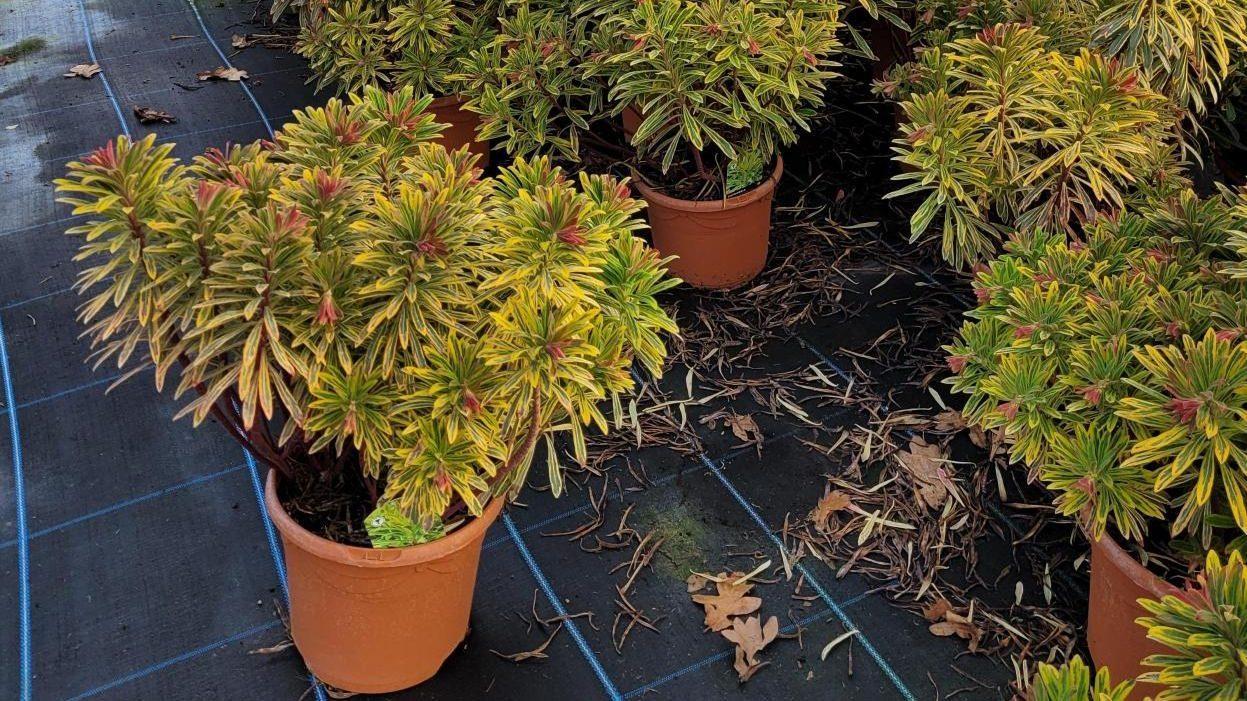 Euphorbia Key Facts
Botanical Name: Euphorbia x martini 'Ascot Rainbow'
Plant Type: Shrub
Foliage: Evergreen
Habit: Bushy
How to grow Euphorbia
Plant Size (after 2-5 years):
Height – 1 to 1.5 meters
Spread – 0.5 to 1 meter
Growing Conditions:
Soil type – chalk, loam & sand
Moisture – well-drained
pH – acidic, neutral, alkaline
Position
Sun – full sun
Aspect – south, west or east facing
Exposure – sheltered
Hardiness – H5
Planting in the spring is best in most of the UK because the warmer weather and moist soil help plants grow quickly. Euphorbias should be planted like any other perennial in the border. This is usually done by digging a hole that is wider than the new plant's root ball, placing it in the hole, and backfilling it with soil that has been improved. Add some organic matter like well-rotted garden compost or manure in as well. This is a straightforward process. Euphorbias need to be well watered and kept moist until they grow.
Although some euphorbias thrive in containers, most prefer growing in the ground. This is primarily due to the fact that they prefer soil that drains freely, and it is simple to create a potting compost that meets these requirements precisely. Combine three John Innes No. 3 compost mixed with grit in one part.
Caring for Euphorbia
During dry spells, give plants plenty of water to get them established in the ground for their first two growing seasons. From spring to autumn, plants in containers need water to keep the compost from drying out completely; the goal is to keep the compost just damp.
Mulching borders is always a good idea to keep weeds at bay and prevent water loss. In the case of growing in a Mediterranean inspired garden style, this could be done with gravel or organic matter under typical garden conditions.
Shop Now