Spring is in sight, which means we need to start getting the garden ready!
This month there are signs of of spring approaching, with bulbs appearing and wildlife waking up as light levels and temperatures start to increase. There is plenty to do indoors this month to prepare for the upcoming season. Outdoors, as the garden appears to come back to life, the focus will be on pruning shrubs and climbers, as well as evergreen hedges and other general gardening jobs.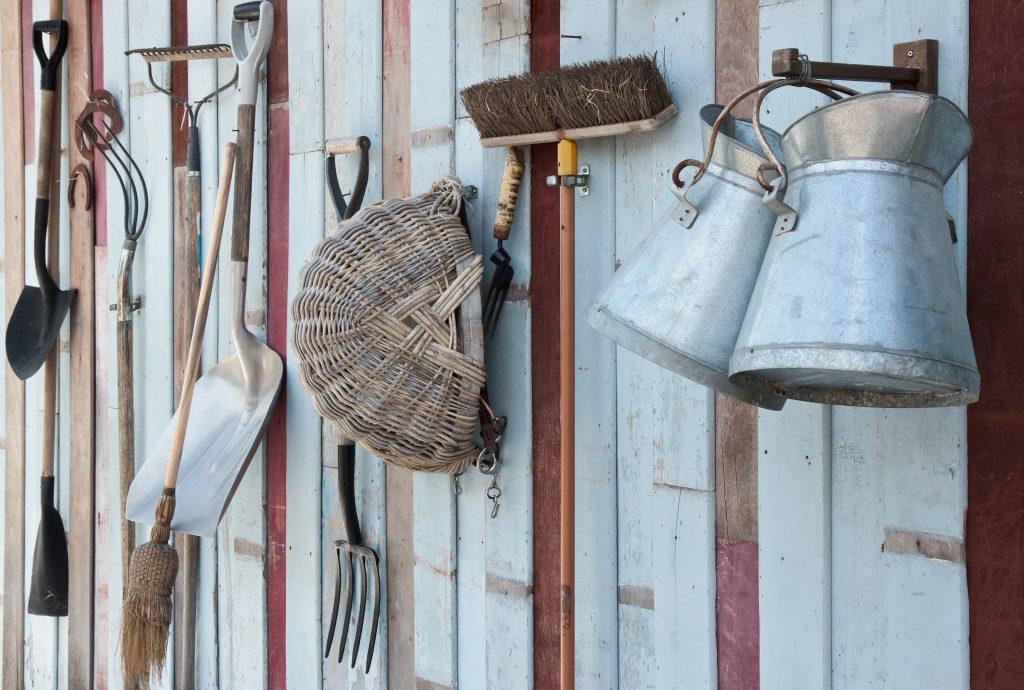 Top Gardening Jobs This Month
4. Prune Wisteria
Prune Wisteria now, cutting back summer side-shoots to 2 to 3 buds.
5. Trim deciduous hedges
Before birds start nesting and the hedges start growing again, give them a good trim to get a head start for the year.
February Gardening Jobs in the Flower Garden
Before new shoots emerge, cut down deciduous ornamental grasses that were left standing over the winter.
Cut back Clematis stems to the healthy buds about 30 centimetres from the base when pruning in late summer.
When they are dormant, transplant deciduous shrubs that have grown in the wrong place.
Plant hardy spring bedding in containers like Forget-me-nots, Primroses, and Wallflowers.
Before birds begin to nest, trim back Ivy, Virginia Creeper, and other climbers that have outgrown their space.
Sprinkle slow-release fertiliser around the base of Roses and other flowering shrubs
Greenhouse Sowing in February
Greenhouses are a great way to get going with gardening early in the year as they can protect the plants from any frost. In February, sow tender crops like tomatoes, peppers and chillies. Where possible, use a heated propagator or any warm, bright windowsill. Make sure to clean the greenhouse before sowing any seeds.
Garden Maintenance in February
Garden maintenance is a very important task in February as everything is starting to defrost and prepare for spring. Now is the time to start pruning the shrubs and trees to make them more manageable later in the year. It is also worth while picking up all of the fallen debris like leaves and sticks, this can make a big difference in such a short time. With all of the fallen sticks and leaves you have collected, add them to your compost bin, or make one if you do not already have one.
Preparing for the Year Ahead
Planning the garden
By the end of February, we suggest making sure you have your garden design and plants planned out. This may mean a whole new garden design or simply taking some of the garden design trends of 2023 to update and modernise your garden. Make sure to check out our garden design principles and garden style guides for inspiration.
Once you have decided how you want your garden to look and feel, choose the plants that best suit this and the garden conditions around you. Why not check out our collection of plant recommendations, top 10 lists & AGM plants for some help.
Gathering tools and supplies
To prepare yourself for the busy gardening seasons ahead, make sure you have all the right tools for the job and that they are in good condition. That means checking you have all of the essential gardening supplies like garden tools, compost and pest control. Make sure to clean and sharpen your garden tools or purchase new ones if needed.
Conclusion
In February, as signs of spring start to appear and temperatures begin to increase, it is important to get your garden ready for the upcoming season. Top gardening jobs for this month include preparing vegetable seed beds, checking garden tools, pruning shrubs and climbers, and trimming deciduous hedges. In the flower garden, tasks include cutting down deciduous ornamental grasses, pruning Clematis, transplanting shrubs, and potting up spring bedding. In a greenhouse, sow tender crops like tomatoes and peppers. Garden maintenance in February involves pruning shrubs and trees, picking up fallen debris, and adding it to the compost bin. To prepare for the year ahead, plan the garden design and choose the right plants, gather necessary tools and supplies, and make sure they are in good condition.