Introduction to formal gardens
Historically, formal gardens were designed on a grand scale. Some of the most famous landscapes and planting schemes are the formal gardens of the estate gardens at Hampton court in London, the Palace gardens at the palace of Versailles and the Sabatini gardens in Madrid. They were the gardens of the rich and famous in days gone by and are still used by designers in modern times. It is perfectly feasible to create your own formal garden on a smaller scale.
What is a formal garden?
The formal garden is the polar opposite of the tumbling and profuse colour of the cottage garden. They are organised, mathematical and contain many geometrical shapes such as squares, triangles and circles. These geometric shapes not only apply to hard landscaping materials but also to plant forms where possible. The planting colours tend to be more neutral, with foliage taking centre stage, although flowers are not absent. Statues and art are often included, as are fountains and water, all usually placed as focal points at the end of avenues and pathways. On a smaller scale, a good example of a formal garden would be a Knot Garden. A compartmentalised garden, with areas surrounded by low hedging and laid out in various formal shapes.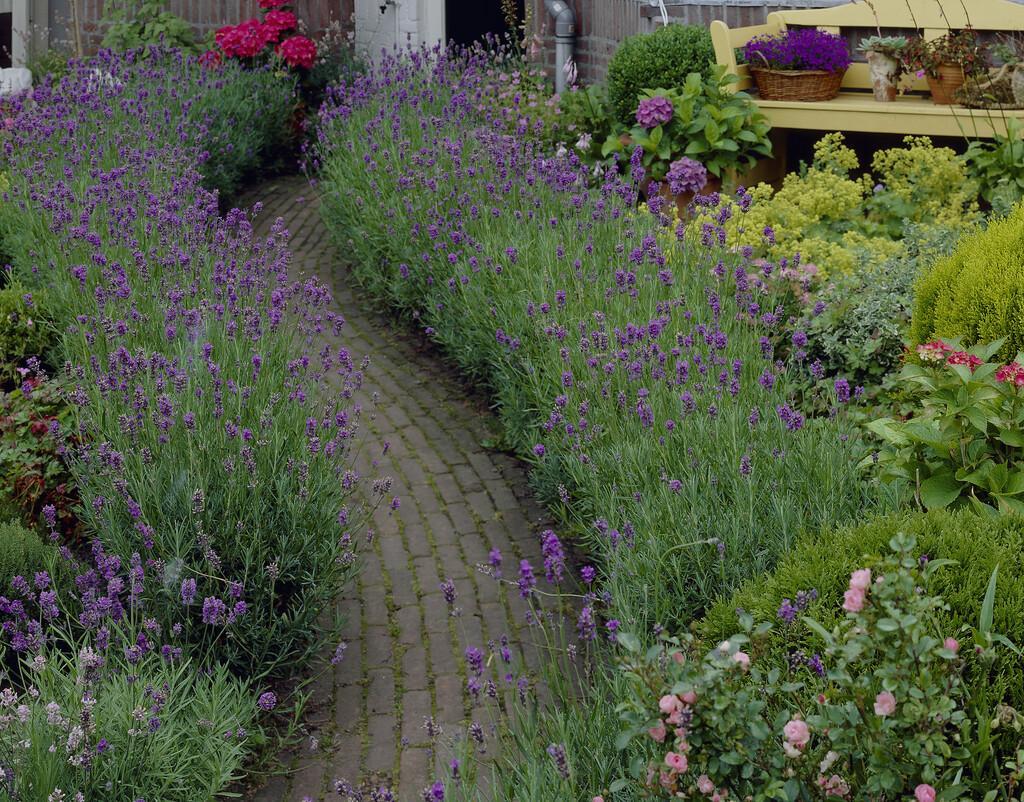 How to create a formal garden
It is important to say that formal planting can be designed in any size garden. By keeping to the rules of formal straight lines and choosing the right accompanying plants, a formal garden could even be created on a balcony or small terrace. All that has to be done is to scale down the core aspects of the formal style. It is well worth going to look at some formal gardens in the public domain to give yourself some ideas on how to go about things and what appeals to your tastes.
The aspect of your garden is going to have a huge bearing on the plants that you can use in your garden. Shady gardens may result in you utilising bold foliage plants whilst sunny borders cry out for bursts of colour.
Firstly, make a plan, get out the ruler, compass and protractor and start playing with the shapes of the borders and paths or positions of containers. Choose the spots for taller plants and try to create a balance by planting equidistance apart. Use formal low hedging to compartmentalise your planting beds, or if working in a small space, like a balcony, lower planting containers around larger ones. Think about vistas and where the eye is led, and finally, use planting and pruned plant shapes to assist with your formal design.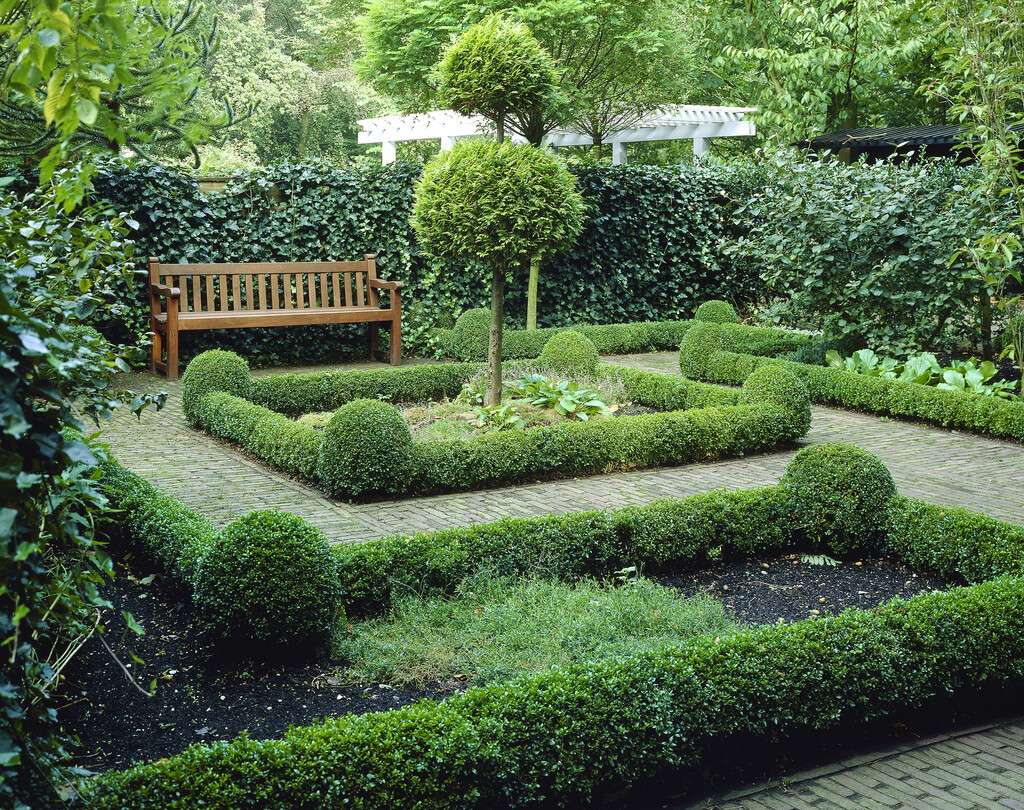 BEST 12 PLANTS FOR A FORMAL GARDEN
Description:
Lavenders are small evergreen plants that are for perfect the formal garden. Their grey-green foliage is an indication of their ability to tolerate dry conditions, the small needle-like leaves have evolved to reduce transpiration. The grey leaves are aromatic, making them a great ornamental feature which provides a foil for all sorts of other plants. This variety has small fragrant tubular flowers topped by purple bracts that appear in late spring through summer. Lavandula augustifolia will reach a height and width of 45 cm.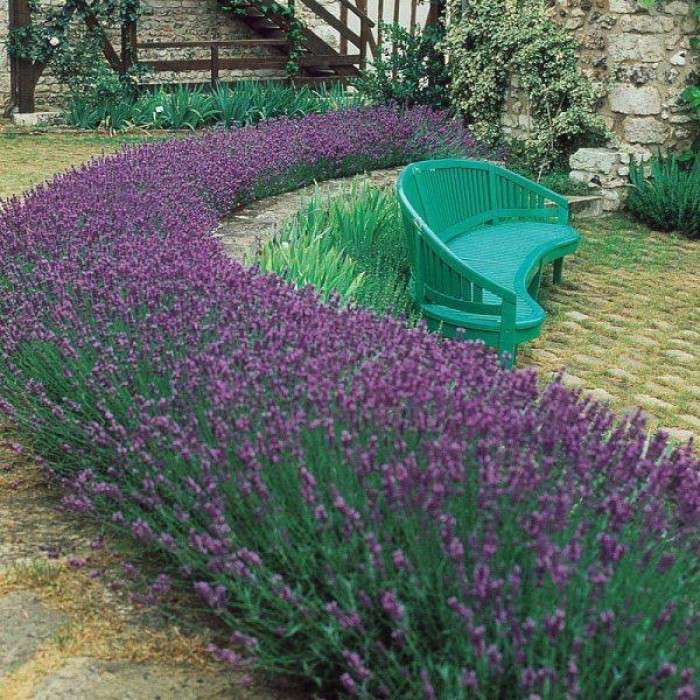 Care:
These Mediterranean plants prefer sandy loam soils that provide free-draining conditions. They will struggle in waterlogged heavy clay but mixing some decent compost with plenty of grit when planting will ensure their roots stay happy. They will also grow in containers where you can control the growing medium. It is good to clip Lavenders, especially after flowering. Use gardening shears to cut spent flower heads and a couple of centimetres of foliage. This will keep the plants nice and compact.
Use:
Lavenders are often seen in the traditional Rose Garden, used as edging around the planting beds. They also make excellent small hedges that can compartmentalise plant groupings like herbs. They are also excellent little individual plants that can be dotted through borders or planted in containers and cited on a terrace or patio.
Tip:
Lavender is loved by insects, these marvellous little creatures are fundamental to the pollination of plants and thus life. For this reason alone, the humble Lavender is worth a spot in any garden.
---
Description:
Elegant, majestic plants, the Foxglove is a classic herbaceous garden plant which provide formality with their upright habit and tall flowering spikes. This magnificent floral display making it an absolute showstopper when in mid-summer. Digitalis purpurea Dalmation Rose grows to a height of 60cm with its sturdy flowering stems attracting a series of pollinating insects. Its perennial rosettes of foliage will form clumps over time.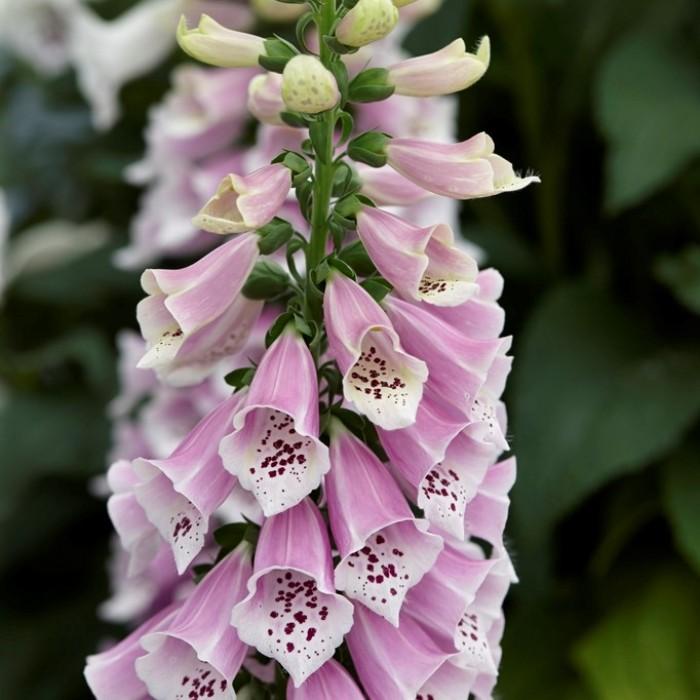 Care:
A versatile herbaceous plant that is capable of growing in both full sunshine, shade and any in aspect. It takes to all types of soils but need it to be moist and not prone to water logging. Apply a good organic mulch when planting and a few organic fertiliser pellets.
Use:
The Foxglove can be seen as a more of a cottage style plant usually but limiting it to just one scenario would be neglecting its talents. Use Digitalis as a centre piece in a formal herbaceous border or as a drift of plants, rising behind a low formal hedge. Their presence will also be loved by Bees.
Tip:
If the area is a little bit exposed, then these tall plants will need their long flower stalks staking when they are developing. Use canes and tie them together gently, using soft twine. Tie this twine in a figure of eight around the plant stem and bamboo as this will prevent rubbing.
---
Description:
Mixing and matching different varieties of lavender will help bring a formal garden to life. Let's break the norm from the usual colours and go with a pale-rose flowering Lavendula. 'Rosea' is a low-growing compact plant getting to 50 centimetres in height with the classic evergreen grey-green foliage. The flowers are born on long tall stems in early summer and along with the leaves are scented.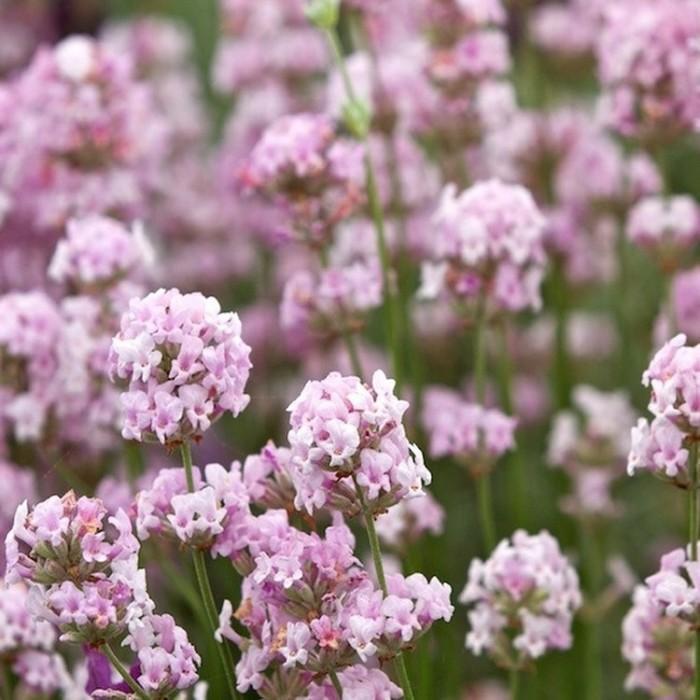 Care:
Lavender is a lover of sunshine and will happily grow as long as its roots planted in a free draining soil. Heavy soils may cause problems for Lavenders so if drainage is impeded add grit and compost to the soil, seaweed meal or green manures are also good at conditioning if applied prior to planting. Trim back after old flowering spikes once they have become spent also take a couple of Centimetres of the tips of the branches, naturally a Lavender will try to spread out by layering into surrounding soil, a light clipping of their growing tips will keep them compact.
Use:
This is the perfect plant to line a formal pathway that runs a through a formal garden. Groups of herbs planted in blocks, in either large or small numbers look impressive when bordered or hedges by Lavender as does an herbaceous border. A couple of stone Urns cited at the top of steps or framing a pathway is another great formal way to plant these, Lavender.
Tip:
Green manures are a great way to condition and re-claim poor or heavy soil for gardening. Mustard, Vetch or ground bean are just some examples. They are sown as seed in late summer or early autumn and grown over winter. In spring the foliage is cut down into small pieces and left to rot down, the roots left in the soil. This practise is superb for soil structure, for aeration and for supplying good organic matter. Plant your ornamental plants 5 to 6 weeks later.
---
Description:
Handsome shrub that can be backbone of any formal border or garden space. The Osmanthus is a solid and reliable plant whose   stunning Holly like evergreen foliage fully cloaks its stems, but this one has a twist with foliage being a copper bronzed. In summer to late autumn small white fragrant flowers give subtle edge to this plant's presence. Reaching 4 metres in height and this Gardening Express plant is happy in either a sunny aspect or partial shade.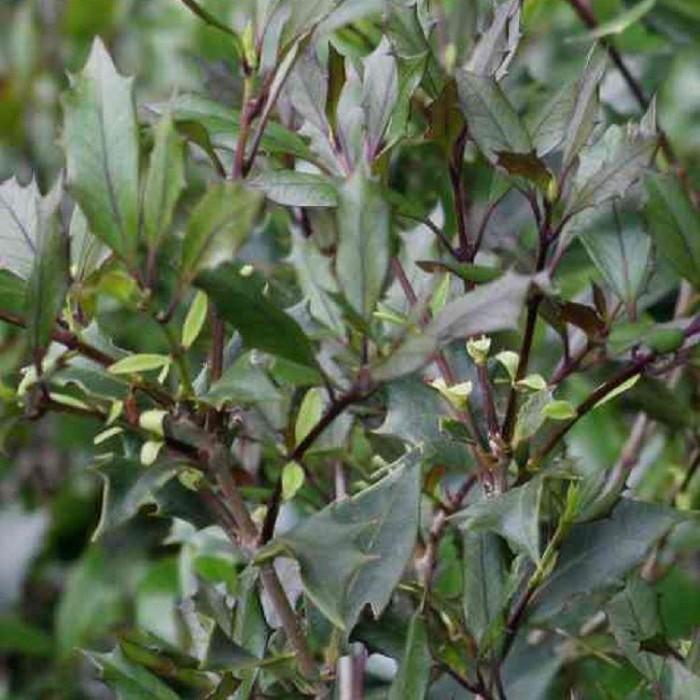 Care:
Osmanthus are perfectly happy in the full range of soils and just require it to be free draining. Water regularly in the first season but once this plant is established it's not too fussy, just give it a mulch in spring. Carefully clip the tips of the shoots a few times during the growing season to help maintain keep the copper bronze foliage colour.
Use:
As markers through a large border, its dark foliage acting like full stops that can be used to mark out a change in any planting style. Other formal ideas for this sturdy shrub are to sit them either side of an entrance or steps, gently clipping the foliage to shape them. Finally, if you have plenty of space this shrub will make an excellent hedging subject.
Tip:
It is a good idea with any newly planted plant specimen, even one as tough as Osmanthus, to water freely in the first rowing season. Timing is all important with irrigation and to get the most beneficial effect always water to the base of the plant and early in the day or evening. This prevents the valuable water being lost to evaporation.
---
Description:
Plants and gardens are the perfect foil to all the and surfaces we create when we construct buildings and its associated infostructure. To use this to full effect try planting thus stunning climber which makes for the ultimate building softener. This Gardening Express plant has beautiful palmate leaves are a soft green and, in the autumn, it turns a breath-taking colour of orange. bright and burgundy red, it's a real showstopper, at the same time the plant will produce blue black fruits. Happy in either sunshine or shade and in all aspect, it is a very versatile plant.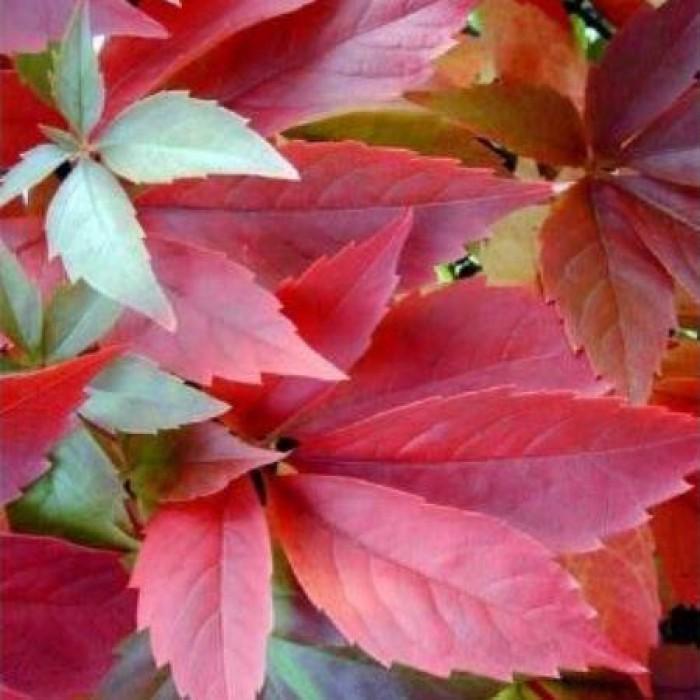 Care:
Comfortable in all soils but avoid any that regularly waterlog.  These climbers are self-clinging using tendrils with small suckers to climb their chosen support surface, if they are wandering where they don't belong note that they easily peel away when needed. A damp, moist soil with a mulch applied annually will encourage quick growth.
Use:
This is a reasonably quick growing, vigorous plant which can make it ideal for covering ugly outbuildings, garages or bike sheds. It equally adds beauty to front of house.
Tip:
When choosing climbers its good top plan how to support them and what materials will be required. Some like Virginia creeper, are self-supporting and use tendrils to climb. Old favourites like Clematis and Honeysuckle need support so think about vine eyes and wire or trellis. Some summer flowering climbers like Sweet Peas look great on Obelisks and Roses look great on pergolas.
---
Description:
Evergreen Conifer subjects such as the Yew makes excellent plants for a formal garden A relation to the traditional native conifer, famed for topiary, this variety upright habit which can reach up to 4 meters, its width however will not get wider than a metre giving a columnar almost sentinel shape. Its these characteristics that make it perfect for the formal garden setting. The small needles that make up the foliage of this Taxus are tinged with yellow and hug the branches closely. The Yew is both happy in a sunny or partially shady spot and is tolerant of all aspects.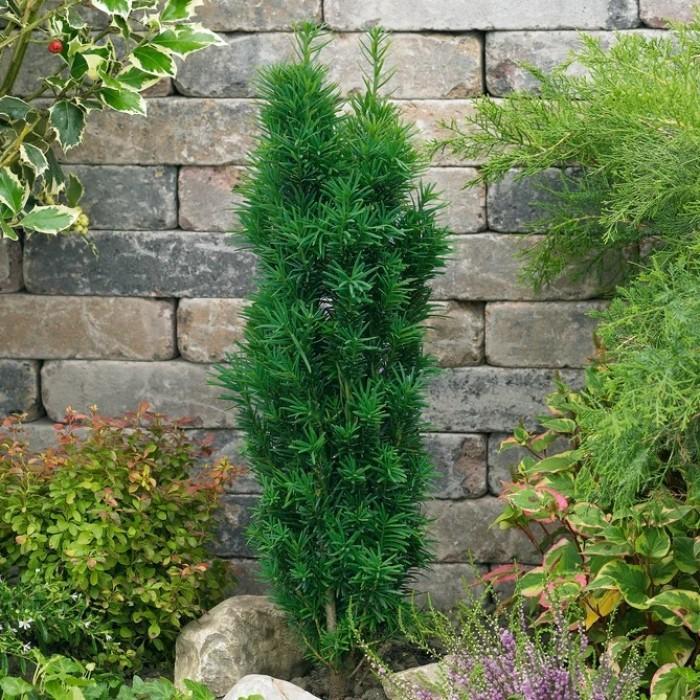 Care:
Taxus will like a fertile free draining soil so plenty of Organic Matter applied as a mulch after planting. A sprinkle of Comfrey pellets around its base in spring will help keep the plant healthy and it is advisable to water Yews in their younger years. Gently clipping of the growing tips will keep the foliage nice and dense and will encourage upward growth of this slow growing plant, preferably done in autumn or early spring.
Use:
This Gardening Express plant is a bit of a designers dream and its vertical accent means it can rise out the borders or beds and look truly majestic in a formal garden. They are also excellent for framing a pathway or vista standing like sentries guarding access points or views. Surround by lower darker foliaged plants to bring out the best in their lighter yellow foliage.
Tip:
As the years go by there are many ways to keep your plants healthy. Mulches of compost or leaf mould not only feed the plant but improve soil conditions. Feeding with foliar feeds that are diluted in water are also great to boost plant health. Use Seaweed extract or cumfrey liquid feeds to give plants a treat.
---
Description:
Hydrangeas are the perfect plant for a formal garden. They can be planted as a group for impact or within a box-framed bed for a classic, traditional look. Hydrangea Incrediball produces giant flower heads on stout, solid stems. The flowers start a pale green turning to white with age.
Care:
Can be clipped to keep its shape, by removing a couple of centimetres of the shoot tips after flowering, this will remove apical dominance. Santolina is of lover of heavy soils, so spend some time before planting conditioning soil, this requires plenty of compost and grit. Alternatively create raised beds so the planting medium can be controlled. A sprinkle if slow-release fertiliser, early in the spring will provide a balanced feed as the plant ends its winter dormancy.
Use:
Santolina makes great low hedging in a formal setting, it also looks great spotted through a border in among darker leaved plants, for a unique formal planting, how about using it for a Chessboard style planting by combining it with a dark green subject like Box
Tip:
Herb gardens are one of the oldest and most popular type of garden. It is always great to have an area of plants, whos' use connects to the kitchen or household. If you want keen on an herb type garden then, then mix plants like Santolina with Rosemary, Lavender, Thyme and Oregano. If room is tight, not to worry, growing a small grow a group of herbs in a pot or trough is perfectly doable.
---
Description:
This is a real a formal gardens favourite, found in the great formal gardens such as Versace or Hampton Court. It can grow into a large evergreen shrub reaching up 5 meters plus, but it is rarely seen in this form as its ability to take heavy pruning and clipping means it is to clip into many shapes, from low hedging to a variety of forms, it is true to say nothing says formal like the Box plant. Its small oblong glossy leaves are dense and profligate as a result of close clipping. It tolerates all soil types but needs moisture and avoid water- logged soil.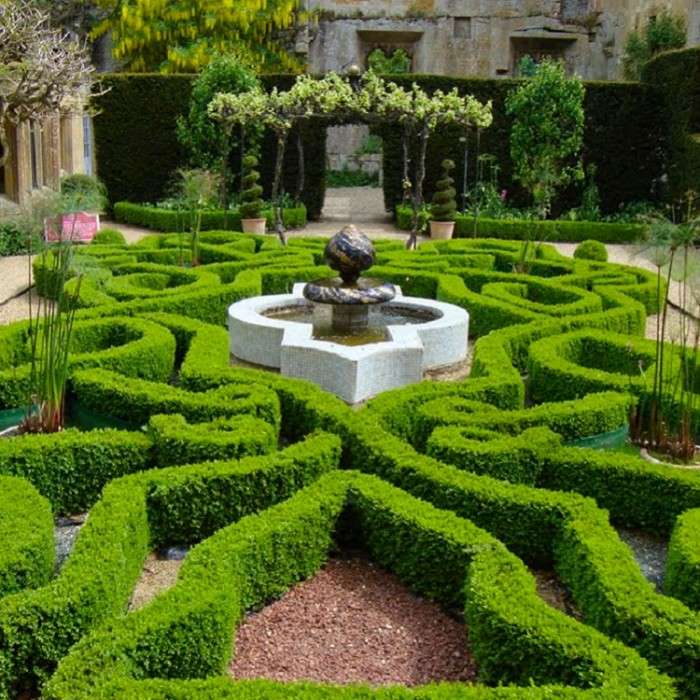 Care:
Regular clipping though out the summer encourages new growth, it has thickening effect on this plant, you can further this by applying a foliar feed a few times in spring. If pruning Box into shapes the art is to not go too hard on the plant, little and often is the key.
Use:
This incredible the shapes this Gardening Express plant can be moulded into, plants pruned into balls or twists, or full-blown topiary have been common on the British Isles for centuries. Perfect in any size formal garden and quite happy in containers, use Box to make your garden space regal.
Tips:
With valuable plants like Box its good idea to take a bit more time when pruning their leaves. Put away the machinery and electric trimmer and use a nice sharp pair of shears.
---
Description:
Alongside Box, the Bay tree is another plant that is common in formal gardens, also like Box if left to its own devices it will grow to an 8-metre evergreen shrub, although that can take up to 30 years. However, it is commonly pruned into a standard shape and placed in containers and put outside doorways. Its leathery green ovate leaves are dense, and the plant also produces small yellow green flowers in spring which will be preceded glossy black fruit. Bay is a tough plant, growing in all aspects and soils and will take an exposed site and is perfect for the forma garden theme.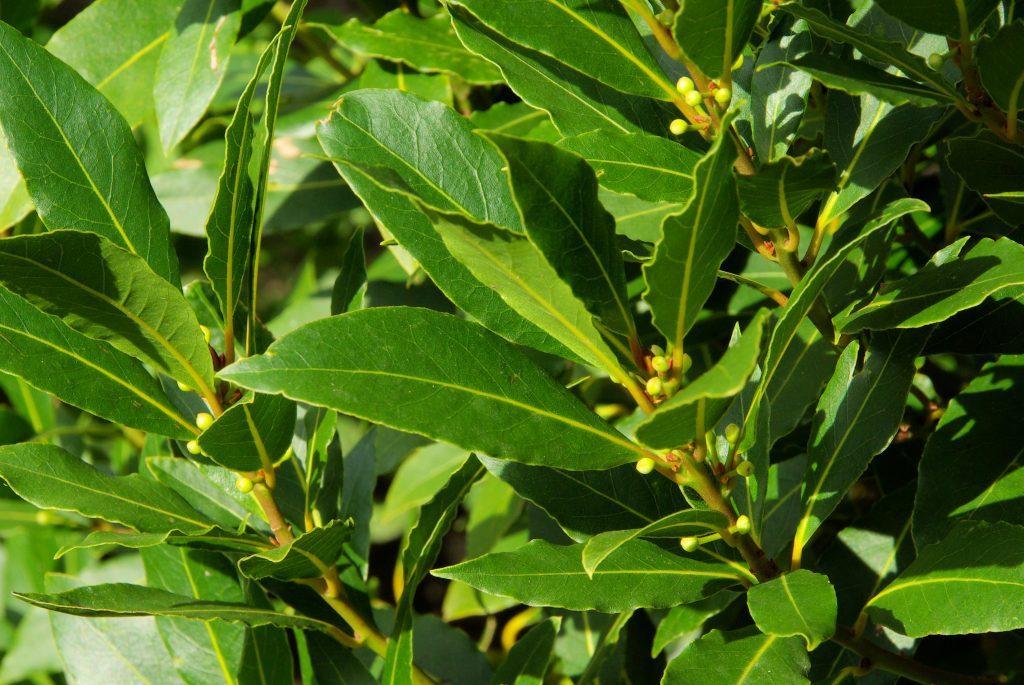 Care:
A few foliar feeds, preferably with Seaweed extract in spring and early summer is a good practise. Top-dress with a mulch in early spring and if growing in a container add slow-release fertiliser. Clip out any damaged leaves and if shaping your Bay, a little and often is a good pruning policy using decent gardening shears only again
Use:
More formal garden royalty that can be trimmed into formal shapes such as standards, and pyramids. This Gardening Express is happy to grow in containers if space is short, but a formal patio or terrace is desired. Shaped Bay trees make great knot garden centre pieces.
Tip:
Bays are very commonly used in all types of culinary, from Indian to British cuisine. Site one of these plants near a door so you can graze its leaves for cooking, also if fertilising your Bay use organic feeds to avoid chemicals with your meals.
---
Description:
Bringing long vertical racemes of bright colour to the formal garden the Hollyhock breaks from the normal formal garden rules Lofty biennial stunning blousy flowers so colourful, against a building or formal hedge. This Gardening Express plant has stunning soft red flowers that are double in nature. Their heavenly frilled flowers are born on long stems and rosette foliage that can reach up to 2 metres in height and are born in summer. Hollyhocks like a sunny position and do best if northerly aspects are avoided. They grow in all ranges of soil that are free draining.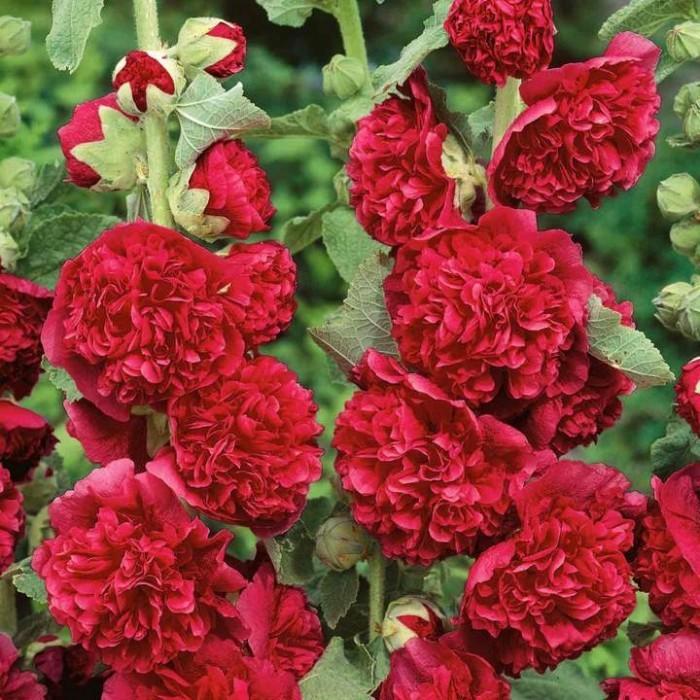 Care:
Hollyhocks are sunshine plants so pick a spot at really shows this unusual variety at its best. If the soil is particularly heavy and clay laden apply both compost and Horticultural grit to the planting pit. In windy areas it's a good idea to support the long flowering stems. A Potash feed in early summer, applied as a times as a foliar feed will be beneficial. Pick over any dying or damaged leaves as this will aid preventing any Mildew from colonising the foliage.
Use:
Plant in blocks to get these most from these beautiful plants, in a formal setting they will look great against the dark foliage of a Yew hedge or surrounded in a low rows of Box ball plants. Growing Hollyhocks either side of a large Bay window will also make great use of them in a formal setting.
Tip:
Tall herbaceous plants are very beautiful additions to any garden setting, and they can be really helpful when designing borders, giving dramatic height t a display. They are though prone to winds and will benefit from support. Use long canes tied with twine for support. Importantly this subtle staking avoids detracting from the stunning flowers. One last tip is to tie the twine in a figure of eight, this will help prevent rubbing against the soft stems.
---
Description:
A familiar sight in our parks and amenity plantings, particularly in formal settings, like around entrances. They are popular for a good reason as they are tough plants and have the added bonus of having an extremely long winter flowering that can often go on long into the spring. These flowers are born in clusters, are waxy by nature, are white with a tinge of pink. They sit against dark green waxy ovate leaves and are followed by purple black fruits in autumn. It's a medium sized shrub growing to 3 metres hight and width but will take good pruning if required. A sunny, partially shady position or full shade is fine for this plant and is also tolerant of the full range of soils.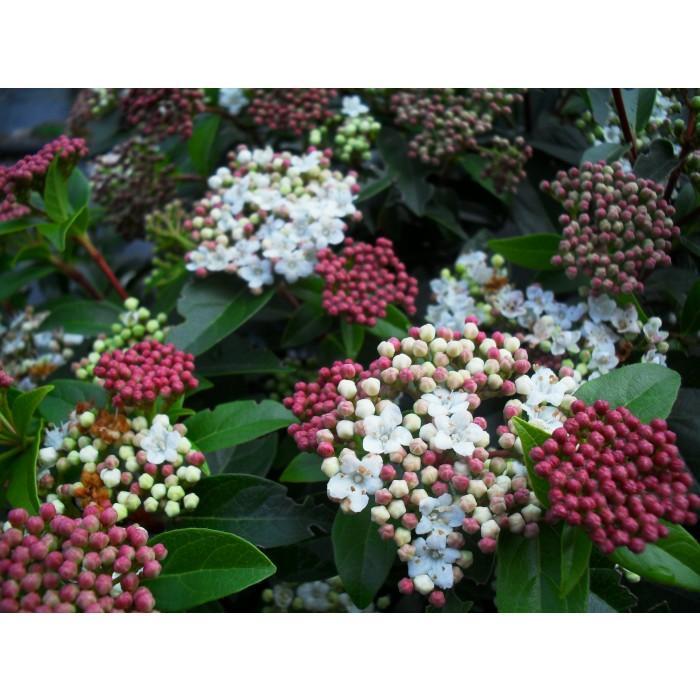 Care:
Removing any dead, diseased or dying plant material is a good rule for this Gardening Express Viburnum. Pick it over of dead leaves and prune out any dead branches. Mulching will be enjoyed by this plant, at the beginning of its time in the garden and in subsequent spring times. It will take a hard prune if it becomes a bit scraggy and some are shaped into pyramid or standard forms. It also no problem to grow them in containers.
Use:
Viburnum tinus is should structural shrub, grown in borders or sited to frame an area. They are easily also pruned into formal shapes. They are great container plants, a large trough filled out with two or three plants will look superb on any patio or balcony.
Tip:
The golden rule to the physical planting of any plant specimen is making sure that it is placed into its new home at the correct soil level. Roots and stem should be placed in carefully in the ground to meet the surrounding soil. A simple piece of wood can be placed across the planting pit to check this has been achieved.
---
Description:
A greatly under rated plant with a tidy neat nature that will contribute to any formal garden setting. It also has value as it can grow quite happily growing in deep shade and under the crowns of large trees proving its capable of withstanding harsh conditions. This Gardening Express plant is a small evergreen shrub that reaches 1.5 meters plus height and spread. It has small waxy beautiful deep green leaves but, its real party piece is the fantastic, sweet scent that perforates the air right through the winter months. The scent is generated by small white flowers that are followed by black fruits that are often on the plant at the same time. If these qualities are not enough it also tolerates all types of soil, and any grows in any aspect.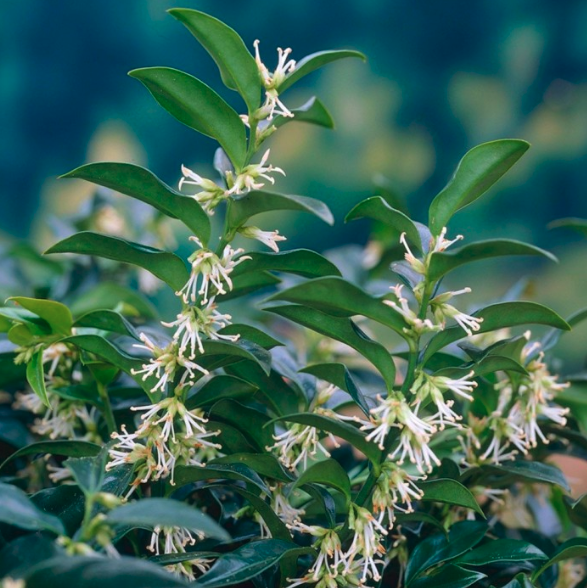 Care:
Like all plants when they are first put in the ground in their new soil a little bit of TLC will go a long way, even for tough little characters like Sarcococca. A layer of mulch around its new soil is always welcome as watering will be in dry times. A foliar feed in spring will maintain plant health as will picking over any dead or dying leaves.
Use:
Plant Sarcococca in drifts or large blocks it is low growing nature means it can be a loose hedging subject in a formal setting. If space is limited but you still fancy growing this plant, then no problem as it will look great as a solo plant in a smaller garden. Sarcococca is also happy to grow in a container.
Tip:Firming or consolidating the soil around a plant when planting is, along with watering vital if the plant is to survive. Using your feet or hands firm soil the around the as you are back filling the planting pit. Be thorough as air pockets around the roots will invite disease, cause problems for the take up of water and may mean loosening in winds. A small but important attention to detail.
---
Formal gardens are a joy to behold on any scale, from small gardens such as courtyards to larger estates. They are popular in urban areas and are often seen in front gardens. It is always worth trying to find some inspiration, so take a walk around and see if you can find any local examples decorating the front of people's houses.