Creating the perfect giftable floral arrangement is easier than you think. In fact, those professional bouquets you admire at events or dinner parties are easy to recreate once you know how to properly prep and arrange your blooms. A great way to make the most of the flowers you grow in your garden, discover our expert tips and learn how to arrange flowers. Perfect for gifting to your friends and family, with this simple step-by-step guide to arranging, you'll have a stunning bouquet before you know it.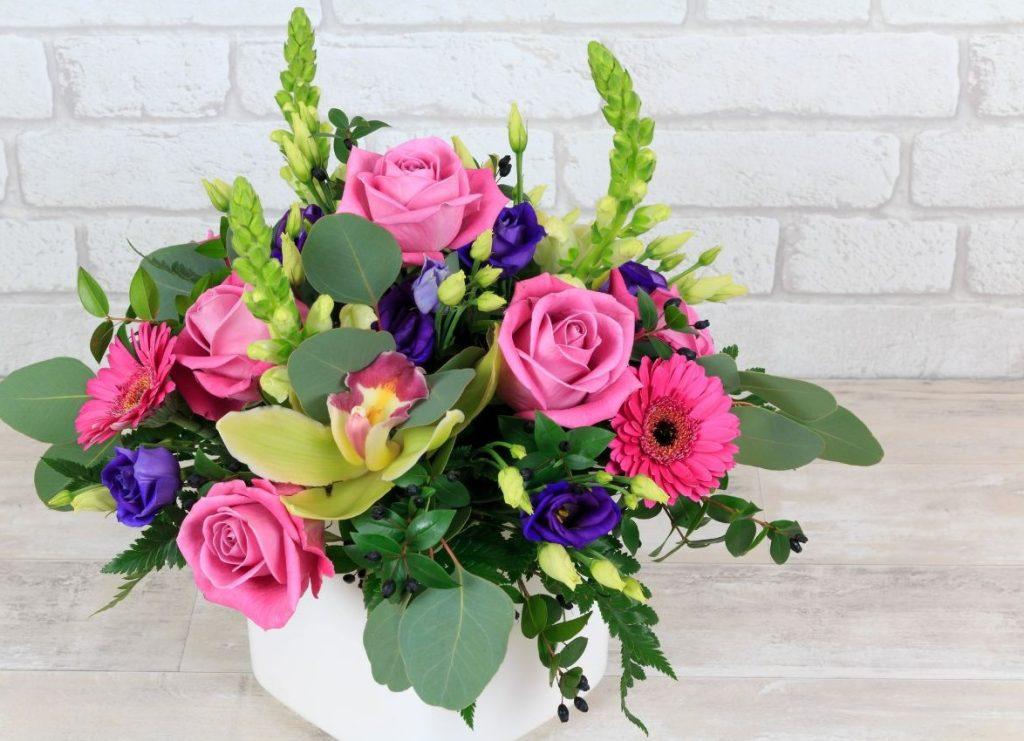 Step 1: Properly prepare your blooms
Properly cutting and preparing your homegrown flowers is crucial when creating a healthy diy flower arrangement. We recommend cutting your roses, hydrangeas, or other flowers and greenery in the morning. This is when the stems are fully turgid (aka full of water). You'll also want to cut them before they are in full bloom, just as they are starting to show colour. But be careful not to cut too early, as this may mean they may not fully develop.
Cut the stems at an angle of about 45 degrees. This will help them absorb water when placed in a vase, which should happen as soon as they are removed. As a general guide, it's best to cut your flowers and foliage approximately one inch from the bottom of the stem.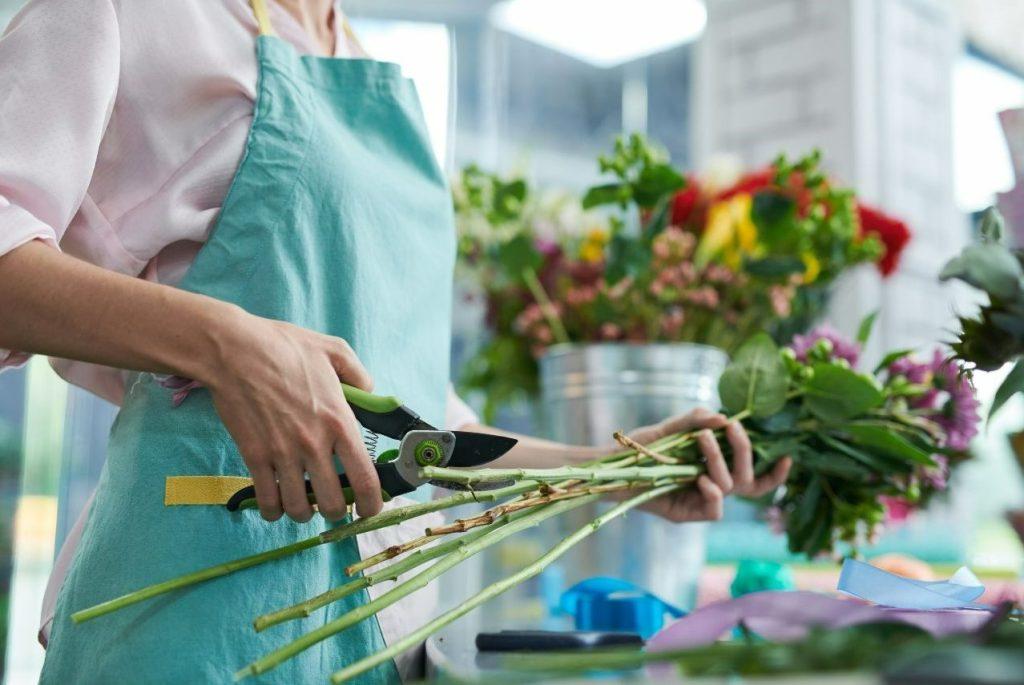 Step 2: Decide on an arrangement design
Once your flowers are cut and ready, it's time to decide on a colour scheme and floral design. You may already have one in mind, but if you need a little inspiration, browsing Pinterest is a good way to go. If you plan on giving this particular flower arrangement as a gift, you may want to create a lavish display filled with large flowers in complementary colours. Or, choose a monochromatic scheme for guaranteed elegance. This is also great if you're starting out and unsure of what colours work together well. You could also opt for a mismatched display filled with smaller flowers of different varieties. This bouquet will have more of a whimsical touch. Whatever you decide, once you have an inspo photo and a clear idea to work from, it's time to get stuck in.
Step 3: Choose your vase or container
Ask yourself, what container will work best for this bouquet? The answer will depend on the style you're going for and what flowers you will use. For instance, if you want to create a beautiful, relaxed farmgirl flower design, you may want to display them in a woven basket rather than a traditional glass vase. Similarly, if you want to use large flowers like lilies, they will need a taller vase to support them properly. You may also decide to display using some floral foam. This is a technique used by floral designers and florists to keep flowers in place. Soak the foam in water and insert the cut flowers directly into it to create your arrangement. Particularly popular for table centrepieces, this is a fun method to experiment with.
Once you have decided on your container, you'll need to prepare it properly. If you are using a traditional vase and want to ensure things stay in place, we recommend creating a grid with floral tape. Simply fill your vase with water, dry the edges of the lip and then proceed to make a grid using small strips of tape (2x across and 2x forward). Not only will this allow you to secure things in place, but it also will help to give your arrangement a fuller appearance. Allowing you to properly space the flowers like a pro. Once completed, all you'll have to do is place your flower stems within the different squares.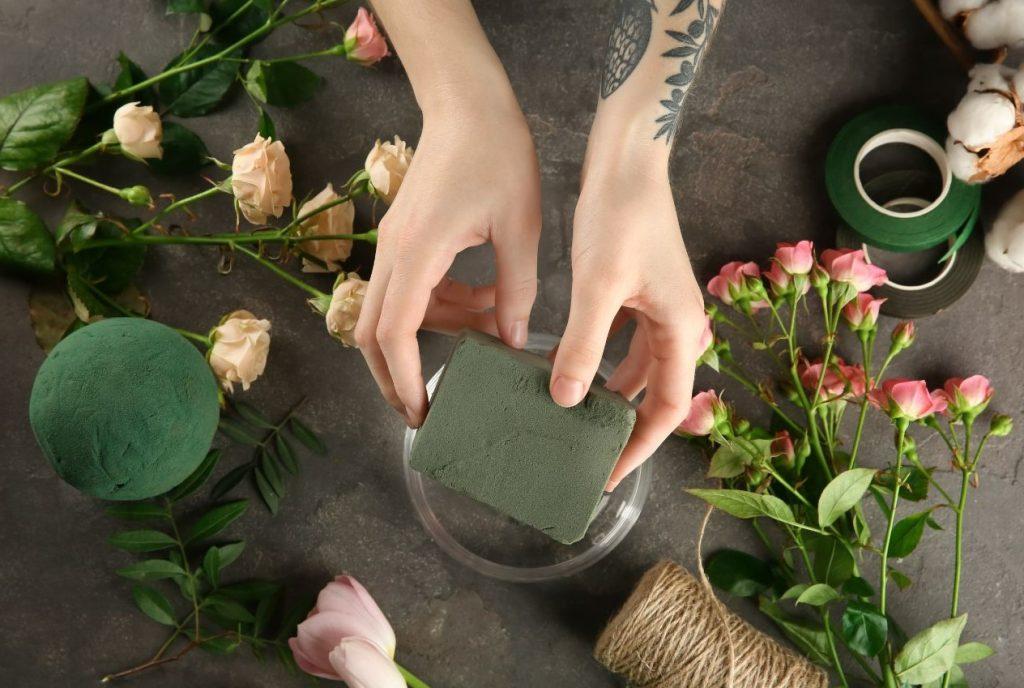 Step 4: Create a base with greenery
Next, it's time to add greenery to create the perfect base to fill out your bouquet and allow your flowers to really pop. You can use ivy, Italian ruscus, eucalyptus and ferns for this purpose. Arrange the greenery by placing them at an angle into your vase or container, allowing the stem to drape over the mouth of the vase. Ensure both the edges and centre have greenery to add a consistent, fuller appearance.
Step 5: Add your focal flowers
Now that your base is complete, it's time for the fun part, adding focal flowers. These are the blooms that you want to serve as the centrepiece of your display. Usually, the largest in size or the flower that has an unusual texture or striking colour. Adding your focal flowers in odd numbers is best to create a more natural, seamless look. Walk around the vase to get a full 360 look at your display as you add them. This will help you identify gaps that need feeling and help ensure your focal flowers are properly distributed.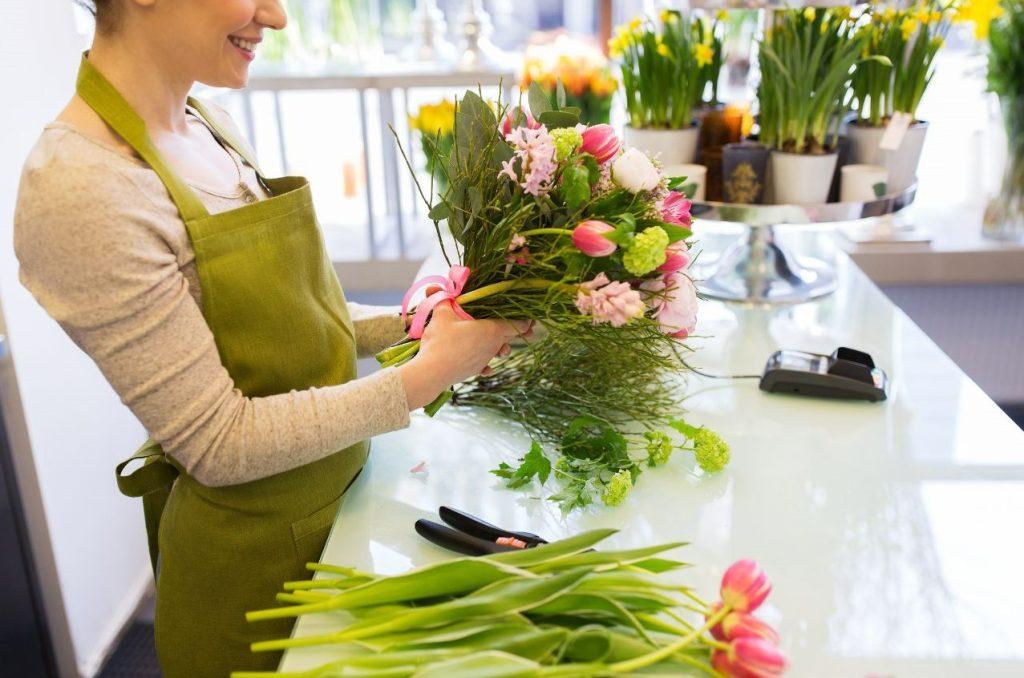 Step 6: Add the filler flowers
Now it's time to add filler flowers. You can get playful here, and in fact, it's best that you do. Adding filler flowers of different heights, colours and textures can really add interest to your bouquet. Combine the flowers in groups of three when adding them and once again, turn or walk around the vase to ensure you are spreading them evenly. If you want to keep your bouquet simple, you can choose to only add one filler flower. If this is the case, we recommend adding more greenery than usual. However, it's best to use several different types of flowers for most bouquets.
Step 7: Add the finishing touches
Now that you've followed these simple steps to create your perfect bouquet, it's time to add the final flourishes. We recommend adding a touch of baby's breath or yarrow. This will add texture and fullness to the bouquet. You can even decorate your vase if you're about to give it as a gift by tying a bow around its centre. As a final step, mist the flowers with water and clean up any stray leaves.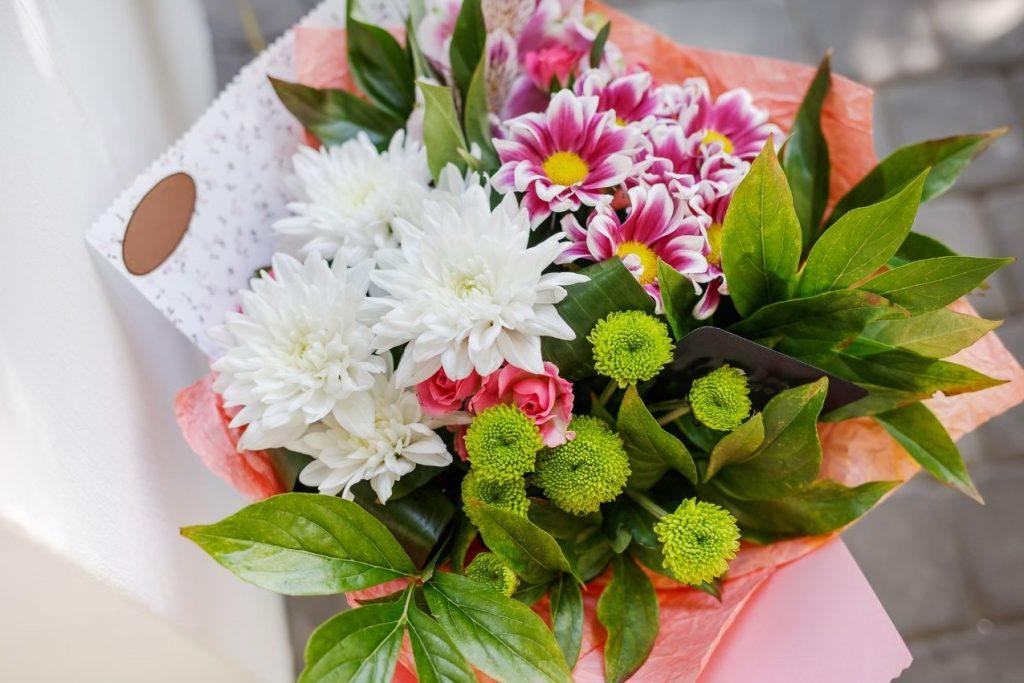 Flower arranging tips & tricks
Make sure to clean all your tools before cutting and starting your bouquet. This includes cleaning your vase or container with warm, soapy water. This will remove all excess dirt and bacteria, ensuring your flowers remain happy and healthy for longer.
Remove all excess foliage after picking your blooms. This will help prevent the growth of bacteria, improve water and food absorption through the stem and provide more space in your vase for air to circulate.
Change the water in your finished arrangement every 2-3 days and regularly check the water level in your vase or container to make sure that one-third of the vase is filled. This is especially important during warm periods.
Dry out your flowers to create a dried floral arrangement that will last for much longer. All you need to do is tie the base of the stems with string and hang them upside down in a cool, dark room for at least two weeks.
What next?
Now that you are well on your way to creating your own diy floral arrangements, why not plant some new flowers in your garden? Just check out our online shop to get started. Plus, if you're curious to learn more ways to make your garden great, pop over to our knowledge hub. Don't hesitate to share your own tips with us on social media (@gardeningexpress). We would love to hear from you!