Want to get inspired and plant the perfect garden for your needs? These garden trends coming out of the interior design and gardening communities this year are a great place to start! From the latest landscape designs, plant selections and more, you can create a beautiful home garden.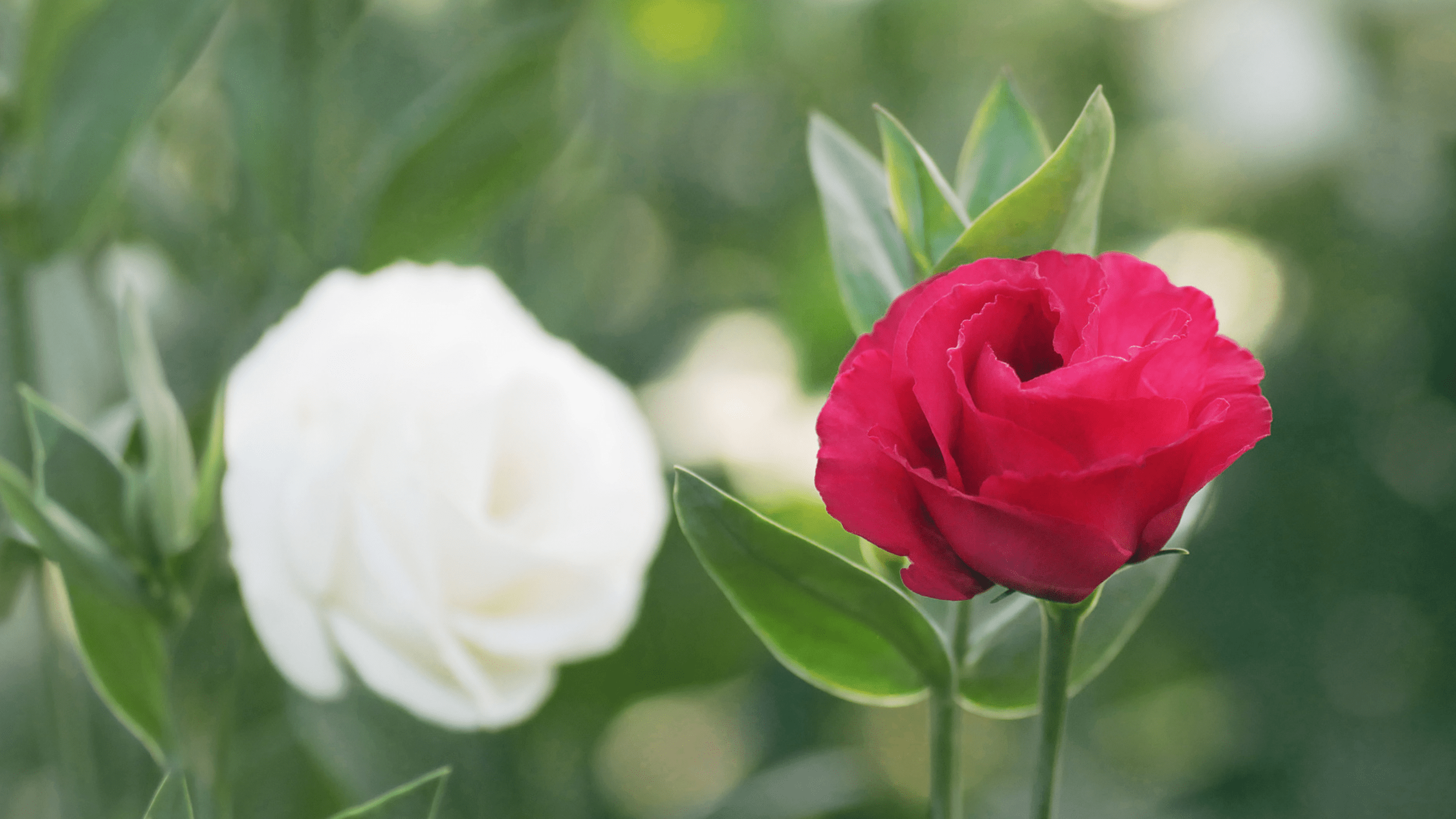 The RHS Chelsea Flower Show 2023
The RHS Chelsea Flower Show will be highlighting the ways that gardening and gardens can impact our health and well-being. As well as help the environment, through some of their 12 show gardens that will be featured. A frequent theme in this year's show will be about making the garden a sanctuary for people and animals. Hamptons Mediterranean Garden by Filippo Dester, features a "contemporary outdoor living space, combining a kitchen and entertainment area surrounded by edible and fragrant planting for alfresco dining". First-time Chelsea designer Martyn Wilson will be creating a wildlife-friendly garden, "creating a space for both humans and creatures to live in harmony."
Bringing Colour & Texture to the Garden in 2023
2023 Colour of the Year: Viva Magenta
Before getting started, let's look at the Pantone colour of the year for 2023. This will undoubtedly be used in garden designs this year. Viva Magenta 18-1750, Pantone's colour of the year, exudes energy and passion. It is a natural shade from the red family and conveys a new signal of strength. Viva Magenta is fearless and bold colour whose exuberance encourages experimentation to make a statement.
In this age of technology, we look to draw inspiration from nature and what is real…

Rooted in the primordial, PANTONE 18-1750 Viva Magenta reconnects us to original matter. Invoking the forces of nature, PANTONE 18-1750 Viva Magenta galvanizes our spirit, helping us to build our inner strength.

Leatrice Eiseman
Executive Director, Pantone Color Institute
Most gardens will look lavish in this colour. You can use it sparingly for a splash of colour or in large quantities to make a bold statement. This year, you can expect to see it on plant pots, accessories for outdoor dining, and a lot more in the garden. Bold botanical choices are likely to be used to incorporate Viva Magenta into the garden, making it sure to be a showpiece in any garden.
Viva Magenta Colour Pallets
Viva Magenta can be incorporated into the garden's colour scheme in a variety of ways. Pantone has created a Magentaverse colour palette as featured above which is ideal for a cottage-style garden.

The use of various tints, shades and tones of a single colour in a monochromatic palette extends the colour theme to a wider range of colours that could be used in a plant collection for a hanging basket or container.

We increased the number of colours used in analogous colour schemes from the traditional three to five. We ventured into the reds, oranges, and purples on either side of Viva Magenta on the colour wheel for this similar colour scheme. These colourful flowers can be added to the garden in a variety of ways to create a lively and energetic atmosphere.

On the colour wheel, triadic colour combinations typically consist of three colours that form an equilateral triangle. We added some additional shades of magenta and green to bring the total to five colours, making it possible to include a wider variety of plants in a garden border.

The most common kind of colour combination is probably one with colours that go well together. On the colour wheel, these colour combinations are opposite one another, creating a balance. You probably decided on a complementary colour scheme for your garden based on how it looks and feels, whether you were aware of it or not. Additional colours from the magenta and green sides of the colour wheel are included in this complementary colour palette.
Cheery & Bright Outdoor Spaces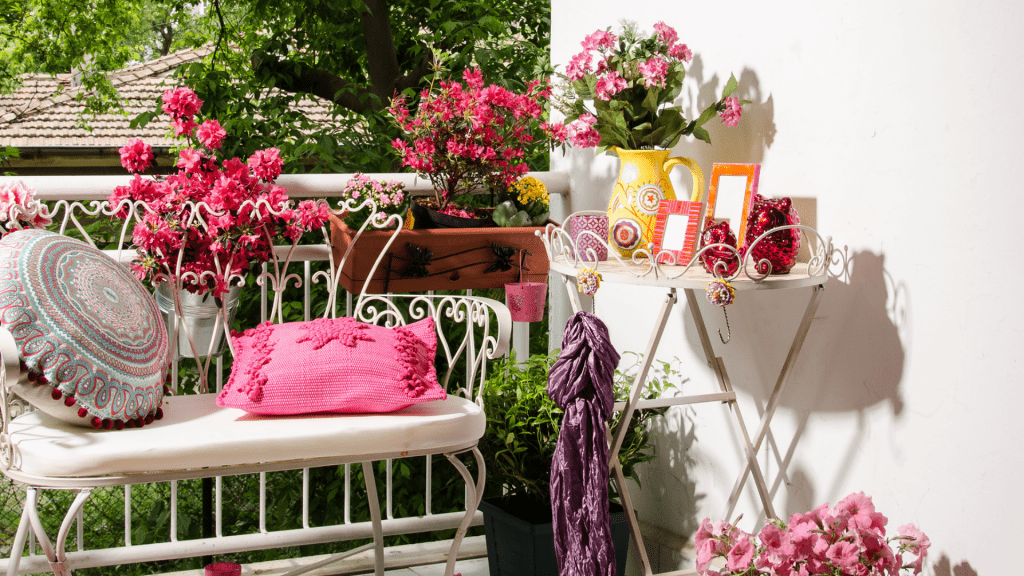 Can it be denied that looking at a garden bed full of vibrant flowers improves your mood? Gardeners are becoming increasingly inventive with colour combinations. Try using bright colours to create a cheerful garden. But make sure to use multiple colour combinations throughout to create a cohesive design and let the eye move freely from one area to the next.
Try combining pastel pinks, purples, and bright reds with deep magenta. Think about painting old tables, chairs, and containers to add a pop of colour. These can be moved or changed in the future instead of just flowers. Non-plant materials like tomato cages, trellises, and pots or garden art can also produce colour. Outdoor patterned rugs, pillows, and blankets in vibrant colours also work.
We love adding colourful containers to the garden as it is a quick and easy way to bring in extra colours into the garden, my kids love them too, and it means we can change it seasonally or repaint them for another year

Chris Bonnett, a gardening expert for The Express.
Are you looking for plant suggestions for specific colours? Take a look at these pink, blue, and white flowering shrubs!
Coloured Concrete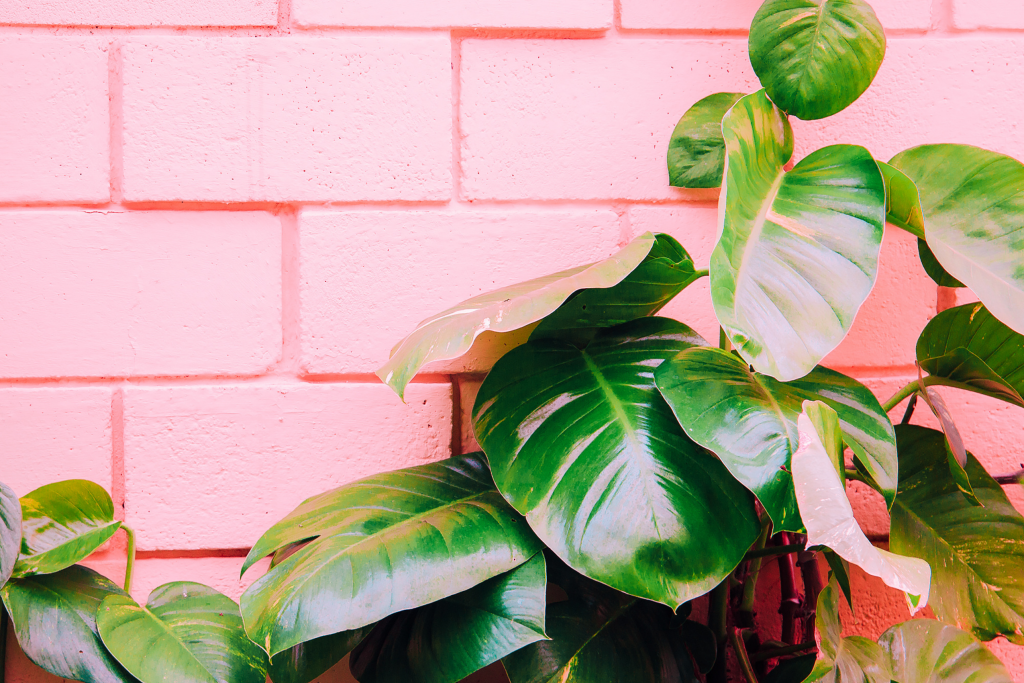 Concrete plays a pivotal role in many current trends, including gardening and interior design, which emphasise personality while maintaining a monastic, spa-like serenity. It is the ideal material for an outdoor dining area due to its texture, depth, and vibrant colours that it now comes in.
Muted & Warm Colours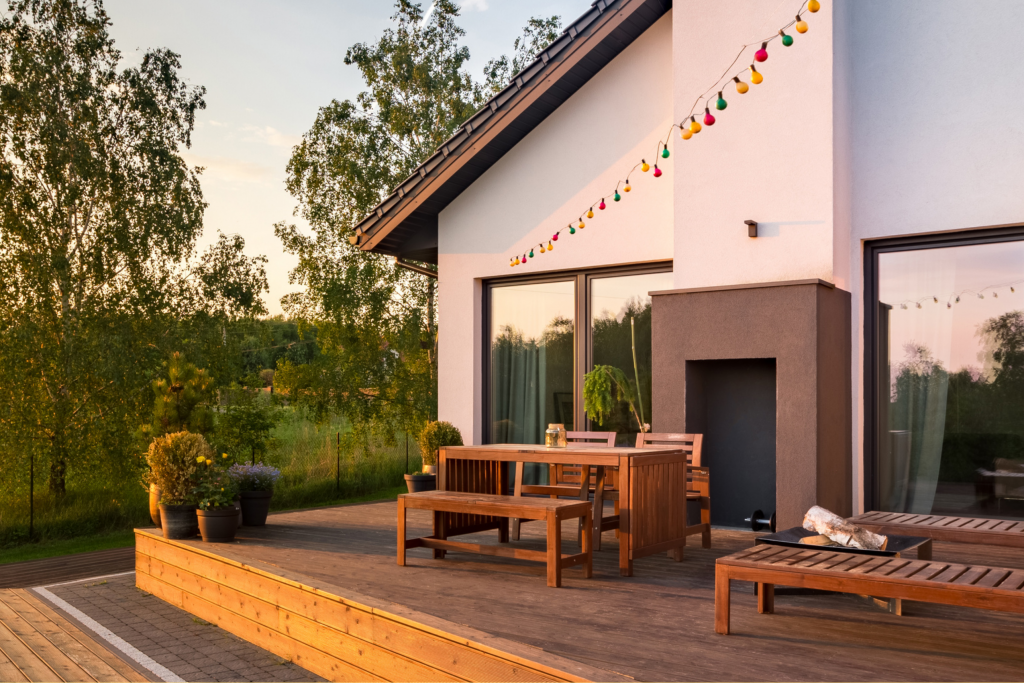 Some people are embracing the natural, cosy, and warm look for 2023, which contrasts with the bright colours above. Some people are beginning to incorporate more colour into their gardens, but not in the way others are. Moving away from the usual blue, brown, and green, which are thought to be earthy and calming. However, do not be alarmed; brown, caramels, tomato reds, and terra cottas, are still a reliable colour to incorporate this year. With shades of plum and mustard appearing in tones that are calmer and more subdued, like those found in nature. The value of a soothing palette that invites warmth is being appreciated after years of cool greys dominating.
Gothic Colours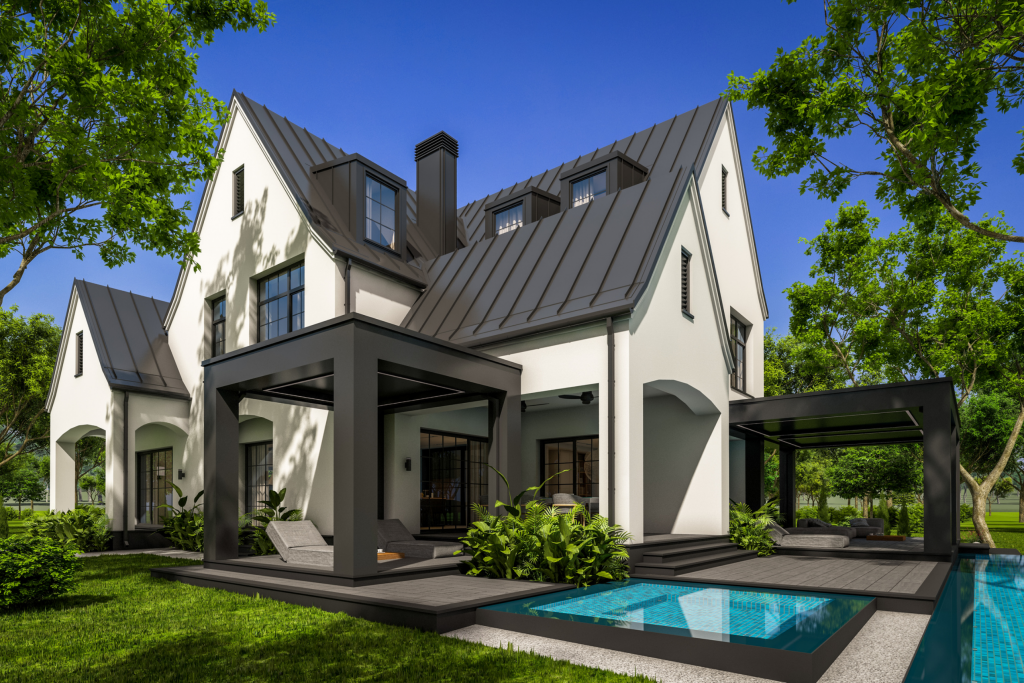 Due to its undeniable sense of drama and its perfect fit for a balcony or rooftop garden, a gothic design may become a tempting option for many this year. A gothic style is more than just dark colours; it also features materials and textures that are richly layered.
Plant & Flower Trends
Climate Resilient Gardens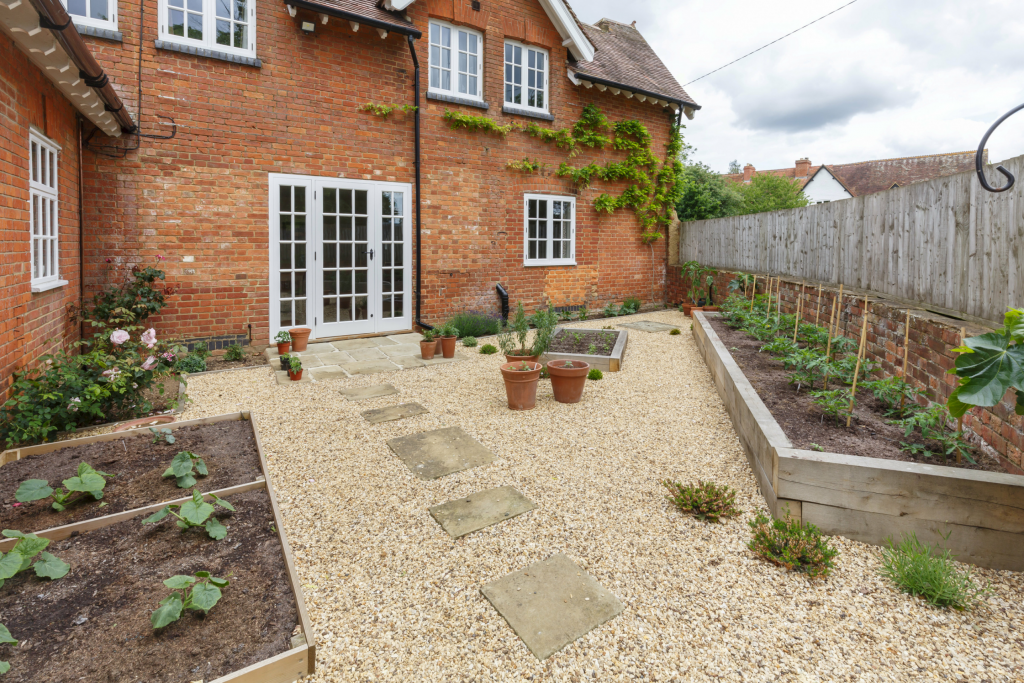 With last year being host to the heat and drought of summer, and a cold and icy end to the year, many plants had been put to the test. Therefore, gardeners will likely be looking for ways to weather-proof their gardens for future weather conditions. Gravel gardens and xeriscaping will be featured in many gardens across the UK.
But a changing climate doesn't mean that you have to go for a completely different look in the garden. Consider swapping to plants better equipped for your garden conditions. Investing in winter weather-proofing at the start of the year. And installing a waterbutt, just in case we receive another hosepipe ban this year.
Garden of Eden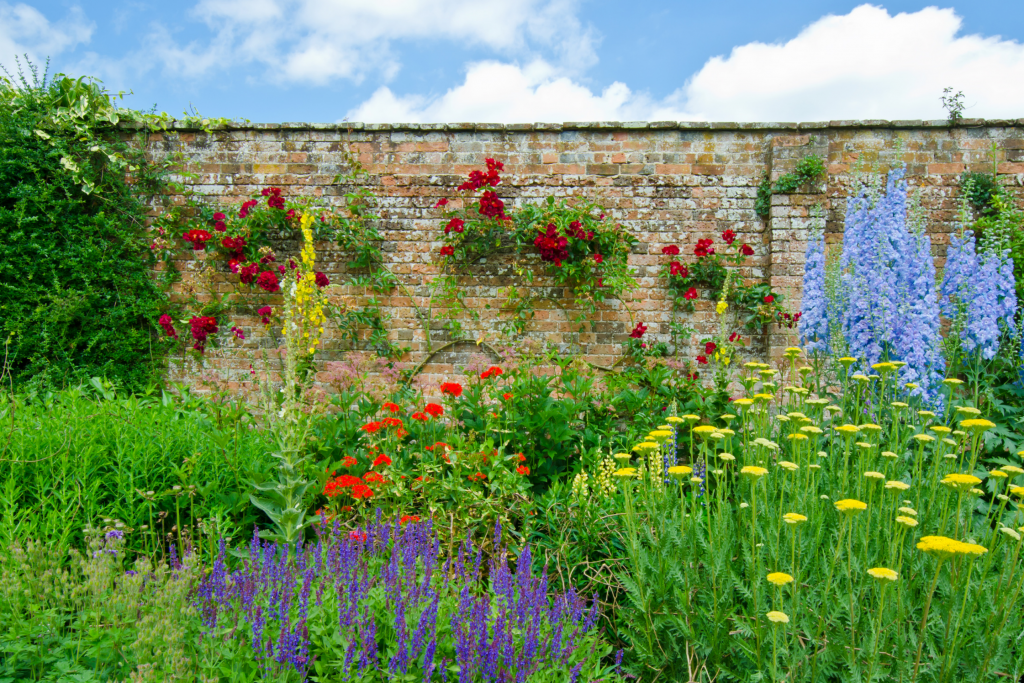 The Garden-of-Eden style is a wild and earthy garden design that uses plants that are good for wildlife and can be eaten. However, how can this be utilised in your garden? To begin, consider ways in which you can incorporate some of your fruits, vegetables, and herbs into your garden without placing them all in a single designated location. Think about planting these plants in the middle of the garden, between some colourful shrubs and flowers. Use organic products and plant some plants that are good for birds and pollinators.
Plants for Senses
A well-planned garden can be a visual feast, but thoughtful planting can also stimulate our other senses, which contributes to our well-being. A trend that is expected to continue in the coming years is "growing for the senses." Lavender could be used to scent a patch near a seating area, or you could relax to the sound of the wind rustling tall bamboo canes.
Grow Your Own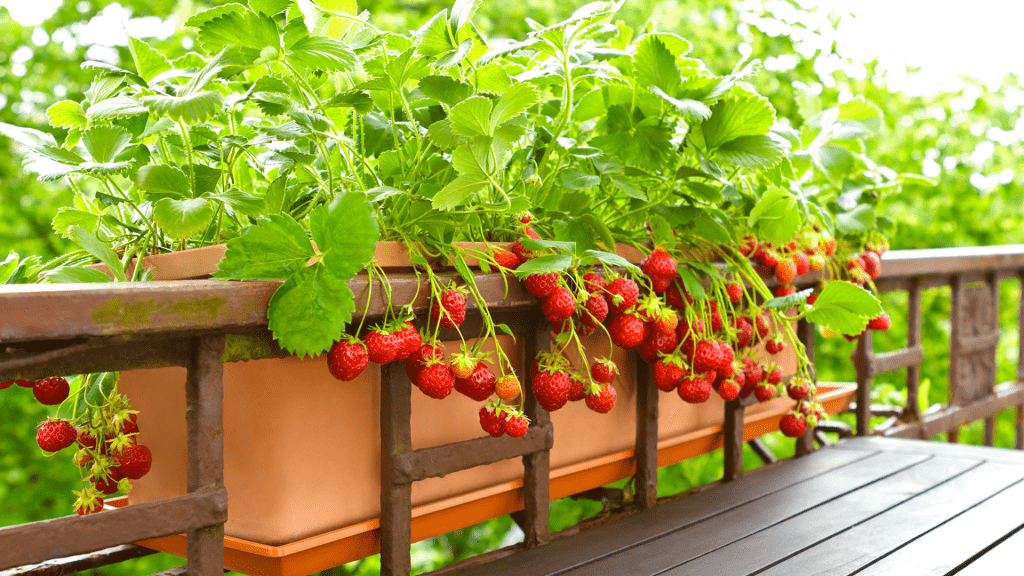 We anticipate that a greater number of people will seek out more self-sustaining methods of healthy eating and financial relief in light of the current cost-of-living crisis. We recommend planting fruit trees or plants in addition to the obvious homegrown produce like potatoes and lettuce. Because they don't require as much upkeep or space, strawberries, raspberries, and fruit pillar trees are always great choices for almost all gardens. In addition, making a small herb garden is a cost-effective and simple way to enhance the flavour of your meals while also giving you the satisfaction of having grown the herbs yourself.
Indoor Gardening & Houseplants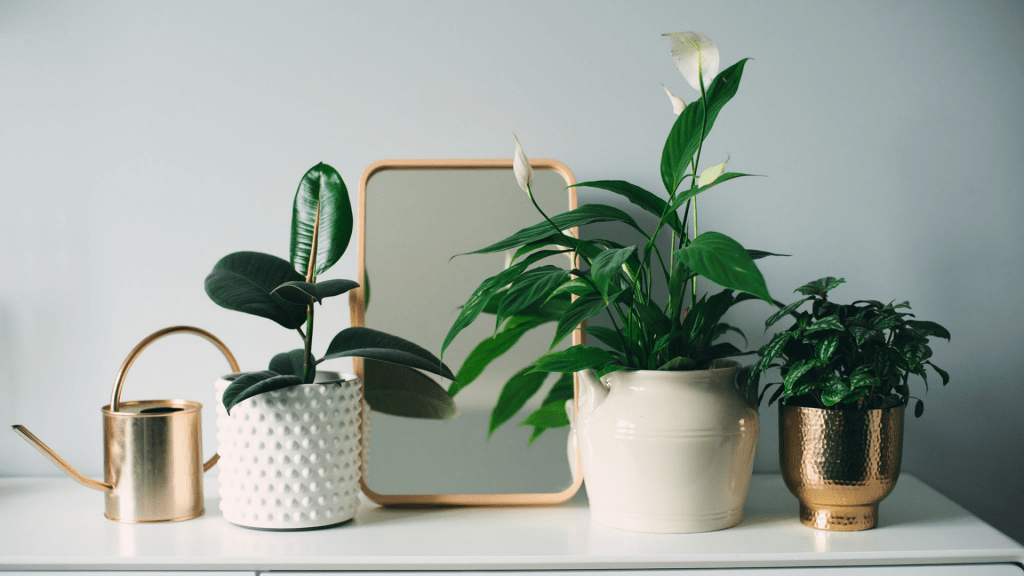 We are all familiar with and adore houseplants, but what do these hold in store for the future? The distinctions between indoor and outdoor areas become increasingly fuzzier as the trend toward indoor-outdoor living expands. This may refer to rockeries or gardens incorporated into the structure of a building as well as wilder and larger-scale indoor plants. This trend will undoubtedly benefit redesigned offices as well.
In recent years, cut flower gardening has also gained popularity, and this trend is certain to continue. Growing your flowers for bouquets and indoor arrangements will not only help you save money, but it will also be much better for the environment. Pick a few varieties to start with if you're new to growing flowers for cuttings. It's easy to lose track of time! Choose flowers with long flowering times and sturdy stems.
Embracing Wildlife
Gardeners are also adopting some previously unpopular species that have unexpected advantages for the garden. Wasps that will eat caterpillars, slugs that can help recycle decaying materials, and aphids that feed favourite birds like ladybirds, lacewings, and hoverfly larvae are just a few examples.
Garden Design Trends
Relaxing Gardens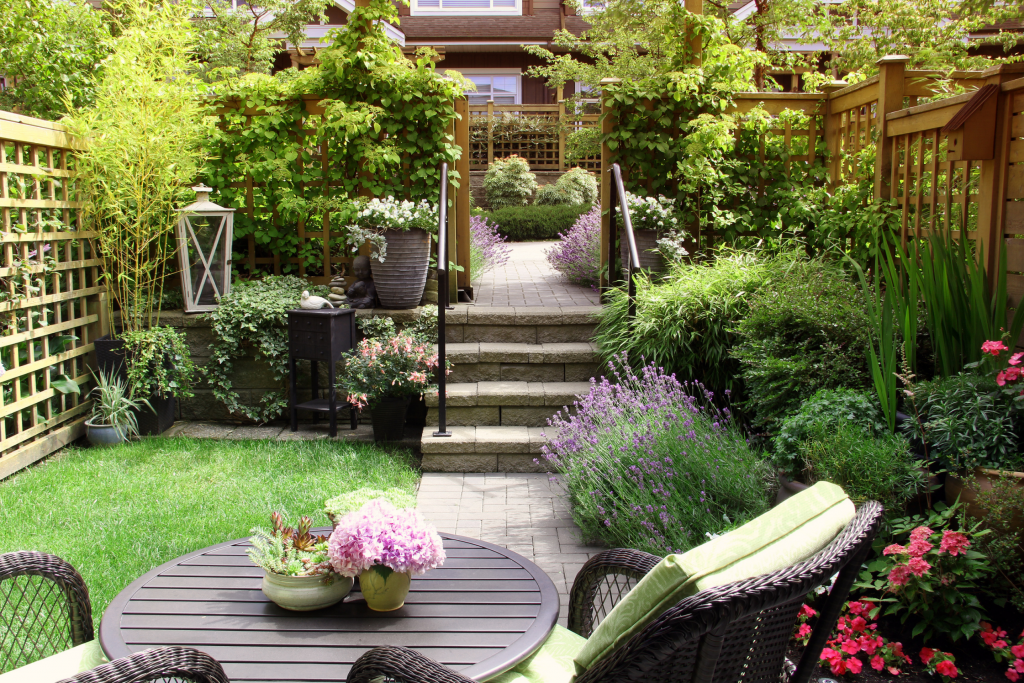 We have seen a rise in the importance of wellness in gardening in recent years, and since it is a major topic at this year's RHS Chelsea Flower Show, everyone will likely incorporate it. Gardening has proven to be a great way to practice mindfulness, and a garden built around this idea can become a haven for everyone. We have created a separate article to assist you in creating a relaxing garden, focusing on plants, senses, and numerous other possibilities.
Garden Listening Spaces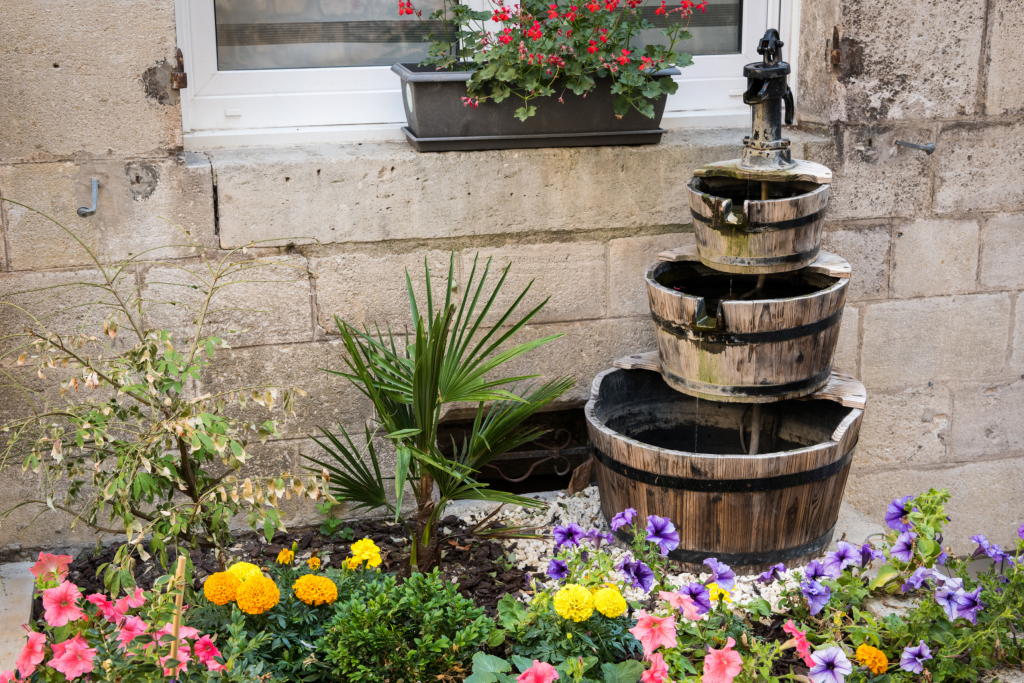 Listening rooms will be a popular interior design trend in 2023. These are being used as designated areas for music listening and production by interior designers. However, how do they fit into the garden? Implement this in both large and small gardens. A bird feeder or small fountain can enhance the sounds of nature in smaller gardens and balconies. For a calming sound of water on a hot summer day, think about fountains, ponds, and even a small stream for larger gardens.
Mediterranean Vibes
For many years, Dolce & Gabbana, an Italian fashion house, has set the fashion agenda. There are now gothic lace, cherry prints, and good-time vibes in blue and white. In addition to taking over the interior design and fashion industries, they influence garden design trends. The Blu Mediterraneo collection from Dolce & Gabbana evokes the feeling of lazy summer vacations with its crisp yet timeless colour scheme. Therefore, it is not surprising that people want to incorporate this design into their gardens throughout the year. A garden with Mediterranean plants, large terracotta pots, and alfresco dining gives the impression of a vacation. We have a section on creating a Mediterranean garden and a selection of Mediterranean plants because this is a large garden design to cover.
New Victorian Garden Design Trend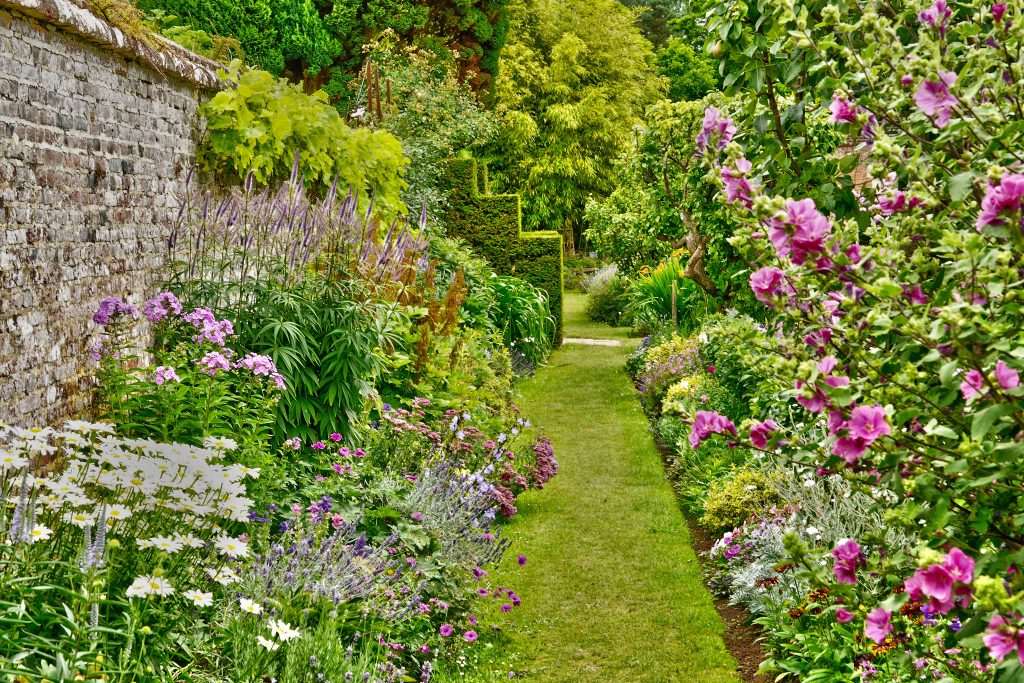 The cottage garden style has been elevated and maximised in the new Victorian gardens. With traditional, pretty plants that convey a sense of tradition and history without the cottage garden's slight chaos. Even though this design tends to be casual and unorganised, it is far from being so. With delicate foliage and pink, purple, and white flowers in a feminine palette. Romantic garden accents like white picket fences, gravel and brick pathways, birdbaths, and stone planters also contribute to this trend. Traditional garden plants like Roses, Lilacs, Hydrangeas, and Hollyhock are becoming increasingly popular. Choose fragrant, climbing roses to achieve the look. The New Victorian garden also benefits from purple flowers and shrubs like Hydrangeas and Lilacs.
Modern Garden Design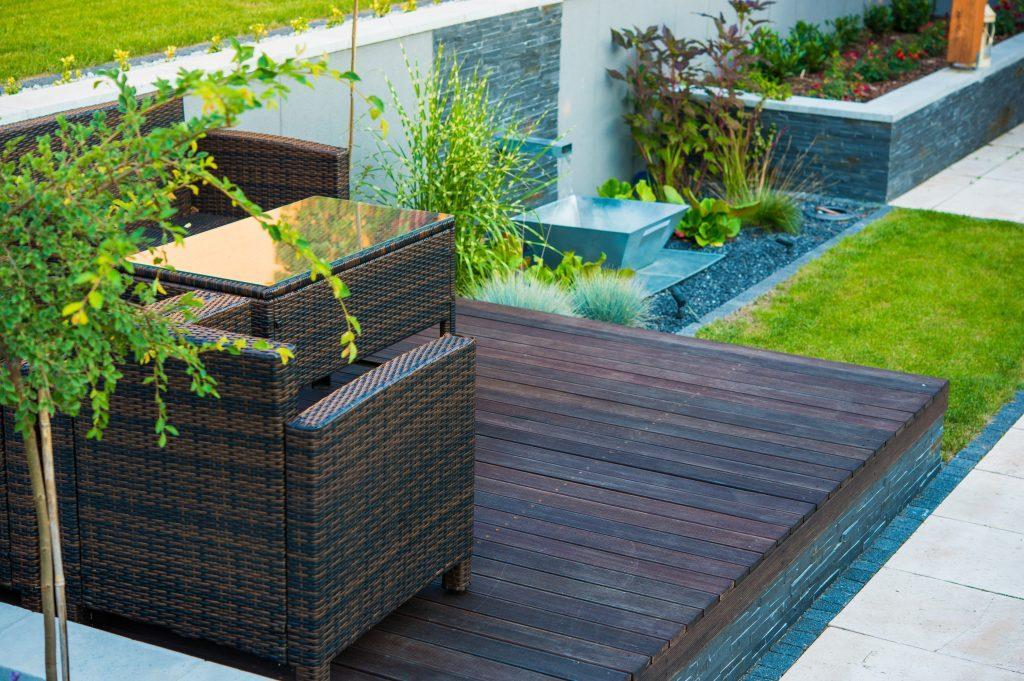 The modern world is diverse; the same applies to contemporary garden design. Gardens are an extension of one's living space and a way to escape the rapid pace of life. Although the average size of a garden has decreased as the population has grown, this should not prevent you from creating your private oasis. Materials from earlier times are also used in modern housing, with eco-housing being more futuristic and materials like glass and cladding taking centre stage. Consequently, the same materials have been used in contemporary garden design to connect the garden to the house. We recommend reading our article on modern garden design, in which we discuss the best plants for creating a modern garden.
Outdoor Living Rooms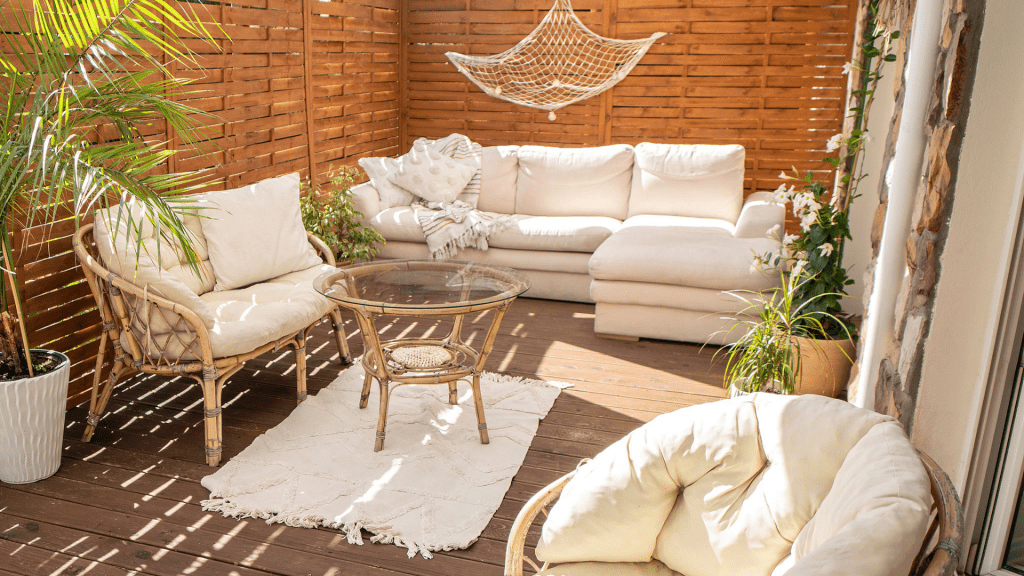 We had been encouraged to begin spending more time in the garden and treat our gardens as an outdoor living space during warm summers by lockdowns in previous years. Even though it may not be as popular as it has been in the past, people still prefer to spend summer evenings and weekends outside rather than inside. This is where outdoor living rooms and relaxing gardens have come into play. People are embracing this by incorporating outdoor furniture and accessories that complement their interior home design. The main things to look for are: In the garden, opulent sofa sets, rugs, cushions, and throws appear.
Trends in Garden Materials
Sustainability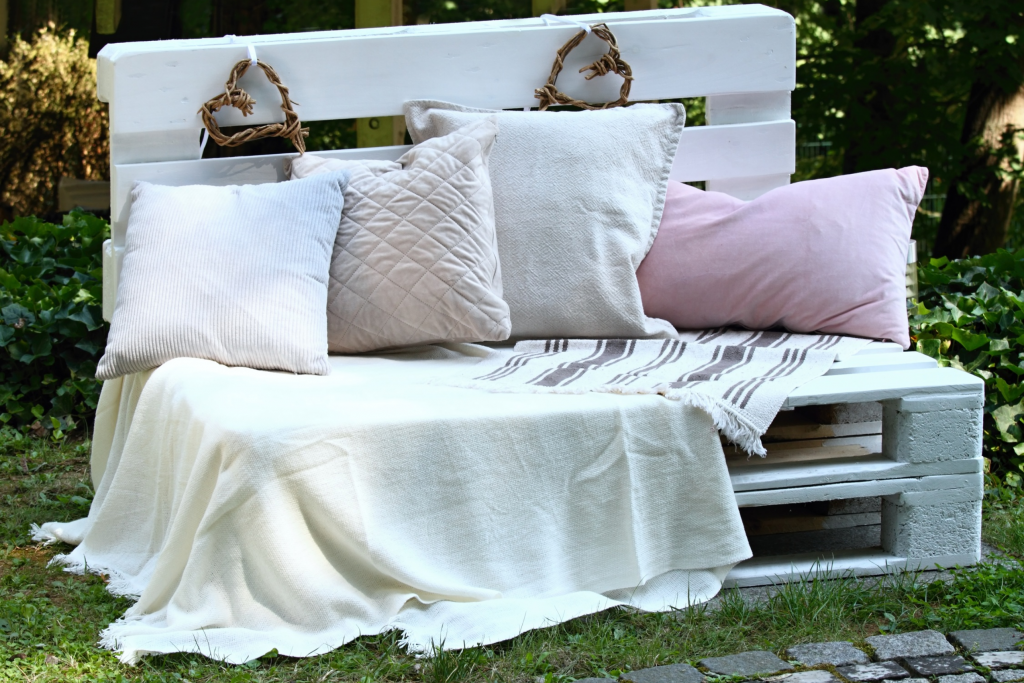 In every aspect of life, ethical, sustainable, and recycled materials are hot topics, and gardening trends in 2023 will follow suit. More homeowners and gardeners are becoming aware of sustainable practices and the best options for the environment's health every year. Composting, recycling and upcycling have risen in popularity as a result. From residential to commercial designs, we will see an increase in organic surfaces and green materials this year. From rattan and bamboo to cane and linen, there are plenty of materials that are considered environmentally friendly, and its cork and aluminium looking like they will become popular in gardens in 2023 and beyond.
Cork's natural brown colour gives it a grounding, earthy feel that instantly makes you feel more relaxed, and its rugged bark appearance adds texture, warmth, and cosiness, so it may become popular. One of the most environmentally friendly metals you can use in your garden is aluminium because it can be recycled. Mixing warm tones, such as those found in wood and cork, with aluminium is the key to ensuring that your space does not appear sterile. For some ideas on recycling or upcycling in the garden, have a look at our gardening on a budget article.
Heritage Tiles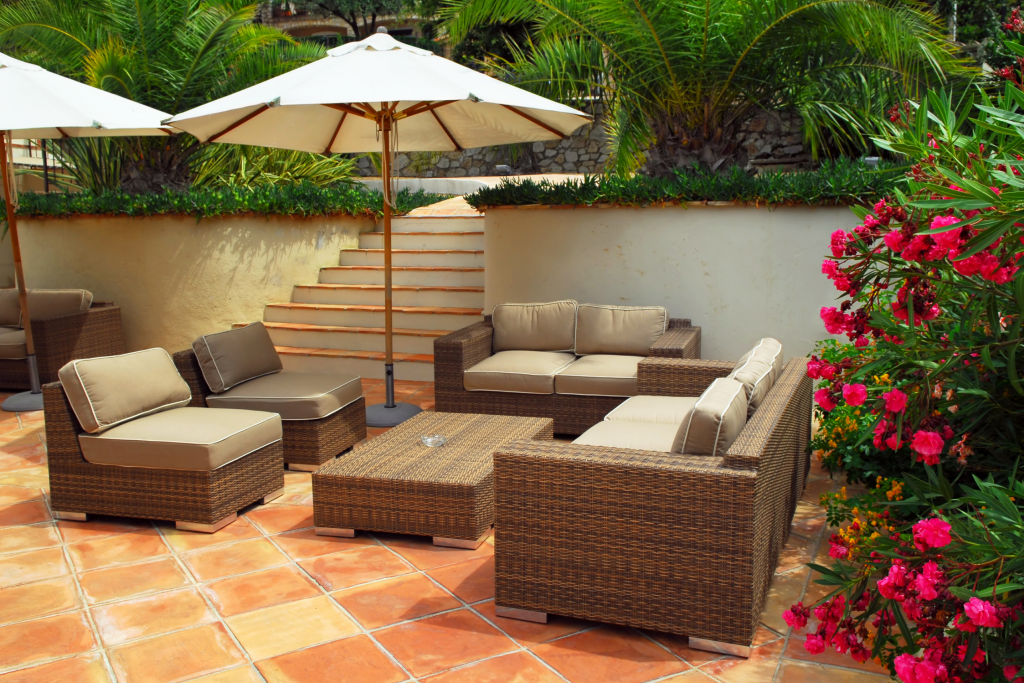 The reclaimed or vintage-inspired archive-patterned style is becoming increasingly popular. Are you missing the Mediterranean? This heavily decorative approach to garden tile trends is fun because you can bring a little of it into your garden. Likewise, with the old tiles from Southern Spain, look for colours and patina similar to those of the original reclaimed tiles. You can use them on their own or in combination with tiles with just one colour for a more subtle look.
Warm & Wavy Wood Materials
Warmer wood tones and earthy colours will continue to increase in furniture and fabric. As a niche but appealing design trend for 2023, keep an eye out for damaged and curved, modern take on the simplest materials. It's time to move away from straight-edged wooden furniture and toward a more fluid, curvy design. DIY wooden furniture can also be upcycled and creatively used in this way.
Vertical Gardens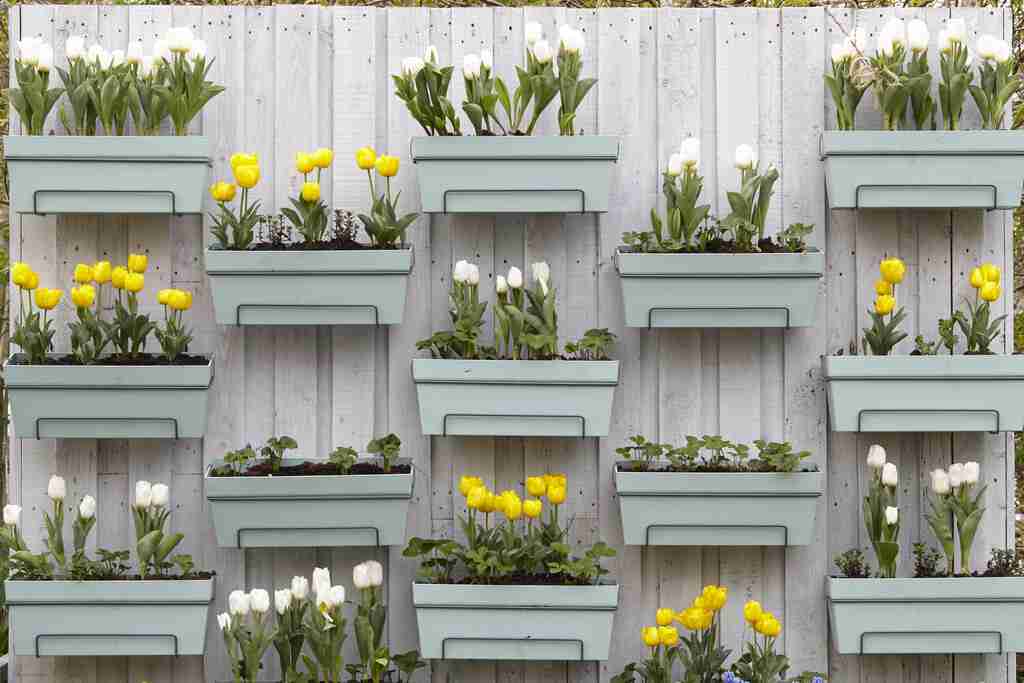 Our gardens are getting smaller, and many of us live in apartments or flats without access to one. It's clear why vertical gardening will remain a significant garden trend in 2023.
This trend has spread so much in previous years that there is now a wide selection of planters on the market that are made to use vertical outdoor spaces. There's no need to put up with a boring balcony or wall; there are a variety of options, from traditional pots and hanging baskets to shelving, trellises, and living walls.
Architectural Simplicity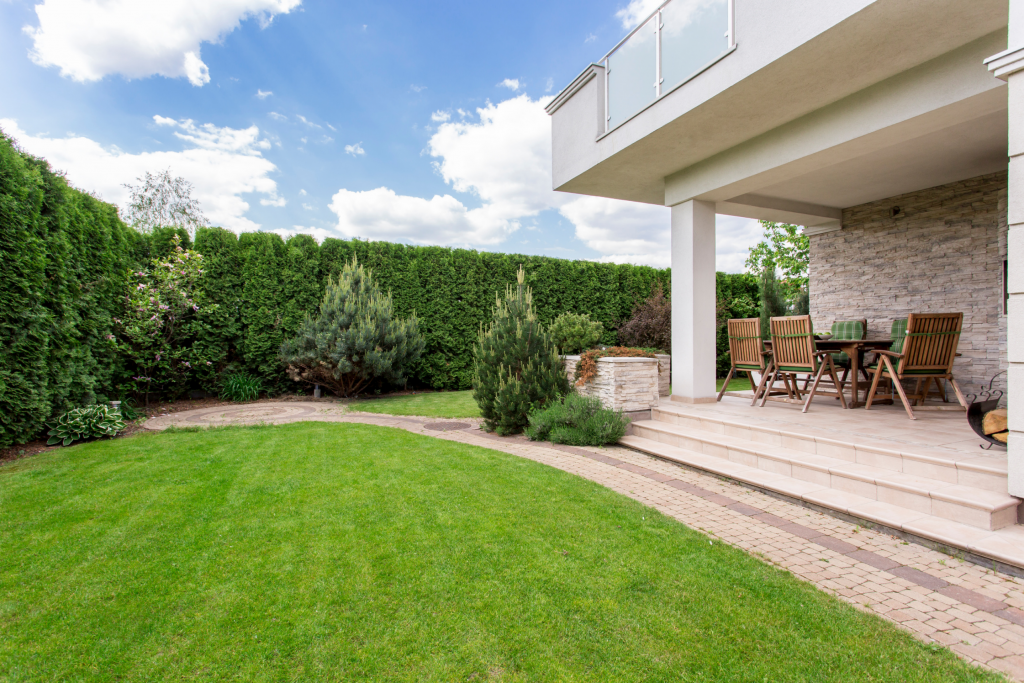 Travel is the source of this elegant trend (think modern luxurious hotels) and evokes a sense of class, tradition, and history. For a strong visual impact, stick to a limited colour palette (such as green and white) and repeat forms in masses and rows to replicate this trend at home. Garden walls, box hedges, topiaries, ornamental grasses, Rose shrubs, Hydrangeas and sculptural succulents are suitable for this trend.