When looking for low-maintenance groundcover plant options, perennials and shrubs that form an appealing carpet can be used well in the garden. Mounding or carpet-forming plants are known as groundcover plants. They quickly cover the bare soil and cover the ground. They are frequently long-lasting and low-maintenance.
Groundcover plants are excellent for suppressing weeds because they cover the soil. They can help retain nutrients and moisture in the soil by acting like mulch. Because their roots hold everything together when it rains, some can even assist with soil erosion on slopes.
Choose varieties of groundcover plants that are suitable for the soil and setting of your garden. Before planting, thoroughly weed the area because it will be difficult to get rid of the weeds once the plants are in.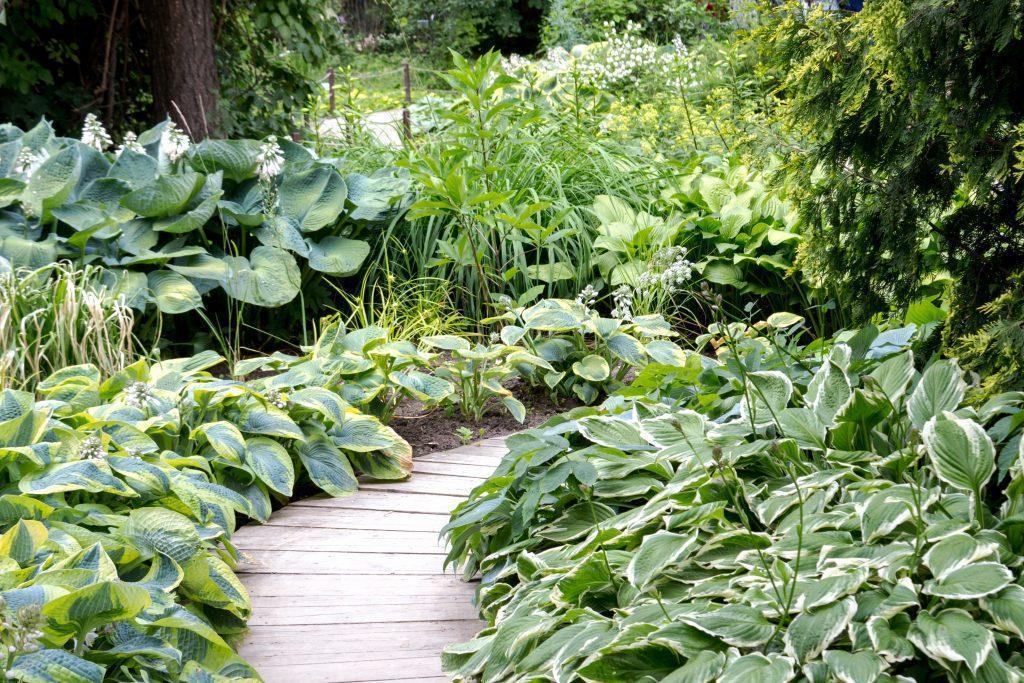 Practical considerations
Until the young plants have established and formed a cover, some weed control will be required, regardless of the ground-covering plants that are utilised. In the first or two seasons, they will also need to be watered, especially if they are planted under trees.
Possible plants:
A group of roses known as flower carpet roses are grown as ground cover and produce a carpet of flowers. Their foliage is semi-evergreen and the flowers are semi-double. They can be used to cover a slope or make an unusual addition to the border's front. They require soil that drains well and a sunny, sheltered location.
A great ground cover for a shady border or woodland garden is lily of the valley. Additionally, it is particularly useful for growing in shade under shrubs. It spreads quickly and produces beautiful, bell-shaped, white flowers in late spring that smell delicious. Additionally, it is a stunning cut flower. Grow in soil that is moist. Since the Lily of the Valley does not grow evergreen leaves, they will reappear in the winter.
Heathers are evergreen, low-growing shrubs that work well as ground cover. They are native to heaths and moorlands and thrive in sunny locations with acidic soil. The flowers are white, pink, purple, and red in colour. There are primarily two types: Ericas bloom from winter to spring, while calluna heather blooms from late summer to winter.
Lavender is an excellent choice for covering a sunny area, planting under roses, along a path, or at the front of a border. Try the classic varieties "Hidcote" and "Munstead" of Lavandula angustifolia, which are more durable and long-lasting than French and Spanish lavender. Bees find the flowers very appealing. Cut back the plants after they have finished flowering to keep them neat. Grow in a sunny area with well-drained soil. In the spring, trim them lightly once more.
In the spring, Crocosmia emerges from underground corms and forms dense clumps, resulting in a late-summer carpet of yellow, orange, or red. If you live in a cold area, grow in a sunny, sheltered location and mulch during the winter.
An extremely elegant selection of decorative, easy-to-grow ferns with striking foliage, form, and color contrasts. suitable for any moist soil, they will shine like diamonds in full sun or partial shade.
In a wooded area, many ferns thrive in lower light levels and add architectural interest when planted in large areas or scattered among other plantings. While ferns can be grown successfully in these conditions, flowering plants may not thrive in conditions that are significantly darker and gloomier. Ferns are the ideal solution for these challenging areas in gardens with a northerly orientation.
The Hosta, one of the most popular foliage plants, helps to fill in many shady areas in British gardens. It's hard to pick just one favorite plant because breeders now produce so many varieties. Hostas are grown for their beautiful, lush foliage, but they also produce delicate flowers that are happy to serve as a contrast to more striking flowers. There is a Hosta for every garden, from cottage gardens to jungle gardens. Take a look at our extensive selection of Hostas for sale and experiment with combining various varieties for real impact.
The humble Hosta should be at the top of your list if you're looking for a plant that can handle shade, is easy to care for, and is reliable. Surprisingly, many varieties also like the sun and form clumps. They perform admirably as a ground cover, and when placed near water, they enhance the tranquillity of the space.
Why not think about planting a wildflower meadow if you have a large area that needs to be covered quickly, particularly one that is difficult to plant in or has poor soil? Seed mixes that contain either a mixture of annuals and perennials or both are available for a variety of soils and conditions. Wildflower turf that has already been sown is another option, and it can be laid over a prepared area just like a carpet. The colours will change with the seasons, and the flowers are wonderful for wildlife. Meadows only require one or two annual cuts, making them relatively low-maintenance. You could even think about replacing all or part of your lawn with a wildflower meadow. This is especially helpful if a portion of your lawn is hard to cut, like when it's on a slope.
Are you looking for a low-maintenance ground cover plant that can survive in poor conditions? Look no further than these fleshy red-tinged fleshy leaves, an evergreen perennial with a mat-forming texture. It is also known as stonecrop, which is appropriate because it thrives in either full sun or partial shade on dry, rocky soil.
If you plant this in your low-maintenance garden, the clusters of ruby-coloured flowers in the autumn will turn it a brilliant red. It won't bother most pests, deer, or rabbits. It works well in coastal environments.