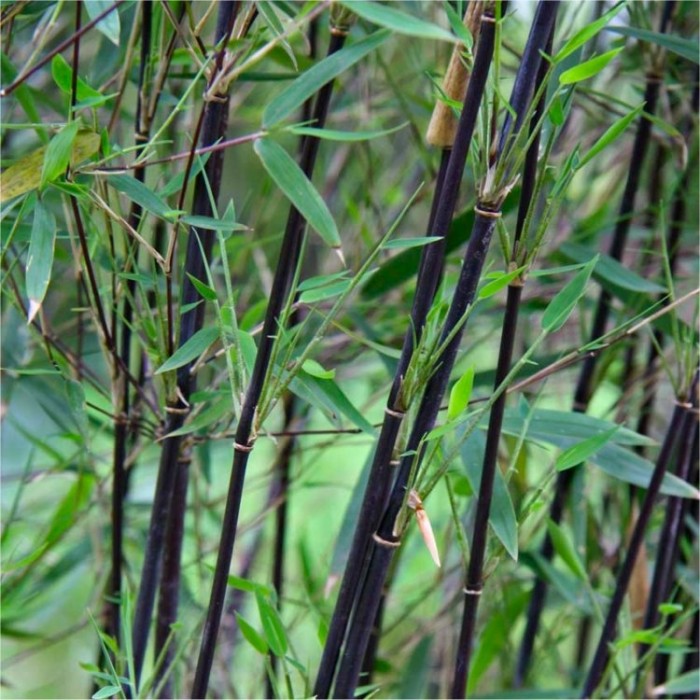 Types of Bamboo
Bamboos are classified as either running or clump forming. Running bamboo produces rhizomes (underground stems), which grow away from the main plant. Clump-forming varieties grow in tight clumps and are less invasive.
As a live-growing product, the appearance of these plants can vary throughout the year and often throw up a few questions. We have covered some of the most common queries to reassure you about the plants you have received. Please remember these are hardy plants, ready to grow and thrive in your care, & covered by our 5-year guarantee.
Fargesia Umbrella Bamboo
Fargesia Umbrella Bamboo are a compact clump-forming type that does not become invasive. It is one of the showiest compact bamboo available.
Slender green canes carry bright foliage that rustles gently in the breeze,; the shade of green will vary depending on the soil and feeding of the plants.
Planted in soil, the average size of these Fargesia Bamboo in 10 years is around a maximum height of 2.5m (8ft) in a clump up to 1.2m (4ft) wide.
Phyllostachys Bamboo
Phyllostachys Bamboo are a larger evergreen bamboo with running rhizomes, although in the UK climate they act more like a clumping variety.
They typically grow to a maximum height of 2.5 to 4m with a similar spread and take about 5 to 10 years to achieve this.
Planting Conditions
When to plant: We recommend planting in spring to encourage growth before its dormant period in autumn, but they can be planted at any time.
Position: Most bamboos prefer a sunny spot, but can be grown in light shade
Soil: Grow in moist, well drained soil; preferably acidic soil
Ongoing Care Guidelines
Feeding and Watering
Bamboo plants require regular watering during dry spells. The plants will benefit from a balanced fertiliser throughout the growing season from spring to late August.
Pruning
They can be kept in check by taking off unwanted canes at ground level & allowing new shoots to form. It is usually a good idea to remove any flowering shoots promptly. This will discourage more from forming as flowering can sometimes indicate that the plant will die off.
Frequently Asked Questions
There are lots of dead leaves on the top of the soil and falling from the plants; should I remove them?
It is perfectly normal for Bamboo plants to shed older foliage as they grow, resulting in a layer of dead leaves on top of the soil. These will be fine left on the pot; however, if you do not like look of them, merely remove them from the top of the pot.
The foliage contains silica which helps provide strength and stability, so the fallen leaves can be seen as beneficial.
Why is there brown, twiggy growth at the base of my Bamboo?
TAs the plant grows and ages, the older canes may die off to be replaced with new growth. Your Bamboo are full of vigour and, once planted, will rapidly grow to form a lovely, mature specimens.
Some of the leaves are brown at the tips. Is my plant dying?
No your plant is not dying. Browning leaves are typical for older foliage, and can increase by various factors such as weather conditions. Nevertheless, we expect to see some of this at any time of year. Once planted, your Bamboo will quickly produce lots of fresh new growth to replace this older foliage that has shed.
Why is my Bamboo taller/shorter than I expected?
Your plant will vary with the seasons and may sometimes be shorter or taller depending on the time of the year. They will establish quickly, provided they are fed and watered adequately. Never allow your Bamboo to dry out. If allowed to dry out, your plant will lose all of its leaves, but do not be alarmed they will soon reshoot again if kept damp.
Can I keep my Bamboo in the pots provided?
No, the pots your Bamboo has been sent in are for transit and growing only. They are too small for the Bamboo to be kept in for a prolonged time.
The plants can be kept in the nursery pot safely for a few weeks if you have to, providing they are never allowed to dry out and fed. But they will need to be planted into a much larger container or into the garden as soon as possible.
If you use a large container, good quality compost and you water & feed your Bamboo well, it will be fine to be kept potted on the patio for example.
Growing in pots can restrict the eventual growth of the plants; to get the most out of your bamboo we recommend planting them into the ground.
Can I grow my Bamboo indoors?
We do not recommend growing these indoors, as the home environment is too warm and dry. Your bamboo is fully hardy to -20ºC and needs to be outside to get the optimum amount of daylight to grow and thrive.
My Bamboo has been folded over in the box, will this damage the canes?
No, your Bamboo will be fine. We sometimes do this with taller plants on purpose to minimise movement in the box. We gently flex them over, so that when the cartons are open they often flex back within a few days, new canes will also grow to replace these too.
Download Care Guides
We have created two care guides to help you grow a happy and healthy plant. We have an In-depth Care Guide and a Simplified Care Guide.
Shop Bamboo Now