There's a good reason why roses are so popular around the world. They are stunning, straightforward to maintain, and capable of elevating any residence. It's easy to find the right rose for your garden because there are so many varieties that can thrive in a variety of climates. A rose garden is a lovely addition to any house and can last for many years with proper care. Here are some pointers for starting a rose garden and some ideas from other rose gardens around the world.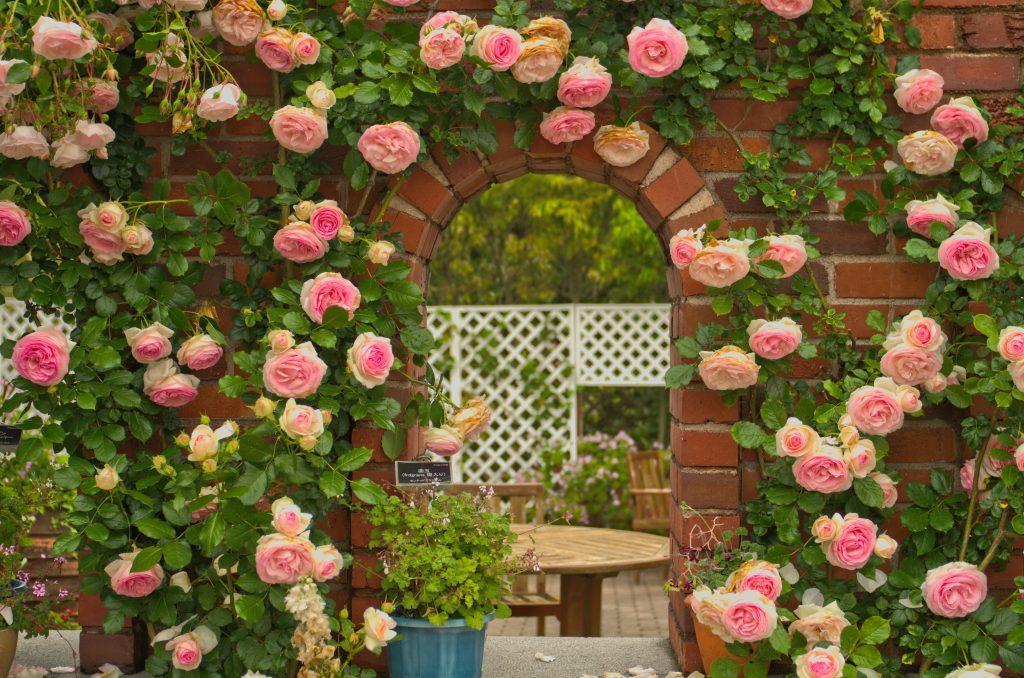 What is a rose garden?
Rose gardens have long been associated with romance and sophistication. The rose is a staple of the English garden because of its enormous blooms and intoxicating fragrance. Few other plants can match its versatility. There are roses available for almost every position: as climbers, ramblers, bushes, shrubs, and ground cover roses. All are obtainable in a variety of colours, fragrances, and repeat or single flowering patterns.
When you think of a rose garden, you probably imagine formal rose gardens; built to honour the classic elegance of roses. These gardens typically have geometric, symmetrical borders crafted from trimmed box hedges and filled in with rose bushes arranged by colour. However, there are numerous ways to enjoy roses in your garden, and you don't have to plant roses in a formal rose garden to appreciate their beauty. You could add potted roses on a patio to climbing over a pergola. A single rose specimen interspersed with a few other plants can make a simple rose garden. It can be as complicated as a formal landscape with seating, statues, hardscaping, arches, and seating. Or can fit in even the smallest of spaces; as simple as roses grown in a container, raised bed, or narrow side garden.
Roses are hard to resist because of their timeless charm and beauty, making them an ideal addition to cottage garden concepts. Therefore, rather than limiting yourself to just one or two rosebushes, why not centre a patio or garden area around these eye-catching plants? The scene that results will be full of impact and a pleasure to spend time in.
Rose garden ideas
Roses are such beautiful flowers, many designers like to give them their own space. Walled rose gardens, also known as rosaries, typically contained only roses in the past. However, modern gardening practices favour planting roses among annuals, biennials, and perennials in a rose garden because it looks more contemporary and helps prevent rose disease.
1. Plant roses in place of classic hedging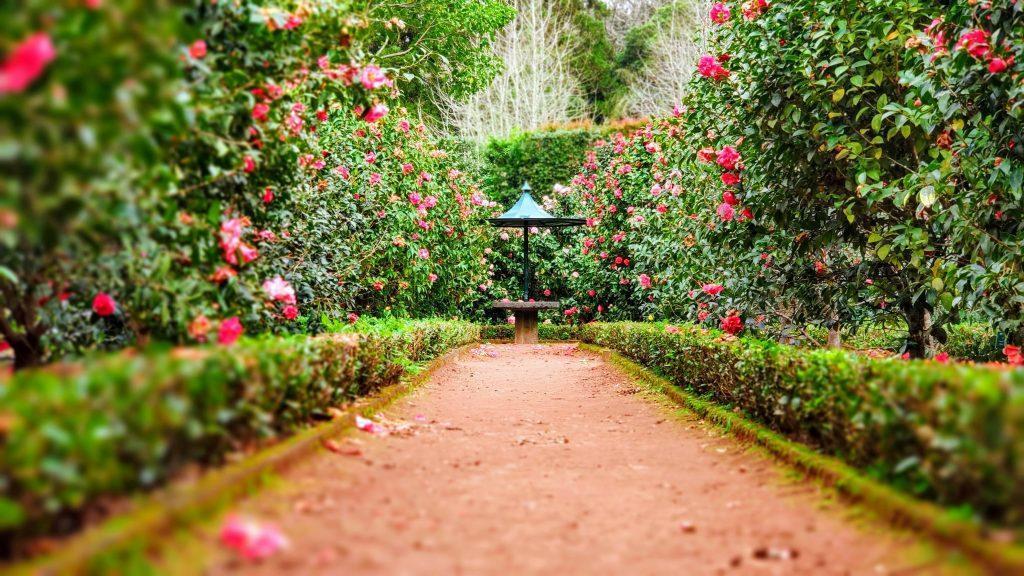 Use a mixture of rose trees, shrubs, hedges or ground cover roses in soft or neutral tones to create soft hedging to frame areas.
2. Line a path with rose arches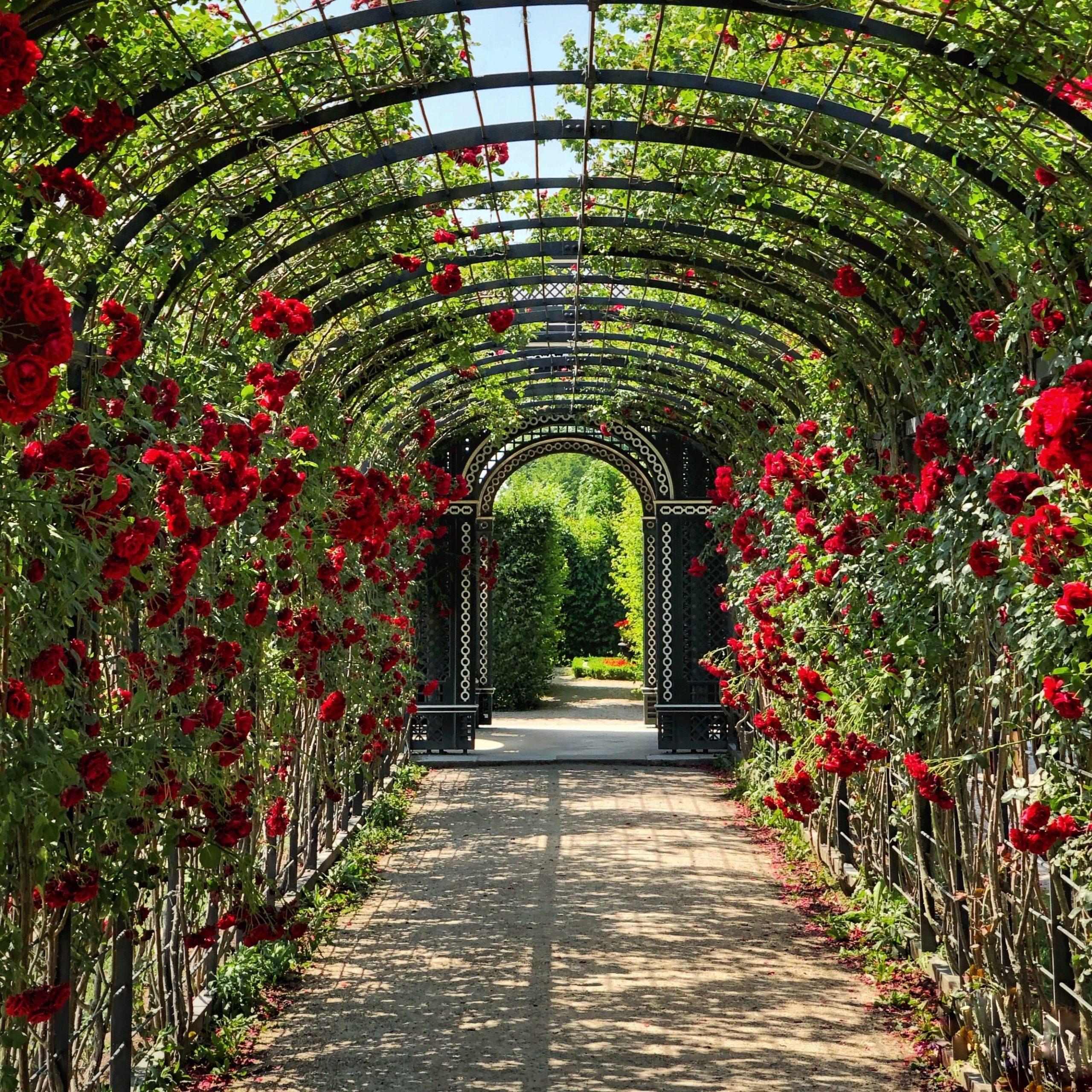 Moving through a garden with climbing roses trained over pergolas and arches can be truly magical.
3. Grow a rose garden around a doorway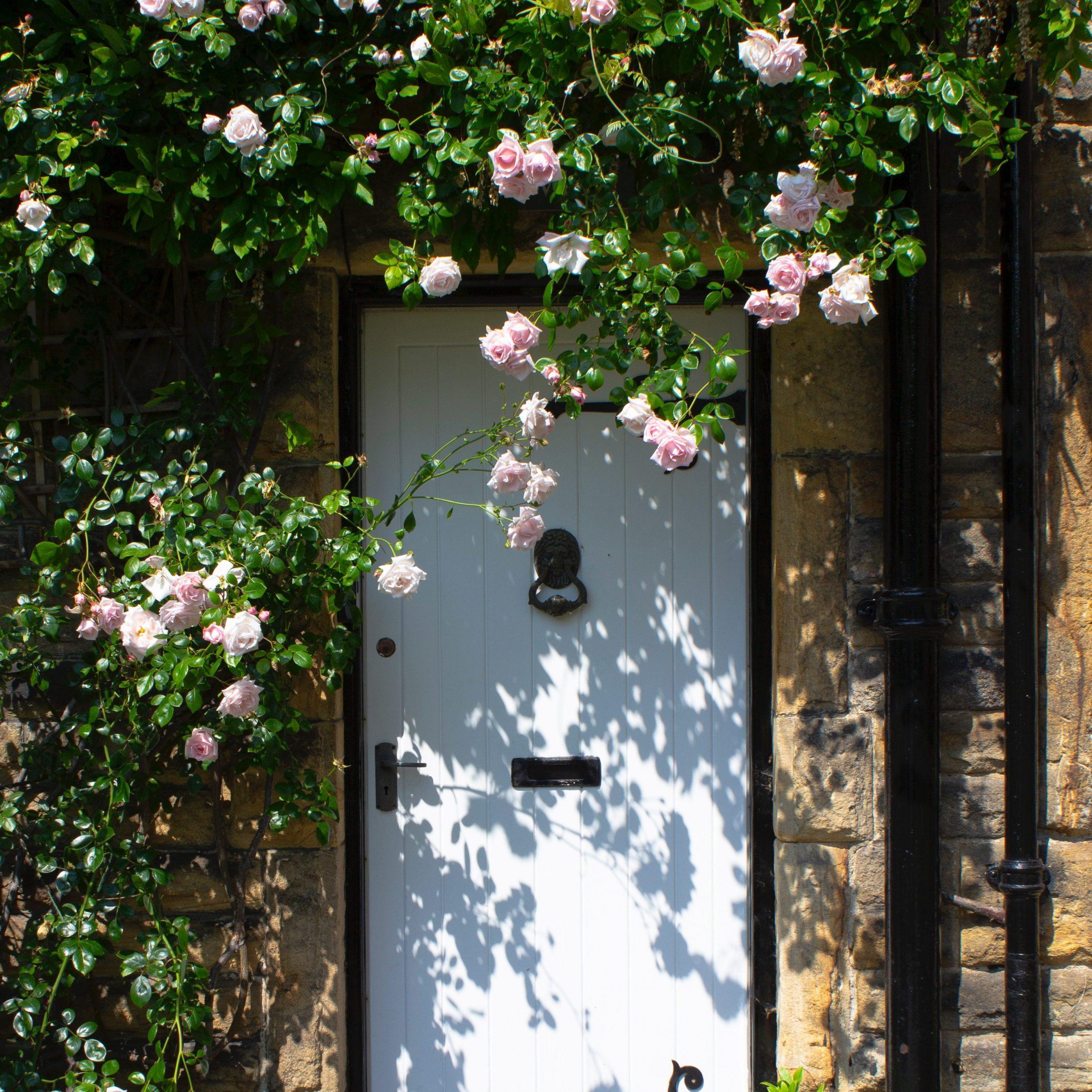 An entranceway can really stand out by growing roses around it. If you want to grow roses around a door, seating area, area where people pass or where kids play, choose one with few thorns.
4. Roses on a balcony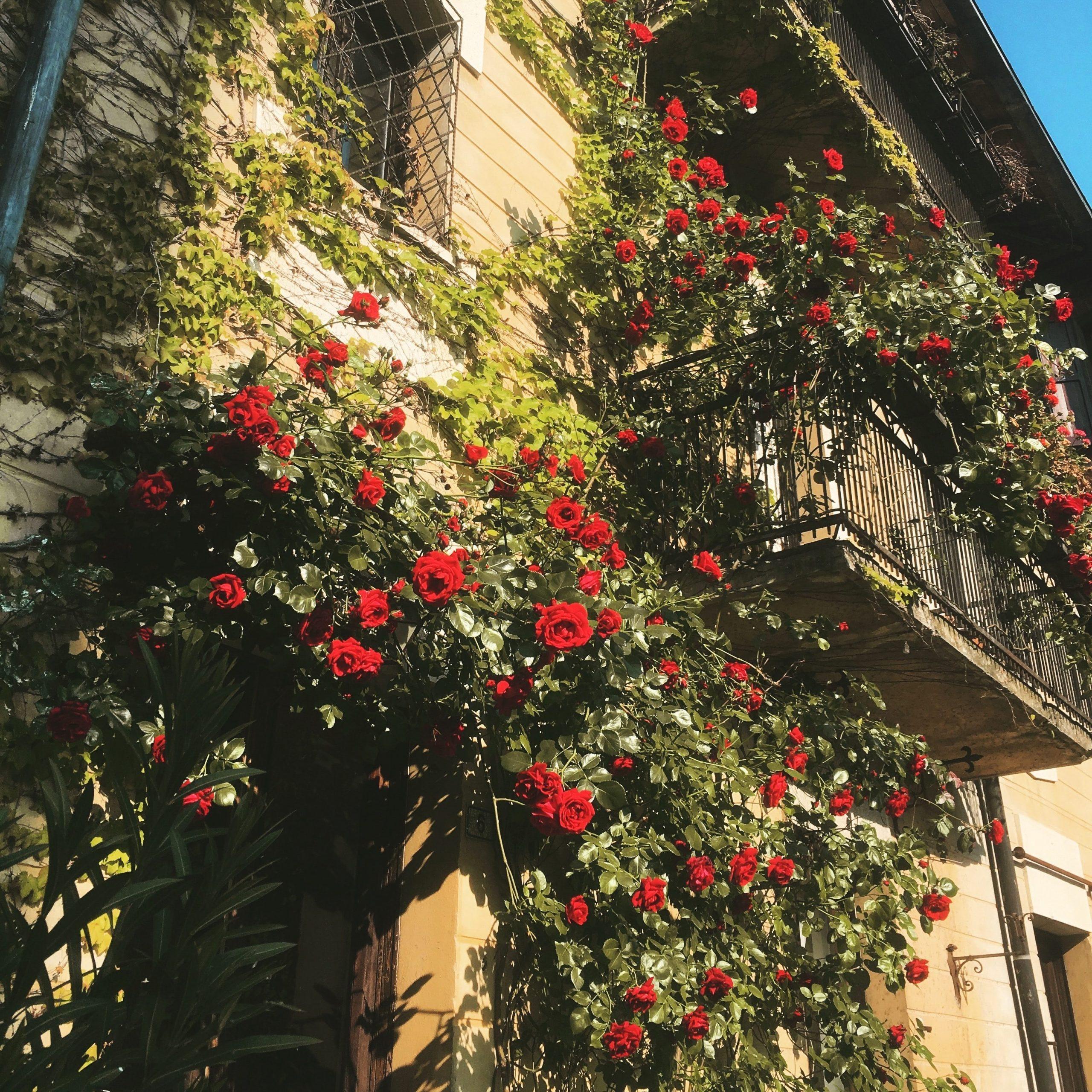 If you don't have a large amount of space but have a baloney, consider training roses up the wall and around the fence.
5. Climbing roses can be trained along a fence to create a pretty privacy screen.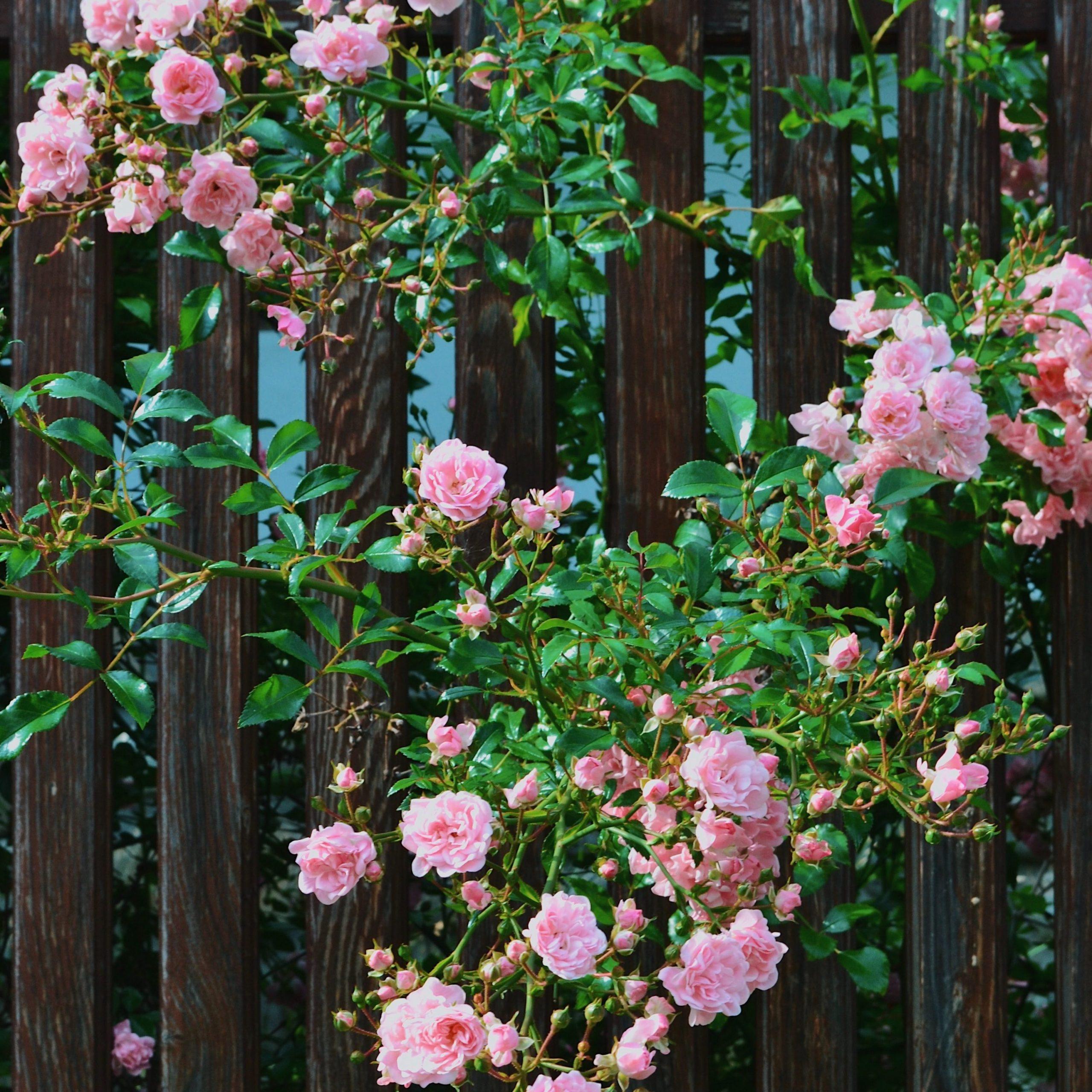 Train climbing roses around picket or metal fences to create an extra barrier or privacy.
6. Use rambling roses to soften garden walls and structures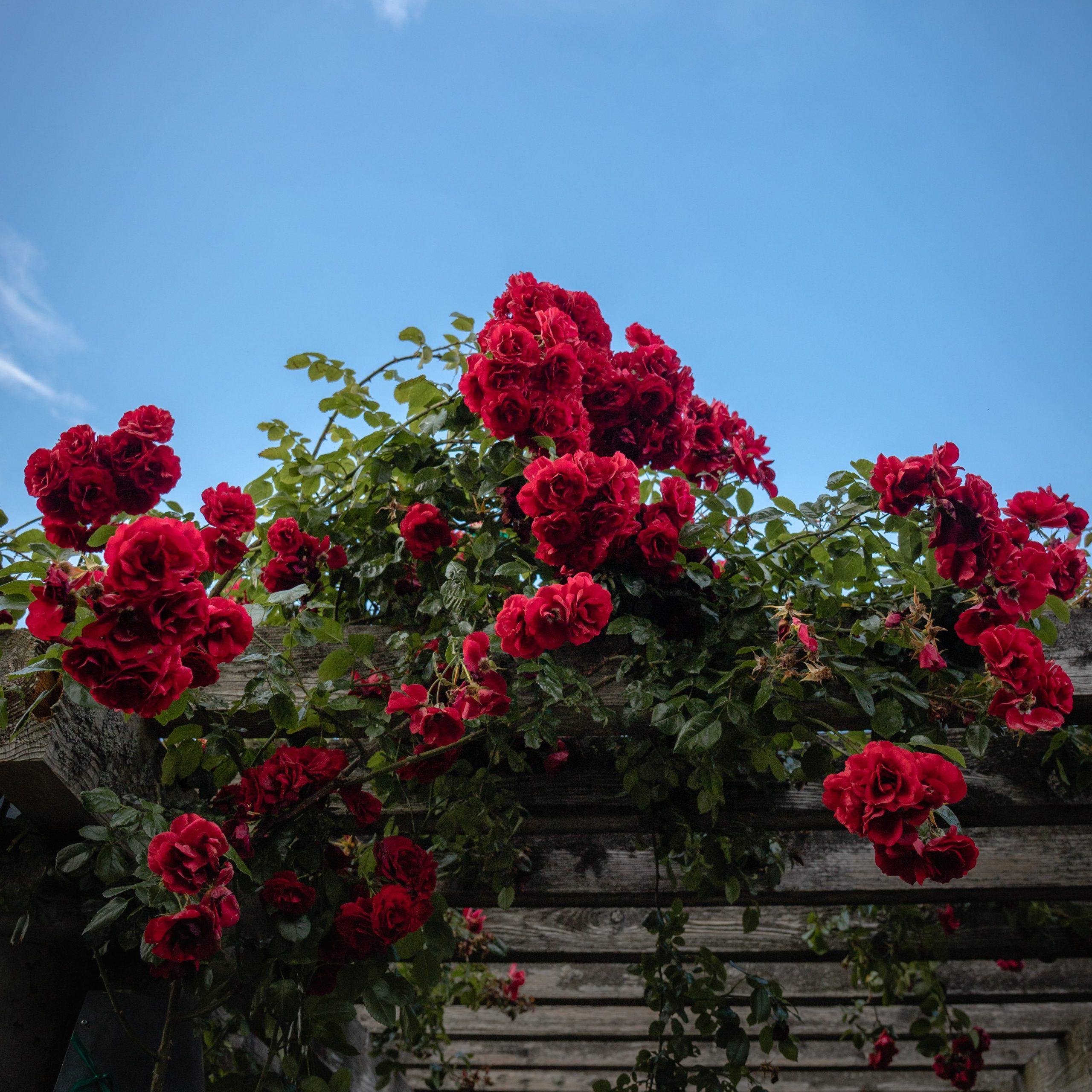 Soften harsh walls and structures with roses in different shades of colours that match the garden design.
How to start a rose garden
Choose your site
To aid in disease prevention, ensure that the area you intend to use for your rose garden receives at least six to eight hours of sunlight per day and has adequate air circulation.
Make a plan
It's crucial to have a well-thought-out plan. For inspiration, collect concepts from books and online sources. While you are brainstorming, make a rough sketch to help you visualise the finished garden. Include ways to get around easily. Beds ought to be small enough to accommodate pruning and other upkeep tasks. Take into account seating and decorative accents as well as structures like pergolas, arbours, or trellises.
Choose a style & colour scheme
Choose the type of rose garden you want. Do you prefer a more natural appearance with other plants mixed in or a clean, formal appearance with a structured landscape? Select a design that will complement the exterior of your home. In addition, pick colours that you like and that will help connect the house to the landscape.
Prepare the soil
Roses prefer soil that is well-drained, rich, and slightly acidic, between 6.0 and 7.0 pH. Add compost or other organic matter to the soil to improve it. Use high-quality multi-purpose potting soil for containers, and ensure that the pots have sufficient drainage holes. Or use a specialised shrub, tree & rose compost.
Plant selection
Select roses that are durable and easy to maintain in your area. Choose varieties based on characteristics like size, shape, flower colour and form, fragrance, and whether or not they bloom repeatedly. The breeding of numerous newer varieties focuses on cultivating vigorousness, disease resistance, and prolonged bloom duration. Some older varieties, particularly hybrid teas, may require more upkeep and be more susceptible to disease.
Care for your roses
Prepare yourself for the maintenance of the rose garden. Pruning and deadheading a rose is an essential component of rose garden maintenance; keep it neat by doing this regularly during the flowering season.
Rose gardens for different sized gardens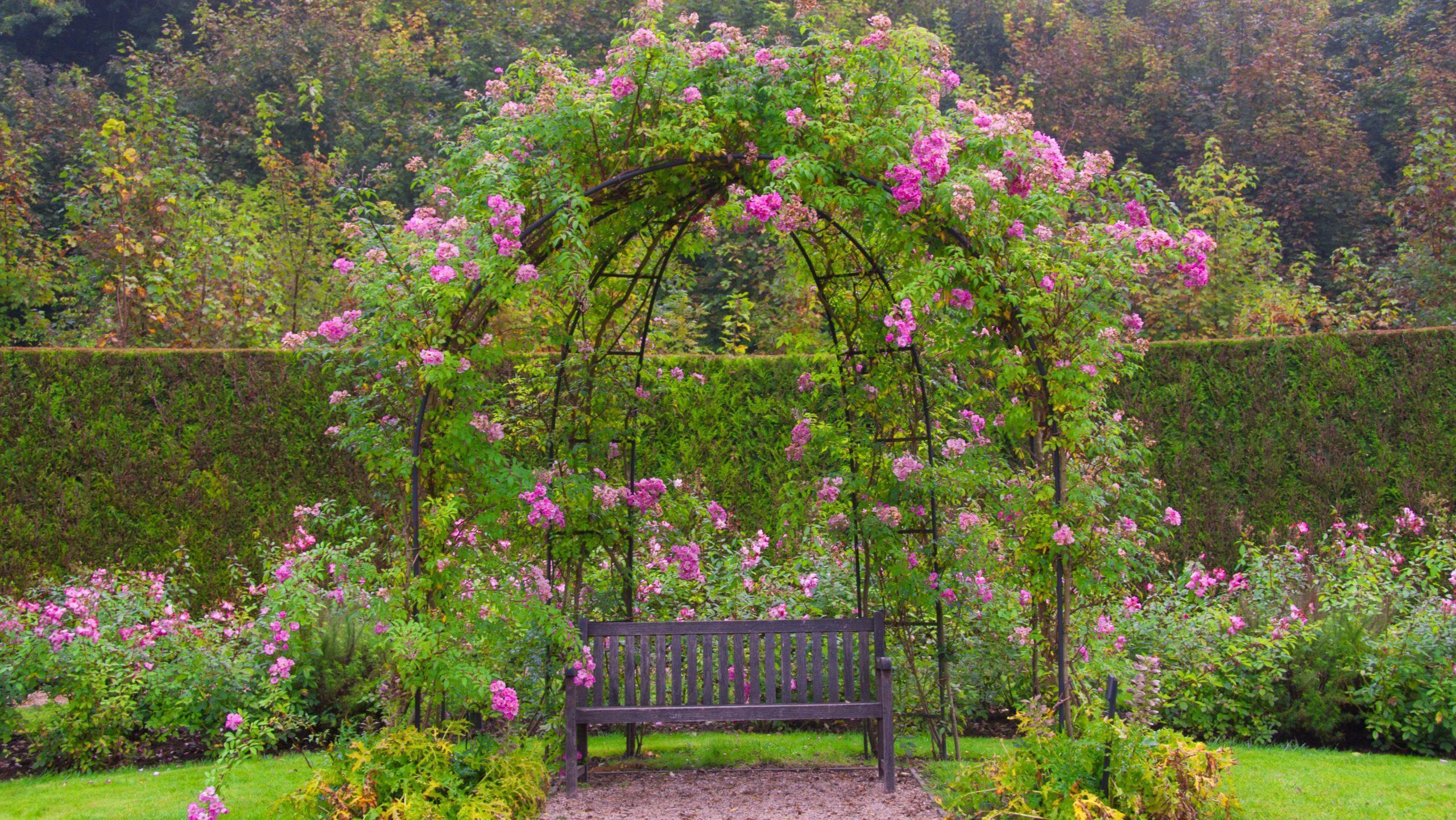 Large rose garden:
So that it doesn't get lost in the landscape, create a design with formal rooms or grand mixed borders. When adding hardscape, seating, and structures like arbours and pergolas, which are typically found in rose gardens, keep scale in mind. Choose larger rose varieties that will blend in with the surroundings more effectively. For greater visual impact, plant in drifts of three to five specimens of the same variety. For a more cohesive appearance, plant larger groups of the same flower colour.
Small rose garden:
Select smaller rose varieties that will remain proportionate in a smaller space. By including vertical elements like climbing roses and trellises, you can make the most of the space. Instead of trying to include a lot of different rose varieties, choose a few key examples. To keep the design from looking too busy, keep the colour scheme to just one or two hues. To make the room appear larger and brighter, select roses with flowers of a lighter shade, such as yellow or white.
Front garden:
Make sure rose plants don't crowd sidewalks or other areas that are often used. To prevent visitors from being stung by thorns, do not permit plants to block doors or entrances. Allow enough space between shrubs and the home's façade for adequate air circulation when planting the foundation.
Back garden:
You will be motivated to spend more time enjoying your rose garden if you include seating areas throughout the garden. Place the rose garden where you can enjoy it from inside the house. Near a deck or patio, where you can enjoy the sweet scent, plant fragrant rose varieties. At the far end of the rose garden, place a bench, water feature, or statue to entice visitors to wander around and stay longer.
Rose garden landscaping tips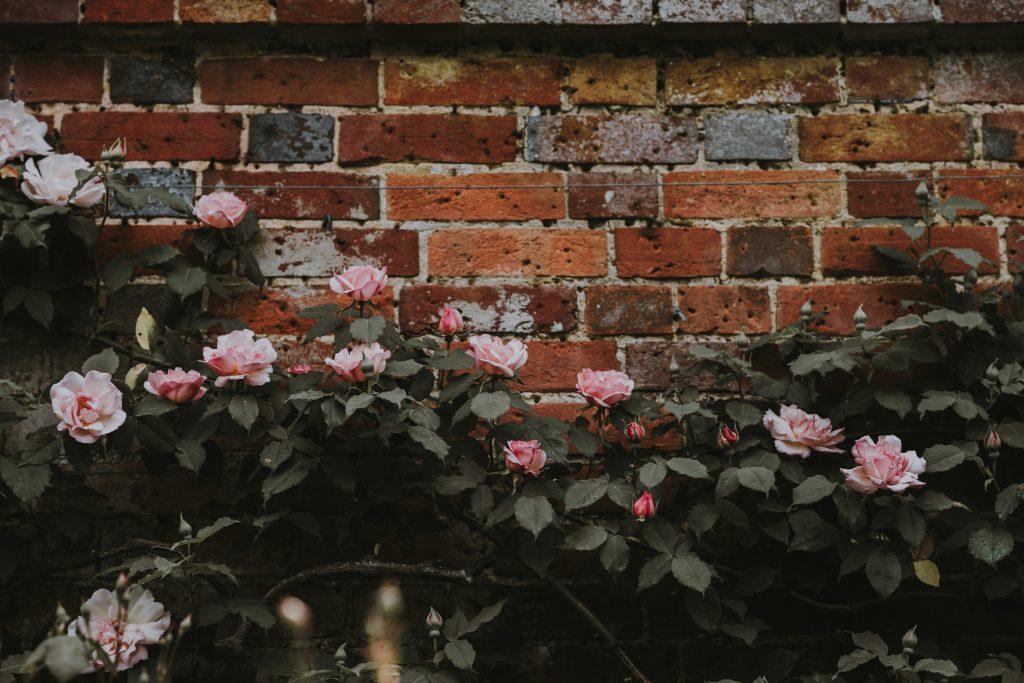 Vertically expand:
Climbing roses can make the most of your space. To create exciting flower combinations, train other vining plants like clematis to grow through shrubs or climbing roses.
Grow horizontally:
Train climbers to follow a fence to soften an unsightly chain link fence or to define garden rooms.
Plant in containers:
Many roses can be grown successfully in containers, which are a good option for balconies, patios, decks, and apartments with limited space. Containers should have a minimum diameter of 15 to 20 inches and a minimum depth of 18 to 24 inches. You can grow miniature roses in hanging baskets or smaller pots.
Cover a slope:
For low-maintenance erosion control, plant a mass of groundcover rose varieties on a slope.
Plant in drifts:
In groups of three to five, plant identical specimens for greater impact.
Plant a hedge:
To block the view of the street, plant a row of shrub roses that are taller. It is possible to plant a row of shorter groundcover roses along a foundation, in a curbside strip, or to define garden areas.
Make an entrance:
An inviting entryway with a rose arbour and adjacent plantings to soften the landscape will give your home a grand appearance.
Create a transition:
In a side garden, create a rose-covered arbour to mark the boundary between the front and back garden.
Use as a background planting:
To break up the vast expanse of wood and soften the background, place climbers along a tall wooden fence.
Foundation planting:
For a colourful display that lasts throughout the season, combine landscape roses with other shrubs that bloom at different times along the front of your house.
Mixed border:
To establish height and layers, use ground-cover roses that grow low near the front of a mixed border or taller semi-climbers in the back.
Rose garden combinations
Try to select plants that complement roses by comparing their requirements for full sun, plenty of water, and rich soil. Also, consider how much upkeep you can handle. Climbers, miniatures, and hybrid teas all require regular pruning and maintenance, as well as winter protection. Companion plants should be placed in front of or behind roses rather than in between them to make access easier. The shrubs, landscape roses, and species of old garden roses only require minimal upkeep: cleaning in the winter and, when the flowers are in bloom, deadheading as necessary. These varieties of roses can be surrounded by shrubs, bulbs, perennials, and annuals.
To extend the blooming season, plant plants that bloom at different times among each other. To create drama and contrast, combine roses with other plants in hues that are complementary. A pink or yellow flower would go well with a red colour. Or a combination of pinks and whites to add a softer touch to a rose garden.
Below we have created three examples of different colour and plant combinations to use in the garden. The collections contain a variety of roses, alliums, foxgloves, lavender, clematis, peony, Helleborus, and dogwood plants. Please note: at the time of publishing these plants were available, however they are subject to demand and only used as a representation. We recommend doing research into plant requirements and care before purchase.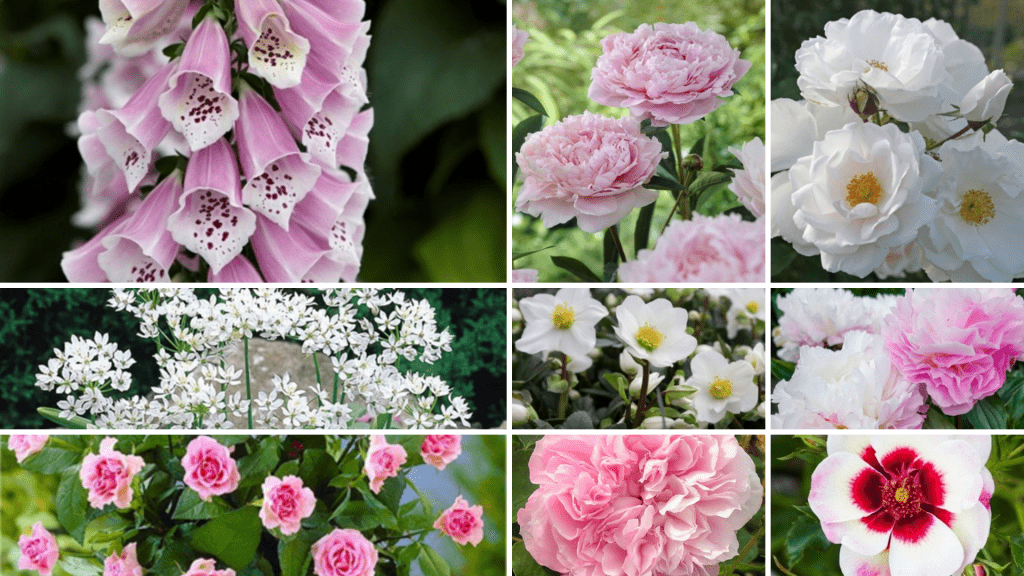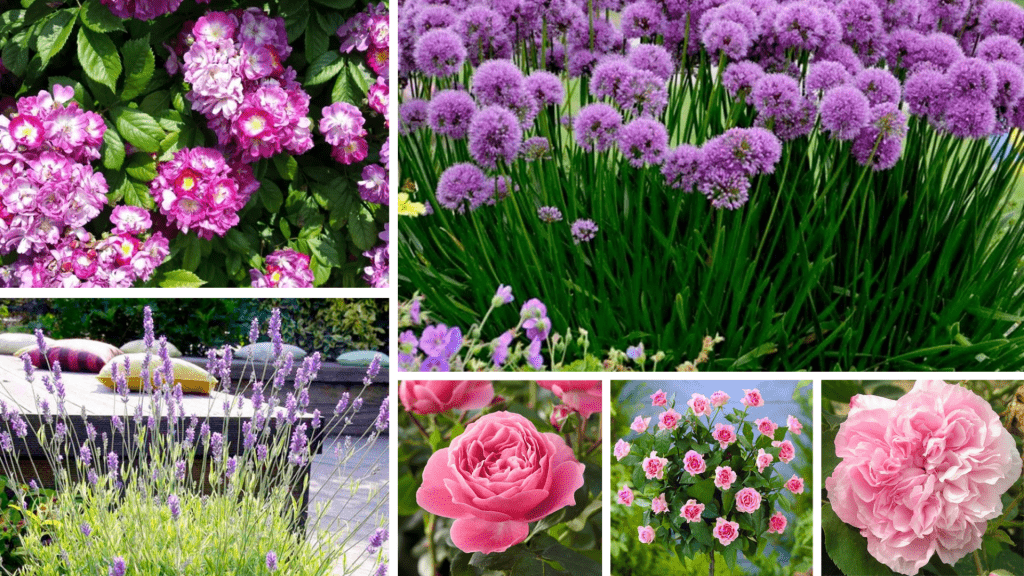 Related Articles