Introduction to seaside gardens
A garden near the coast can be challenging and not the easiest place to grow plants. Salt air can cause scorch and de-hydrate leaves. However, it also presents opportunities to plant some of the more unusual-looking plants that have adapted leaves and forms to cope with a more extreme environment. From small but beautifully packaged Alpines to large shrubs, the seaside gardener has plenty of scope for experimentation.
A seaside garden feel to your backyard can provide a wonderful oasis away from the trials and tribulations of day-to-day living. Consider creating one even if you live further inland.
DESCRIPTION:
Sea air-loving plants have a great range of adaptive and varied foliage. They come in differing forms with leaves that vary from needles to ones with a waxy texture. This gives the gardener the freedom to be a bit eccentric with planting choices and with designs. Use hard landscaping materials to link to the planting and further reinforce the design. A decking pathway abutted by a pebbled top dress or mulch will make your plants stand out. Pots dotted around the garden will also add to a seaside garden, as would relevant artefacts. Take a walk along a beached area for inspiration and see what can be found that will fit into a garden with a beach garden feel.
How to create a seaside garden.
The best Seaside gardens will aim to take inspiration from coastal areas, take a walk along a beach or, if you are feeling ambitious, take a trip to see some coastal sand dunes. You are looking for seaside garden ideas from the coastal landscape.
Once you've got some ideas, draw yourself a plan, it does not need to be anything too flash, a quick pencil sketch with a few dimensions will suffice.
Choose the right coastal plants, and take your time. Coastal plants are a little different from traditional garden plants so it's worth looking closely. You are looking for good beach garden plants many of which can deal with salt-laden winds and poor soil. Mediterranean plants tend to be a good starting point when looking for drought-tolerant plants that can deal with the sun.
Look for some salvaged artefacts to give it that beach vibe can be any nice sea-washed weathered wood found on a nearby beach or purchase some old worn railway sleepers to edge your border. You may want to paint your garden shed, on a beach trip look at all the shades used on beach houses.
Decking always suits a coastal garden but instead of just a block of it outside the patio doors why not run it around the garden as pathways, paint it a white or light colour?
Mulches of white gravel, pebbles or even seashells will really match in and give the ultimate seaside effect.
Check the condition of your soil before starting and add decent compost if required.
Consider methods for protecting plants from salt spray and strong winds.
Finally, the coastal garden is all about alfresco life. Make sure there is somewhere to cook and sit to enjoy the sea air and sunshine.
---
Creating a seaside garden-style outdoor space is very much dependent upon selecting the right plants for the conditions. If you are living near the coast then plants will have to cope with salt spray, poor soil and strong winds. There is plenty that you can do to help the growing conditions including conserve moisture through seashell mulch, construct raised beds with good quality soil, protect plants from biting winds and much watering.
Here is our list of the best plants for seaside gardens
Description: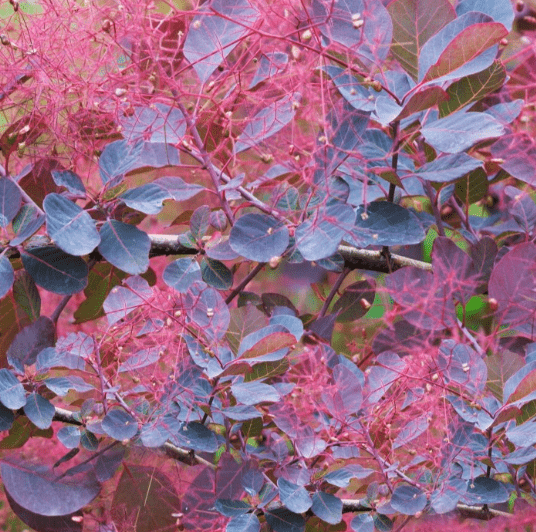 This deciduous Shrub grows with multiple branches making it exceptionally bushy. It stays compact where other varieties can get leggy and thus its bushy habit makes it suitable for seaside conditions. Known as the Smoke bush, its feathery flowers appear from mid to late summer, covering the plant in tiny yellow florets born on dark pink stems, giving the impression of smoke. The leaves are almost circular, dark blue-green, wavy-edged and heavily flushed with deep purple, and it turns a stunning orange-red in autumn. Cotinus can tolerate an exposed site of all aspects and will reach 1.8 Meters in hight and width. Give this plant a sunny position for it to really thrive.
Care:
This Cotinus will tolerate a broad range of soil conditions but will not enjoy its roots in water-logged conditions. Provide a good thick mulch at planting time and in subsequent springs. It is a low-maintenance shrub that can be cut back hard if required.
Use:
Great plant for a long-mixed border or as a specimen planting given a central role in a Seaside Garden.
Tip:
If the Cotinus crown looks a bit thin, and you are not keen on cutting it right back, then applying a fertiliser that mainly contains Nitrogen will thicken out the leaves. Try a top dress of Fish, bone and blood powder or a foliar feed of Comfrey.
---
Description: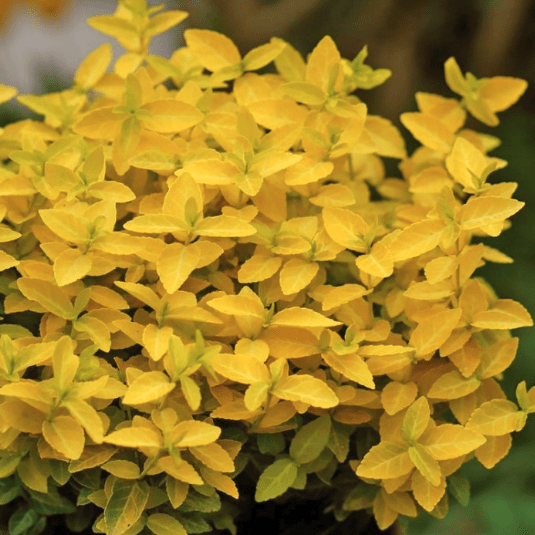 Another great Seaside plant due to its cuticle waxy, leaves. An evergreen shrub with an upright habit, this plant has attractive golden yellow leaves, these are enhanced by the plant's yellow stems. It is primarily grown for its foliage but does produce small inconspicuous green flowers in early summer. Growing to a height and width of 30 cm plus, this is a great ground cover plant. Euonymus is a tough little character that tolerates most soils, particularly chalk which makes it handy in southern coastal areas. Its merit is further enhanced by its ability to grow at all aspects including north facing windy sites and it is happy in either a sunny or partially shaded position.
Care:
Mulching with compost and foliar feeding in early spring will get this plant off on the right foot in the new season. From time to time, clip back the growing tips with hedging shears, this will encourage bushiness and stop the plant from thinning out in the centre. Water plants in exceptionally dry periods of weather.
Use:
This great low growing informal hedging plant or for pathway edging and even as the surrounds of a specimen shrub or tree. Remember this plant is pretty much wind proof so use it in particularly exposed parts of the garden. Can grow in in containers on a balcony or terrace.
Tip:
If it becomes necessary to transplant a shrub at the wrong time of year (during the growing season) then first reduce its size, cutting it back by one third. Dig carefully around its root-ball, disturbing them as little as possible and re-plant immediately. Once in its new position, apply a deep watering and a slow-release fertiliser.
---
Description: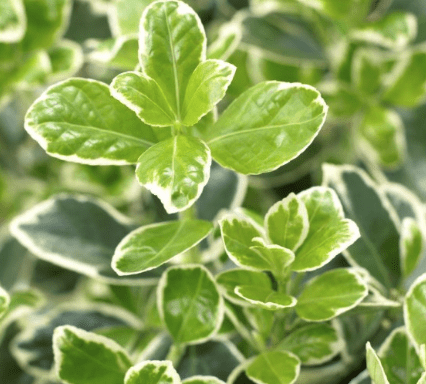 Euonymus are plants mostly from the Island of Japan and many are suitable for coastal areas. It is a reasonably tough plant. It earns it's place in a coastal garden due to its green leaves which have silver edging. Evergreen by nature and growing up to a height of 50 in height and a meter in width and can grow in full sun or partial shade although full sun is more beneficial as its variegation will more pronounced.
Care:
Hardy plant that grows in a range of soils which need to be free draining, its thick waxy leaves make it tolerant of salt winds its cuticle (leaf surface), repels water and protects it from saline. A top dressing of compost annually will benefit this plant, it sometimes can become depleted of nutrients and look slightly washed-out, but this is easily remedied with a slow-release fertiliser in the springtime. Avoid overly exposed sites with cold winds.
Use:
A perfect plant to edge a border, compartmentalise a garden section or even as a low hedge. If growing in a border, plant in a drift as the numbers will look more effective. If fed and watered regularly, it will grow happily in a pot and sit on a terrace.
Tip:
If planting a hedge whether it be on a large or small scale, firstly mark out the area with a two lines 30 cm apart then fork some good compost to the area between the lines. Rather than planting your hedge in a single line, stagger the plants diagonally, 20 cm apart for small hedge plants, 50 cm if planting a large hedge. This staggering will help your hedge fill out faster. Add some slow-release fertiliser around the plants in the. spring
---
Description: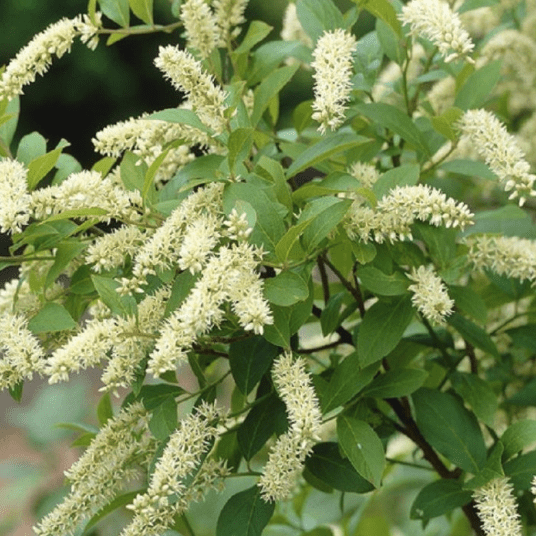 An under rated shrub with many quantities and makes a great addition to a coastal style garden. An evergreen shrub that reaches 3 meters over time and has a spread of two meters. It's time to maturity however would be a couple of decades. Its evergreen leaves are oval in shape and shimmer in the wind. The flowers are its main attraction, they are long thin racemes, greenish white in colour and capable of getting up o 30 cm's in length. They naturally cascade downwards almost giving the impression of a waterfall when they are in sufficient numbers, they appear in the summer but last all the way to the autumn, early winter.
Care:
The Itea likes most soils as long as they drain well. They are happy on chalk which is why they are good in coastal gardens which tend to be more alkaline in nature. They grow in sun or partial shade and will take most aspects but may scorch a little in strong cold winds. Some slow-release balanced pellets added in spring, along with a dressing of compost will aid this plant and give it water during dry periods.
Use:
Itea makes a fantastic Wall shrub and that's where is traditionally grown. it is a great shrub for softening brick work or for covering a section of an outhouse such as a garage. Alternatively, it makes a great statement in a mixed border.
Tip:
To secure a wall shrub or a climbing plant on a wall, a good and cost-effective method is a couple of Vine eyes and some wire. The vine eyes are fixed into the mortar and the overall effect is unobtrusive and minimal.
---
Description: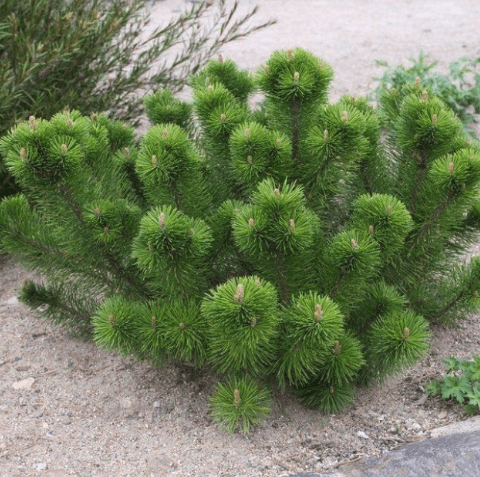 Conifers come in many fantastic forms and colours. As they are not renowned for periods of flower. Or bursts of flamboyance they can often be overlooked but once you become aware of their natural subtle beauty there is no going back. One of the finest is the Gardening Express Pinus mugo, a compact little dwarf Pine that has an amazing shape with its needle hugging short branches almost giving the impression it might suddenly shuffle away. This variety has dark green dense branching and small clusters of reddish-brown cones. It also produces amazing candles of new growth in the spring.
Care:
Pinus Mugo takes a great varied of aspects and conditions, growing in a range of soils and also being tolerant of exposed conditions. It can reach up to 3 meters plus in height but that would take up to 50 years, so it is safe to call it a small compact conifer. A mulch now and again and a good soak during long dry conditions will keep this plant happy but that aside its very self-reliant.
Use:
This Pine can be planted singly in a mixed border or even dotted in numbers through pebbles, gravel or seashells in a coastal garden.
Tip:
Over time dead Pine needles may build up in the frame of the plant, a gentle shake or even running your fingers from the base of its branches will remove this dead material. The spent needles can then be added to your leaf mould compost.
---
Description: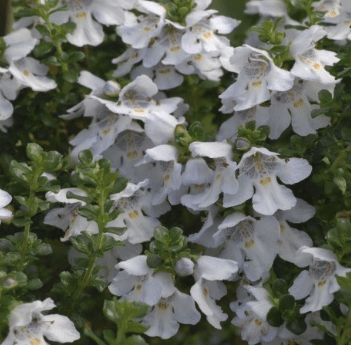 A neat attractive evergreen shrub, its tiny waxy leaves are highly aromatic, particularly if pinched between the fingers. Its physic makes it perfect for a coastal garden, but it's simple beauty also qualifies for a space that it fills with a height of 50 cm to a 1 meter and the same with its width. As well as these beautiful leaves it produces white to Lilac flowers with dark purple spots that are born in summer.
Care:
This Gardening Express plant can occupy both the greenhouse and a coastal border or container popped on an area of decking or patio. It prefers a loam soil so it may struggle in too much of a sandy soil and will definitely will not like a clay soil. If your garden soil is unsuitable then pick a good container and a decent loam compost to plant in. A regular feed of seaweed extract applied as a foliar feed in late spring, early summer will be beneficial.
Use:
A couple of plants in two large terracotta containers would be an idea setting for these plants, maybe under planted with trailing bedding such as Petunia preferably with white flowers to foil the foliage of the Prostanthera.
Tip:
When planting up containers make sure you use decent compost, avoid the cheap 3 bags or £10 bargain compost as this will be green waste, which is great for mulching but not for containers. Choose a decent Potting compost, it is a worthwhile investment.
---
Description: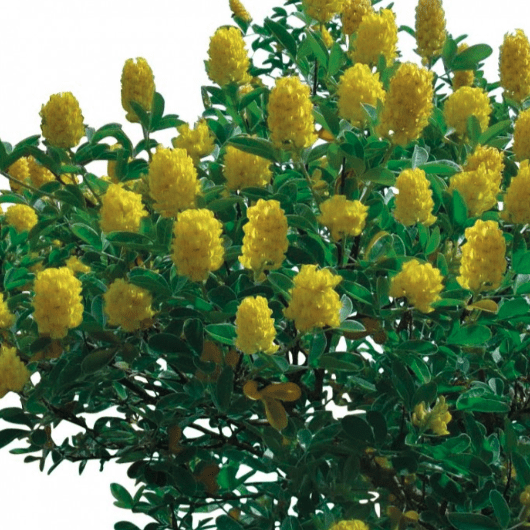 Evergreen shrub or small tree hailing from rocky coastal areas in the Morocco this wiry unusual looking shrub makes a perfect specimen in a coastal garden setting. It has beautiful silky grey foliage and golden pea-shaped flowers that are gathered in large upright cones and appear from mid to late summer. The flowers have the added bonus of having a strong scent of pineapples and are a big favourite of the Bees. It can be treated as a large shrub or a small tree, reaching 4 meters in height with a similar width
Care:
Cytisus can be tender to extreme cold so no planting in cold winds or in areas that may suffer from heavy frosts. A sheltered south facing spot in full sun would be perfect. Apply a few foliar feeds in early spring when the plant is establishing and a good thick mulch in the autumn to protect the roots from the cold. Cut out any crossing or rubbing wood to allow air to circulate around the plant.
Use:
A single shrub or tree if the crown lifted. Try to use this Gardening Express plant to soften hard surfaces like brickwork or rendered walls of a garage or outhouse. It is in these positions it is very effective
Tip:
Turning a shrub into a small tree is a good way to allow under-planting into a border and display a shrub forming plant in a different form. In late winter carefully start removing the lower branches with a decent sharp prunin saw, don't prune the branches flush leave, a few millimetres to allow the cut to seal. Repeat in subsequent years.
---
Description: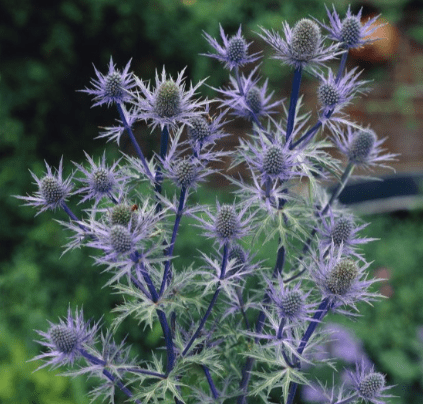 A highly distinct plant with unusual foliage, emphasise that coastal garden planting schemes give room for plenty of diversity. It's common name of Sea Holly, indicate its perfect for a coastal environment. This Eryngium is an herbaceous perennial to 45cm tall, with deeply lobed and silver-veined leaves, and vivid blue, branched stems, it is all most Si-Fi in its appearance. Its flower heads are cone-like and spiny, usually in silvery-blue colour which appear in the summer.
Care:
Being from sunny Spain the Eryngium will enjoy a full sunny position, it is not overly keen on rich soils so if you have a sunny spot with a stony ground then it will feel quite a home growing in it. Beware of wet winters, if things get too soggy it may cause the plant to rot but a top dress or mulch of gravel will prevent this happening. It can suffer from Mildews in late summer, but this is also easy avoided by picking off any infected leaves.
Use:
Think about foliage and what your Gardening Express Eryngium will contrast with, it looks good mixed in with other herbaceous planting. As it is an unusual looking plant you may want it to stand out in the coastal garden, why not plant it rising through gravel or stone to really show of its leaves, probably best to plant more than one, a group as small as three will make more of an impact.
Tip:
The foliage and flowers make for excellent cutting subjects for the flower vase. Their unusual shape and texture make great foils for more traditional flowers such as Lilies.
---
Description: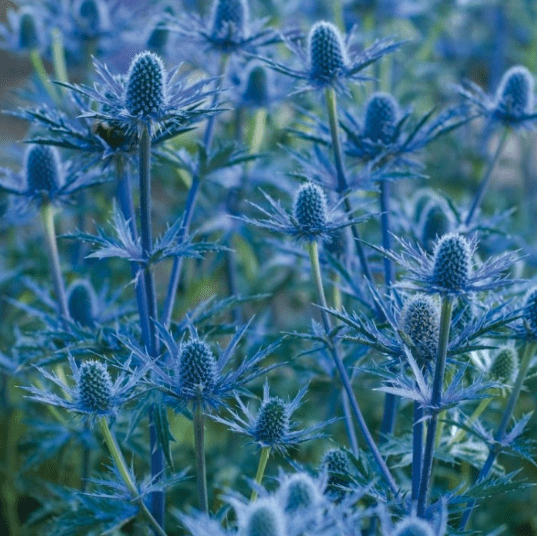 Another variety of the amazing herbaceous perennial that is Gardening Express Eryngium, 'Big Blue' boasts stunning upright silvery green, spiky foliage which reaches 75 cm in height. Its deeply divided leaves are both majestic and architectural in appearance, making this a highly merited plant. Its flowers are atop of stiff upright branches that are cone blue in the centre and surrounded by prickly silver blue bracts.
Care:
The genus Eryngium dislikes having its feet in soaking wet soil and prefers free draining light soil that does not need high fertility. If an area of the coastal garden is stony and poor in texture and appearance, then this plant is an answer to what to grow. If the soil is a touch heavy, then add horticultural grit and some leaf mould with a sprinkle of slow-release fertiliser.
Use:
The soft nature of the blue and silver colouring of the Eryngiums make them perfect for a border of a mixture of soft coloured plants. These are the pastels, pinks, whites and they look stunning when blended together in a coastal herbaceous border.
Tip:
It is worth taking some time to plan a decent mixed herbaceous border, think about trying to achieve a continual flowering from spring to summer. Visit a good park or botanic garden to get some inspiration, a bit of planning goes a long way.
---
Description: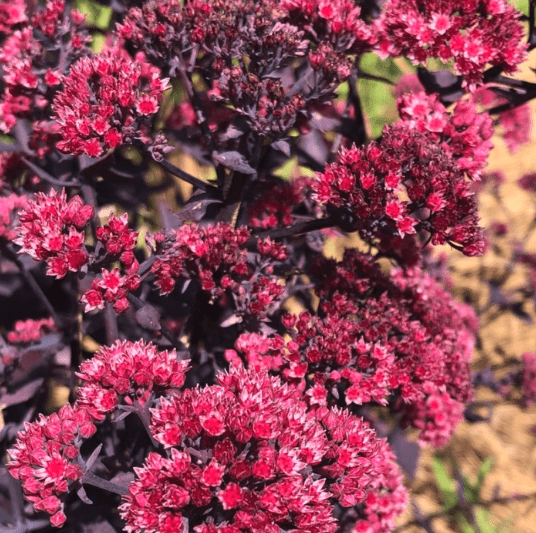 Plants that grow in more harsh conditions such as mountains or coastal areas have a variety of trick up their leaves to cope with the harsh conditions, particularly wind. Thick waxy leaves are a big help when it comes to prevent water loss and this Gardening Express Sedum does this with aplomb, the variety 'Touchdown Teak' is an upright, clump-forming, perennial which reaches up to 50cm tall and has striking oval, dark red brown to purple-brown waxy leaves. The dark red stems are topped with flowerheads of small, star-like, rose-pink flowers are borne from summer into autumn
Care:
Sedums can tolerate a range of soils and is quite happy in chalk, making a versatile plant. The soil will need the soil to be free draining so if the soil is heavy add horticultural sand or grit to aid drainage. Tolerant of both exposed windy sites it is also not bothered by drought conditions. It is deciduous by nature and after the autumn leave cutting back the dead stems until early spring as they will protect the sleeping crown of the plant and the new buds at the beginning of spring.
Use:
The rich purple colour of the leaves of this Sedum, make it a powerful presence in a garden. It can stand alone planted by the top of a tiered wall or even in a container. Will fit well also into the front of a coastal style herbaceous border.
A mulch of gravel around its base will really raise up the leaves and flowers.
Tip:
If wanting to plant into a heavy soil such as clay but the subject plant may be sensitive to those conditions, then mixing the soil with compost and horticultural grit or sand. These special aggregates have been washed through and free from debris and will greatly improve drainage.
---
Description: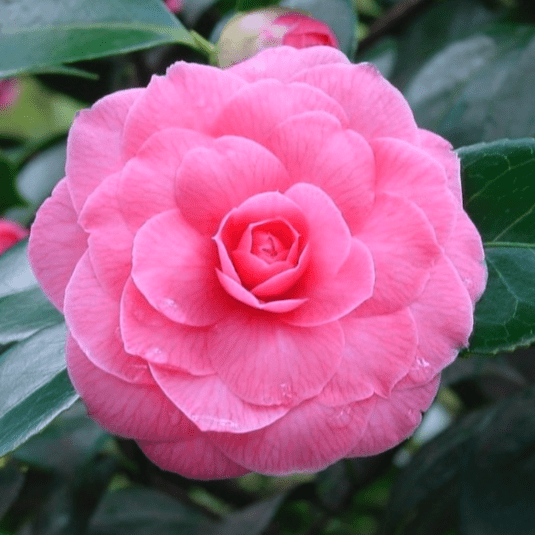 For such a handsome and tidy looking plant, the Camellia is a very tough character, it is hardy and can withstand harsh, windy conditions with its leaves having waxy cuticle surface that ideal for repelling any attempt to dehydrate them. It also produces the most magnificent flowers with deep-pink petals, that are doubled and sit against its dark green glossy frame of leaves. They flowers have an added bonus of appearing in the darker months from late winter to late spring, providing some beauty in the winter months. It is a medium sized shrub that reaches to 2.5 meters in height and width and is happy in either sunshine or partial shade.
Care:
Camellias like rich soil that are free from water-logging so mix plenty of organic matter with the local soil when planting. Add some slow-release fertiliser like Comfrey pellets at planting and subsequent seasons. Gardening Express Camellias will enjoy a few foliar feeds of seaweed extract in spring `and early summer. If your coastal garden is on heavy clay, a container is a better option as they object to a high ph.
Use:
If you have plenty of space a Camelia looks fantastic dotted through a mixed shrub border. They can be clipped into nice, rounded specimens and sited at an entrance, don't be too drastic with the clipping though, little by little is good but it is worth the effort, particularly if planting as a single focal point in a smaller garden. They also look great in large tubs or containers.
Tip:
Camelias are prone to Magnesium shortages which cause a yellowing of the leaves, if you notice this a Seaweed foliar feed will is the perfect cure for the problem and those beautiful glossy green leaves will soon return.
---
Description: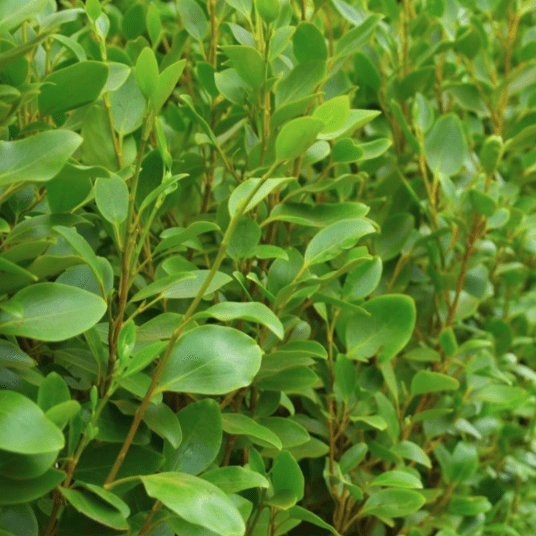 A graceful quick growing shrub with beautiful oval light green leaves which have a waxy covering which make this plant ideal for a seaside setting. plant ideal for a seaside setting. In fact, the Griselinia is very much at home in a coastal environment where is to be found in its native New Zealand. This hardy shrub reaches up to four meters height and width over time, but it easily takes regular clipping making it ideal hedging subject. Tiny yellow flowers can be found followed by purple fruits if male and female plants are present. However, they are not the primary reason for its presence in a garden, it is their ability to deal easily with the sea air.
Care:
Griselinia tolerate all the ranges on soil as long as they are not prone to waterlogging. It prefers a nice sunny spot and will enjoy the occasional foliar feed. In exposed areas it is a good idea to stake the plants with bamboo canes and twine to stop any loosening or rocking due to wind.
Use:
This is best plant for planting hedging for a seaside climate, it can provide both privacy and protection from the wind and therefore helping the rest of your garden plants from too much exposure. Griselinia will also make a handsome stand-alone shrub in any garden, providing a good backbone to a garden structure.
Tip:
When looking at the perimeter of a garden is really is a simple case of fence verses live hedging material. In terms of gardens and plant well-being the hedge will win every time, its porous nature slows the spend of wind by 50 percent, whereas wind will 'eddy' over fence causing gusts. Hedges also house bird nests and other wildlife and will probably be cheaper financially but requires care and patients whilst establishing.
---
Description: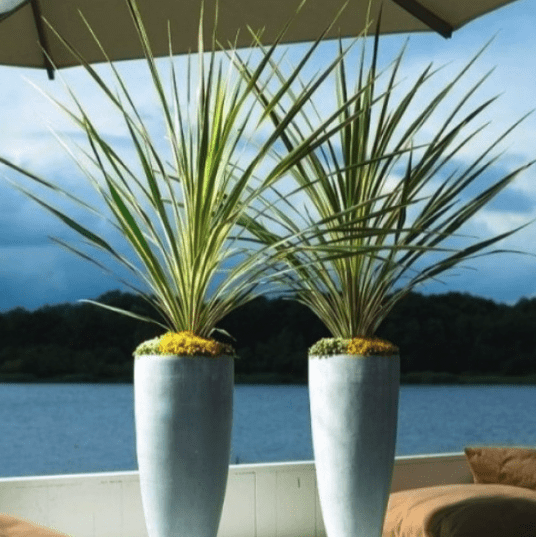 This plant is now common on seafronts throughout the South. Torquay boasts many on its Prominade and once they have matured you can easily see why as they are majestic plants with an exotic feel. Even when young their spiky green lanceolate foliage is eye catching. As they grow multiple crowns of foliage are formed, and these grow on the end of slender stems giving it the look of a multi-stemmed exotic tree. That can reach up to five meters. It also produces large sprays of eye-catching white flowers in summer that have an exquisite scent and are followed by black fruits.
Care:
Many books will describe this plant as half-hardy and this is true in areas that suffer from periods of prolonged frost. Light and infrequent frosts will not trouble Cordyline, especially as they start to mature. In cold areas protect the crown with hesseyon and apply a thick organic mulch in autumn. If you do get frost damage cut the plant back a hard and fertilise to encourage fresh growth. These plants are drought tolerant and will not like water-logged conditions, plenty of compost and grit upon planting will help. Cordylines will also take partial shade.
Use:
A single specimen planted in pride of place will grow into a fantastic specimen over time. Give some thought about where you site it. If you have plenty of space then they will look fantastic as a small grove, if space is tight this plant will be quite happy in a large container.
Tip:
A little sprinkle of organic fertiliser will help this plant get going, Try Comfrey pellet, a good balanced fertiliser that is will not upset the soil or eco-system.
---
Description: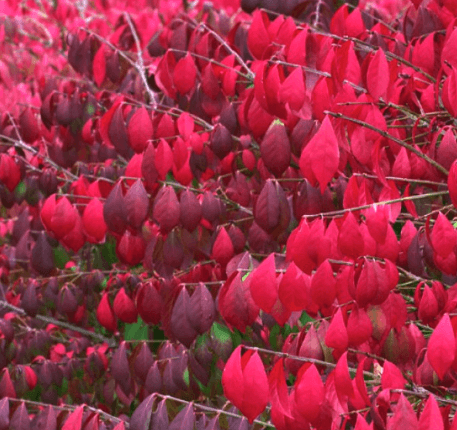 The winged Spindle gets its name from its incredible winged branches that form a cross of wood which is corky in nature. This phenomenon seems to be unique to this genus of plants and its beauty through the winter makes it a worthwhile entrant to a coastal garden. Another very good reason is its intense bright red autumn colour, it is an absolutely stunning, its flowers are inconspicuous, but they do lead to purple reddish fruits which spit and to reveal orange seeds. This deciduous shrub will reach between 1.5 to 2.5 meters height and width.
Care:
This is a tough plant, and it will handle exposed sites, even North facing aspects. It also deals with the full range of soils and in partial shade, in fact it's amazing that such a striking plant is so capable of taking on all the elements. The one thing it will not like is its roots in waterlogged conditions so attention to soil drainage prior to planting. An organic mulch in each year early in spring will keep the soil healthy around the plant and a sprinkle of slow-release fertiliser will also help. Water well in dry periods in the first few seasons as the plant establishes.
Use:
This Gardening Express plant looks great if cited in a lawn, cut a circle out of turf the lawn and plant, its woody structure and autumn colour will look fantastic against the green grass. If your lawn is only small or garden does not contain one this shrub fits perfectly into a mixed perennial border.
Tip:
Root hairs ae a vital part of a plant and they are found in vast numbers over the surface of normal visible roots. They are a bit like the ling of our stomachs in that their job is to absorb water and nutrients, when a larger plant like a shrub or tree is moved these root hairs can be damaged and depleted. That is why it is so important to water this type of plant in the first season, the regular watering will replenish these vital root hairs.