What is a woodland garden?
Possibly the most striking and natural of the planting displays, a Woodland is a plantsman's dream, and the possibilities are endless. They require a bit of space, but they also allow for an incredible range of plants. Woodland gardens encourage many other life forms, including lichens, mosses, birds and fungi. The key to a woodland garden is to plant in tiers and to form a planting community. A broad range of plants is suited to the conditions in a woodland. Full sun-loving trees through to shade-loving shrubs and perennials make up the variety of woodland plants.
How to create a woodland garden
Plants are happiest when growing in associations or communities. This greatly helps with their husbandry and general health. Once the ground cover is established and a canopy is formed, the maintenance required to look after a Woodland border is minimal. A balance between plants and wildlife will establish, and it is just left to the gardener to keep an eye on the individual plant's well-being and soil health.
Planting in tiers is how we create the ultimate woodland garden. Trees planted for the overstorey are underplanted with shrubs; beneath this, ground cover can be planted to colonise the woodland floor. The garden can then go subterranean through the planting of woodland bulbs, and finally, all levels can be transcended by allowing climbers to scramble up and through our woodland layers.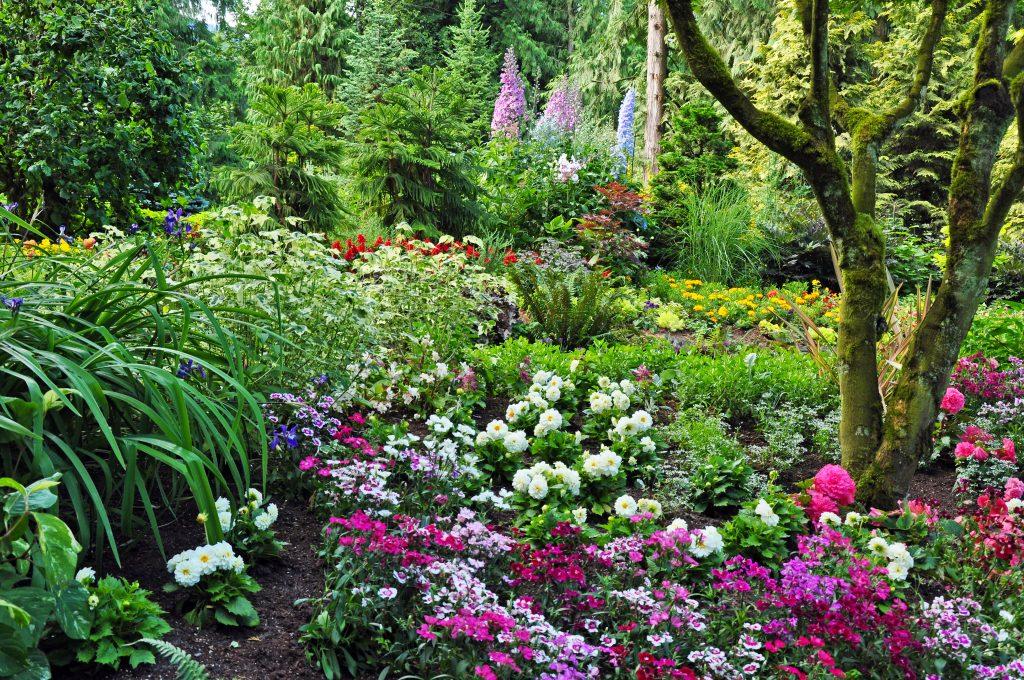 How do you create a woodland garden?
Scale is necessary for a woodland garden, which makes it a touch tricky for small spaces. But a wide border, around 7.5 to 10 meters, can be used to create a window into a woodland garden.
Usually, when designing a garden, it is the hard landscaped areas that get mapped first, but here it is the plants that rule and it's suggested that choosing the plants should be a top priority.
Consider what tree line you want. Think about the heights and widths of tree crowns. Deciduous trees should be given priority as these will let the light through to the ground cover and bulbs in the spring. However, the occasional evergreen specimen will add to the overall effect. Shrubs and groundcover should be planted in groups and drifts to fill out the area quickly, and climbers should be of a rambling nature.
Once you are happy with your choice of planting or at least the early backbone of it, it's time to make sure we are creating the right conditions for our woodland garden. A rich free draining loam is needed for it to thrive, therefore composting both before planting and in continuous seasons is vital. It is recommended that a composting area be incorporated into the garden.
There are a few golden rules to composting. Make sure that brown and green materials are mixed equally, for example, 50% grass cutting mixed with 50% shredded paper. Alternatively, try 50% fruit peelings or weeds with 50% straw or ripped-up cardboard. It's also good practice to gently turn and water your compost as it builds up, allowing air and moisture to encourage the micro-organisms and worms that help it break down. This practice will produce the gardener's gold that is composted and do your woodland garden wonders. Another little tip is to collect leaves in the autumn as they fall and place them in their compost area and this leaf mould makes for a great soil conditioner when added.
Best 15 Plants for a Woodland Garden
Description:
Hard to think of a more graceful tree than this beautiful variety of Birch tree. The intense white bark, that exfoliates as it ages is a feature that will draw you to this tree time and time again. It is small to medium-sized in stature, growing eight meters in height and 4 meters in width, which makes for a prized specimen. Birch trees have superb seasonal characteristics, including Catkins, autumn colour, incredible bark and its graceful winter form. It is happy in snow or partial shade and tolerates most soils.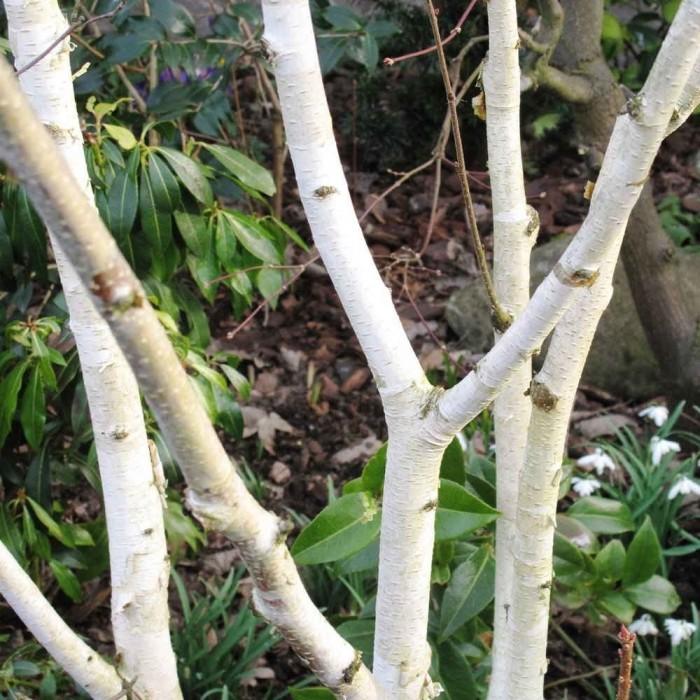 Care:
Birch are pioneer trees that colonise empty land, so this relative of theirs is a pretty tough cookie. Attention to welfare in the first growing season is always the key to success when establishing a newly planted tree. A square planting hole encourages roots into their new surroundings. Mulch not applied to the soil but to the surface will protect those all-important surface roots and make sure the tree is watered liberally in its first season. Ninety percent of all plant deaths occur in the first year so make sure you keep an eye on this wonderful plant. A low stake, keeping the base of the tree firm but allowing the crown to move in the wind, aids root anchorage. Finally, a squirrel guard for young trees is definitely a good idea.
Use:
In a smaller area make this Betula the centre piece of a woodland border. Planting dark foliage plants around its base to show-up the amazing bark. If you are lucky enough to have a big space, a grove of 10 or more plants looks incredible. Underplant with bulbs and groundcover for a little bit of woodland paradise.
Tip:
Watering in the first year is fundamental, when planting you can assist the impact of your watering by using an overflow pipe wrapped around the root-ball with one end coming up out of the planting pit. This enables watering directly to the root ball.
---
Description:
This self-clinging climbing Ivy is a perfect addition to a woodland display. It adds another dimension to your tier, planting with its ability to climb and mix with other plants. The evergreen leaves are glossy and will vary in size depending on where they are on the plant. It produces small yellow-green flowers in summer, which are not so significant to its looks but are loved by pollinating insects. Its black fruits are loved by birds as are its leaves which will be nested in by our small birds like Robins and Tits. This Gardening Express Ivy is a vigorous plant that will scale trees climbing toward the light.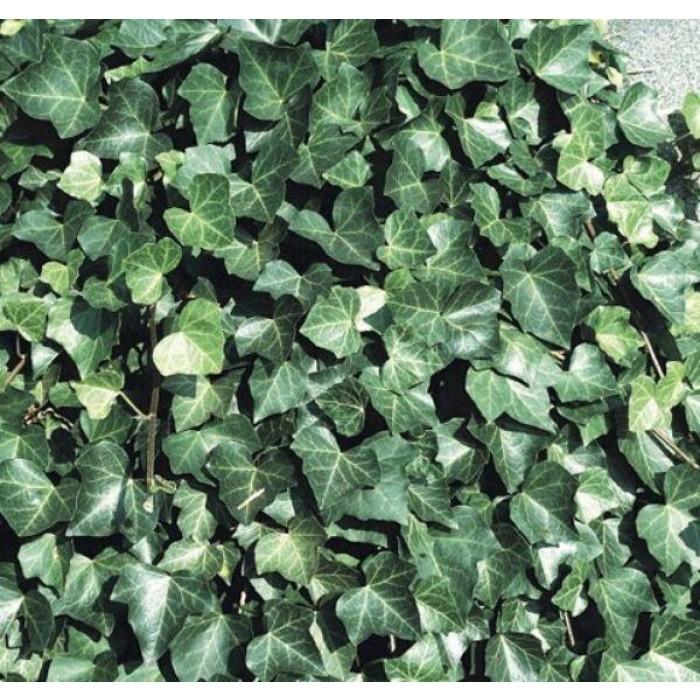 Care:
Hedera does not need much encouragement to get going. It grows in a range of soils but will love some leaf mould around its base, so a bit of compost in the first couple of years will help it establish itself. Watering in the first season, particularly in dry spells, will also aid this establishment and even a small handful of Bonemeal fertiliser. A more impressive display will develop if planted in groups rather than singly.
Use:
The best way to display an Ivy is to encourage it to be a Tree trunk climber or grow along a support like a trellis or a fence. It is vigorous so keep it clipped to desired size and shape, this will stop it from swamping your trees, particularly if they are young specimens. As long as you deal with that, this Ivy is a great addition to the woodland garden and is superb for supporting wildlife.
Tip:
As mentioned, regular clipping will stop your Ivy from getting carried away, but we also want it to encourage as much bird life as possible into the garden. It is a good tip not to clip it during the spring when nesting is taking place, and the fledgelings are around.
---
Describe:
The ground cover of a woodland garden should be a journey of discovery. This Hellebore thrives in partial shade, meriting a spot in this style of garden. This herbaceous evergreen plant has an erect habit reaching 40 cm in height. It produces beautiful subtle pale green flowers which appear in late winter and light up those dank grey winter skies, they are a breath of fresh air that lifts the winter spirits.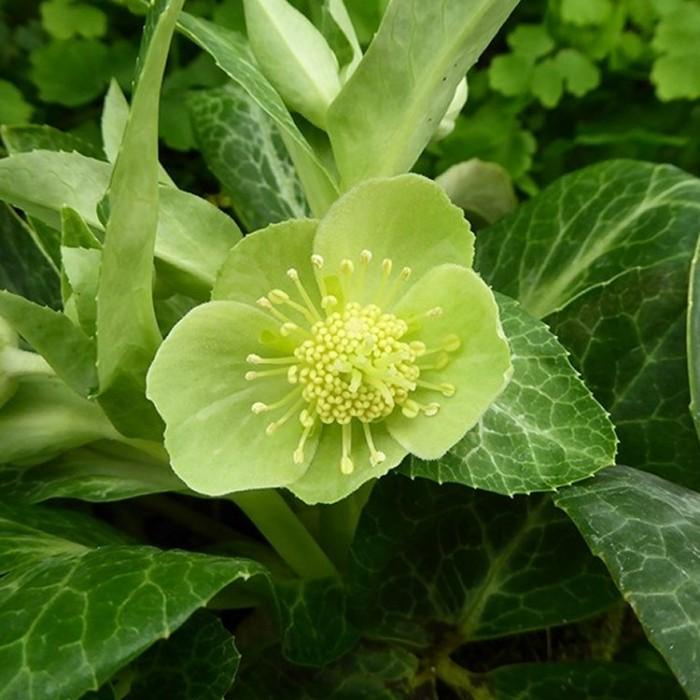 Care:
These Hellebores are tolerant of most soil conditions but they prefer soils that drain properly. They are fond of organic matter, so the usual application at planting is good practice. In further years apply mulch, and do this in the autumn to accommodate their winter flowering. Once the winter ends, deadhead any spent flowers and remove damaged or dead foliage.
Use:
A large drift of these stunning winter flowering Hellebores planted under the crown of a deciduous tree makes for an impressive display. A small group of 3 or 5 in the dappled edge of a woodland border will make a similarly worthwhile feature.
Tip:
If the area you are growing these plants is slightly windy, you can support them with discreet canes of Bamboo or pea sticks.
---
Description:
This Honeysuckle is a rambling free willed character that fits nicely into the loose nature of a woodland planting scheme. Its twining evergreen nature is brought to life with beautiful bronze foliage in the early part of the summer, which sets off the amazing yellow flowers that appear in early summer. These flowers come in long tubular bunches and are favourites of moths and butterflies. The bronze leaves will fade to green as the season progresses, but its climbing habit gives another layer to our woodland planting scheme and given the support it can reach up to ten meters.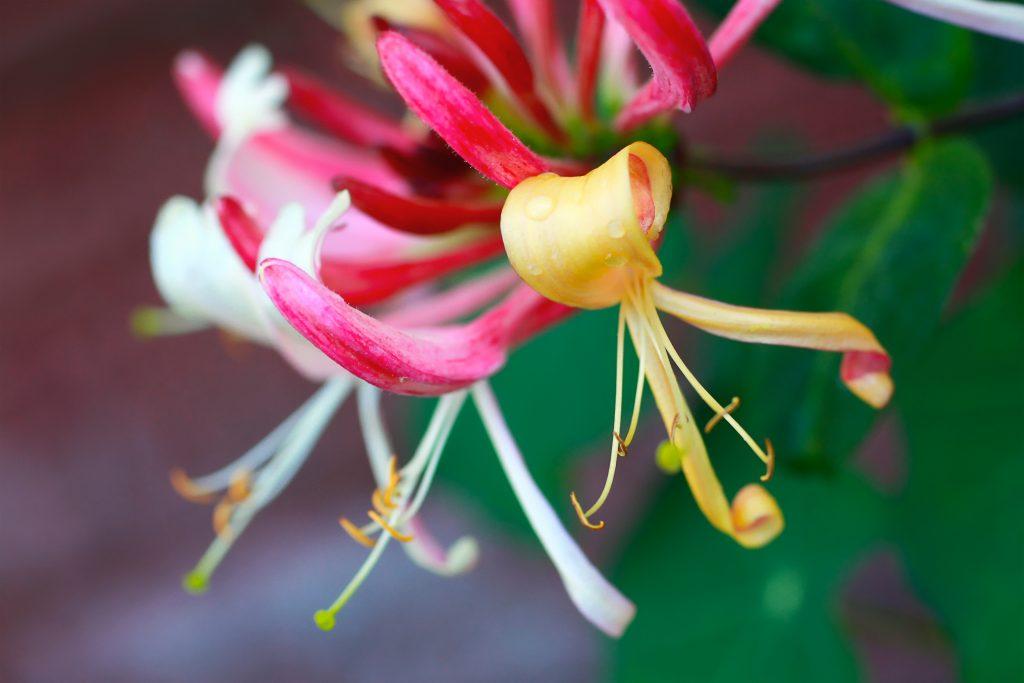 Care:
The Honeysuckle love fertile, humus-rich, moist, well-drained soil and an application of a good organic mulch in early spring with a sprinkle of slow-release pellets mixed in will keep this plant healthy. After flowering, prune back the shoots by one-third to encourage next year's flowering material. It is also a good policy to prune out any dead or whippy wood, helping to keep the air circulating around the plant and thus preventing any possible fungal disease.
Use:
For a more compact orderly specimen; train your Honeysuckle on trellis, tying in the shoots gently with soft twine looped in a figure of eight. If you have the space and large tree or shrub, plant one nearby and let the plant express its free, rambling personality.
Tip:
Spring flowering plants will flower on new growth that was produced the previous season. So keep in mind a good pruning tip, that being cut back that flowering wood to encourage new growth and a produce a thorough floral display the following spring.
---
Description:
A twist on the classic evergreen Holly plant. Instead of the usual green leaves, this variety's foliage is edged with bright yellow. A great plant to light up a winter's day, and small white flowers are followed in the autumn by brownish red berries. These may be the delight of the birds who may remove them quite quickly. The plant is quite small and compact for a Holly and is a slow grower taking time to reach four meters plus.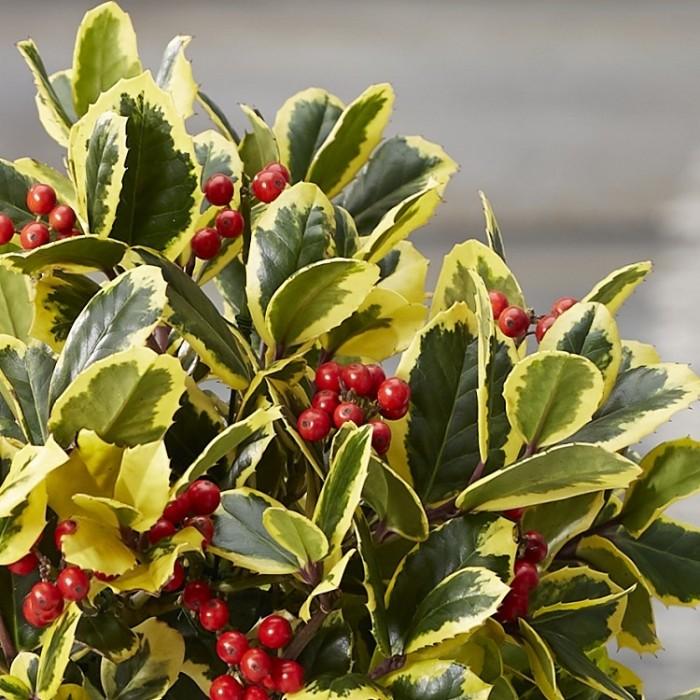 Care:
Hollies are tolerant of free all draining soils, enjoying leaf mould applied as a mulch in spring. Give them a good soak in dry times, especially in their younger years. If your soil is particularly heavy clay add horticultural grit and some Seaweed meal to help with the drainage.
Use:
This plant will need full sun so make sure you consider that in a woodland display. Also, consider if young children are about as the leaves are tough and spiny, so cite away from the edge of paths. It is best treated as a specimen plant, Holly is a common sight on the edge of British woodlands, so plant this one on the peripheral of display. Alternatively, plant in a large pot and place in a spot that will draw your eye. It is also worth noting that if clipped regularly you can play with the shape of Holly adding to its status in the garden.
Tip:
Mulching is really an important part of a woodland garden or border, don't skimp on its application, it should be spread at 5 to 7.5 cm's in depth & timing.
---
Description:
A superb second-storey shrub with big lobed Oak style leaves, this plant has become incredibly popular in recent years. It is easy to see why, as this plant, in addition to having great leaves, produces large panicles of creamy white flowers from early summer right through until the autumn. It is in the autumn that it produces another stunning party piece with its autumn colour, its leaves turning a rich plum red that can last well into the autumn. The dry flower heads also add to the character of this plant, and retaining them will protect the young buds that form in the spring after the new growth starts in spring, deadhead the flowers and use them in cut flower displays.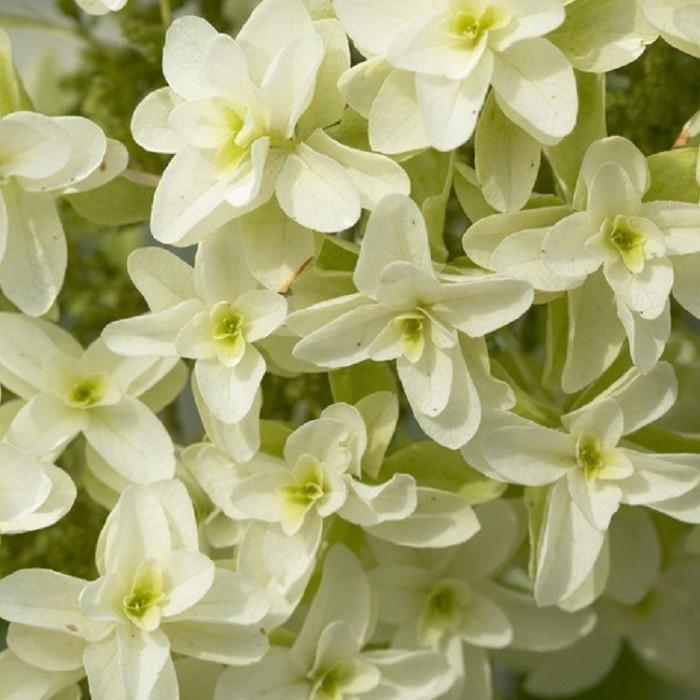 Care:
A free draining soil, rich in humus and organic matter will cause these plants to thrive. Apply mulch at planting and in the following spring seasons. Use potash feed to encourage heavy flowering and deadhead flowers in mid spring.
Use:
Very rustic rambling shrub, perfect for a woodland garden or border. Plant it in small drifts under the speckled shade of taller deciduous trees or shrubs. Or to achieve its full autumn colour beauty plant at the front or edge of the woodland display.
Tip:
With all shrubs, including our Hydrangea, it is good practise to prune out any rubbing or crossing wood. This allows air to circulate around the plant, lessening the chance of disease attack. Preform this task in late winter, early spring before the plant breaks dormancy.
---
Description:
It's often asked what can be grown in those impossible places, particularly right up against the base of a tree, where most plants would soon perish. Pachysandra, however, is one of the toughest ground-covering plants, going is both shade tolerant and sun loving. This Gardening Express plant is made up of glossy evergreen leathery leaves that form robust clumps reaching not much more than 50 cm in height and width. In summer, small white flowers form in clusters. It tolerates the full range of soils and is quite happy in dry drought like conditions. Just to re-iterate the toughness of Pachysandra, it is also unbothered by any pest and disease.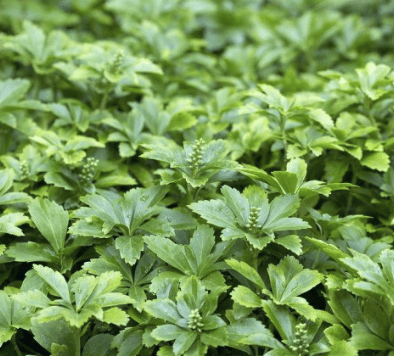 Care:
Very little to worry about when it comes to this plant, a little sprinkle of compost at planting time, maybe throw in a few slow-release pellets just to give it a strong start. Remove any dead or damaged foliage from time to time. Dip the root-ball in a bucket of water prior to planting.
Use:
Makes for great ground cover in tricky places or in a shady woodland garden. Plant in numbers, drifting them though your chosen panting spot. A decent specimen tree rising from Pachysandra really does look effective. It is also quite happy in a container, use it for the same technique, as a foil at the base of a specimen plant.
Tip:
Groundcover benefits our gardens in so many ways and its presence can really benefit the gardener, reducing the need for watering as transpiration is reduces. It also reduces the need for weeding as the leaves exclude the light from the soil and prevent weed germination.
---
Description:
A beautiful specimen shrub that can take pride of place in any Woodland border or garden. Forest Flame has several tricks up its sleeve. The first one of note is the striking pink to red-shoots that appear in spring as it puts on a new spurt of growth. These are then topped with beautiful racemes of small white bell flowers also appearing in spring. Both of these features will endure well into summer, standing out beautifully against the dark, evergreen leathery leaves. It is a plant with a real presence, and over time they can reach up to three meters.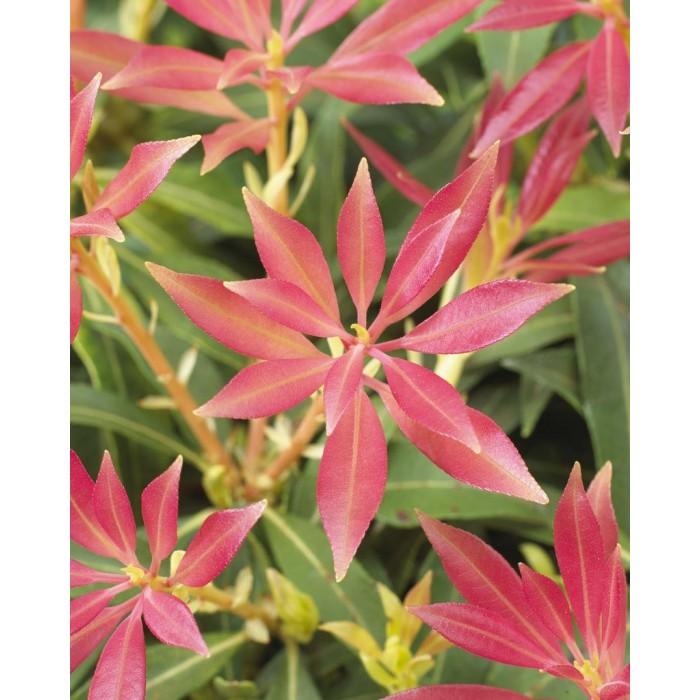 Care:
This Pieris is happiest in dappled shade, making them the perfect plant for a woodland garden. They enjoy loamy soil, which keeps in damp but is free draining. They may struggle on heavy clay, so if planting in such circumstances, add loads of Horticultural grit and organic matter to a large planting pit. Alternatively, it can be planted in a container. Mulching them when young to protect roots in colder climates will help them establish. A spring feed with slow-release fertiliser will also maintain their health.
Use:
Plant this wonderful plant as a single specimen or if you are blessed with a bit more space, try a drift or three to five plants. It will be happy in a container placed into your woodland border, but pay attention to watering and feeding through the growing season. It is, however, really worth the effort.
Tip:
What type of soil do you have? Clay, loam or sandy soil, there is a simple test. By rubbing your soil between your fingers you can see what you are dealing with. If it's clay it will form a ball, almost shiny. If sandy, it be crumbly and filter through your fingers. A loam soil will be crumbly and sticky and a nice dark almost chocolate colour. This is the prime type of soil and we work toward with good compost applications over time.
---
Description:
A traditional classic garden plant that most people with an interest in plants would recognise. Producing large clusters of multiple flower heads in late summer colour, just as all other herbaceous perennials start to fade at the end of the season. It's a tough plant that, once established, will never let you down and displays pure white flowers in late summer well into autumn. The white flowers stand out beautifully against the dark green leaves, happy to be planted in the sun, but more importantly they are also happy in partial shade making them perfect for a woodland garden or border.
Care:
Anemones grow in all garden soils but will not like to sit in excessively wet ground. Add a good handful of compost to the planting pit and each spring if possible.
Use:
A group of Anemones is much more preferable to a single specimen; it can be a small grouping of three if room is tight. They are happier when growing in company and make for a much better display.
Tip:
Watering may seem like a simple task, but it is key to gardening in many ways. When a gardener waters a plant, they are not only providing a life-sustaining resource, they also have an opportunity to check on the health of the plants. It should be an up close and personal job, a getting-to-know-the-plant task. Always water your plant right to its base and in the cool part of the day, evening or early morning, this maximises the effect.
---
Description:
Woodlands and ferns go like a hand in glove; they look so at home in a multiple plant environment. They come in many shapes and sizes and the Dryopteris is a prime example of a graceful herbaceous foliage plant that has bright gold leaves which create a softening impression on the floor of the woodland garden. These beauties are clump-forming, growing from a central crown; they can reach up to 50cm in height and over a meter in width.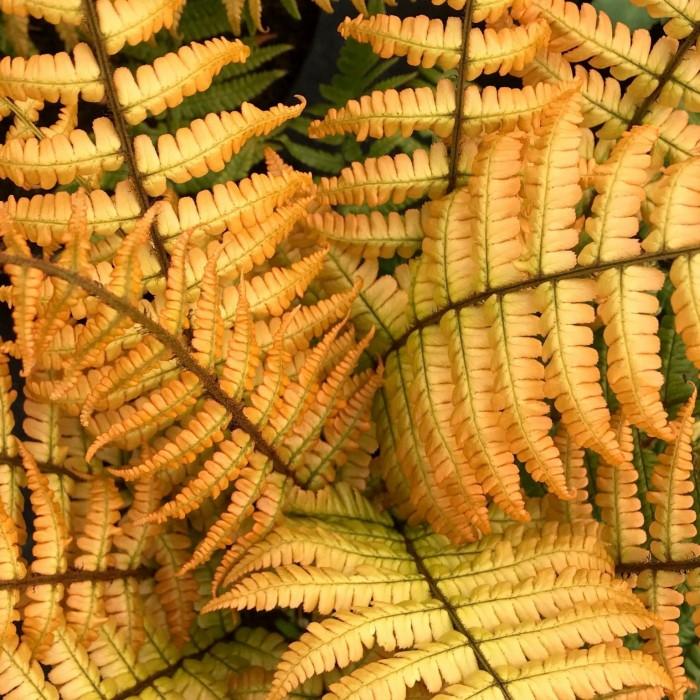 Care:
These are shade loving plants, which are fond of woodland conditions. At planting, incorporate some good handfuls of leaf mould or compost into the planting holes to make them feel a home. In autumn these Ferns will die back for the winter, retaining their dead foliage until early spring to protect their central crown. A dressing of organic mulch in the autumn will also help with this job.
Use:
These Dryopteris love to grow in communities; drifting on the woodland floor in a shady, sheltered spot will give them a beautiful natural look. Alternatively, plan them at the front of a shady border.
Tip:
To help establish a newly planted addition to your garden. Add a healthy sprinkle of Bone meal around the roots when planting. This will encourage the plant to develop the roots.
---
Description:
A once is a lifetime tree that thoroughly deserves the investment. It is deciduous by nature and will need a bit of space, growing to 12 meters in height at maturity with a width of eight meters. However, it is an incredible tree with a graceful spreading crown and amazing, unusual flowers, which are really a bract, meaning a modified white leaf that shields the flower itself. The bracts hang down and reach a size of up to 15 cm, hence earning the tree the nickname of the Handkerchief tree. They appear in spring and are numerous. Davidia will also provide the garden with a striking display of autumn colours, with the leaves turning from orange to yellow. It's around this time you may spot pink-brown fruits.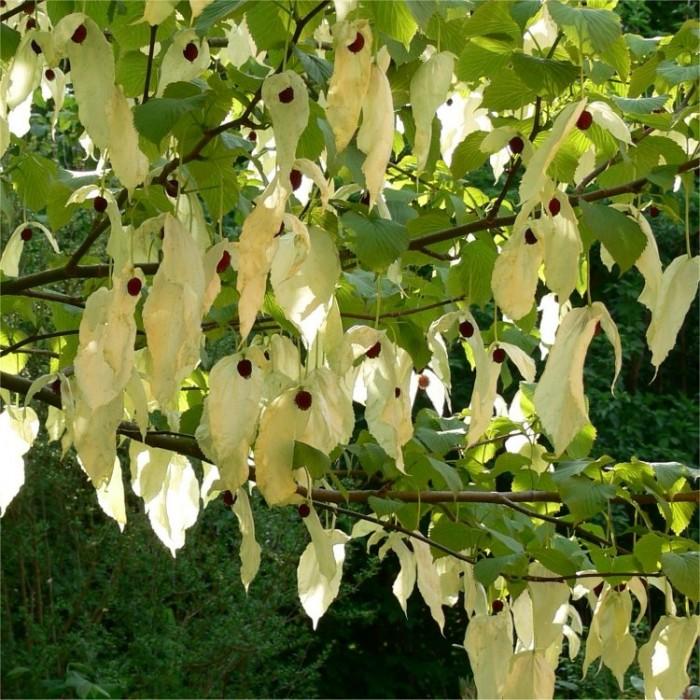 Care:
Davidia Involucratae is fully hardy. In keeping with our golden rule, make sure it's regularly watered in its younger years, with particular attention to the first growing season. Mulching around your tree early in spring with a few slow-release pellets mixed in will help get your tree established. Its roots will be happiest in a free-draining but moist soil.
Use:
Davidia will grow happily in sunshine and shade and is tolerant of most soil types. This versatility comes in handy if your woodland border contains large trees. It is a special tree that is best planted singly, but if there is plenty of space, a few can be dotted through a woodland setting. Remember to leave the crown to form, so try not to plant any similar-sized trees nearby.
Tip:
Young trees that has been freshly planted can always use some form of support. Staking at planting time will give the tree time to create its own anchorage. A wooden stake placed low down and leeward of the trunk will provide initial support. The idea of a low stake is that it leaves the tree crown to move in the wind, which in turn encourage the plant to grow roots and anchor.
---
Description:
Another great woodland Ground floor plant that sits naturally in the tiered planting design. Grown for its foliage, this plant has simple compound leaves often speckled with brown spores. It forms rhizomes that creep, enabling this plant to be very successful at colonising territory. Its 30 cm height, evergreen nature, and ability to grow in partial shade make it an excellent groundcover.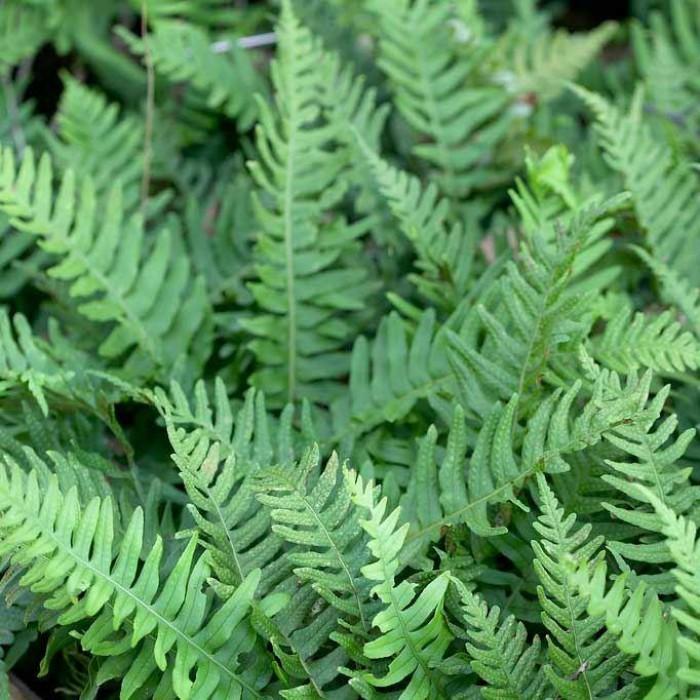 Care:
Polypodium is a tough little plant and once established takes very little maintenance, and water whilst it is getting going. It will enjoy a top dressing of leaf mould from time to time. In early spring, remove any dead or damaged fronds.
Use:
With trees rising and shrubs spotted through its foliage, its perfect for a Woodland setting, colonising the ground and making weeding and watering less of a chore.
Tip:
Its underground stems mean it is an effective spreader so if it needs reducing after a few years it's a good idea to lift and divide it in areas it may have moved into. Divided plants can then be re-located to other areas if in a largish woodland border or setting.
---
Description:
Foxgloves are familiar in woodlands as well as gardens where they add height and colour to borders. They are loved by both gardeners and insects who prize Digitalis for its pollen-rich flowers. 'Plum Gold' is a gorgeous, compact, semi-evergreen perennial producing 60cm tall spires of dark pink-red flowers. This perennial dies back each winter before returning in spring.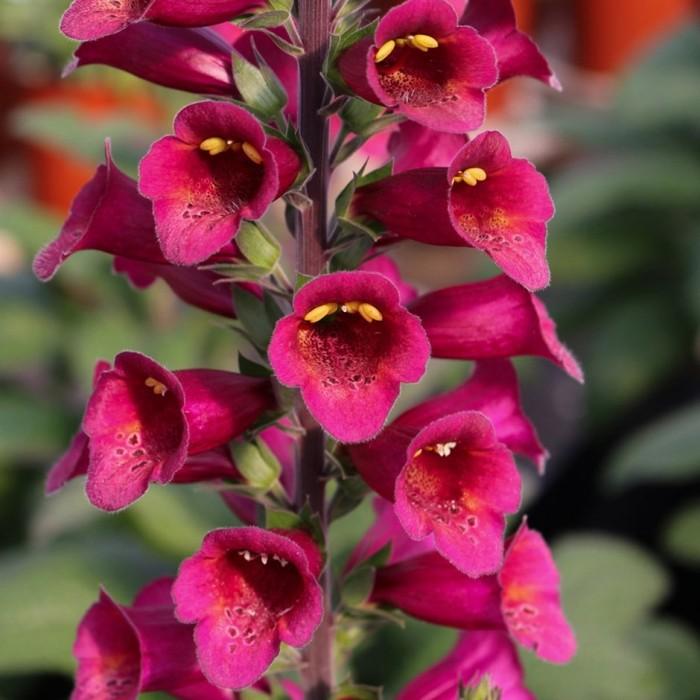 Care:
Happy in most soils as long as it is not very wet or very dry. The ideal scenario would be to have humus-rich soil in partial shade so add plenty of organic material. Give them a good granular feed every spring to encourage plenty of flowering.
Use:
If you visit Chelsea you will see foxgloves used in just about every style of garden beyond woodland and cottage. Planted in drifts towards the edge of a woodland garden 'Plum Gold' will steal the show.
Tip:
You can divide Digitalis in spring when it has become established. After the first set of flowers has gone over, cut the stems back to ground level and give the plants a good liquid feed which may encourage a second flush of flowers
---
Description:
The woodland garden naturally is the habitat for a Japanese Maple. When seen growing in the wild in Japan, they grow can grow as second trees bathing in the speckled shade of taller first-tier trees. This variety of Acer is a plant you will become very attached to, it is shrub-like by nature and is fully clothed with delicate palmate leaves through summer. These emerge with a salmon pink flush in the spring, becoming a darker green through summer and then turning a spectacular golden yellow and orange in the autumn. However, this plant isn't finished there, it really is a plant of four seasons, and its winter display consists of golden yellow and orange stems.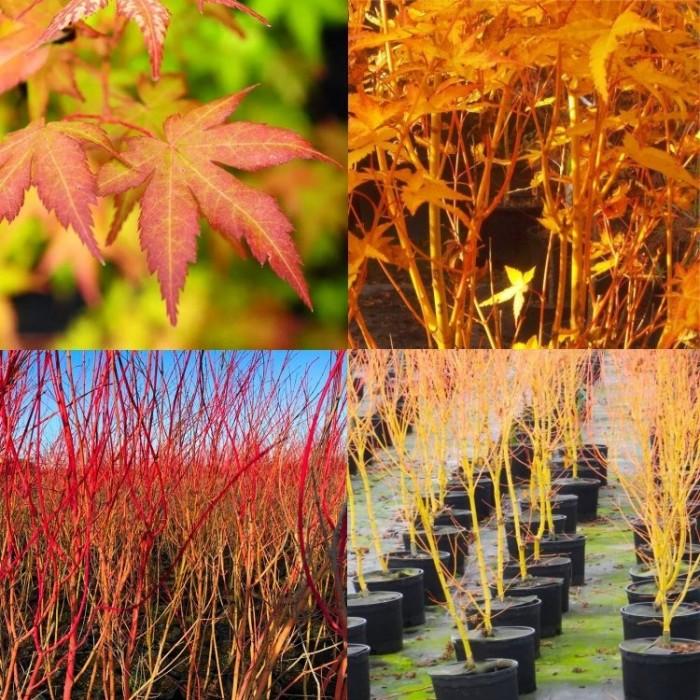 Care:
These Acers tolerate a range of soils but will not like the soil being completely dry or waterlogged. A free draining soil with good organic matter content would be perfect, and this can be topped up with good mulching in early spring. An important first-season tip is to make sure it is watered regularly. Maples are fine to grow in containers. Keep the compost moist and add slow-release fertiliser.
Use:
Plant in a sheltered area as the wind will dehydrate its delicate leaves. Make sure it is situated as a focal point, allowing you to enjoy its seasonal displays.
Tip:
If you are going on holiday and are worried about your Japanese Maples drying out, use a plastic water bottle with its cap replaced by a few layers of clingfilm tightly wrapped around its neck and pricked with a sowing needle. Cut the bottom out the bottle, fill with water and bury near the tree base, top end down. The bottle will release water slowly over a period of time.
---
Description:
This is a tree that once looked at, is rarely forgotten. Some people call this the wedding cake tree because of its distinctive, horizontal, tiered habit, with the branches forming layers. It has bright green leaves with bold, creamy-white margins, which turn magnificent red-purple in autumn. This Cornus produces clusters of white flowers in June. It's small to medium stature can reach up to eight meters in height and width.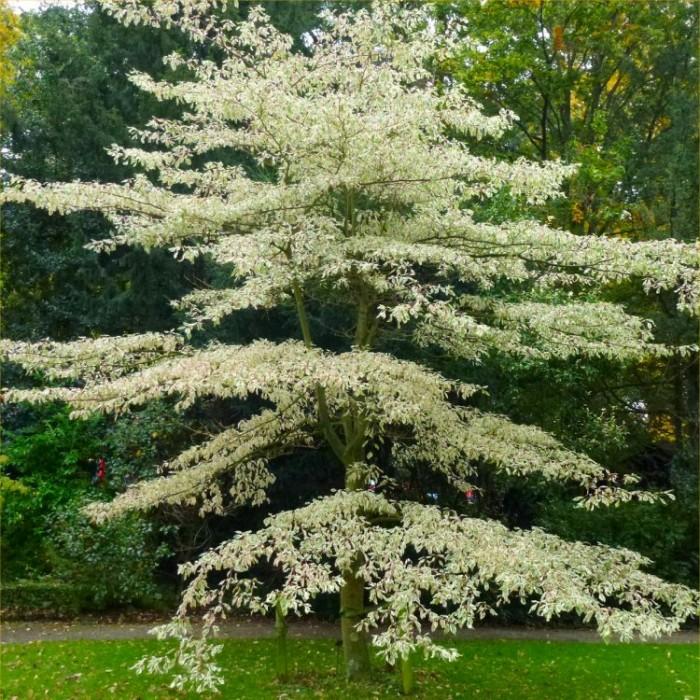 Care:
It can quite happily grow away in dappled shade but grows best in full sunshine. So on the edge of a woodland planting will make the most of its presence. It will like its roots in a rich free draining soil so throw in plenty of compost when planting and it will enjoy a nice thick mulch in subsequent years. Water freely in the first few years and this tree may benefit from a squirrel guard.
Use:
This Acer makes a lovely focal point for a small to medium-sized garden. Bordering a thicker woodland planting will really make it stand out, so bare that in mind when choosing its spot. Rising from shorter ground cover or shrub groupings, its variegated foliage should be contrasted with darker green accompanying plants, making the most of its unusual shape and colour.
Tip:
If planting groundcover around a tree or taller plant, keep a gap to the base of the bigger plant, 50cm at least, this will prevent the plants competing for water and nutrients.
---
10 Inspiring ideas for Woodland Gardens
Creating your woodland garden will provide you with a peaceful garden oasis where you can sit and relax, away from the rush of daily life. To inspire you, we have collected a series of inspirational ideas to help get your woodland project underway.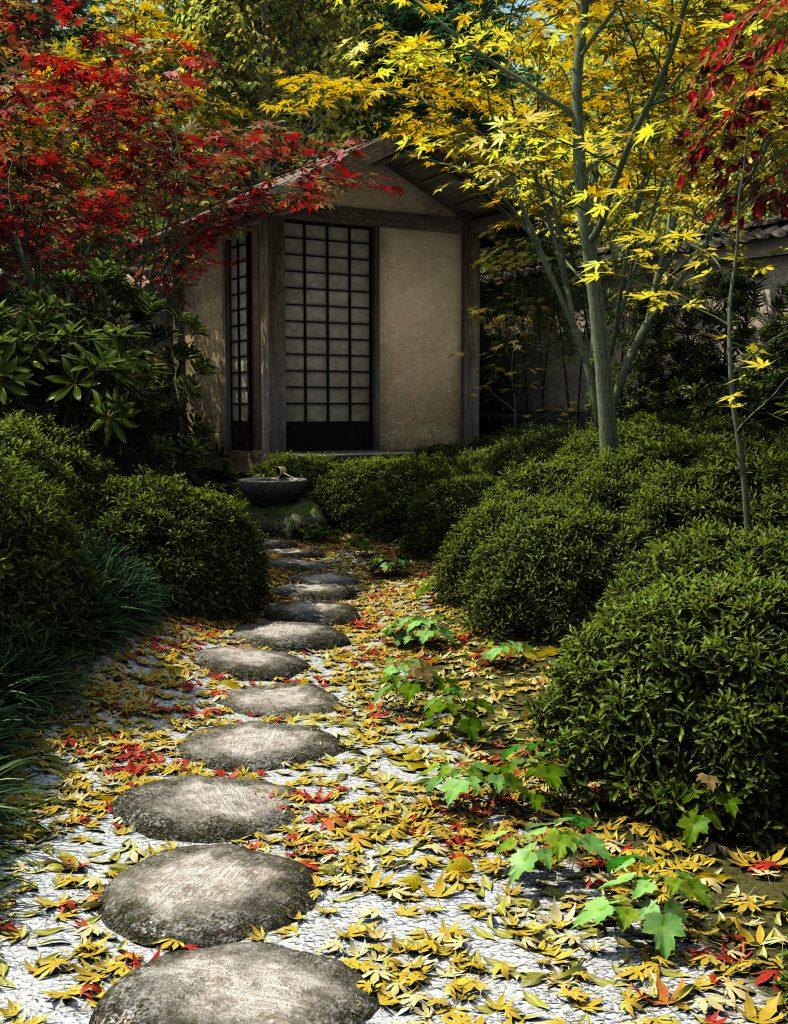 Visit the Gibberd Garden in Harlow, a stunning example of combining woodland-style planting with focal points and features.
Make the most of seasonality. Woodland gardens have something to offer from each season of the year with Autumn and spring being particular highlights
Create winding pathways amongst the dense planting to get you closer to the plants.
The Wildlife Trust provide great ideas for maintaining a healthy woodland garden and detail the wildlife that will be attracted to your woodland. Native species of plants would help this further.
Combine and contrast plant forms and foliage for dramatic effect. Much of the joy of a cool woodland garden is the plants' foliage; consider the changing colours of the seasons and how you can combine huge lush foliage with small delicate leaves.
Relax the planting by combining huge drifts of bulbs with densely packed borders. It will take a couple of years of tweaking planting schemes to get the result you will want but it will be worth the wait.
Utilise light canopy trees, which will allow light to reach the lower tiers of planting. Flowering plants crave some sunshine and trees such as Silver Birches don't block the sun from the shrubs, perennials and bulbs below.
Lift the crowns of trees by removing the lower branches, providing space and light for shrubs and perennials to establish.
Add oversized pots and foliage points amongst the planting to draw your eye around the garden.
Add a seating area in the middle of the woodland garden where you can sit while away the hours. Your mental health will benefit from the calm you have created.
Chris Bonnett, the gardening expert of The Express newspaper, says that 'A walk within a woodland garden refreshes your mind better than any other form of garden', and we have to agree. Treat yourself to an area of calm you can return to whenever you need to recharge your batteries.
Download Booklet
Download our printable garden style: How to create a woodland garden and the top 15 plants for a woodland garden