Amaryllis may be one of the most popular house plant brought as gifts for Christmas. These are such stunning flowers, and if cared for them correctly, will look great year after year. Below we have detailed some growing facts and answered some frequently asked questions you may have.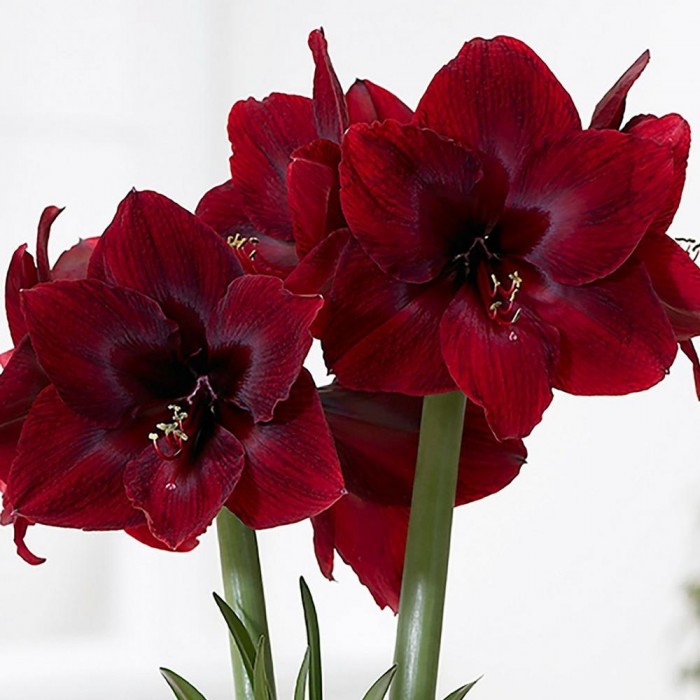 Planting conditions
Soil: Rich, well drained soil
Light: Bright spot away from direct sunlight and drafts
Planting: Tight containers indoors
How to grow Amaryllis
Amaryllis like a tight fit in their pot with about 2.5cm (1in) between the bulb and the sides. If you're planting just one bulb, use a 15-20cm (6-8in) diameter container that's almost twice the depth. For three or five bulbs, select a large pot. Amaryllis are large bulbs and tend to rot, so the shoulder of the bulb should sit one-third above the surface of the compost when you plant.
Keep the compost moist until a shoot appears and then water more. If you want to keep the bulb growing again next year, this is also the time to start a weak monthly balanced liquid feed. Water from the top with tepid tap water, but be careful not to make it too wet in non-draining pots.
These are hot-climate tender plants and they love warmth – a light and well-ventilated place, free from draughts such as a windowsill is ideal. As soon as the flowers start to open, move the plant to a colder place to prolong its life. As light a position as possible, 10 – 15C is fine.
To make them look lovely straight away, poke in lots of silver birch, alder, oak or hazel branches between the bulbs. The twigs give the amaryllis support as they grow. The burgeoning nest of twigs and emerging shoots make a fantastic table centre even without the flowers.
Each flower should last about three weeks before they brown, but a great big bulb should provide at least one or two more flowering stems. Even then, with the show over for this year, all is not lost as you can protect the bulbs and use them again next year.
Frequently Asked Questions
How do I get my amaryllis bulb to flower again next year?
To ensure your amaryllis bulbs flower next year, you need to encourage the foliage to grow as long as possible. These plants are not hardy so don't plant them out in the garden. Cut the old flower spikes down but leave the foliage. Keep them somewhere light and warm and continue to feed and water them. They also need a dry, dormant season, so once the leaves begin to die back in late summer, stop watering and allow the foliage to wither. Keep the bulb still in its pot completely dry until early winter. Bring into the warmth and begin gentle watering again and your bulb will re-shoot.
Why has my amaryllis not bloomed?
There are many different reasons your amaryllis may not have bloomed, including limited light exposure, overwatering, inadequate soil and poor bulb care. Read all of our content above to check you have been caring for your plant correctly.
When should I plant my amaryllis for Christmas?
For your amaryllis to flower in time for Christmas, we recommend planting in the first week of November. To make sure they flower in time, follow all of our instructions above carefully.
Download Care Guides
We have created two care guides to help you grow a happy and healthy plant. We have an In-depth Care Guide and a Simplified Care Guide.
Shop Amaryllis Now