The leaves of the evergreen shrub Sarcococca confusa are ovate, wavy, glossy, and deep green. Small, sweetly scented, creamy-white flowers appear in the winter, followed by glossy black berries. The rich scent of this evergreen shrub in the winter is reason enough to plant it. It grows easily, doesn't need a lot of attention, and likes shade.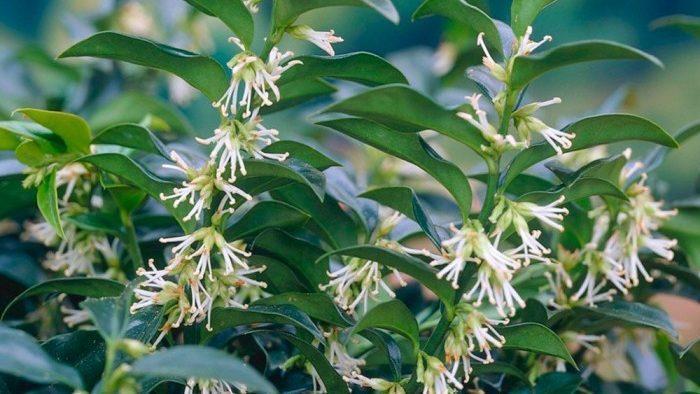 Choosing a Sarococca
There are a few different species of this woodland shrub, all of which has fragrant white flowers in the winter and prefer similar growing conditions with shade. They mostly differ in size and shape overall.
The dense, glossy-leaved shrub of Sarococca confusa spreads slowly. These have a cluster of white, spider-like flowers that are very fragrant. In the winter, the flowers are followed by black berries. This plant is 5 to 6 feet tall when fully grown.
Sarococca hookeriana is a 5 feet tall suckering shrub with a more upright habit. It has narrow leaves, blackberries, and fragrant white flowers. The flowers and stems of some of its offspring are pink-tinged purples.
Other varieties of Sarococca, some of which have red berries and are more compact, may survive temperatures as low as -5°C.
Planting Sarcococca
Although shrubs can be planted at any time of the year, they do best in the spring and autumn. Sarcococcas prefer moist, rich soil (any soil and pH type), but once established, they will tolerate dry shade. They can survive in the sun, but only if they are well-hydrated. They prefer shade, either partial or total.
Even though most of the Sarcococcas that are readily available are robust, it is best to place them away from dry winds. They can also be planted in containers, but the soil's moisture should be checked more often.
How to Plant Sarcococca
Whether you want to plant sarcococcas in the ground or in containers, all you need to do is dig a hole big enough for the plant to be level with the surface, backfill the hole with soil, and water lightly until the soil is moist. Make sure the plants are spaced far enough apart to let them grow to their full potential.
Before planting, you can improve dry, poor soil by adding well-rotted organic matter like manure or compost. After planting, you should also think about applying a 5 cm layer of mulch to the surface.
Ongoing Care
Once the plants are established, little routine care is required. During dry spells for the first few seasons after planting, water thoroughly. Make it a goal to keep the soil moist but not soaked. Because there isn't enough compost, plants in containers dry out more quickly and need consistent watering.
In the early spring, feed your plant with a general-purpose fertiliser if it needs a boost. An annual mulch will help plants, especially in dry places. Apply garden compost or well-rotted farmyard manure to the damp soil around the plant.
Frequently Asked Questions
Shop Sarcococca Now