Skimmia is a hardy, compact, evergreen shrub with dark green glossy leaves and clusters of sweetly fragrant spring flowers. Additionally, some varieties provide long-lasting, decorative berries in the fall and winter. Because of their rounded mounds of oval, leathery, dark green or reddish leaves, these slow-growing shrubs are ideal for creating structure in borders or pots.
There are male, female, and hermaphrodite varieties of skimmia. Berries will be produced by the female variety when male and female varieties are grown close to one another. Because they produce berries on their own, hermaphrodite varieties are best suited for small spaces. If consumed, the fruits may cause mild stomach upset.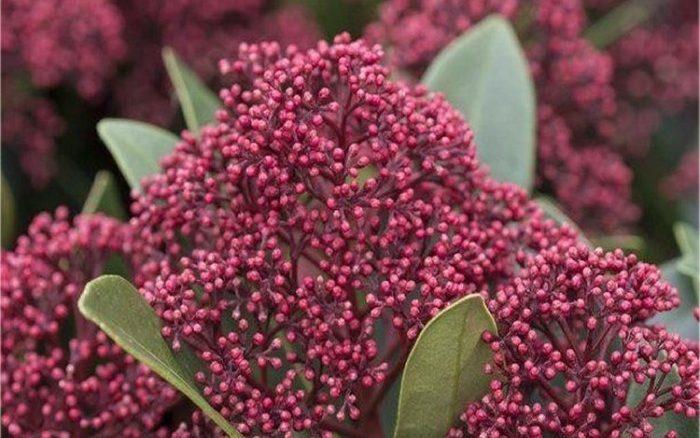 Planting
Skimmias grown in containers can be planted at any time of the year. Because the soil is moist, planting in the fall or spring is best for good establishment. If you purchase a container-grown plant during the summer, water it frequently and plant it as soon as possible. You can plant during the winter provided the soil is not too wet or frozen.
Pick a spot with partial to deep shade. If the soil isn't too dry, plant it in a spot with more sunlight. Planting should not be done in areas that are likely to remain wet. Alternately, you can plant them in a container. Skimmias do not need to be planted in ericaceous compost or in soil that is acidic. They are not plants that like acid. The most common cause of leaf yellowing is excessive dryness, not chlorosis brought on by alkalinity.
Although it is tolerant of the majority of soils, it is advantageous to prepare the planting area prior to planting by incorporating bulky organic matter, such as garden compost or a manure-based soil conditioner, to enhance drainage and moisture retention.
Containers
Plant in a container that is only 2.5 to 5 centimeters larger all around than the original container. Use John Innes No. 50:50 or a peat-free multipurpose compost with John Innes added. The roots will fill the container after two to three years, so it will benefit from spring repotting.
Care
For the first few years, water newly planted skimmias during dry spells in the spring and summer until their roots are well-established. They should not require frequent watering once established and are fairly drought-tolerant. However, in order to maintain healthy growth, they may require additional water if planted in excessive sunlight or on extremely dry soils.
In most garden soils, established skimmias planted in borders require little or no regular feeding. However, feed the shrub in spring with a general fertiliser if the soil is poor or the shrub is struggling. Reduce moisture stress by covering the mulch with a bulky organic matter layer of 5 cm, such as compost made at home or soil conditioner made from manure. To prevent rot, immediately surround the plant's base with a mulch-free circle.
Shop Now