In late spring, this stunning Wisteria climber produces cascades of fragrant white or mauve flowers. It's a vigorous plant that needs pruning and training on a regular basis to keep under control and blooming well, but the effort is well worth it. It is stunning when it is in full bloom, covering a house's front, draping over a pergola, or scurrying along a sunny wall.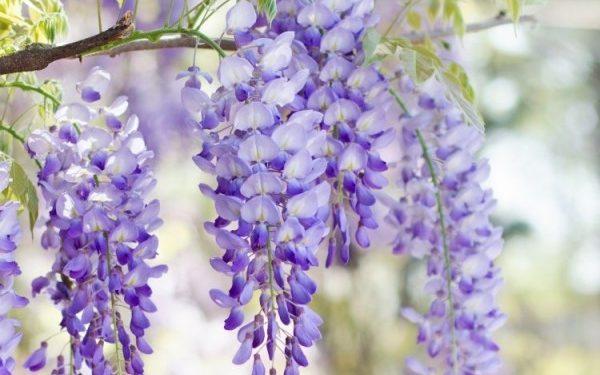 Key Facts
Ultimate height (10 – 20 years): 4 – 8 meters tall, 1 – 1.5 meters wide
Soil Types: Chalk, clay, loam, sand
Moisture: Moist but well-drained
pH: Acid, Alkaline, Neutral
Position: Full sun, partial shade
Hardiness: H6
Planting
The best time to plant wisteria is between October and April. Wisterias grown in containers can be planted at any time of the year, but they require less maintenance during autumn and winter. Put them in soil that drains well and is fertile.
Wisterias thrive in full sun, so select a wall or pergola facing south or west. They will flower less if they grow in light shade.
Wisterias are robust climbers that can reach heights and widths of more than 10 meters. Garden structures like an arch or pergola will need to be supported by wires or trellises against a wall. You can grow wisteria in a border or container by training it into a standard, which reduces its strength.
If you want to grow wisteria in a container, you will need a large container that is at least 45 centimeters in diameter and filled with potting compost that is based on loam, like John Innes No. 3.
Care
On light or sandy soil, plants will dry out quickly, so give them plenty of water, especially when they're just planted or when it's dry.
Feeding your wisteria in the spring. Add 20 grams of sulfate of potash per square meter, or 1/2 ounce per square yard, to sandy soils with low potassium levels. Fertilisers for roses and flowering shrubs are another option.
Feed wisteria in containers with Miracle-Gro, liquid tomato fertiliser, Phostrogen, or another similar flowering plant food. You also have the option of incorporating controlled-release fertiliser into the compost.
Pruning
Regular pruning reduces the excessively wavy growth in July and August to five to six leaves, or approximately 30 centimeters. This increases the likelihood of flower buds developing and allows the wood to mature. Then, in February, further shorten these shoots to two to three buds, or about 10 centimeters, to tidy the plant before the time when a plant is actively growing. This can vary from plant to plant and is affected by the local climate and light levels, but it generally occurs from spring to autumn.
To encourage flowering, leave your young wisteria unpruned until it has completely covered the wall or garden structure.
Shop Now