Raised bed gardening is a great way to grow a wide range of plants, but they're especially popular for growing your own fruit and vegetables. They can be used to introduce a different kind of soil to your garden and improve drainage. If you have limited mobility, raised planter beds are a great way to garden because they don't require you to bend.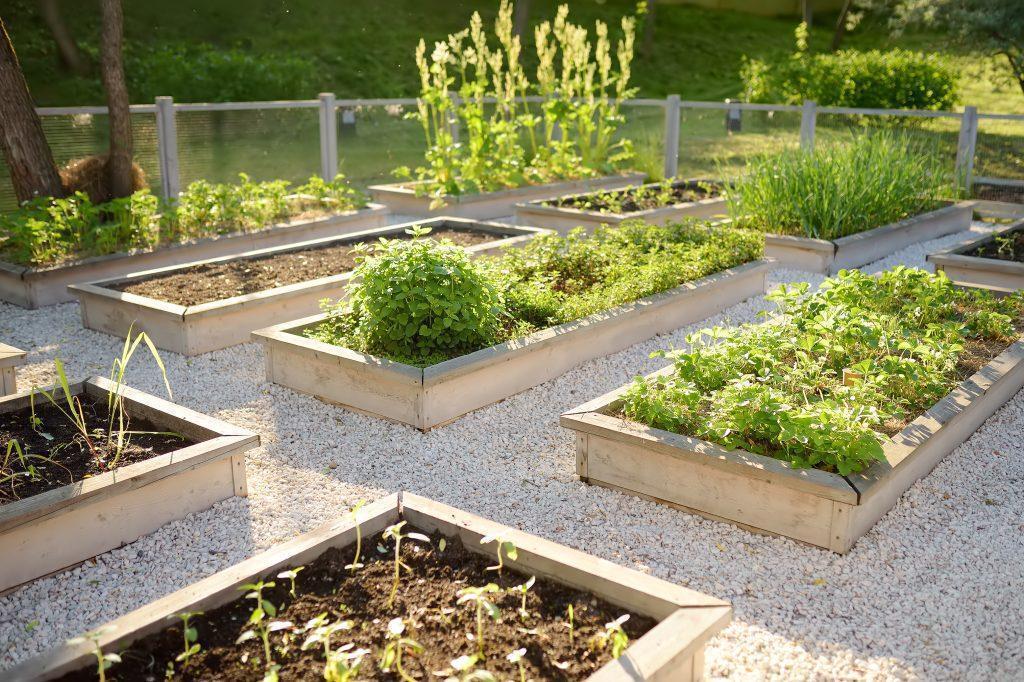 What Are Raised Beds Suitable For?
In raised beds, almost any plant can be grown. From growing fruit and vegetables like blackberries, currants, strawberries, and plenty more. To alpine and herbaceous perennials. Raised beds are also great for growing small trees and shrubs (you may be able to grow some smaller trees and shrubs depending on the size of your beds) and ericaceous or plants that don't like lime (by filling beds with acid soil, plants that don't like lime like heathers and rhododendrons can be grown in areas with alkaline soil).
There are a variety of uses for raised beds. As the soil is raised above the surrounding ground level, it can improve drainage. However, droughts may necessitate additional watering, so this may be a disadvantage. It can also be used to raise the temperature of the soil. Raised bed soil is better drained, allowing it to warm up earlier in the spring. By filling raised beds with acidic soil, you can also match it to the plants' requirements; acidic soil can support the growth of ericaceous (lime-hating) plants.
Raised bed gardening can also improve the health of the roots. It creates excellent root zone conditions by filling the beds with good topsoil that has been enriched with organic matter and fertiliser. Additionally, they make management easier. Because raised beds have more soil volume than containers, they are easier to water.
Finally, they are ideal for gardeners with mobility issues. Planting, watering, and weeding are made easier in a raised flower bed, which is especially helpful for people who use wheelchairs or have trouble bending. You don't have to spend a lot of money on raised beds. Just be creative! Such as recycling pallets or old tires. However, the paths must be paved and wide enough to accommodate wheelchair users. Gardeners can customise the widths and heights of raised beds to meet their specific requirements.
How to Get Started
The following considerations must be made when constructing raised beds. First, figure out where and how big your raised bed needs to be. It is best to avoid walking or stepping on raised beds, so choose widths less than 1.5 meters to make it possible to access them from the sides.
People shouldn't be tempted to step on long rows of beds to get to the other side. Pathways ought to be wide enough to accommodate wheelchairs or wheelbarrows. The minimum width for wheelbarrows is 18 inches, while the minimum width for walking is 1 foot.
Think about the materials. Although treated timber is inexpensive, it does not last very long. Sleepers last a long time but are expensive, bulky, and hard to cut. Masonry, such as brick, or paving slabs, is expensive but long-lasting. Alternatives include imitation "timber" made of recycled plastic. A pre-made kit can also be used to complete small projects.
When to Build a Raised Bed Garden
Albeit raised beds can be constructed whenever, most landscapers find it helpful to fabricate them between October and March, as long as the ground isn't excessively wet or frozen. If waterlogging is a problem you can build your raised bed in late summer.
Commonly Used Materials
The most commonly used materials for a raised flower bed is stone, brick, pre-cast units, timber, and paving slabs. Some metal raised beds and plastic raised beds can be purchased as kits to make assembly easier. They all come with their strengths and weaknesses which we have explained below:
Stone & Concrete
Stone and concrete can be used to create a modern feel to a raised bed garden. Concrete is ideal for a long lasting sturdy structure, with the possibility to form seating areas if needed. Mix in some treated wood for a contemporary feel.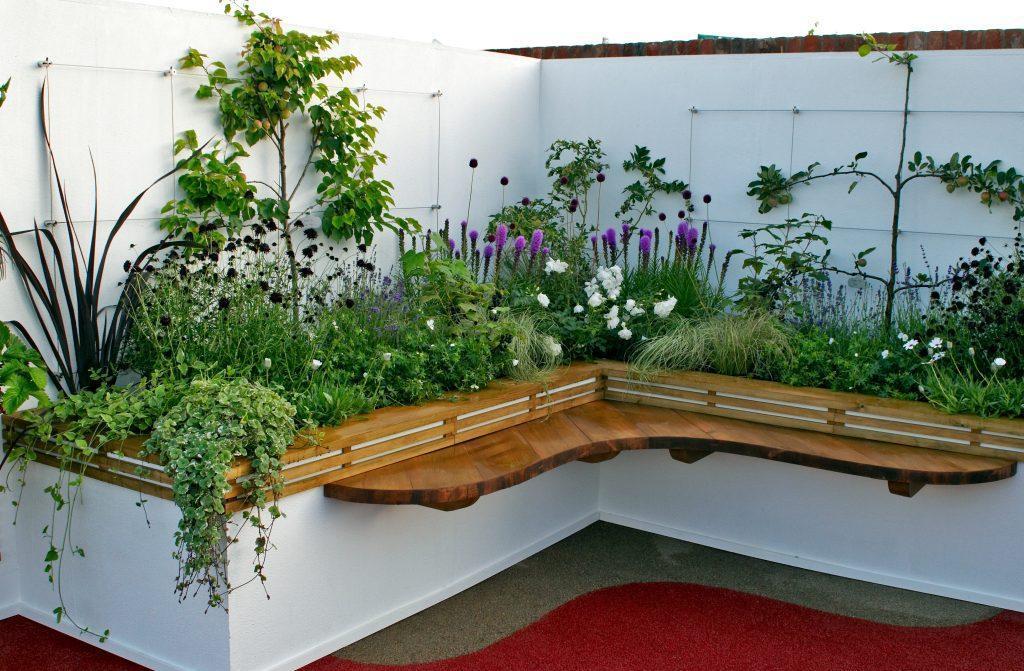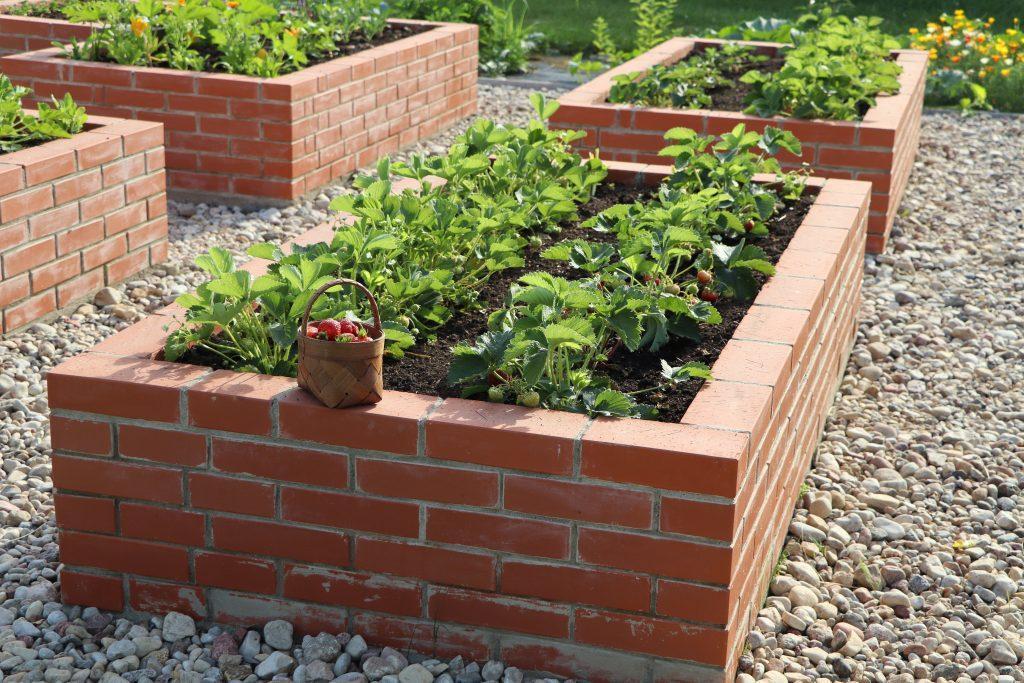 Brick
Brick is sturdy and long-lasting. It is simple to incorporate curves into the design. Due to their resistance to the elements, engineering bricks are the best choice. Brick-raised beds are perfect for adding to patio gardens as they can be built against the wall. For extra impact, match the brick of the bed to the wall of the patio. When building on a patio, try to make the bed deep and tall as it is unlikely you would wish to kneel on a patio compared to in gardens.
Wood
Commonly made out of timber or railway sleepers, wooden raised beds are often the easiest and cheapest to build. But make sure to treat the wood before using as it is likely to rot in bad weather. Wooden planters are ideal for gardens with limited space in gardens as they can be planted at any depth required. Oak and pine containers look fantastic in a gravel garden as the pine wood colour stands out in grey gravel.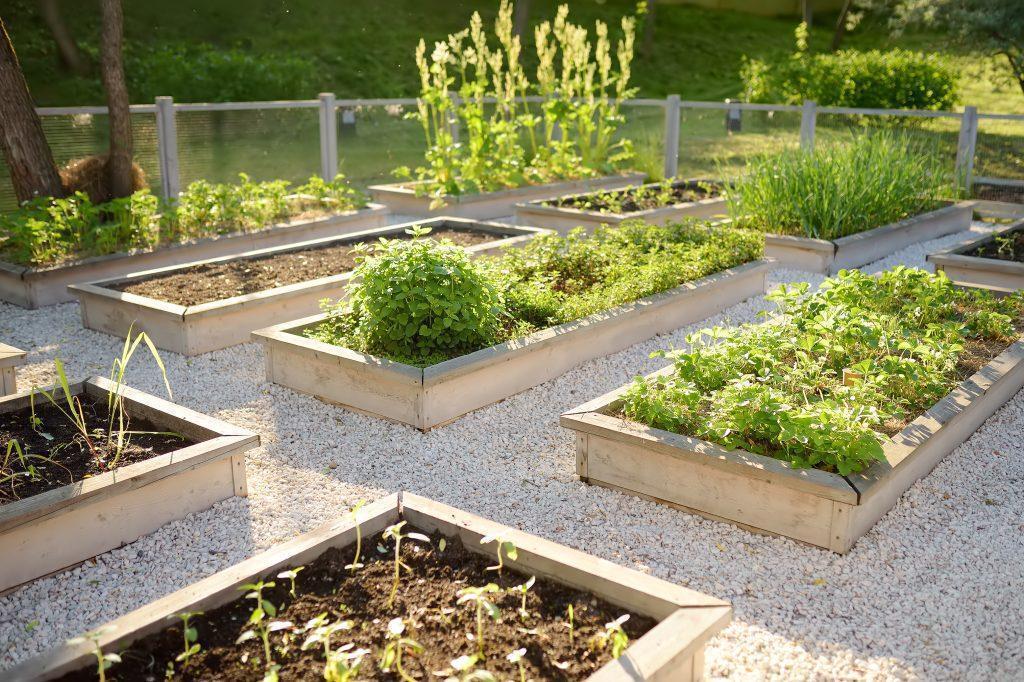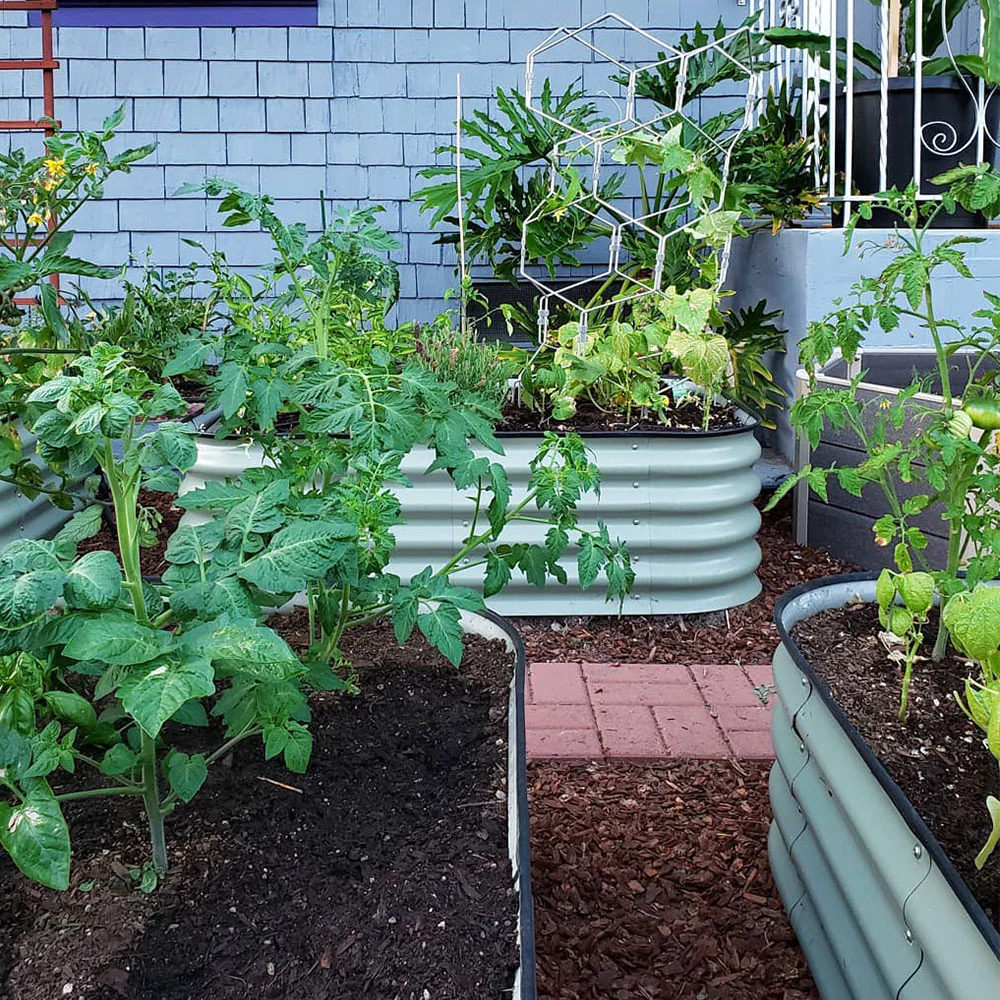 Galvanised Steel
Some of the most popular garden beds are raised beds made of galvanised metal. They are strong, long-lasting, resistant to damage, and will not rot like wood. They also allow for more depth to add extra height. The metal is also more workable so that it can bend and produce curved shapes.
Design Inspiration
From custom-designed raised beds to raised bed borders, there are so many ways to add a raised bed to your garden or allotment. Before you start building, think of the style and practicality. For simplicity, consider rectangular wooden beds or metal throughs that require little to no assembly.
Or think about how you will be planting and how to keep plants safe. Look into square-foot raised beds, hoop house raised beds, space-saving designs and enclosed areas.
For more inspiration check out this video from Garden Answer which shows a collection of different raised bed gardens in America that we could easily incorporate into the UK. Along with a few ideas on what to grow in your raised beds.
Step-by-step Guide
Tools Required
Raised bed frame
Shovel
Rake
Landscaping fabric
Stakes
Hardware cloth
Cardboard
Logs (for deeper raised beds)
Woodchip compost
Compost
Peat moss
Vermiculite
Slow-release organic fertiliser
Plants you wish to fill the bed with
Shredded straw mulch
Watering can, hose or irrigation system
Protecting The Raised Bed
First, prepare the ground for your raised bed. This includes levelling the ground and removing any weeds that you find.
Once the ground is level, protect your raised bed from any pests that may try to dig their way in or any weeds that may try to grow up. You can do this by adding a layer of landscaping fabric. Make sure to lay it out larger than the bed's length then stake it into place. Add another layer beside it, overlapping slightly and staking it into place. Repeat this process until it covers the whole width of the bed. If you are using a wooden raised bed, you can flip it upside down and staple it directly onto the base.
Then add a layer of hardware cloth over the landscaping fabric, overlapping if needed. Finish with a layer of cardboard on top then lay the bed frame where you wish to have it.
Filling The Raised Bed
For taller raised beds, place logs at the bottom that will bulk out the bottom with organic matter that will break down over time. For a narrow raised bed, you can avoid this step.
Cover the bottom of the bed with woodchip compost for improved drainage and level out. Leaving plenty of space for compost and mulch on top. Make sure that the compost is level and covers the whole of the bed.
Now add in your soil. We recommend using an equal mix of compost, peat moss and vermiculite. All of these are components of a classic mix called "Mel's Mix", by Mel Bartholomew, author of Square Foot Gardening. Lay the vermiculite, the compost and the peat moss together. Make sure to water well then mix together with a shovel. Spend plenty of time making sure it is all mixed evenly.
Once the soil is prepared, shovel it into the raised bed. Leave an inch or so from the top of the bed so that there is room to add a layer of mulch after planting. Make sure the soil is thoroughly watered and moist, then even out so that it is spread evenly over the raised bed.
After filling with soil, add some organic fertiliser. Slow-release granular fertiliser is best as it will break down over time. Spread over the top of the soil and rake in so that it is mixed into the top layer of soil. This is done at the end so that it is at the first few inches of soil where the plants will need it most. Make sure to flatten out and water well.
Planting
Now that your raised bed is prepped, it is time to plant. Plant spacing is very important, consider using the square-foot gardening method which guides you on how many plants should be placed in one square foot. Gently remove the seedling or plant from its container. Starting in the corner of the raised bed (allowing for a good amount of space from the edge) dig a hole large enough to place the plant in, gently add the plant into the hole then fill it back in. This process is repeated, distancing the plants at their recommended spacing.
Once you have finished planting, it is time to mulch. You can use any medium of mulch, but shredded straw mulch is recommended if you are growing crops. Gently lay the mulch around the plants, making sure not to cover the plant.
Finish by watering fully, making sure that the soil is moist.
What To Grow
Almost anything can be grown in a raised bed, it just depends on what design you are wanting to go with. If you are doing a vegetable garden raised bed then we have many fruit and vegetable combinations below.
As for a flower garden raised bed, try to encorporate a colour scheme and check that the planting requirements are the same for all plants being used. Consider a mixture of shrubs, annuals, perennials, and container trees. Or think carefully about how you can plant up your raised bed to keep annual interest, combining deciduous and evergreens with different flowering seasons.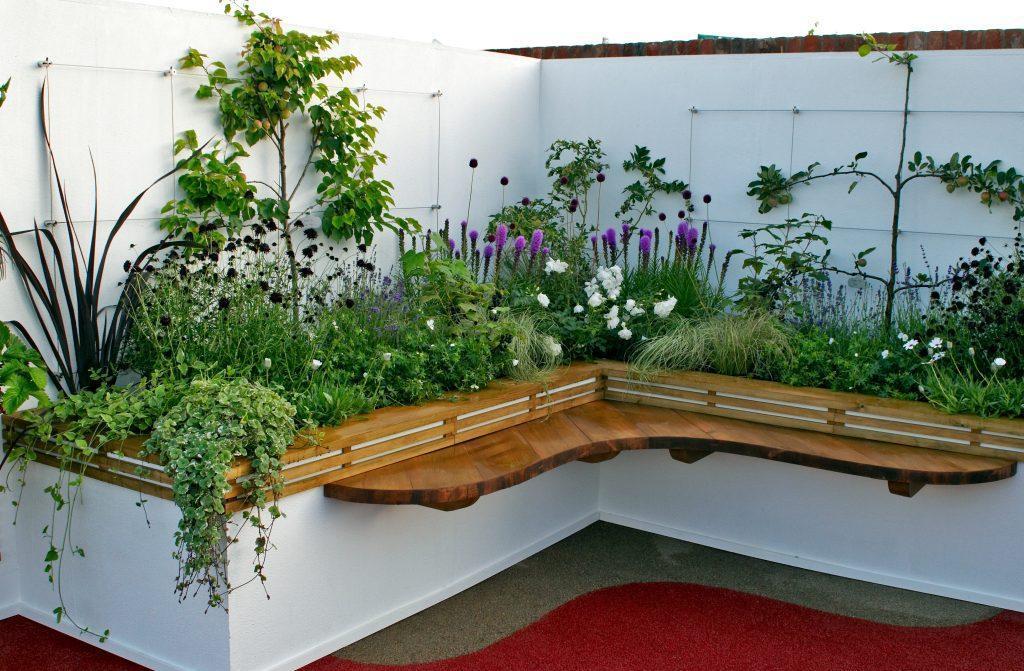 Fruit & Vegetables
| Plant | Combination Plants |
| --- | --- |
| Asparagus | Petunias, Tomatoes |
| Basil | Peppers, Tomatoes |
| Beans | Broccoli, Cabbage, Carrots, Cauliflower, Cucumbers, Potatoes, Radishes, Strawberries, Tomatoes |
| Broccoli | Cabbage, Brussel sprouts, cauliflower |
| Brussel Sprouts | Beans, Basil, Carrot, Garlic, Mint, Onion, Peas, Thyme |
| Cabbage | Broccoli, Kale, Turnips, Onions, Potatoes |
| Carrots | Chives, Onions, Peas, Radishes, Rosemary, Sage |
| Cauliflower | Beans, Broccoli, Brussel sprouts, Corn, Onions, Radish, Cucumber |
| Corn | Beans, Cucumbers, Melons, Potatoes |
| Cucumber | Beans, Corn, Onions, Radishes |
| Garlic | Carrots, Peppers, Potatoes, Tomatoes |
| Kale | Garlic, Lettuce, Mint, Onion, Peas, Pepper, Potatoe, Rosemary, Sage, Spinach |
| Lettuce | Corn, Pumpkins, Radishes |
| Onions | Carrots, Lettuce |
| Peas | Carrots, Corn, Cucumbers, Peppers, Radishes, Tomatoes |
| Peppers | Basil, Onions |
| Potatoes | Beans, Corn, Lettuce, Spinach, Radishes |
| Radishes | Lettuce, Peas |
| Rosemary | Beans, Broccoli, Brussel sprouts, Carrot, Cauliflower |
| Spinach | Beans, Peas, Rosemary, Strawberries |
| Strawberries | Chives, Lettuce, Onions, Spinach |
| Tomatoes | Basil, Carrots, Cucumbers |
| Watermelon | Broccoli, Garlic, Radishes |
Why not make a raised bed using our 'Summer Fruit Pudding Collection'? This fantastic value selection includes Duke Blueberry (Vaccinium corybosum), Autumn Bliss Raspberry, Josta Berry, Redcurrant, Blackcurrant and Red Gooseberry.
Shrubs
All evergreen shrubs can provide a brilliant backdrop of colour throughout the year. So long as the raised bed is large enough, you can easily grow an evergreen shrub to add a range of colours, shapes and sizes to your garden. When you are looking for your evergreen shrub, make sure to check that it won't grow taller than you would want.
Growing some flowering shrubs can add texture and interest to the garden, particularly with winter flowering shrubs. Think about Hamamelis (Witch Hazel), Sarcococca and Viburnum. These shrubs are also highly scented to add to the garden.
Top Tips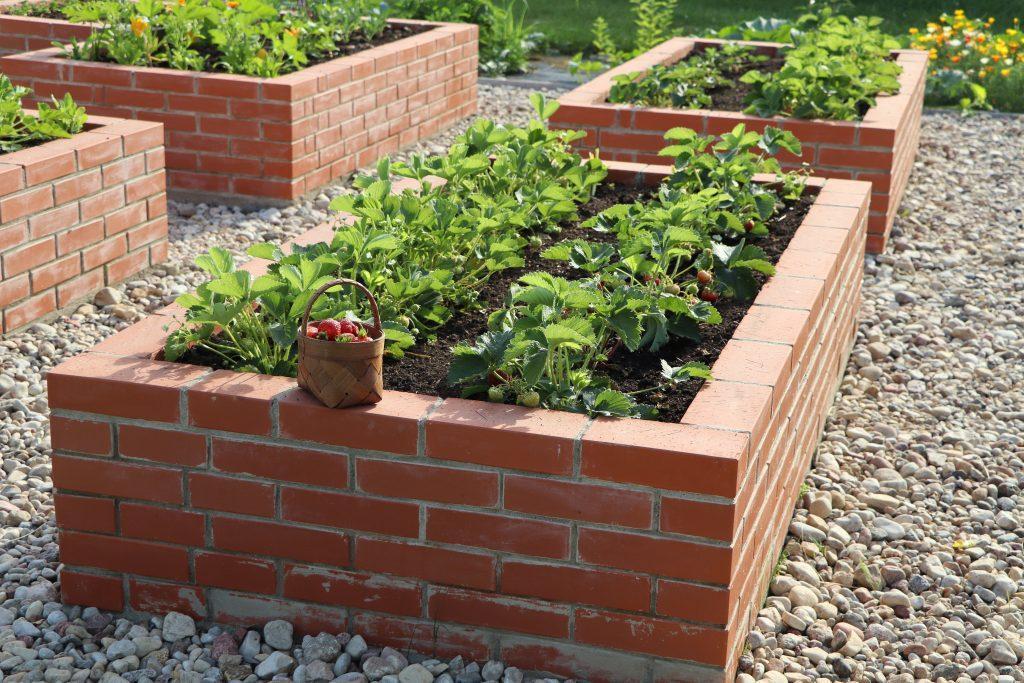 For those new to raised bed gardening, many potential mistakes can be made. To help you prevent these, we have a few tips to help you succeed.
1. Garden Orrientation
If you plan to plant a sun-loving plant, vegetable or fruit raised bed, you need to think carefully about where you position your raised bed. We suggest a south-facing garden that gets six to eight hours of sun each day. It is important to think about the positioning as the wrong position could stop growth if the plants do not get the amount of light needed. You can check your best position for the garden by using suncalc.net. This allows you to see what direction the sun rises and sets throughout the year in your location.
2. Plan for Irrigation
Raised beds lose their water quicker than if they were planted in the ground. Due to this, you need to have a routine of good watering to keep the soil moist at all times. This can be anything from setting up an irrigation system to making sure to go out every morning to water the raised beds. Having a plan before setting up your raised beds will help you in the future.
3. Invest in Good Soil
Your soil can affect how successful your raised garden bed will be. You need to make sure that your soil has good drainage, nutrition, and water retention. Whether you buy great soil to start with or you follow the 30-30-30 soil rule, you will need to ensure it is of great quality. For more information check out this article from Epic Gardening, 'Organic Raised Bed Soil: Setting Up For Success'.
4. Mulch, Mulch & More Mulch!
Mulch is an organic covering for your soil that is going to protect the soil below. Keeping it moist and protected from harmful sun rays. When filling your raised bed, leave a couple of inches to add mulch. Consider using straw or wood chips for your mulch.
5. Have Enough Space
Make sure you have enough space to get around and work in the raised bed. There is nothing worse than putting your raised beds too close together and making it hard to move around.
6. Think of the End Results
As with the first tip, think about how tall the plants will grow and position them accordingly. Try to plan so that taller plants are planted in a way that they do not cast a shadow over the smaller plants.
7. Prepare for the Seasons
Not preparing for the seasons (autumn and winter) can become a very big problem. Do not leave the soil bare over frosty periods as it will damage the soil. You can cover it in mulch or compost to keep your soil safe from frost so that it is ready for spring. You can also consider investing in cover crops that will protect the soil.
Cover crops can be a big benefit when you have long periods where the raised beds will be empty. Covering crops with deep roots can mine lower levels of the soil for nutrients and bring them into the organic matter of the plant. Then when you cut them or work them back under the soil, they will decompose and become a bioavailable nutrient for what you grow there next. Cover crops are also nitrogen fixers, adding another benefit to using them on your raised beds before the growing season.
8. Lable & Track What You Grow
Not labelling your plants can cause you to forget what you are growing and when you planted it. It's vital to make sure to note when you planted your crop as it can help you prepare for the next stage, be it pruning or pulling etc.
Further Research
If you are interested in learning more about raised bed gardening, check out some of the links below.