What is a Japanese garden?
Journey to a different culture when stepping outside your door and into the garden. Japanese-style gardens are very different in their looks and approach. Japanese gardens reflect nature and are considered meditative, in short, an area of contemplation and peace or Zen. Japanese gardens are highly stylised whilst attempting to reflect nature and avoid the extravagance of Western designs.
Famously in their native country, gardens are used for tea and religious ceremonies and are considered sacred. Dating back as far as the 7th century, the origin of Japanese gardens can be traced back to Shinto, Buddhism and Taoism.
Delve further into history, and you find that a treatise written 1000 years ago titled Sakuteiki or 'Records of Garden Making' by a Japanese court noble.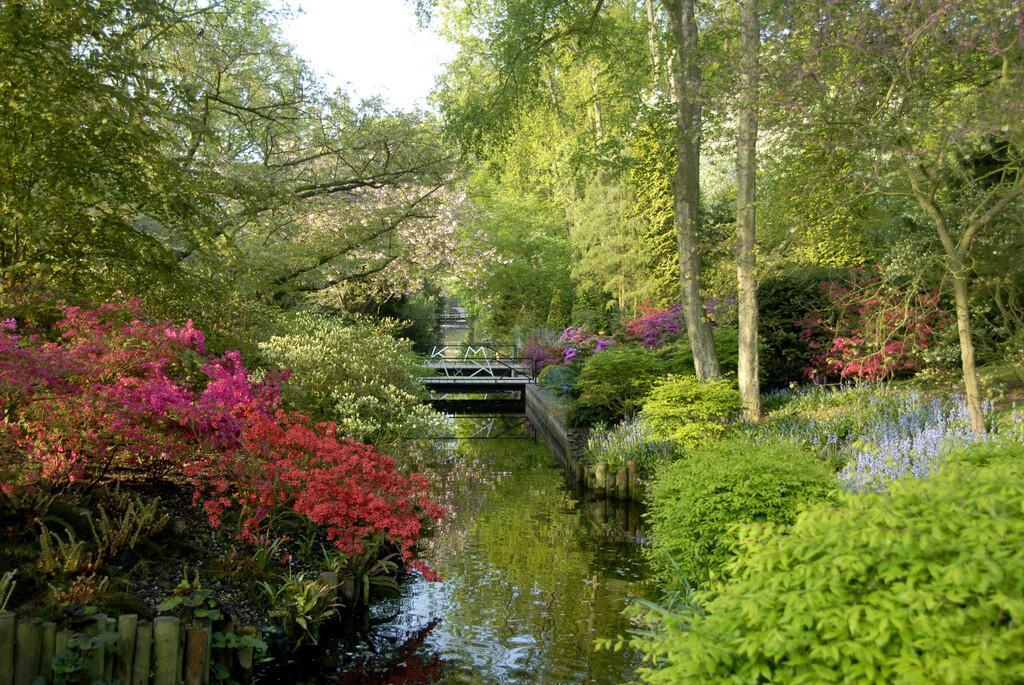 There are actually a number of different Japanese style gardens including:
Pond & island garden
Dry landscaped garden
Tea garden
Stroll garden
Courtyard garden
Japanese Garden Ideas
For the gardener, this means that whatever space you have available at home, you can create a spiritual place of your own at home by adopting some or all of the different styles listed. If space is limited in your garden, consider creating a 'Tsubo niwa' which is a traditional garden built in tight spaces between buildings. Alternatively, you can create a miniature Japanese garden in a repurposed sink if your space is more restricted.
What is a Zen Garden?
A Zen garden is designed to relieve stress, create harmony and help you reconnect with nature. Zen gardens are well known for helping you to focus, encouraging mindfulness, meditation and peace.
A garden in the Japanese style is intended to offer peace and quiet contemplation, with restraint, order, harmony and decorum as the guiding principles

Yoko Kawaguchi – Authentic Japanese gardens
What is special about Japanese gardens?
Traditionally Japanese gardens are laid out by monks, who will spend time spiritually contemplating the site. It is a really valid concept that you should adopt. Try to spend time in your garden prior to starting any work and understand its nature Identify what happens in and around it at different times of the day and week.
Japanese Garden Elements
Japanese gardens contain many elements that have cultural significance, and you should research them and their meaning:
Rocks: Used to represent mountains
Planting: Represents the forests and is a symbol of life
Gravel: Represents the sea.
Water: Represents motherhood, and the origin of all life
'Keibutsu': Human-made objects are always present in Japanese gardens. These objects are included to demonstrate the 'beauty of the limitation of life.'
These items are placed to reflect the surrounding natural world and can be designed on any scale, from a sink garden to a huge park, but they always pay attribute to the broader landscape. If you don't understand the symbolism of the elements listed above, it is easy to end up with a rather twee version of a Japanese garden that fails to achieve the desired impact.
Gateways, usually of religious significance in Japan, are also featured in Japanese gardens but if this is too ambitious, just make sure a decent seating area is included to quietly contemplate your garden.
"We sense the natural in things that form a happy link with their surroundings. . . . A natural architecture is architecture that creates this propitious connection."

"Shizen na Kenchiku" ("A Natural Architecture") Kengo Kuma
The significance of colour in Japanese gardens
When using colour, be sparing with hot colours such as red, these are seen as aggressive, and hence Japanese gardens tend to be predominately green, green is the colour of meditation and Japanese gardens are always bordered green, maybe except in the autumn season.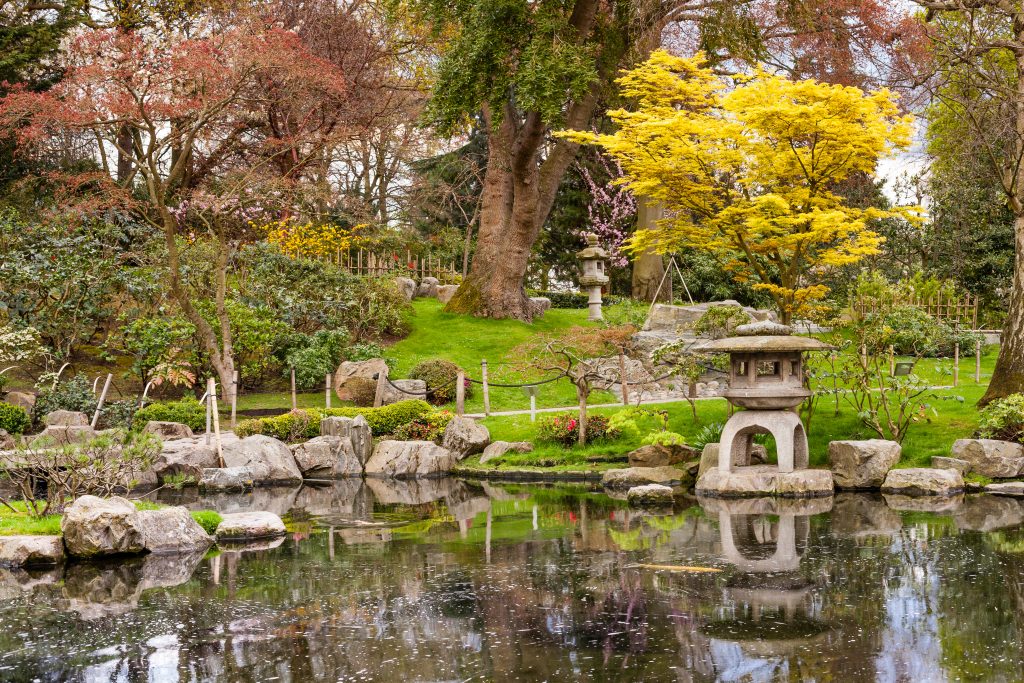 How to create a Japanese garden.
(1) Create zen – start by being inspired
As a garden designer, I always find it helpful to go and visit other gardens for inspiration. Kew gardens have a great Japanese garden, the Kyoto Garden in Holland Park; but if it is not possible to visit one have a look online – starting with Kenrokuen garden. The Japanese Garden Society has a gallery of Japanese gardens that have won prestiguous awards is is well worth viewing.
From a personal perspective, you must treat garden styles such as this with the utmost respect. Japanese gardens reflect a culture, and as a result, you should do all you can to understand the significance of all the objects you will include in your garden.
(2) Survey your site
Create a detailed sketch of your garden identifying the objects that are staying, the state of the fence line and also any issues you identify in adjoining gardens. Your boundary choice will play a key role in defining the overall look and feel of the garden whilst your neighbour activities can significantly affect the 'zen' of the garden.
(3) Create a Japanese garden design
Once you feel inspired, sketch out a plan identifying where the larger features will go first. Consider where you will want to sit in the garden and the materials that will make up the seating area. Your choice of garden furniture needs to blend in with the finished scheme and will impact the overall style.
The layout of your garden path is crucial in determining your circulation around the garden. It will affect how you view and enjoy the space. Design the path to lead you from one location to another in the garden and that affects how the space is understood.
Japanese garden design concepts:
Design your garden so that it can be enjoyed both indoors and outdoors. The indoor view for dry landscape-style gardens is more important than the outdoors.
Simplicity should always be your first consideration for the inclusion and placement of objects
Design the garden so that different aspects of the garden are revealed as you walk around the garden. Strolling gardens remain a popular concept encouraging contemplation.
(4) Construct the garden
Start by constructing the hard-landscaping including fence lines, paving and the pathways. You can then get onto positioning any large stones you want to include. I highly recommend that you visit a quarry such as CED in Thurrock and select your own stones rather than buying them online. Such quarries are very impressive and you will develop a strange attachment to any stone that you personally select
If using rocks in your garden, try to create a display that looks as natural as possible. You should look at natural rock formations and ideally talk with a quarry who sells stone and ask their advice.
(5) Install a water feature.
Water plays a crucial spiritual role in Japanese gardens. However big your garden you should find the necessary space for water features. Many Japanese gardens feature Koi carp but don't underestimate the maintenance required.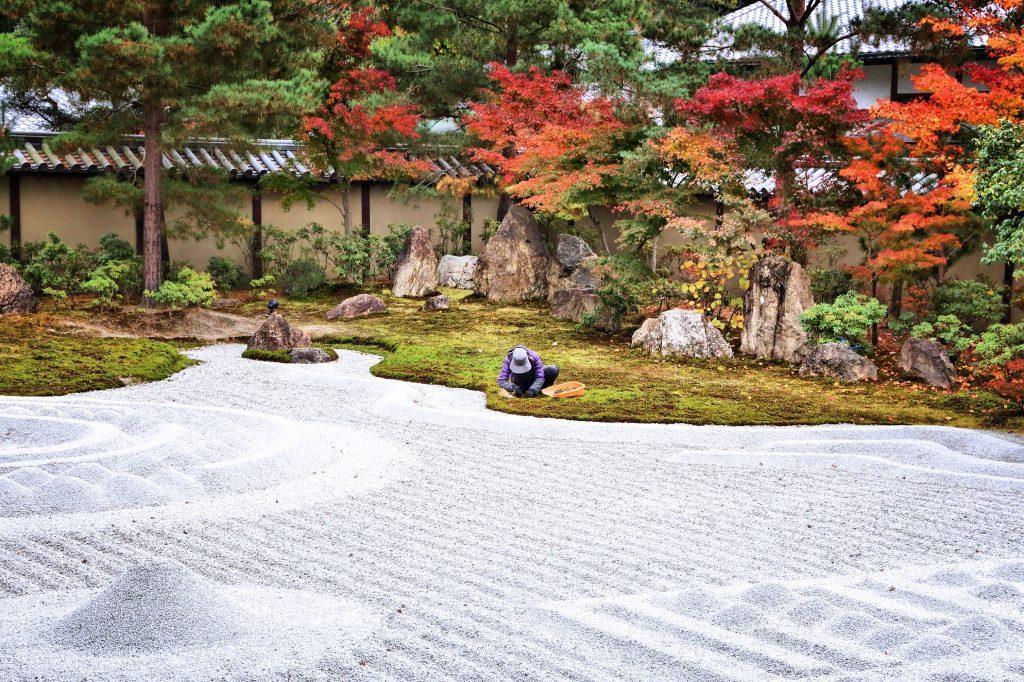 (6) Improve the soil
After you have decided on the placement of these main features, it's time to dig in loam or leaf mould/compost into the areas allocated for planting.
(7) Add, shape rake gravel
The areas allocated for a gravel sea should be membraned to prevent weeds from colonising. It is popular to use 14-20mm limestone gravel chippings or 20mm white marble chippings, which are both the right size for raking. The gravel should be approximately 10cm deep, which will allow it to be raked and hold the contoured patterns.
Pro-tip: if your gravel is too small, you are in danger of creating a large cat-litter bed that will attract cats from all over the neighbourhood
Start in the middle of your gravel area and work outwards so you don't leave any footprints. Look to create concentric waves around large stone features
(8) Add the plants
Soften the small stones with drifting plants, forming islands of vegetation in the gravel. Raking patterns into the gravel around this planting will create the impression of tides.
Specimen plants, such as small trees, should be placed next to hard surfaces; the idea being that the foliage softens the hard edges of rocks as a forest would soften a mountain. In borders, specimen plants are underplanted with drifts of ground cover and when it comes to features such as fences, try using bamboo canes.
(9) Stepping stones
Stepping stones are a common sight in oriental gardens helping to direct the garden visitor around the outdoor space.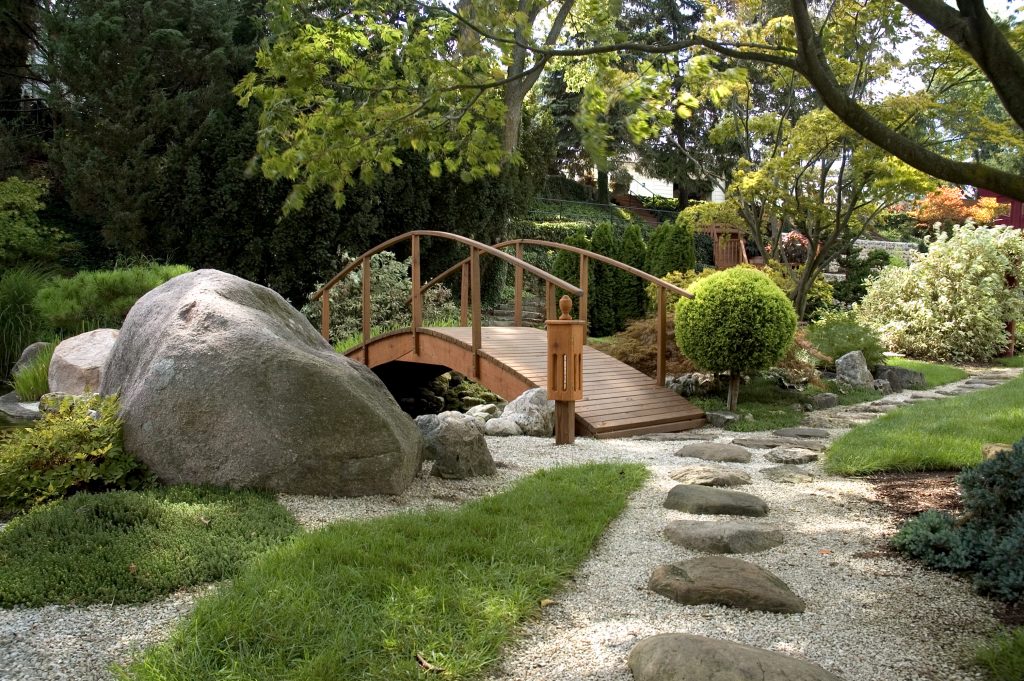 The best 15 Plants For a Japanese Garden
Description:
A show-stopping multi-stemmed tree that should be planted to be the star of the show in a Japanese garden. This deciduous tree's spring foliage is brilliant lime green, turning bright green through the summer before a spectacular autumnal display of orange and red. Reaching five meters in height and three meters in width this Acer is adapted to all soil ranges but likes a sheltered spot that is south, East or West facing.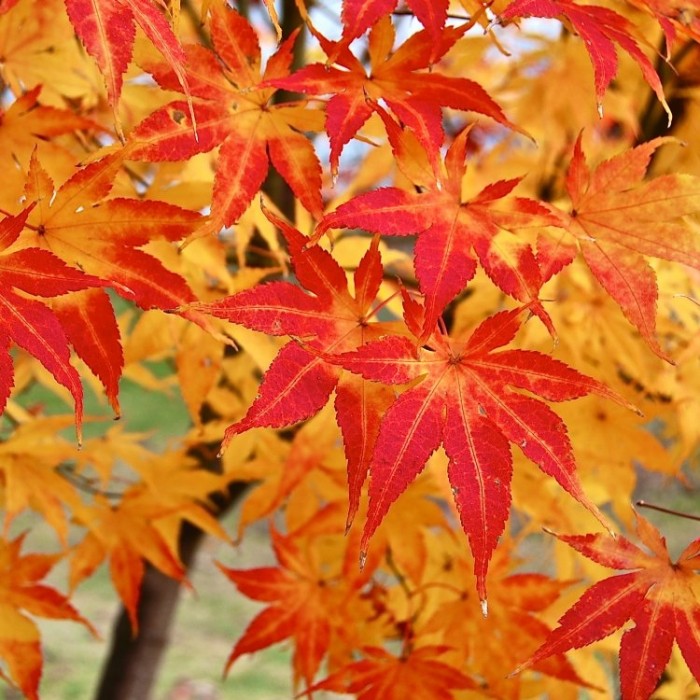 Care:
Treat your Acer as an investment which is going to give you many years of pleasure. The first year's care is vitally important, with attention to irrigation and watering in dry weather. A good organic mulch at planting time and in the following spring times will help your Acer establish. Avoid planting in an area that suffers cold winds. Japanese Maples will grow in full sun to partial shade. A slow-release fertiliser applied each spring will also be beneficial.
Use:
This variety of Japanese Maple is ideal for a small garden and can be a focal point in a Japanese-style planting scheme. Planted up against a hard surface, like a rock or rising from raked gravel, this plant will look magnificent. Underplanting with ground cover such as ferns is also an effective way to display this plant, it is also able to be planted under a larger tree. They also make great container plants on a balcony or patio.
Tip:
If Japanese Maples are growing in a container, a decent loam-based potting compost is vital, adding slow-release fertiliser each spring. Foliar feeds of seaweed extract, little and often through late spring and early summer will keep these plants healthy. Checking water daily is essential if the weather is dry; don't let them dry completely out. Lift the container onto bricks in the winter in colder areas. Other wonderful Acers include: sango kaku and Acer palmatum dissectum.
---
Description:
This is a British native but perfect for a formal subject in a Japanese garden. Its deep evergreen foliage made up of small waxy lanceolate leaves makes this a full-bodied plant that is excellent for shaping and perfect for topiary. It is traditional planting for a maze. This medium-sized evergreen tree can be clipped into a hedge or even shaped into a chess piece if you feel ambitious. It fits perfectly into a Japanese garden as it can be pruned to suit any scale of the garden. This is a tough plant, capable of taking exposed, north-facing aspects, it is happy to grow in shade, partial shade or sunshine and is happy with all soil types.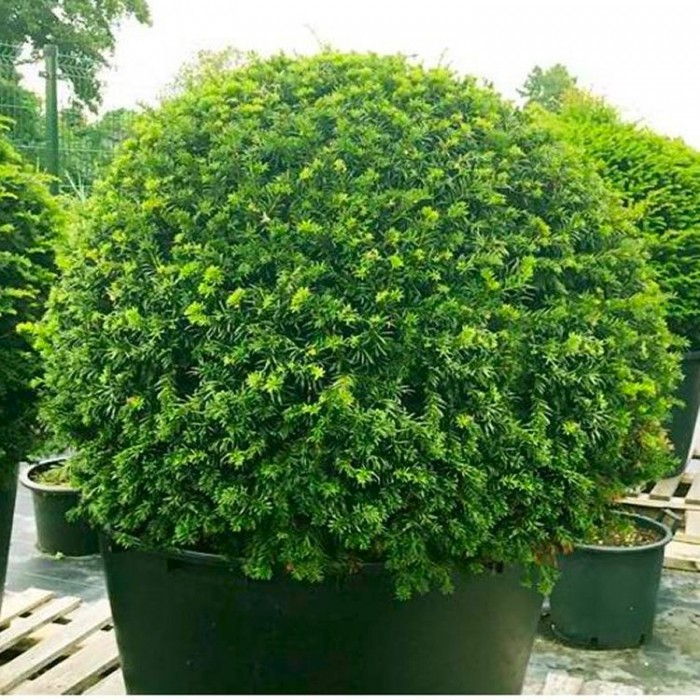 Care.
Really in terms of growing conditions, the Yew tree is a gardener's dream. Make sure it's watered in the first season, but once it is established it will live happily in most scenarios. Dig in plenty of organic matter into the planting pit. Avoid icy cold winds when young, but grows most soils and sun or partial shade. Mulch in spring with leaf mould or well-rotted manure.
Use:
The Taxus can be very formal in a landscape setting. Using two subjects to frame an entrance or gateway to a Japanese-style garden will look fantastic. Low hedges of Yew plants can also be used to compartmentalise garden sections. Yew clipped into shapes like the famous pin cushion and planted in groups is powerful planting; dot them through gravel to enhance their presence.
Tip:
Tipping out growing tips will encourage dense foliage, always use sharp, sterilised secateurs or shears. If looking to create a topiary shape use a metal framework for guidance.
---
Description:
No Asia-style garden is complete without Bamboo. They are not only stunningly graceful plants but the sound of their canes rattling in the wind brings another feature to the garden. 'Rufa' has elegant yellow-green arching coloured stems. It has bright green lanceolate leaves that reach up to 10cm in length. The whole plant can grow up to 2.5 meters in height. This Fargesia can grow facing in any direction, and will take a sunny aspect but prefers a sheltered partially shaded planting spot. It prefers clay loam soil and may struggle on chalk so grow 'Rufa' in a container if you have these conditions.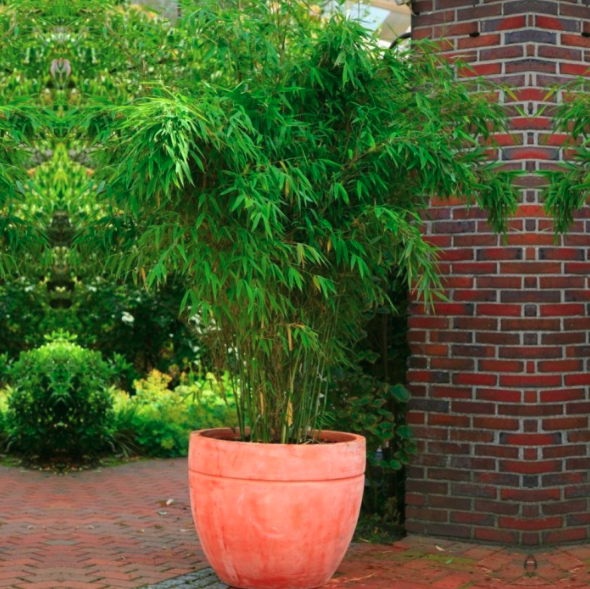 Care:
This is a Clump forming bamboo so it will not wander off and pop up where it is not wanted. Mulching when planting with decent compost is good practice as is mulching in subsequent years. It is happy to grow on clay soils but fork the bottom of the planting pit to avoid water logging. In spring, liquid feed with a Seaweed extract. Be sure to plant stems at the soil level for a healthy plant that produces new spears regularly. Cutting out older, tired-looking shoots will also encourage this and retain the interesting cane colour.
Use:
In Japan, bamboo is used to fill a border or perimeter, their predominately green colour for-fills the criteria of having a meditative effect, this is further enhanced by the sound of their canes rattling in the breeze. In a smaller garden use as a specimen plant either centrally at the back of a border or grown in a container.
Tip:
Bamboo makes for a great informal hedge. When planting hedges, mark out the area where you want to plant, and use lines and pegs. Dig in plenty of organic matter and add bone meal. When you plant, plant in diagonals, staggering them up the length of your lines; this will mean the hedge fills out quicker. Water well in the first season.
---
Description:
The Liriope is an Asian garden stalwart and is found in pretty much every Asian-style garden throughout Japan and China. A tough little plant that is a clump-forming evergreen with long, lanceolate green leaves that reach 30cm plus in height. Beautiful spikes of purple flowers are a bonus in the autumn, followed by black fruits. Liriope takes both sun and partial shade and will enjoy most soils except chalk. This is the perfect plant to under larger specimens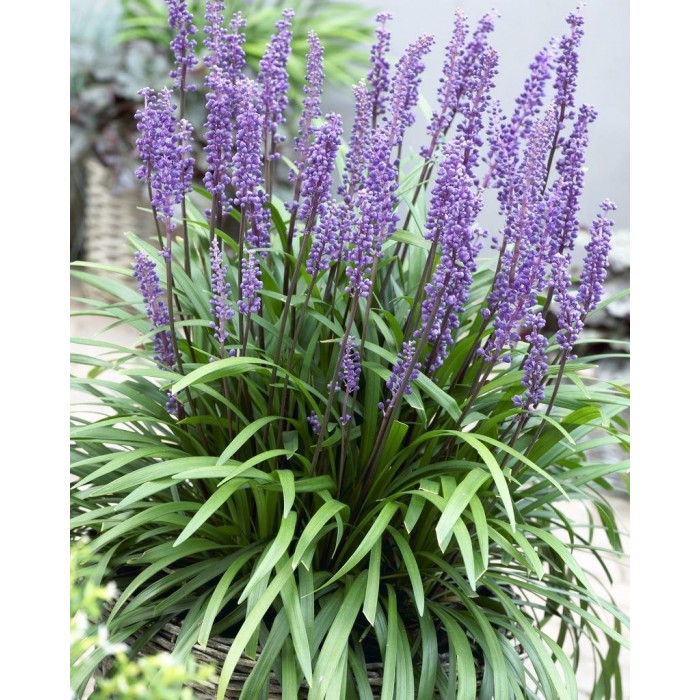 Care:
A good mulch of organic matter upon planting will kick these plants off. Top dress with a bone meal after planting. It is good practice to loosen roots once you have taken the plant out of a pot, do this with your fingers before planting and this will encourage the roots into their new home, add grit to the planting pit if the soil is prone to water logging and seaweed meal to particularly heavy soils. Thin out dead foliage from time to time and apply a foliar feed in spring.
Use:
Great for border edging or softening a path edging. Planting thickly as a groundcover with shrubs or small trees rising from it really looks impressive, planting like this also cuts the light out from the soil surface and suppresses weeds, it also reduces the need for watering. This is a tough plant, best in numbers it can also be planted on banks in Japanese gardens to stabilise the soil.
Tip:
Use in patio gaps between the slabs instead of mortar. This not only looks great but softens the hardiness of the slabs and encourages wildlife.
---
Description:
Nandina is also known as the Sacred Bamboo and in Japan is often found planted around temples. It is a similar-looking plant to a Bamboo plant but with a seasonal twist. The evergreen new growth emerges a bronze-orange colour in spring which then begins turning green with time but often retaining a red-orange flush. In autumn and winter, the leaves and stems turn a deep reddish and gold colour. What also makes it different to Bamboo is its sprays of white star-shaped flowers which appear throughout the summer months, followed by bright red berries. It is a compact plant reaching just over a metre in height and width.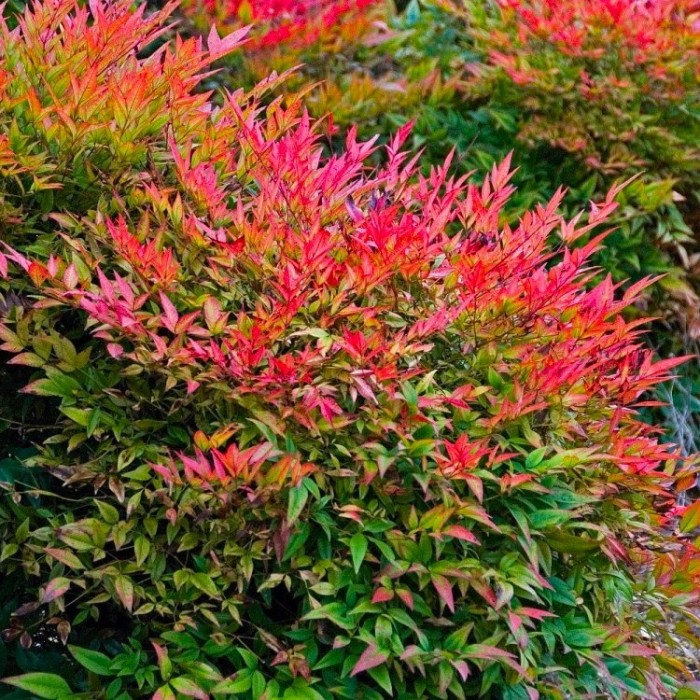 Care:
Once established Nandina requires very little care and carries on its business without much fuss. It is happiest in a sheltered spot with full sun but is happy to grow in partial shade. More good news is it is not fussy about what kind of soil it grows in but likes a free draining, non-water logging soil and enjoys an organic top dress in early spring. It is pretty much unbothered by pests, but water in the first season to aid establishment. Cut out any dead, diseased or damaged plant material to keep your sacred Bamboo happy.
Use:
In a smaller garden, use 'Gulf Stream' as a single specimen plant, preferably up against a rock or next to water. Bold group planting works best in larger spaces. Use groupings, of 3's, 5's or 7's. If you are a balcony owner, then this perfect little shrub will look great in a container underplanted with grass-like plants.
Tip:
Dead, diseased or damaged or D.D.D is good garden practice, it keeps things hygienic and discourages fungal problems and other diseases. Old spent stems and branches can be added to a habitat pile.
---
Description:
Small herbaceous evergreen with grass-like leaves. It's a plant much vaunted by designers in recent years. This plant has black foliage and is almost spider-like in appearance. From June to August, spikes of Lilac flowers are borne followed by black berries in autumn. This plant is a little cracker and will up grow to 30 cm in height and has the honoured title of having the RHS plant merit award.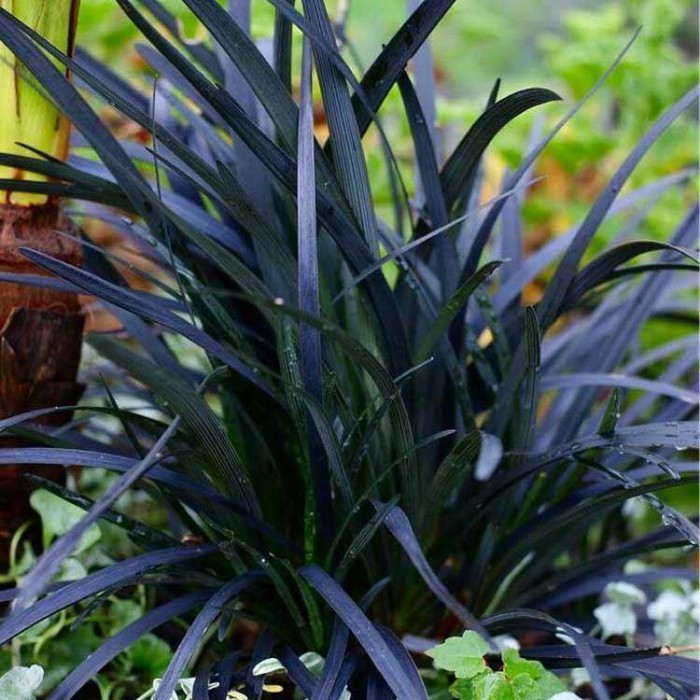 Care:
A hardy plant, good for the beginner, tolerates most soil conditions but needs soil to be free draining. Add some slow-release fertiliser if the soil is poor, this gives them a good start, as will watering whilst they are establishing. Loosen the root ball before planting to encourage the roots to enter their new surroundings. Top dress with compost or leaf mould in autumn or early spring. Tease out dead leaves from time to time.
Use:
This is the perfect plant for drifting in numbers at the front of a border or edging the turn in a path. You will need a few plants to get the best impact from this plant. In Japanese settings, it's planted through gravel, showing off its unusual foliage. The Ophiopogon is fine to grow in containers; they can soften the edge of a raised bed or pot and look great mixed with silver foliaged plants or as under-planting a specimen plant.
Tip:
Try under-planting with Snowdrop or mini-Daffodil bulbs for a spring treat. Hakonechloa macra is another fabulous clumping grass which can be used with great effect if black grasses are not your thing.
---
Description:
Cherry trees have a large cultural significance in Japanese culture. They signal the season of renewal. This is a special little tree with its upright, erect crown. It is a tree of the seasons, starting with its most impressive spring display of double pink flowers, and its delicate serrated-edged leaves followed in summer by red fruits, which are great for wildlife. Yellow autumnal colour sets in, and even in winter, its lenticel pocked bark and silhouetted crown is a fantastic feature. This is a small three-metre by three-metre tree that is perfect for a small Japanese garden.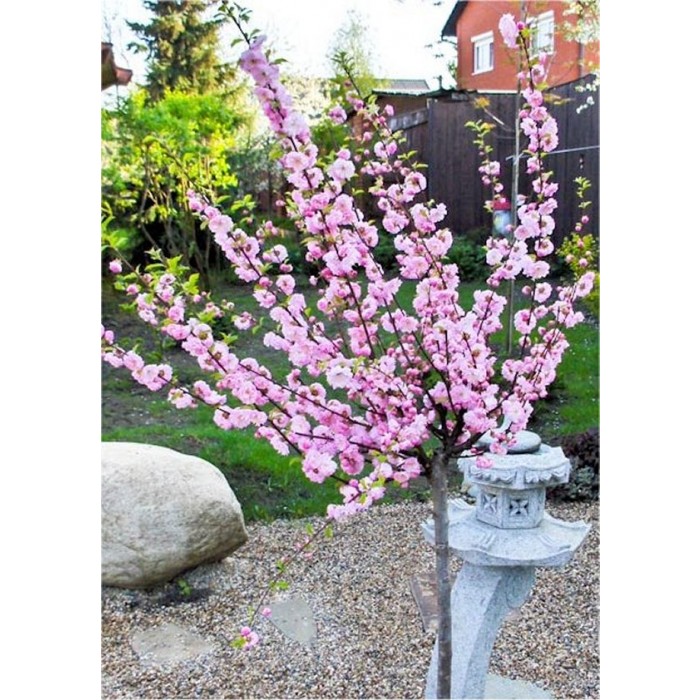 Care:
For this Prunus, sunshine is best, but it will take dappled shade. Be careful of overhanging tree shade as this could cause an even crown. Plant your Cherry in the existing soil and apply a thick mulch of organic matter as a top dress. With trees, it always pays to have attention to watering in the first year. Mulch in spring each year or in areas of heavy frosts in autumn to protect surface roots.
Use:
Many people would say that Cherries are the best of the flowering trees, this species of Cherry is small and compact, ideal for an Eastern Garden. Take time choosing the spot for your tree, it will be a dominant part of a small garden and a focal point. It should be treated as a specimen tree, so why not place it near a seating area to make a setting for contemplation and provide dappled shade; it is also possible to grow in a large container.
Tip:
When planting trees, it's always best to use a square planting hole, this encourages the tree roots to penetrate the surrounding soil. It is also good practice to secure with a low stake for the first few seasons, a low stake is important as it allows the crown to sway in the wind and encourages anchor roots to form.
---
Description:
Magnolias are plant royalty once you have made the decision to plant one and once it's established it will give decades of pleasure. Although this plant is not from Japan it looks fit in wonderfully. Give it pride of place in a Japanese garden setting. Magnolia 'Fairy White' has large, pure white flowers in spring which can cover the tree crown, it is truly breath-taking in spring. The tree itself grows to a size of 2.5 metres in height and width in its first ten years but may get a little bigger after. Unusually for Magnolias, this one is evergreen and can be grown as a hedge. Grow Magnolia in the sun or partial shade, it is happy in a wide range of soils but will dislike the alkalinity of chalk.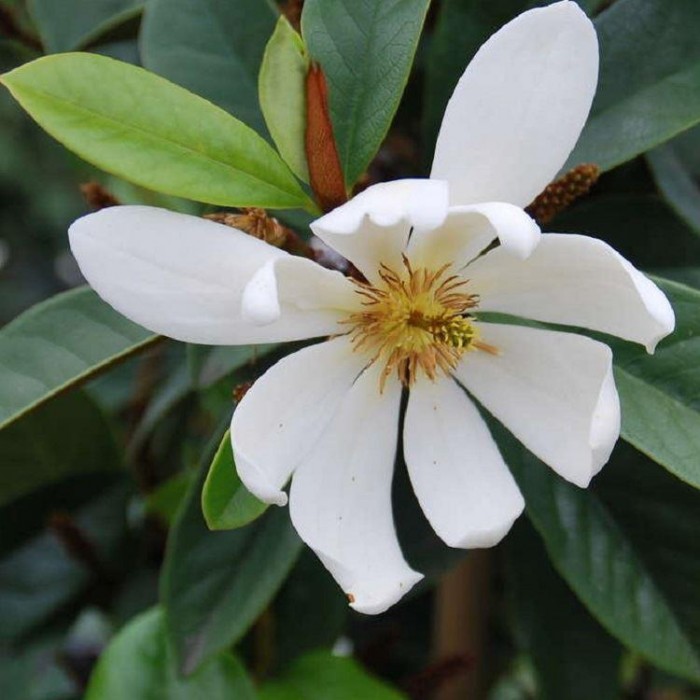 Care:
Magnolias are forest plants and will more than enjoy having their roots in plenty of good organic matter so plenty of compost in the planting pit. Mix in some Comfrey pellets for a slow-release fertiliser boost at the same time. As growth is put on carefully prune out any rubbing or crossing wood, this keeps a nice open plant so that air can circulate. It is good practice to mulch in early spring, using leaf mould if possible. Click here for more care instructions on magnolias.
Use:
In nature, the Magnolia is often a top-storey plant and so should be the dominant specimen in a Japanese garden, placed on a par with the Cherry tree. Allow room for the crown as it grows so keep in mind the position of buildings and other plants. Rising from stone or gravel or underplanting sets off these amazing trees and they are great plants for positioning seating under due to their open crowns. An open crown allows for furniture. If your garden is on a chalk substrate or if you have a balcony then grow this Magnolia in a large container.
Tip:
Slow-release fertiliser is an often-used term in gardening, it is plant feed that usually comes in pellet form, many small and round. It's usually applied in spring and again in mid-summer and is excellent to use as it releases its goodness slowly, over time meaning less work for the gardener.
---
Description:
There is a vast array of Bamboo to choose from so it's good to have some pointers on which one to choose. This Gardening Express Bamboo is a real candidate for a Japanese garden. With its graceful arching stems which start deep green but turn dark purple, and black with age. It has a hardy nature, clump-forming but with no problems with underground stems that run and appear elsewhere. Sprays of fine lanceolate leaves come from nodes along the stem giving a cascading almost fountain-like form. Thus, beautiful Bamboo will reach up to 3 Meters and beyond if happy with its lot and is comfortable to grow in either full sun or partial shade.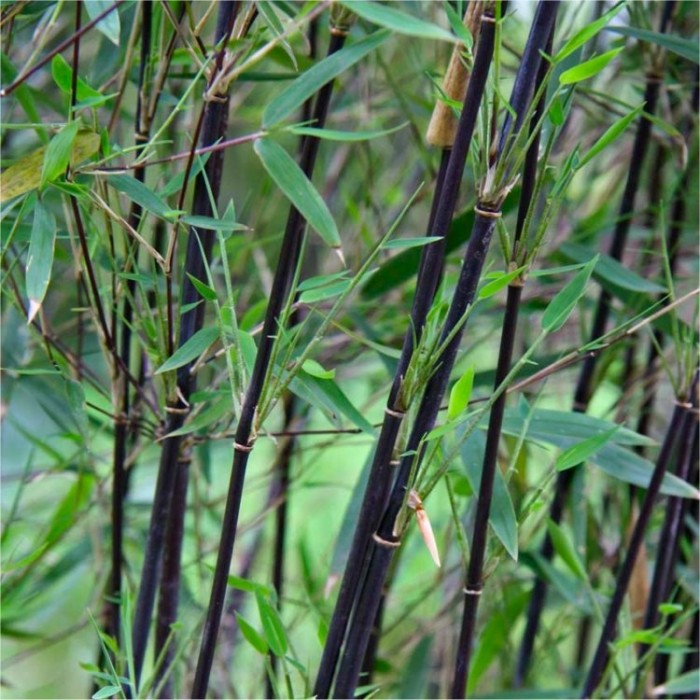 Care:
Plenty of organic matter should be dug into the area before planting. Bamboo dislike drying out, so it is important in dry periods Apply mulch early spring alongside a slow-release fertiliser. When it comes to pruning, cut out old scraggy stems to encourage new canes to grow. Mix horticultural gravel to planting pit and top dress surface if planting on clay soil.
Use:
Stunning plant either grown as a single specimen in a smaller space or numbers along a path edge, creating a powerful impression as its graceful stems cascade and its canes rattle in the breeze. In Japanese gardens, they are planted as informal edging or in blocks at boundaries. 'Black pearl' looks amazing in a container but will need monthly foliar feeds during the growing season. In colder climates, place hessian on the surface of the pot in autumn to prevent freezing; also a good idea to stand the pot up on bricks in the winter to protect it from frozen weather.
Tip:
Soak in water prior to planting and loosen the roots to encourage them to grow into their new surroundings.
---
Description:
This shrub produces stunning red, and pink shoots in spring, which are joined by small pink, cupped flowers on racemes from March to May The flowers look incredible against the leathery green foliage. Fully grown this makes a large shrub up to 2.5 meters in height and width and is happy growing in the sun but also grows in partial shade and so can grow under larger trees.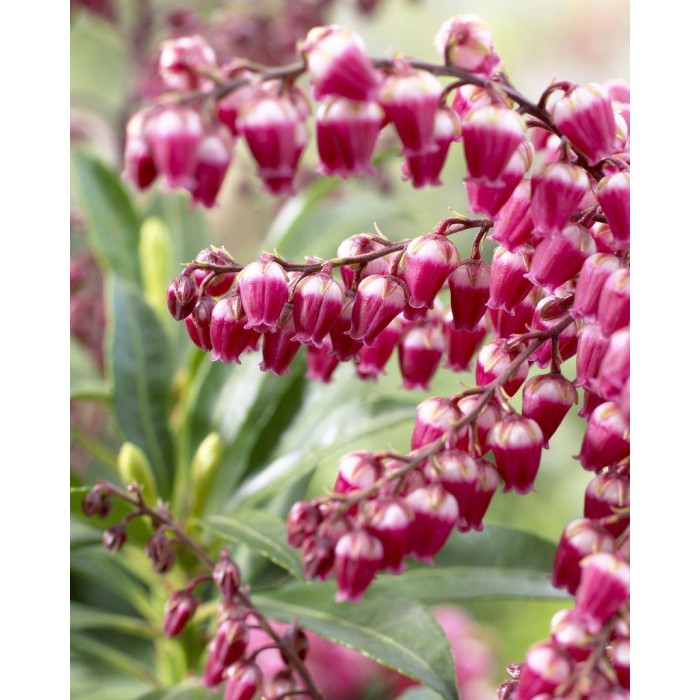 Care:
A fully hardy shrub will like rich moist soil that needs to be slightly acidic, and will not enjoy chalk or alkaline soil but not to worry as it can grow in a container, use an Ericaceae compost if growing it in a pot. Top-dressed with leaf mould or compost a few times through the growing season. Add a slow-release fertiliser in spring and if your shrub shows any signs of looking a little washed out try a few foliar feeds of seaweed extract. Now and again pick over any dead or damaged leaves.
Use:
Spotting these shrubs through shorter grasses makes them stand out. A single specimen forming an island surrounded by a gravel setting is an effective display or how about a tapestry planting mixing it with Azaleas.
Tip:
To create leaf mould, choose an out-of-the-way spot, and drive four stakes into the ground at equal distances. Surround and nail on some chicken wire, this forms a pen for your leaves. If space is an issue, place in black refuse bags that have had put holes put in the sides.
---
Description:
No Asian garden is complete without a Camellia, in fact, in Japan itself, they are not just found in gardens but are a common amenity plant, found along the centre of roads and street plantings. The common Camellia Japonica's red flowers are seen throughout the winter. Camellia 'Lady Campbell' has bright red Rose like flowers, borne in late winter through spring. It will reach an impressive 2.5 meters in height and width over time but is slow growing. Camellias will take a variety of soils and is happy in either sunshine or partial shade. Beware sites with cold, windy exposure as they may dry out the buds.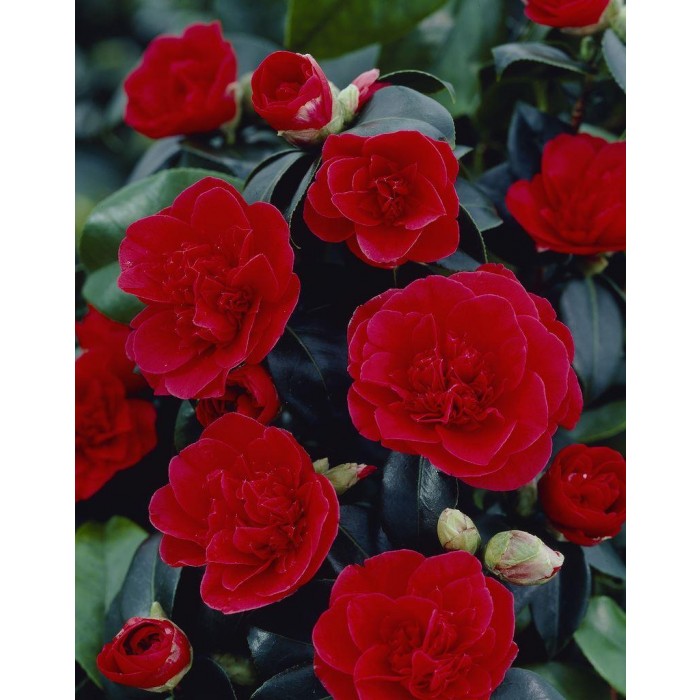 Care:
Feed with Seaweed extract in early summer as this prevents Magnesium deficiency and stops leaves from yellowing. A nice thick mulch of compost in early spring is good practice. Camellia can be shaped into a rounded shrub if pruned carefully; drastic pruning may check the flowering pattern. Be aware that these plants will not like a high pH, so if your soil is chalk based, then best to grow Camellias in containers. If so, then regular foliar feeds in spring and early summer will keep the plant healthy.
Use:
If your Japanese garden is on the smaller side, plant this Camellia as a specimen plant in a prominent place or as a focal point. Grow in a container if you have a balcony or patio space. If space is not an issue, you can grow Camellia as an informal hedge or dotted through a border. These plants look fantastic under the dappled shade of a large deciduous tree.
Tip:
When pruning carefully prune to a node or growing point. This prevents dieback and potential disease infection. These nodes can be easily identified on deciduous plants in winter as swellings or bulges on the stem.
---
Description:
Strong study evergreen shrub that is a great backbone plant, bonding borders and boundaries together. Osmanthus Goshiki has new growth with mottled cream and green colouring, tinged with pink. Bronze and darker green colouring can be seen in lower temperatures; in fact, Goshiki means five colours in Japanese. White flowers appear in late summer and persist through the end of autumn. Goshiki is a compact, neat shrub reaching up to 3 meters but slow growing. It also has the coveted RHS award of garden merit (AGM). Osmanthus is happy in either full sun or partial shade and will take not only heavy clay but also chalk soil.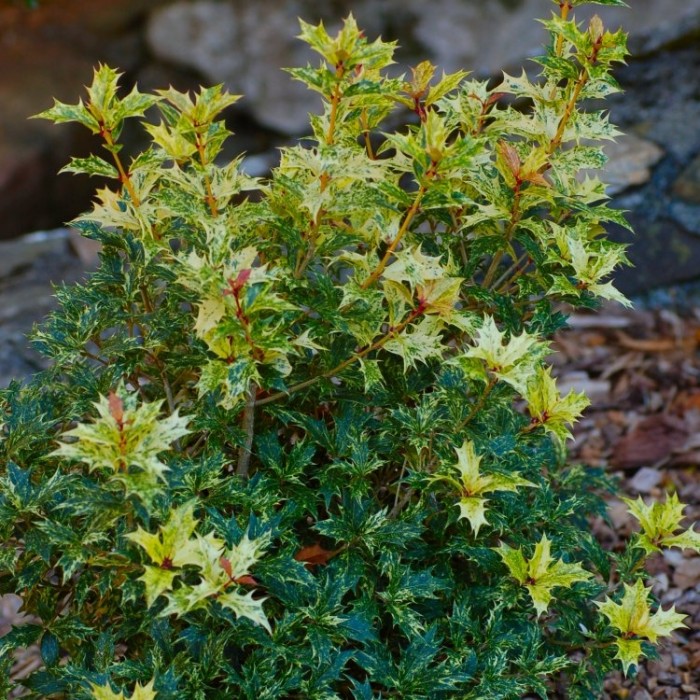 Care:
Osmanthus is a tough plant and once growing away and established it will not let you down. A tough plant for tough conditions is a good Osmanthus motto, they will even take an exposed windy site. At planting time put plenty of compost in the planting pit and attention to watering in the first season. Once established it will be drought tolerant. When it comes to pruning clip off new growth tips to create a compact size and encourage bushiness.
Use:
Its' tough spiky foliage makes it a great boundary plant. Looks great as an informal hedge, a great specimen and will even be happy in a container on a patio. This Osmanthus is a versatile, tough, pest-free plant.
Tip:
Plants like Osmanthus are happy on a windy site so if your garden is exposed, plant to reduce wind, a line of informal hedging reduces wind speed by up to 50 percent plus.
---
Description:
Conifers are integral to an Asian garden, if space is tight then this little beauty is a perfect addition to a Japanese garden. Many people think conifers don't change with the seasons, but seasonal foliage changes can be striking and this dwarf mountain Pine with the evergreen needles growing in pairs, starts as bright green in spring, darkening up in summer before turning golden yellow for the winter. It will max out at 1.5 meters in height with a 2-meter spread but will take a while to achieve that. This Gardening Express plant will grow in any free-draining soil and prefers a sunny aspect.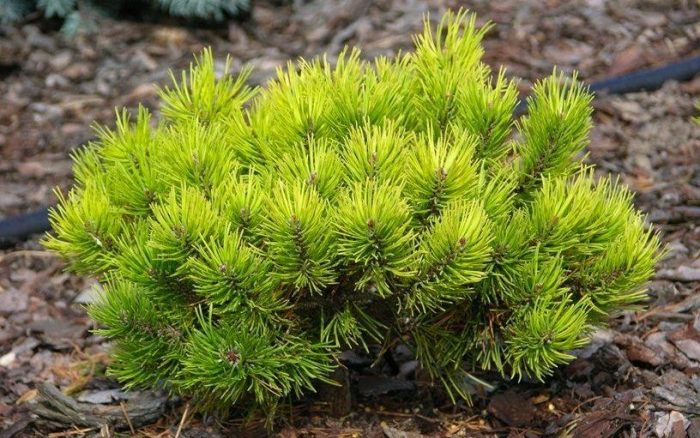 Care:
Good addition of Leaf mould or organic matter when planting will help this little pine on the way. Keep the plant watered in the first few years during dry periods. No real pruning is required just remove dead needles, to remove them, run your hands through the foliage, probably best to wear gloves for this little job.
Use:
Magnificent if planted through gravel but also amazing planted in groups on a mixed border. In a Japanese garden, these are great island formers, dotted through gravel. Great drifts, interplanted with drifts of grass-like plants such as Lirope create a strong planting scheme. Also great in small spaces and will cope with being in a container.
Tip:
Make sure you do out prune out the tips of the shoots on this plant as in spring one of the most beautiful features of a Pine plant is the orange 'candles' that grow from the branch apexes. These new extensions of growth are one of the highlights of spring and early summer in the Conifer world.
---
Azalea japonica 'Anouk'
Description:
Travel around Japan, and large groups of well-clipped azaleas can be found in parks, near temples and buildings of importance. They also fit perfectly into a traditional Japanese garden. Grown mainly for its incredible display of flower colour, this plant will give you stand-out pink, trumpet-shaped flowers in spring, lifting the mood of any garden. Their compact nature, around 80 to 90 cm in width and height, makes them perfect for a small Japanese garden. They are deciduous that like to grow in full sun but also grow in partial shade. Azaleas prefer acidic soil.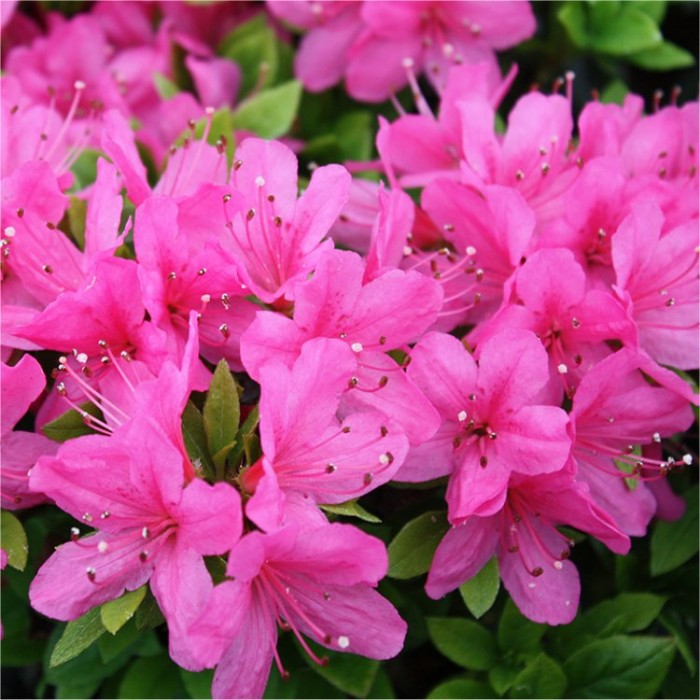 Care:
Azaleas belong to the Rhododendron genus and are naturally woodland plants so hence they prefer acid soils. A good organic matter dug into the planting pit will give them a decent start. Watering during dry periods will also be very beneficial. Continue to mulch each spring and a potash feed will encourage flowering. Clip back after flowering to create new flowering wood, removing any dead, diseased or damaged wood at the same time.
Use:
These amazing plants look best planted in groups, spaced apart. They are good for underplanting in a large tree-filled border. To make their flower colour stand out, plant them in island beds surrounded by lawns. In a small garden, three equidistantly planted in a raised bed or small border interplanted with other shrubs or ground cover will light up any springtime in a Japanese garden setting.
Tip:
It's good gardening practice to find out what level of Ph your garden soil is. A simple test in a new garden will tell you how acidic or alkaline the soil is. and this will influence your choice of plant. These days electronic Ph testing kits can be bought from a garden centre.
---
Description:
This evergreen shrub or small tree has a dense habit with small spiny glossy green leaves and small white flowers born in summer and followed by black fruits in autumn. It has real garden merit as it is easily pruned into a low hedge or clipped into an evergreen specimen feature. Ilex crenata is happy in the sun or partial shade and is happy to grow in an exposed site having the ability to withstand cold winds. If left to grow on its own accord, this slow-growing plant can reach up to eight metres in height.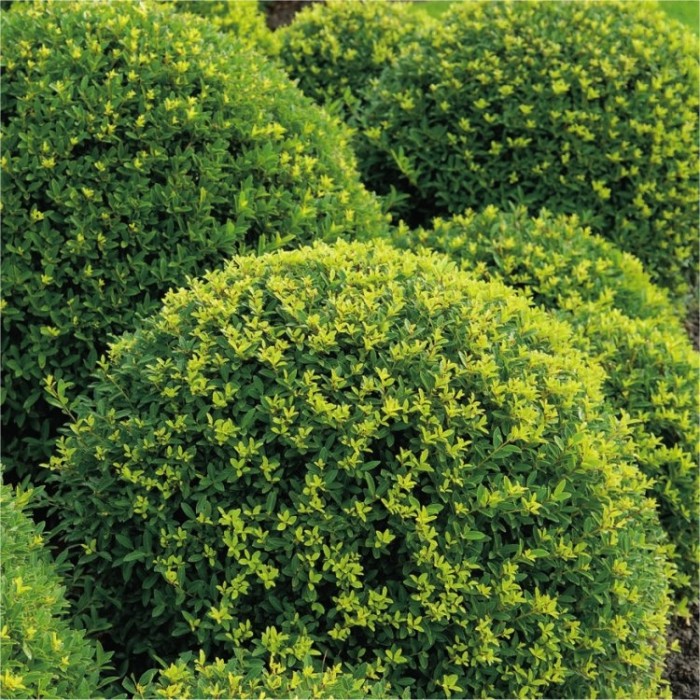 Care:
Grows in nearly all soils but will not like its feet too wet, so it needs to be free draining. Add horticultural grit and compost to the planting area if the soil is heavy. It is a plant that is not too fond of chalk but can be grown in a container. Use a slow-release fertiliser in spring as this will benefit this plant, and an annual mulch of compost is good husbandry. Clip regularly through the growing season if keeping it shaped using sharp, clean shears.
Use:
A versatile plant that can be grown to form an excellent dwarf hedge. As a shrub, it can be clipped into shapes or let it grow as a small tree or large shrub. Ilex is bird friendly plant if allowed to grow, and if it is grown as a larger specimen, it's good to underplant with woodland ground cover and bulbs.
Tip:
Ilex makes for a Box replacement plant and is very disease resistant. Like a box, it can be used to create planting bed compartments and to create more artistic plantings like a knot garden.
---
Japanese Garden FAQ's
What are the three essential elements of a Japanese garden?
The three essential elements of a Japanese garden are:

(1) Stone – represents land, mountains, the ocean and symbolic rocks
(2) Water – represents life and its role in human existence. In a dry garden, sand is used to represent water.
(3) Plants – selected for their autumnal colour, they provide colour and seasonal change.

additionally bridges, fences, ornaments, waterfalls, lanterns and fish are considered core elements of a Japanese garden.

What are the six different types of Japanese gardens
There are six types of Japanese gardens:
(1) Karesansui gardens are also known as rock, dry and zen gardens
(2) Tsukiyama gardens are also known as Hill or pond gardens
(3) Chaniwa gardens are also known as Tea gardens
(4) Japanese Paradise Garden
(5) Chisen-shoyū-teien also know as Japanese pond garden
(6) Tsuboniwa also known as Courtyard garden
What are the design principles of Japanese gardens?
(1) Asymmentry
(2) Enclosure
(3) Balance
(4) Symbolism
(5) Borrowed scenery
The concept of Ma in Japanese gardens
Japanese culture values 'contemplative time and space', which means that you should not rush to finish your garden and neither should you pack it full.
Ma has been described as a pause in time, an interval or emptiness in space. Ma is the time and space life needs to breath, to feel and connect

Unique Japan website
The Portland Garden in Oregon has been developed with the principles of ma developed into Inspiring Harmony and Peace by the architect Kengo Kuma. Bear in mind the concept of Ma when thinking about your garden. It is easy to be carried away and try to include as many plants and objects as possible but value the empty spaces and the process of creating your garden.
Japanese garden ideas and inspiration
Article Sources:
Book: Japanese Gardening: An Inspirational Guide to Designing and Creating an Authentic Japanese Garden – by Charles Cheshire
Sakuteiki: Visions of the Japanese Garden