Creating a tropical garden of your dreams
A jungle garden is the ultimate for the gardener that loves to be surrounded by lush vegetation. They are perfect for a town garden where the built-up town will create micro-climates that allow the more exotic plants to thrive. Jungle gardens are an excellent way of maximising space as they are planted thickly and arranged in layers of differing plants.
They may look scary to create and maintain that is not the case. A jungle-style garden may be the perfect solution to those awkward areas in your garden where many traditional plants can't survive. New gardeners are often surprised at the many different microclimates a garden can contain. You may have just a suitable space where exotic plants can thrive. Many jungle style plants thrive in the shade, and most gardens have difficult shady areas they struggle to utilise.
Philip Oostenbrink, author of 'The Jungle Garden' describes this garden style as taking 'the houseplant look' outside with large, lush, bold foliage taking centre stage. But jungle gardens are so much more than just plants. You must consider the hard-landscaping, furniture, fencing and accessories to truly get the look. In this guide, we help you to get the jungle vibe.
What is a jungle garden?
Large foliage, bewitching leaf shapes and colours and looking exotic flowers are the hallmarks of the jungle garden; the flowers are a bonus as the lush foliage is centre stage. The plants that occupy this garden style have large characters and are boisterous by nature. Larger plants exist alongside underplanted drifts of smaller plants, whilst climbers should be allowed to ramble with freedom, as they do in rainforests, wandering their way through the canopy of larger specimen plants. Water and humidity play a fundamental role amongst foliage; creating a pond with a pumped water system will go a long way to contributing to the feeling of moisture. A decent hosepipe to spray down the plants on warm days will also add to that jungle feeling.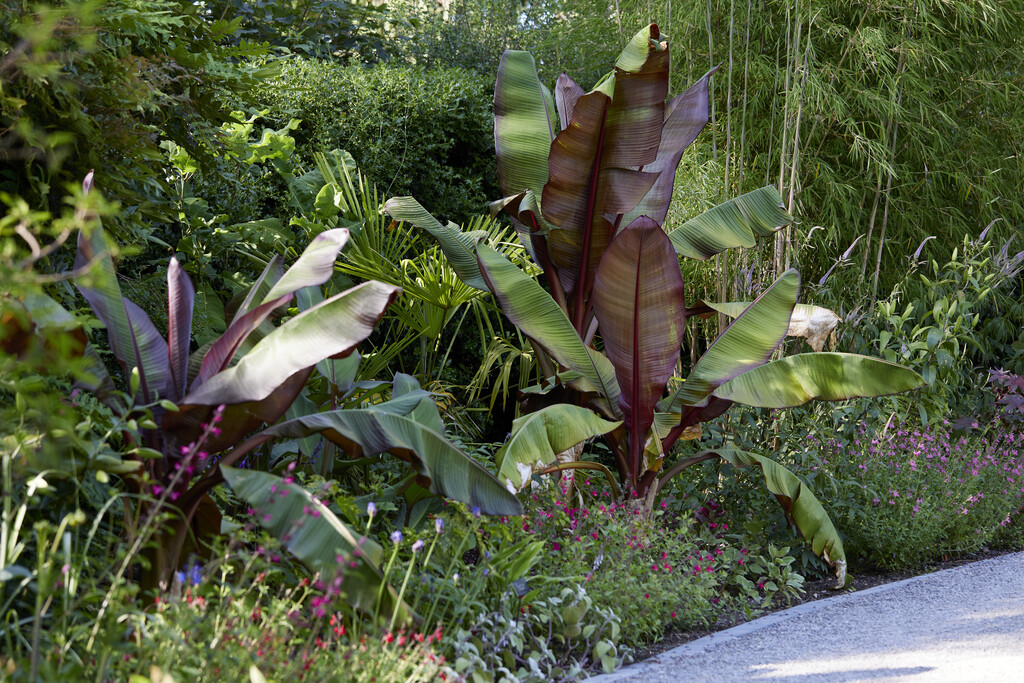 Exotic gardens have been popular in the UK since Victorian times when plant hunters would travel the world before returning to the UK with tropical plants. Christopher Lloyd reignited this trend at his Great Dixter garden with his 'Exotic planting for Adventurous gardeners' making great reading.
How to Create a Jungle Garden
Jungle gardens are all about plants, and two-thirds of the garden should be given to planting space. However, do not worry if your garden is small; a jungle garden can be created anywhere, even in a large container. Small spaces work well for jungle gardens where deep planting beds disguise the end of the garden. A little taste of the exotic is easily obtainable for the gardener who loves this style of planting. Do be warned that once you start jungle gardening and plant hunting becomes addictive.
(1) Start by building the hard landscaping
Mark out the paths that will guide you through the foliage of your jungle plants create places for climbers to ramble, and arches can be placed to straddle pathways creating links between your planting groups. You can also line your pathways with wood to create rustic edges, a golden rule with jungle gardens is not to make it formal in any way; it is a nature 'rules' garden.
Seating should be set deeply into the planting borders to get the full jungle effect, placing them before the plants are added. Any seating areas should be surrounded with plants. You should consider using sustainable hardwoods for decking, such as Ipe but check that it has been sourced ethically. Smooth hardwood decks look stunning combined with lush foliage and relaxed furniture.
Traditional garden fencing lacks the required impression of a tropical garden and so either cover it with dense planting or opt for something more in keeping. I am a huge fan of modern louvre screens and planter screens such as these from Charles and Ivy.
(2) Cater for wildlife
How about ensuring you get the full jungle effect by making provisions for wildlife and erecting birdboxes around the garden, cited at 2 meters in height? Their songs will sound amazing in the jungle. Bat boxes are another good idea and should be placed facing north. How about cutting a section of the base of a fence out to create a wildlife corridor this may mean you get visitors such as hedgehogs.
(3) Add a water feature
A pond, water feature or running water is essential in a jungle garden. Providing sound and movement, water elevates the feeling of being in a remote setting. Due to the overhead planting canopy, it is unlikely that a solar-powered water feature will work, so ensure that you install some electrics to power a pump.
(4) Improve your soil for lush foliage plants
Plenty of Organic matter will be fundamental to the jungle garden and plenty should be dug in before planting; a workable compost bin can make sure you can keep adding organic matter to the soil. Regular feeds of organic fertiliser throughout the growing season will get your jungle garden going.
(5) Add the tropical plants create a jungle 'canopy'
Now it is time to add your plants and clothe the garden. Contrast foliage for impact and fill the borders with high-density planting. Ideally, install large specimen plants to create an upper canopy which is then underplanted with lower canopy plants. Evergreen shrubs establish the structure of the garden, with perennials providing seasonality. Bold flashy flowers such as those on Hibiscus finish the look punctuating the lush green foliage.
(6) Add rocks and boulders for impact
Natural stone boulders and rocks covered in lichens add to the atmosphere of a tropical garden. CED stone quarry in Dartford is a great place to visit and hand-select your stone.
Just a last thought: the jungle garden is a perfect set-up for a little outdoor cocktail bar.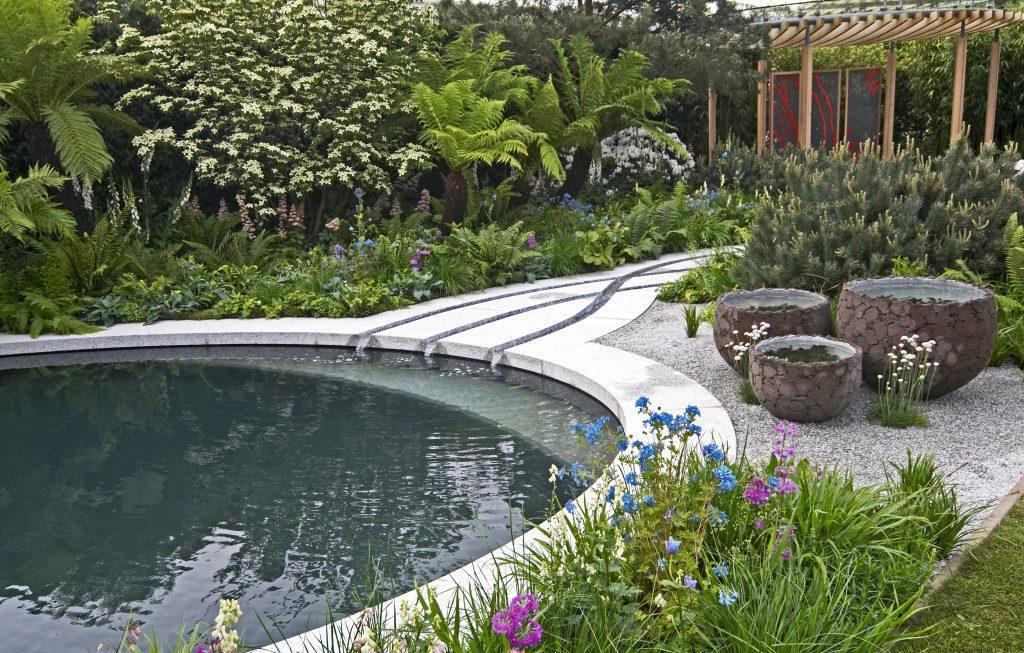 Tropical garden ideas and inspiration
Use tender tropical plants but grow them in containers so you can bring them indoors during the winter
Get the lighting right. Large foliage plants such as tree ferns (Dicksonia antarctica) can cast some incredible shadows. Use up lighters for a late-night drama show.
The feel of a jungle comes by creating different levels of plants – called canopies or storeys. Aim for tall plants underplanted with lower tiered plants.
Winding paths through dense planting adds a dynamic element to the garden. By restricting the view from one end of the garden to the other, you actually will make the garden feel larger. Garden designers have used this technique for many years.
Tall plants don't have to stick to the back of the border. Experiment with some of the large-leaved monsters being next to the pathway so their size can be appreciated.
Contrast bold leaf textures and leaf shapes for impact. Bold foliage can be breath-taking.
Description:
Is there anything more tropical than the mighty banana, this one is from China, so tougher than tropical varieties with its roots able to take the cold weather better. Musa basjoo produces huge paddle-like bright green leaves. Over winter the stem will die off but be replaced by a fresh new shoot. Likes a good sunny spot but will take partial shade and moist, fertile soil. The plant can get up to 4 metres in height and 2 metres in width.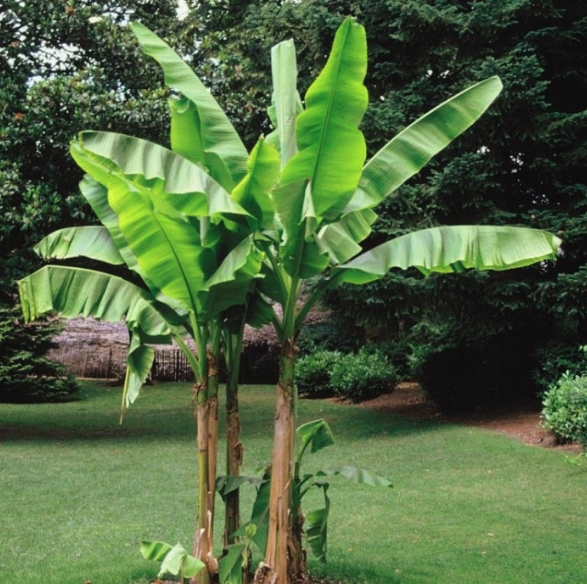 Care:
When planting mix plenty of organic matter in the planting pit and around the plant, mixed with slow-release fertiliser. Foliar feeds of Tomato feed or Seaweed extract in spring and early summer will make for a strong plant. If growing in really cold weather, Hesseyaon wrap for the stem for winter, the roots are tough but old weather will damage the leaves. Can also put straw around the roots in autumn and protect any young emerging shoots. Treat this amazing plant as treat as a prised specimen. Remove dead or any dying leaves.
Use:
This should be the centre piece in any jungle garden, rising out of other foliage types or as a focal point. Usually planted as a single specimen.
Tip:
Don't worry if leaves of your Musa become ripped and torn, this is natural way for the plant to protect against strong winds. If the odd leaf become too tatty then remove them.
---
Phormium 'Pink Stripe'
Description:
Phormiums or New Zealand flax have become very popular recently, proving popular with garden designers. There have many new varieties and Phormium 'Pink Stripe' really stands out with its spikey pink swords rising straight from the ground forming large clumps in good conditions. The leaves are thick, coarse and evergreen by nature thus making this plant an all-around attraction, particularly against the grey winter skies. Grows up to a meter in height and width.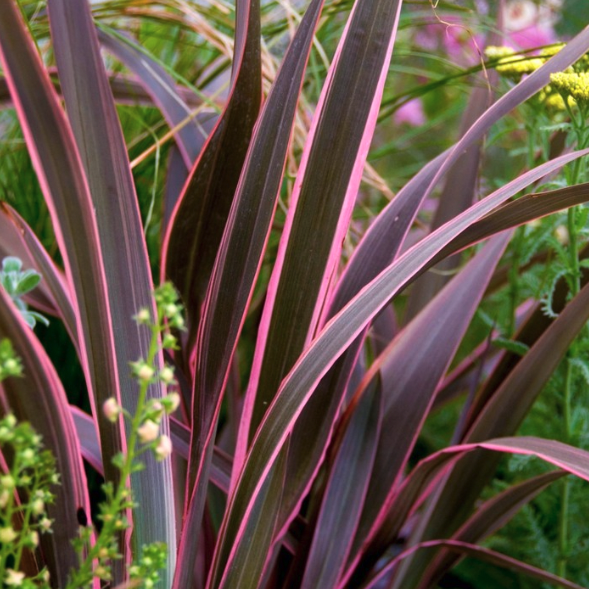 Care:
Prefers a sandy loam so if heavy soil mix in plenty of horticultural sand or grit, preferably mixed with a good organic matter. Quite a tough plant but really cold weather will damage foliage and maybe roots. Thick mulch in the autumn will help protect your Phormium.
Use: Very architectural plant, in a jungle garden plant against a dark-leaved plant with a differing shape. Dotted through a border, preferably at the front will get the most from these plants. Will survive in a container with regular feeding.
Tip:
Clean out dead leaves from time to time, the foliage is tough (used for rope making In New Zealand) so a decent pair of secateurs will be needed. Cut from the base.
---
Description:
Agapanthus Charlotte is an excellent compact variety of Nile Lily. Charlotte produces an abundance of vivid blue flower heads which last into late Autumn. Charlotte works perfectly well in the ground or containers and is the perfect choice for any size garden.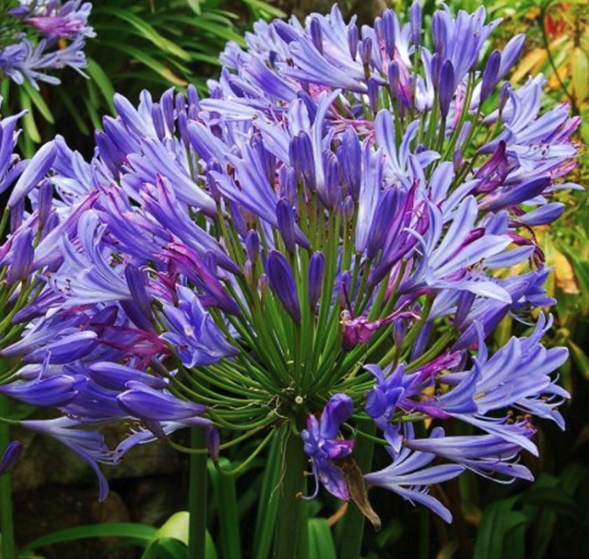 Care:
Agapanthus thrives in rich fertile but well-drained soil. Look for a sunny spot and mulch in winter to add an extra layer of protection from the cold. If growing in a container, then use a loam-based compost such as John-Innes No.3
Use:
The combination of strap-like foliage and trumpet-shaped flowers make Agapanthus Charlotte a star within a jungle garden however they also associate well with courtyard and cottage gardens.
Tip: Try to resist cutting down flower heads once they have finished flowering. Instead, leave the heads on so that they catch the frost in winter and turn into ice sculptures
---
Fatsia Japonica 'Spiders Web'
Description:
A temperate plant that looks just as home in a jungle setting. Its large palmate leaves are architectural by nature and will add great contrast to other foliage shapes which makes it perfect for a Jungle border. This Fatsia has a nice twist as it has evergreen spiders web variegated leaf of white and green. It's quite a large shrub reaching a height and width of 2.5 meters. A bonus, as they often are, are the large waxy heads of flowers, which are white, and ball shaped.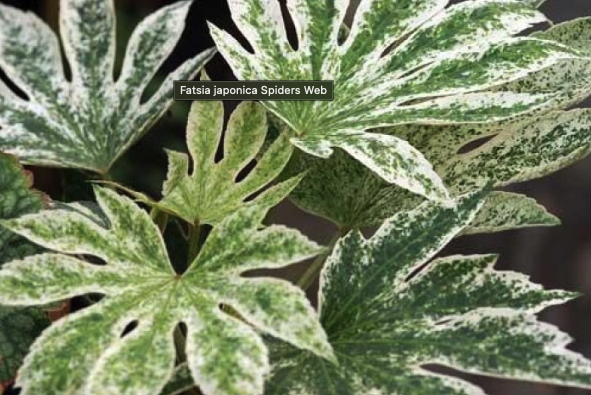 Care:
Fatsia is a hardy plant, occasionally its large leaves can be damaged by frost but cut those off and the plant will soon produce fresh ones. In fact, the whole plant can be stooled (cut back hard) if need be. Fatsias will enjoy a good thick mulch of organic matter after planting and in early spring and be sure to pick over dead leaves as they appear.
Use:
Fatsia. Spider's web' make good specimen plants and placing one at the centre of a border or at the turning point of a pathway will give the plant a place it deserves. Surround it with plants that contrast its large leaves. It is also a great idea to lift the crown of the plant, this involves removing the lower leaves and exposing its multiple stems, its crown of palmate leaves will be striking and enable there to be underplanting, this would also look great in a large container.
Tip:
The leaves and the flowers of fatsia make great foils in a vase of cut flowers. Use sharp secateurs and cut to a growing point to keep your Fatsia healthy.
---
Fatsia Japonica
Description:
Fatsia japonica is a stunning architectural and tropical-looking plant that transforms your garden into a tropical paradise. An evergreen perennial with white flowers followed by black fruits, this plant reaches over 3.5 meters and it will tolerate most soil types. Fatsia japonica will happily grow in sunny or partially shady aspects, it is tough as old boots and requires minimal maintenance.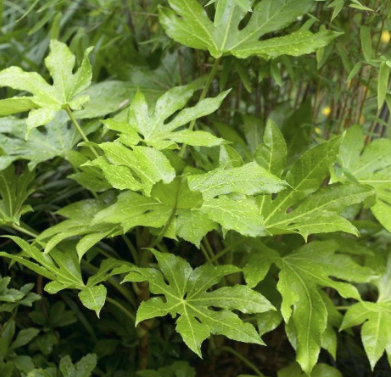 Care.
Its good practise to pick over any yellowing dying leaves, allowing air to move through the plant. Mulch with compost around its many stems in early spring as the plant will enjoy the organic matter. A couple of foliar feeds in late spring and early summer will aid growth and resilience.
Use:
Like all Fatsias, it can grow in both full sun and partial shade so it can be planted under larger deciduous trees. This means if you have larger trees in your garden, they can be incorporated into your jungle garden. Dot a few of these plants through the border, remembering the theme of a jungle border is to contrast leaf shape and colours, so have a think about what you plant around it. This plant will look amazing in a handsome galvanised or terracotta container and stood on a patio.
Tip:
Mulches have massive benefits to the gardener, especially organic mulches like compost or well-rotted manures. Spread around the base of perennial plants, preferably in early spring as the soil warms, they will retain moisture around the roots, supply nutrients, protect roots from late frosts as the plant starts to grow after winter, make it easier to remove weeds and also give the garden and your plants a tidy cared for appearance.
---
Description:
Few plants produce such exotic flowers as the Passion flower. Its climbing nature allowing it to scramble through and over fences, trellis and other plants, is aided by its tendrils. Passiflora caerulea produces light purple, lilac flowers whose petals become more reflexed as they age from late summer until autumn. They stand out beautifully against its dark leathery evergreen leaves. Make sure you inspect the centre of the flowers closely, as the detail in the plants pollinating features are incredible, particularly the green anthers. As an extra feature, this plant will produce orange oval fruits after planting. If you love Butterflies, then you are in for a treat for they are very fond of Passion flowers.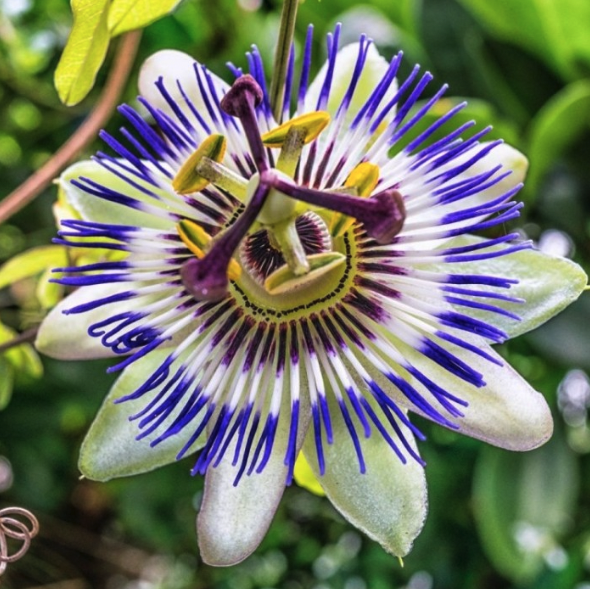 Care:
Although very exotic looking this passionflower is hardy to our outdoors if planting in a protected sheltered spot. Surrounding it with other plants will aid a micro-climate and help protect it. Good drainage is very important for our passionflower and organic matter added at planting time will help get it going and a Potash feed to encourage flowering in early summer.
Use:
A jungle is an informal place and so it's good to let the Passionflower run free, if you can get it up into the crown of a tree it will look amazing but keep an eye on its vigour. Left to ramble on a wall with the aid of vine eyes and wire will display the plant perfectly as will trellis or an archway over a path.
Tip:
Pinching terminal buds, the buds at the tips of the stems, is a great way to get plants to produce more lacteral or side shoots.
---
Description:
As we build up our tiers of planting in a jungle border it's good to have really attractive groundcover plant to sit on the borders edge. This Gardening Express Rodgersia is perfect for that job. These Rhizome spreading herbaceous plants have striking Chestnut shaped leaves can get up to 25cm in diameter and can consist of up to 8 or 9 leaflets. It produces sprays of creamy white flowers in summer that are born on stems up to 60 cm long. The plant itself can reach over a meter in height.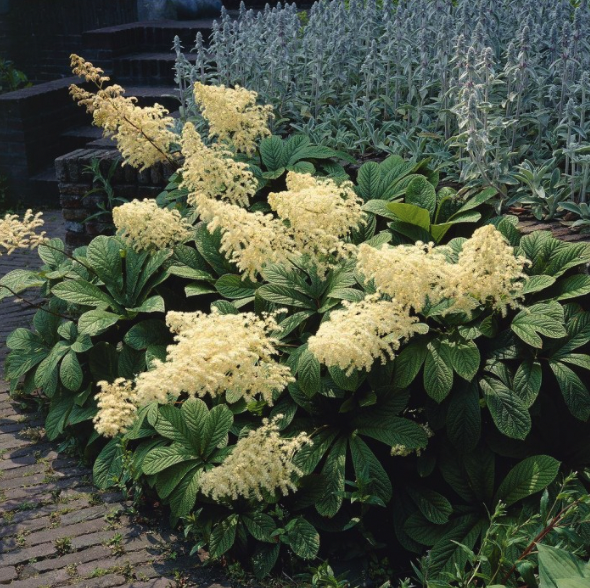 Care:
Rodgersia are moisture loving, plants so attention to watering especially as they are establishing. They may struggle on particularly light soils and will greatly benefit so add plenty of organic matter when planting and in subsequent seasons. Rodgersia tolerate of partial shade and will enjoy some slow-release fertiliser early in the growing season.
Use:
Any water or ponds in your jungle garden will really suit a clump of Rodgersia, they will love the damp moist atmosphere. Also, their amazing looking foliage is perfect for path edges and under planted in the partial shade of other Jungle plants. Its architectural leaves will look amazing at the foot of Bamboos or other taller contrasting plants.
Tip:
If watering is easily over-looked in a busy life and schedule, plants like Rodgersia and jungle looking borders that will enjoy humidity would benefit from a drip irrigation system which can be placed on atap fitting with a timer.
---
Description:
Originating From the Southern hemisphere this plant comes with a great exotic appearance and has become very popular in recent years. The plant spiky crowns with long lanceolate leaves form multiple crowns and balance on the end of long slender stem as the plants mature. When in its full aplomb it can reach height of 3 to 4 meters making for a truly striking specimen. If that is not enough then this Gardening Express plant will produce sprays of fragrant cream flowers in summer followed by berries in autumn.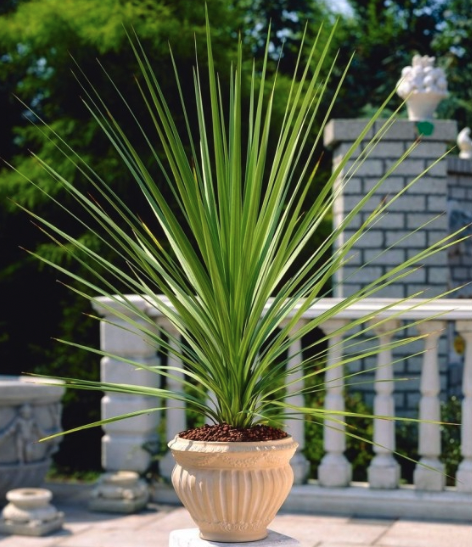 Care:
Cordylines are tolerant of most soils but if the soil is particularly heavy clay, it's a good idea to mix plenty of compost in its planting pit maybe also with some horticultural gravel. These plants are drought tolerant, but it is always good practise to irrigate in dry times in the early years. Same goes for a little sprinkle of top dress fertiliser. If you live in an area that has cold winters, then it's a good idea to apply a mulch in the autumn to help protect from penetrating frosts.
Use:
Rising from lower planting will really help your Cordylines crown stand out, it is also a great plant for framing entrances and doorways. For those of you with a small space the Cordyline will sit happily in a pot but make sure it watered and fed regularly.
Tip:
If your soil is very heavy clay, it may well become waterlogged in rainy times, when planting into soil like this then it's a great idea to break up the sub-soil at the bottom of the planting pit with a fork, this breaks a clay 'pan' up and allows water to drain.
---
Description:
Nothing says exotic like Bamboo, a plant that fits into so many situations and will make a great addition to a jungle garden. This evergreen clump forming Bamboo has young upright stems that gently arch when mature. Fargesia rufa can grow up to 3m in height, producing bright green canes which add a real touch of the exotic to any garden.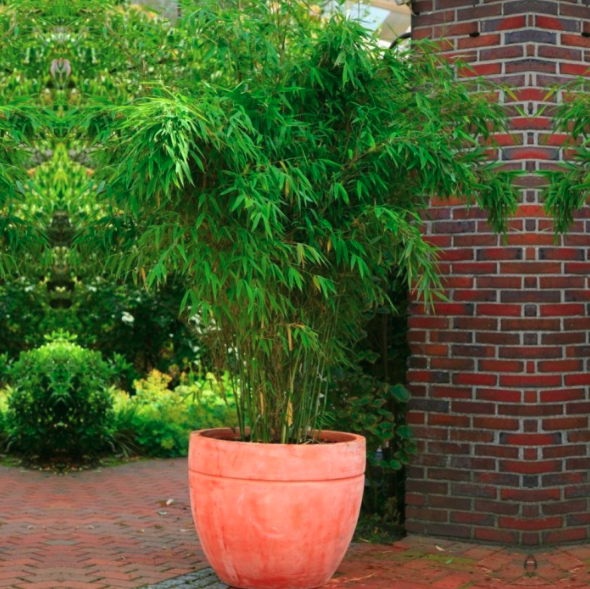 Care:
Encourage new stems by cutting out the older stems, this plays a dual role as it can also control height. Watering is also fundamental for bamboo they come from mountainous regions and are used to moisture. Water in dry times and add plenty of organic matter to their bases each year. Picking over the dead leaves that cling to the stems from time to time is good husbandry and will deter moulds and mildews.
Use:
If space allows then this Bamboo would make a great informal hedge, clothing a boundary with its graceful presence, if space is tighter then plant a single plant as specimen with rising from lower planting in your jungle garden or grow in a container as focal point at the end or beginning of a pathway.
Tip:
Moist but well drained is an oft heard expression and would seem to contradict itself but these ae the conditions that most plants prefer to grow in. Good soil conditioning and structure is key, adding compost regularly or organic compounds such as Seaweed meal will help you achieve these desirable planting conditions.
---
Description:
The good thing about Bamboos is there is such a range to choose from, meaning the gardener can plant to their taste. Young canes start off orange-red, maturing to crimson-plum and finally olive green. They are very graceful plants with fine lanceolate leaves that rattle in the wind and form a gentle weeping habit. It is a clump-forming evergreen, which is compact, just reaching 2 to 3 meters in height so is perfect for a smaller sized garden.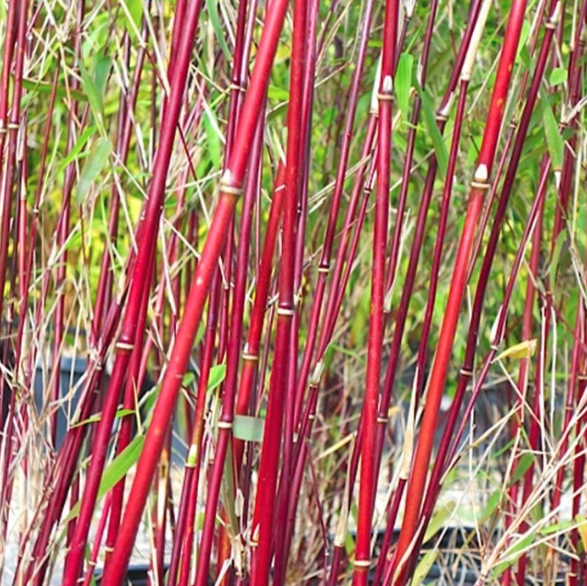 Care:
The striking stems benefit from the plant being grown in a sunny position and removing ageing stems to allow light into newly emerging stems. As with many bamboos, they will not enjoy getting too dry, so keeping an eye on making the soil damp at ground level is an important part of making the most of these wonderful plants. Applying a good compost from time to time to your bamboos home will help keep the soil moist and provide feed. Try also to avoid excessively windy spots. The great thing about this Bamboo is it is non-invasive; it will not wander all over your garden. A regular liquid feed as your bamboo plants establish is beneficial but can be reduced as the plant ages.
Use:
If there is space and a big enough budget, a line of these as an informal hedge or running alongside a hard surface such as a patio or path will look amazing. However, this also makes a perfect specimen plant. How about using two plants to frame your jungle garden entrance? They are quite happy in containers; a couple planted in galvanised or terracotta pots at that entrance to a pathway would be idyllic.
Tip:
It's very rare for a Bamboo to flower, some only flower every 40 years! it can however mean the end of the plant so if you see flowers forming it is a good idea to cut them out.
---
Description:
The Nandina genus is normally known for its dark green to crimson, red foliage but this little beauty comes in a completely different form. The new foliage emerges yellow-green in the spring but, over time, will turn to richer lime green. The leaves on the outside of the plant and in the light will keep this amazing colour, but the foliage underneath and in the shade will be darker. These different colours produce a beautiful effect and a great contribution to a jungle garden. It is also a small compact plant reaching 60 to 70 cm in height that produces sprays of flowers in mid- summer.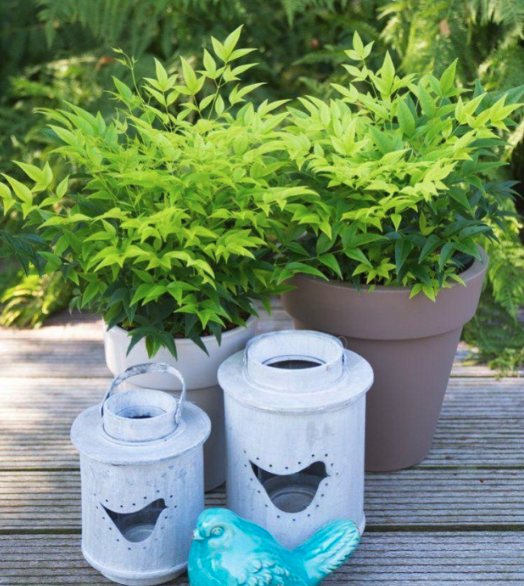 Care:
It is frost hardy but a good mulch both in the planting pit and each spring will help protect the roots from any period of prolonged frost. These plants require little pruning but can be clipped to a desirable shape. Watering in dry periods will also aid its survival as will a sprinkle of slow-release fertiliser. To get most of the wonderful colour of this Nandina variety plant it in a sunny spot.
Use:
The perfect plant to grow in groups, planting in drifts of 7 to 9 plants. Its common name is Heavenly Bamboo so how about planting it with taller bamboos plants with darker stems that will rise out of the Nandina foliage? Alternatively, grow in a container and sit on a patio or path.
Tip:
A golden gardener rule and one all professional gardeners learn early in their career is the D/ D/ D rule, this refers to any part of the plant that has become dead, diseased or damaged should be pruned out so not to encourage any other pest and disease.
---
Description:
Phormium tenax variegatum is a clump-forming evergreen perennial with erect green and cream-striped sword-shaped leaves. Reaching roughly just under two metres in height and width this is a plant with real architectural impact. When planted in full sun, this plant often shows flashes of pale pink adding yet another layer of impact.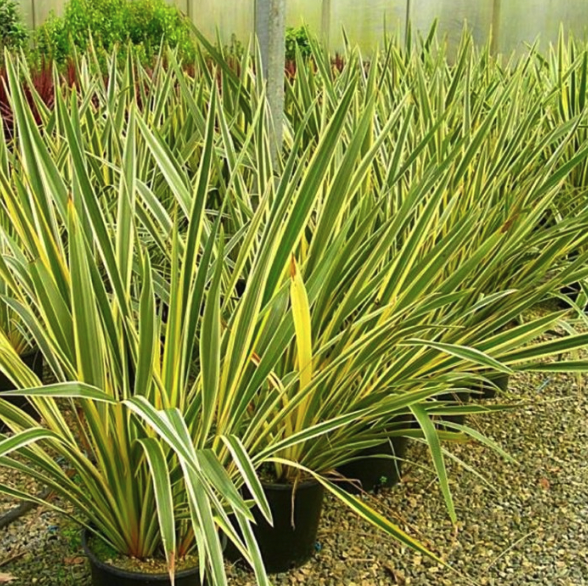 Care:
Phormiums are tough plants that enjoy good loamy, well-draining soil. Add compost at planting time and in subsequent years in spring. Also, in spring, remove any dead or tatty-looking leaves by cutting them off at the base. A slow-release fertiliser applied, also in spring, is beneficial.
Use:
This Phormium planted at intervals in threes throughout the border gives the perfect foil to all the other colours in a jungle border. If space is limited, a single specimen planted in a container and underplanted with some low ground cover will make an excellent garden feature.
Tip:
When cutting off leaves or doing any type of pruning, it pays to have a really decent sharp pair of secateurs, which are cleaned and oiled after every use. This will greatly reduce any pathogen transference.
---
Description:
If you are looking for a tough plant which is happy in the shade and offers great foliage and late-season flowering then look no further. Viburnum davidii provides excellent ground cover under harsh conditions and is more than happy to act as a foil to more showy plants. For a jungle-style garden Viburnum davidii more than earns its place, filling in all the awkward spaces.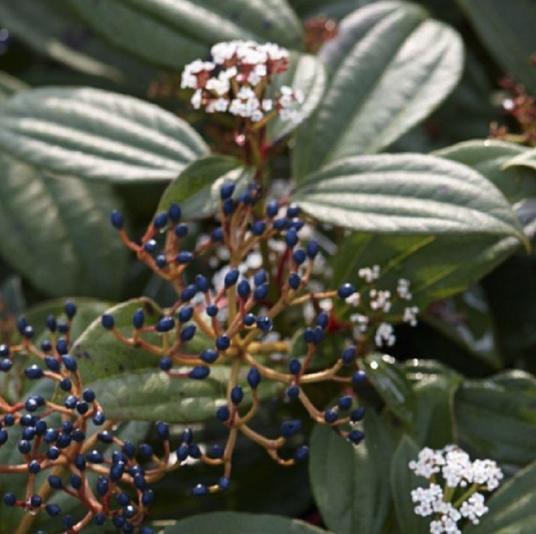 Care:
Viburnum davidii is happy in most soil types but prefers moderately fertile, humus-rich and well-drained soils. It tends to be pest free and doesn't mind partial shade and so combines well with Hydrangeas. It is this easy-going nature that makes davidii so popular.
Use:
The low-dome form of Viburnum davidii makes it perfect for ground cover, yet its neat form can provide some structure and acts as a 'visual anchor' within the jungle garden. Try and position davidii where the Autumnal flowers will be noticed; they are not showy but much appreciated come the late season.
Tip:
Both male and female flowers are required to produce berries so plant in groups to ensure cross-pollination and you get to enjoy the berries.
---
Description:
You will need a bit of space for this small to medium-sized deciduous tree, but the aptly named Foxglove tree gives an exotic feel to an exotic jungle setting. The Empress or Foxglove tree has striking large ovate leaves reaching up to 25cm in length. Before they fully break bud, tall spikes of lilac-purple flowers are born all over the tree crown making for a breath-taking sight with the bonus of being fragrant. This is followed by dark oval fruits in the late summer through to autumn. This tree can reach up to 8 metres in height and spread; however, you can control its size by pollarding, cutting back the previous season's growth. Paulownia will need a sheltered sunny South facing spot to grow at its best.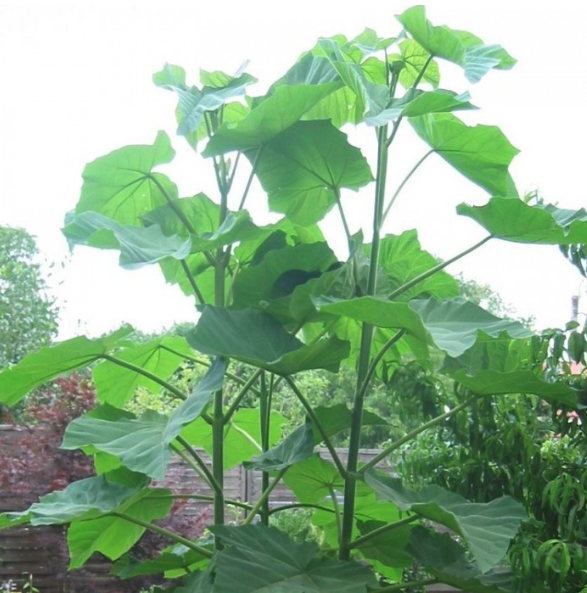 Care:
Tolerates the full range of soils but prefers life in a moist fertile which is rich in humus. When planting, add plenty of organic matter or a bag of well-rotted manure to the planting pit, and a sprinkle of slow-release fertiliser. Continue to mulch with organic matter each autumn; make it nice and thick to protect the roots, as this beautiful tree can be frost-tender when young. Plenty of watering after planting and through the first growing season, making sure it's getting those roots down.
Use:
In hotter climates, the Paulownia is grown as a street tree, and massive displays of purple flowers can line the streets, making a magnificent tree in cities from South America to Australia. Let's have a little taste of that in our Jungle Garden. Best to plant as a single specimen plant; choose a nice sunny corner where you can truly appreciate this tree. Underplant with shade lovers to make the crown stand out.
Tip:
The jungle characteristics of Paulownia are emphasised when this tree is young. The leaves are enlarged by a behaviour called juvenility, a hormonal reaction in young material. Cutting back in early spring will encourage this growth.
---
Description:
The Mexican Orange Bloom has long been a favourite of the British garden and its parks. It is one of those plants that never lets you down, and once it is established, it will grow away for many years with the minimum fuss. It has glossy palmate evergreen leaves, which give an exotic impression despite its hardiness to the UK's climate. In early summer, white heavenly-scented star-shaped flowers form clumps among the foliage. Repeat flowering can sometimes occur later in the summer and sometimes in winter. To get the best out of your Choisya plant in a sheltered South or West facing aspect, it will reach a height and width of 2 metres.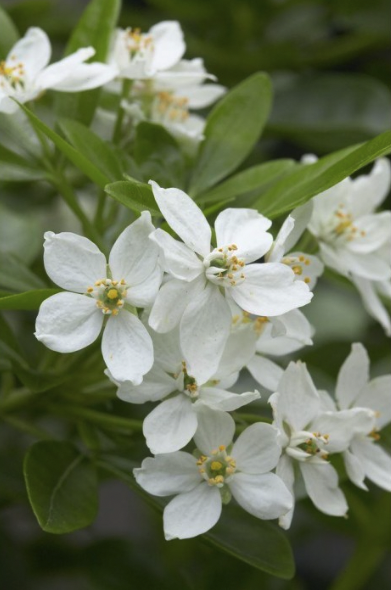 Care:
As stated Choisya is a tough plant but prefers to be out of areas prone to heavy frosts and icy winds. Mulch at planting time with compost and each autumn. A sprinkle of slow-release fertiliser in spring will keep the plant healthy. Any leggy or damaged growth should be removed in late winter.
Use:
A great medium sized shrub that will sit perfectly in a jungle planting, sit it in the middle tier and surround it with plants with differing leaf forms. Its scent will fill the air when the flowers appear and that alone is reason enough to make space for Choisya.
Tip:
Choisya is one of those shrubs that can be pruned back hard. This 'stooling; can be done if the plant has become leggy and collapsed in the centre as it spreads. Cut it back until it's 20 cm above the ground and top-dress with a nice thick mulch of compost and a handful of slow-release fertiliser. Do this job in late winter to get the shrub growing again in spring.
---
Jungle Garden Inspiration
There are so many plants that could be added to a jungle garden. The beauty of foliage-based gardens is that you can create one in any size garden and even in containers on a balcony. For some inspiration try and look for local gardens you can visit through the National Garden Scheme, if there is nothing local then take some inspiration from this amazing jungle gardens based in Leeds.
Great Dixter has an 'exotic garden' that is well worth a visit if you are ever close.
Trebah Garden in Cornwall is recognised as one of the finest gardens in the UK. Its exotic planting will inspire you to create your own jungle at home.
Abbotsbury Subtropical Gardens in Dorset has some beautiful displays of Hydrangeas and Rhododendrons, which you could try to replicate on a smaller scale.
How to create a low cost jungle garden on a budget
The video below is from George's Jungle Garden – his YouTube channel is outstanding, and his knowledge of exotic gardening is phenomenal.
The video below by 1stchoicestudios shows Henstead exotic garden in Suffolk, which demonstrates what you can achieve in a back garden. The garden is not far from the coast and relies upon conifers to provide protection from the biting wind.
How to care for your tropical jungle garden
Successful gardening very much relies upon you selecting the right plant for the right situation. Once your plants are well established, the majority should care for themselves with little more than a good mulch of organic material and feed in Autumn.
If you have decided to add any tender plants, then you will need to bring them indoors before the first frost and then reposition them the following spring. Some tender plants, such as Dicksonia Antarctica (tree ferns), can just be wrapped with straw and hessian before the first frost. I live in the South East and have not wrapped my tree ferns for the past 10 years without any problems. In many areas though winter protection of plants needs careful planning.
If you have a hardwood deck, then I suggest that you give it an oil in spring which will help to keep the rich dark colour for the summer. Some gardeners prefer to let their deck age and go silver in colour, which can look more rustic.
I honestly believe an exotic garden can be as low maintenance or involving as you want it to be and there's so many ways to create an exotic, tropical or jungle effect that fits your time, experience level, space and budget. Hardy exotics like Trachycarpus fortunei palms, fast growing Cordyline australis, colourful Phormiums and beautiful bamboos can easily be used to create a exotic look that has low water requirements in summer once established and won't require any wrapping or care during normal modern winters. These form a great basis for any exotic garden and from there you can really build a summer display to fit the time you enjoy putting into it. If you've got a greenhouse or polytunnel then cannas, dahlias, salvias & Hedychium gingers can be overwintered then brought out after the last frosts to really add impact to your tropical display. Houseplants can go out into the garden for summer and annuals like sunflowers, nasturtiums – even vegetables like sweetcorn are great for adding to the tropical vibe with very little effort. Realistically I spend a weekend packing some of my more tender plants away in late autumn then another day getting them out in late spring – care for the rest of the year is pretty much like any style of garden most years! For me those few days of work are completely worth it to have a garden that doesn't look like it belongs in the UK, a full on jungle display. You soon learn to become more efficient over the first few years though and quickly discover that a lot of exotic plants offer so much excitement, fast growth and impact whilst actually being far tougher and easier than you might expect!

George Lowther – georgesjungle garden
Creating a jungle garden – Expert Advice
We spoke with jungle garden expert George Lowther from georgesjunglegarden. We asked him for a couple of tips for creating an exotic jungle style garden, and he provided the following excellent advice:
My top three tips for creating a jungle garden here in the UK would be:
(1) Focus on a few key plants with giant leaves to set the tone – Musa basjoo banana plants, Trachycarpus fortunei palms, Tetrapanax papyrifer 'Rex' & Fatsia japonica are all great choices. Fast growing, affordable in smaller sizes and easy to care for, even having just one of these beauties in a smaller garden or backyard instantly adds that jungle effect.
(2) Creating a jungle atmosphere is all about height and feeling like you're inside the garden, rather than looking down at it. Miscanthus x giganteus and clumping Fargesia bamboos are great for bringing impact quickly to a garden and transforming a simple border into a slice of tropical paradise. In smaller spaces, climbers like Clematis armandii can be used to great effect too. By making full use of the vertical space your garden will really feel like a full on jungle adventure so don't be afraid to go big!
(3) Packing the plants in really helps create a jungle vibe quickly but doesn't mean that your garden has to be full of expensive, tender or high maintenance plants. Once you've chosen your key big-leaved specimen plants, you can use relatively common foliage plants like ferns, Hostas and Heucheras as 'filler' or 'accessory' plants to create a lush, leafy display around them. These will thrive in the shadier conditions lower down, really soften any edges from hard landscaping and compliment the larger exotics perfectly. Glossy leaves, lots of greens and arching fern fronds are a great shortcut for creating the exotic garden look without the winter worries!
---
For further information on establishing a wonderful garden and to get the jungle look, read our guide to garden design principles.
Download Jungle Garden Style Booklet
Sources / Recommended Reading
Encyclopedia of Exotic plants for temperate Climes – Will Giles
Architectural plants – Christine Shaw
Exotic Planting for Adventurous Gardeners – Christopher Lloyd