Lavender is best known for its rich fragrant flower and foliage. It is easy to grow and has the ability to grow in a sunny spot or in a container. Flowering in late spring and summer, with a silver or green evergreen foliage. This plant also attracts bees and other pollinating insects, making it perfect for a cottage style garden and a Mediterranean garden.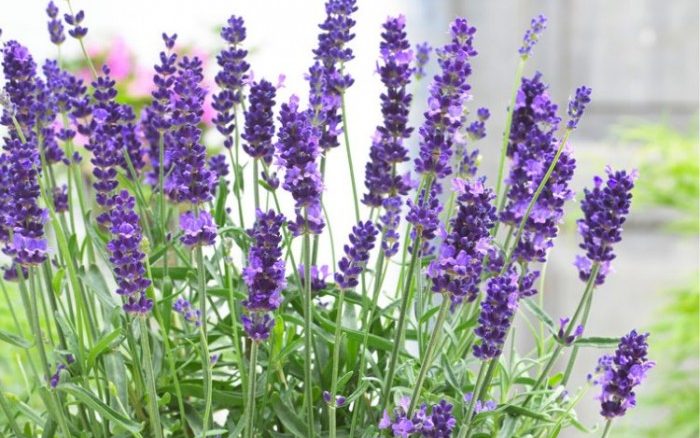 How to plant lavender
Upon receipt of your plant, carefully remove them from the postal pack. The container holding your plant should keep the soil moist, but add a little water if the soil is not as moist as preferred.
When & where to plant lavender
The best time to plant would be in April or May when the soil warms up, they shouldn't be planted in winter as they are vulnerable to rotting in cold soils.
We recommend planting directly into the garden in well prepared weed free soil containing plenty of organic matter such as compost. At this stage a fertiliser and soil-conditioning product can also be applied to the soil following the manufacturers instructions.
Make a planting hole large enough to take the plant's root ball with around 30cm between each plant. Then incorporate compost with the soil removed, use this soil when backfilling the hole around the plant. Firm in well and water the plants.
Alternatively, plants can be potted into slightly larger pots using good quality compost. They can then be planted out as for stage two when they have filled these pots. Once potted situate your plants in a bright position.
Ongoing care
Newly planted lavender should be watered regularly during its first summer. Once established make sure you water lightly when the ground is dry. Keep any containers dry during winter, by placing in a greenhouse or under shelter. Deadhead and prune in late summer to keep the plant from becoming tangled.
FAQ's
Have I over or under watered my lavender?
An overwatered lavender will have sodden soil and yellowing leaves at the bottom of the plant, it may also give off an unpleasant odour. But an underwatered lavender will have soil that is completely dried out and begins to droop.
Can lavender survive freezing weather (frost)?
This depends on the type of lavender. English lavender can survive outdoors during winter, however we do recommend placing under shelter or in greenhouse if possible. But Spanish, French and Italian lavenders are not frost tolerant so they will need to be put in containers and moved to a greenhouse over winter.
Why is my lavender turning grey?
Frost damage is a likely cause of a greying lavender but it can also be the result of fungal disease caused by overwatering.
Why does my lavender look like it is dying?
A dying Lavender plant is generally caused by improper watering, over-fertilization, acidic soil pH, diseases, pests, or inadequate sunlight
Download Care Guide
Shop Lavenders Now