What is a Mediterranean Garden?
If you are a lover of outdoor life, or fancy bringing home your holiday destination, then the Mediterranean garden is perfect. Nothing beats outdoor dining and a glass of wine on a summer's evening with pastels and terracotta colours combining for a relaxing atmosphere. You can add to this by creating a pond with running water, punctuating the ambience with the sound of water. Shade provision features, such as pergolas, give the Mediterranean garden a three-dimensional feel. Thankfully, the plants that occupy a Mediterranean garden are often tough by nature, many being drought tolerant, perfect for increasing global temperatures. If your garden receives plenty of sun then planning a Mediterranean garden is a great idea.
"Mediterranean gardening is a way of living in harmony with the earth without contrived effects or heavy spending", frugal and fruitful, and easily adaptable to today's ecological awareness. It is born of and perpetuates "a long-standing partnership between human beings and their environment, tested in Mediterranean countries for millennia"

Mediterranean Gardens: A Model for Good Living by Louisa Jones
How can I make my garden look Mediterranean?
Alfresco living is the number one desired effect of the Mediterranean garden. This style is dominated by terracing and a dining area, though this should not be at the expense of the plants. Combine dining and horticulture with troughs of herbs and grapes which straddle a pergola. Many beautiful ornamentals are grown in a Mediterranean garden, most being drought-tolerant, requiring minimal water and feeding once established. Many of these plants are also superb for attracting pollinators and are well-known for their scents. If you have shady areas in your garden then you need to think a little differently about the plants that are shade tolerant.
Mediterranean gardens also fit very nicely into small gardens, terraces and balconies consisting entirely of containers. Large terracotta pots of mixed plants in an area painted with pastel colours will give you that alfresco lifestyle feeling.
---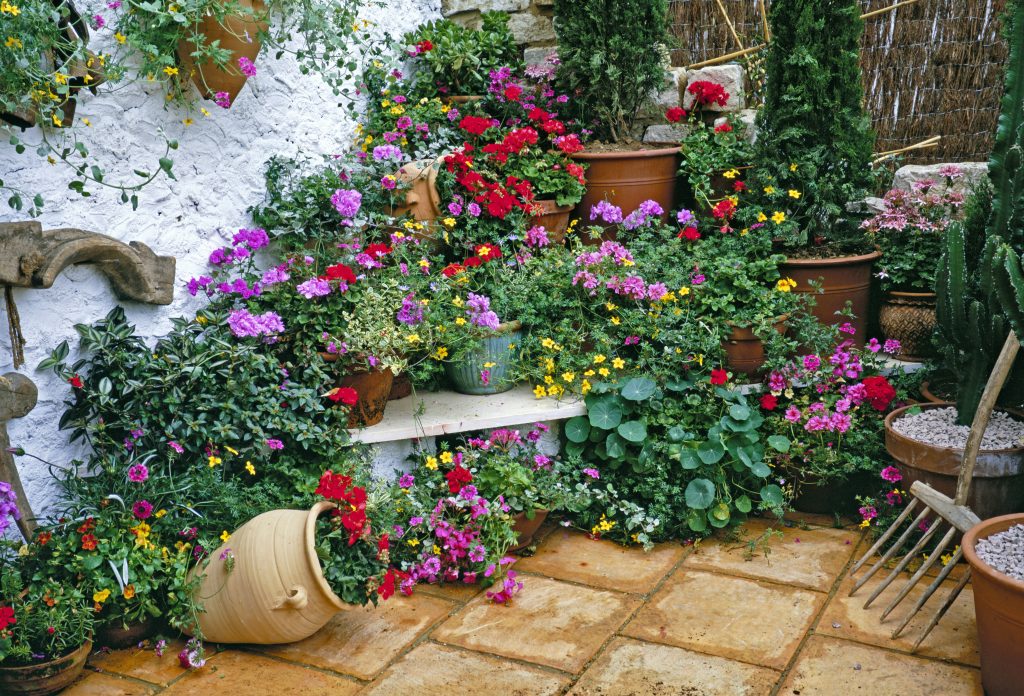 ---
How to create a Mediterranean garden in 10 easy steps.
If you have the time and the capital, it is easy to get carried away with a Mediterranean garden. York stone slabs, expensive terracotta pots and even elaborate statues can be incorporated with this garden style. But don't let that put you off – a small patio or balcony with a few pots and decent plants are more than enough to make an excellent outdoor living space. Follow our ten-step plan to bring a small piece of the Mediterranean to your garden space.
Plan: Plan hard landscaping areas such as patios, pergolas and dining areas first. Grab yourself a piece of paper, measure out your garden and let the ideas flow. Colour is important for the overall effect of the garden and so painting in pastels and terracotta will give you that Mediterranean feel. Consider this when choosing patio slabs or brickwork.
Choose: Pick out your plants, considering which will be used to soften path edges or left to climb and ramble – also be sure to look for anything edible that may add to your outdoor dining experience.
Define: Mark out the garden either by spraying the floor with line paint, or using lengths of hose to define those hard and soft areas.
Clear: Now it's time to put in the hard work and clear out the existing garden, ready for the new design to take shape.
Construct: It's time to get the hard landscaping built, including your seating area, pergolas and pathways. These 'hard' elements will provide the structure and 'flow' for your garden and start bringing your design to life.
Improve: Dig in plenty of Organic matter to both fertilise and improve soil structure in the planting areas. Good drainage is important to Mediterranean plants; if your garden is on heavy clay it may be better to create your Mediterranean garden in raised beds and containers. Alternatively, you can simply mix in plenty of horticultural grit and this should do the trick. Many principles of Mediterranean gardening help to instil the principle of being 'waterwise'. As global temperature continue to increase then establishing drought-tolerant plants becomes increasingly important.
Plant: It's time to plant up your lovely plants, to soften the hard landscaping and really bring your garden to life. The application of gravel mulches around your plants will add to that arid effect.
Focal Point: If possible, find a place for a water feature – it doesn't have to be large. A garden containing a small water fountain will create that aquatic sound and draw the eye around the garden. A container area really suits this style of garden, so don't be scared to choose large and oversized pots.
Gravel: Many Mediterranean gardens contain swathes of gravel rather than grass – now is the time for the addition of either option. If laying down gravel, it is important that you put down a decent sub-base of some crushed stone rather than just laying gravel over an existing lawn or bare soil.
Establish:

Your new plants will need help to establish themselves. Feeding throughout the growing season, preferably with a slow-release fertiliser will help their establishment.
---
10 Best Plants for a Mediterranean Garden
If you are wondering 'what plants are best for a Mediterranean garden?' or 'which plants give a Mediterranean garden feel?', then the following list has been put together to help you out. We have tried to provide a mixture of plants that give you ground cover, some height and year-round interest. The selected plants will give you a Mediterranean look and feel, although some of them originate from further afield
Description:
A real favourite of recent years gaining much popularity among both gardeners and designers. It is a South African bulb that grows in stony rocky outcrops in its natural environment and quite happily grows in containers. The reason this herbaceous perennial is so popular is the incredibly deep blue flowers that are born on long stems and form loose clusters, the flowers have the addition of a darker blue stripe running through the petals. These flowers, which appear in mid-summer sit upon deep green lanceolate leaves and the whole plant can reach up to 50 centimeters. These Agapanthuses are tailor-made for a Mediterranean style garden, they like sheltered growing conditions so planting south or west facing is preferred.
Care:
Our friend, the Agapanthus, is tolerant of various soil conditions but ultimately likes well-drained, fertile soil. Plant the bulb to a 5-centimetre depth, preferably in spring. A nice thick mulch applied in autumn will help protect them over winter. They will require watering in the first season only as they establish, and an annual feed of slow-release fertiliser in spring will keep the plants healthy. If your growing conditions have water-logging soil and are very exposed, they love to sit in containers, the limited conditions mimicking their native environment. Deadhead after flowering to encourage further flowers.
Use:
As stated, Agapanthus like to fill out and occupy a container; the conditions encourage flowering. If in containers, a little and often feed of seaweed extract during spring and early summer will benefit them. Plant in drifts, possibly among rocks or stones, for that Mediterranean effect.
Tip:
Researching native habitats always gives pointers to what makes plants comfortable. Clues can be sought about soil, aspect and hardiness when looking at plants' background and research makes for a more successful gardener.
---
Description:
If you have been on holiday in Spain, Portugal or Greece, you would have seen the architectural forms and beauty of the Palm tree. No Mediterranean Garden is complete without the presence of a Palm. This Chamaerops is a hardy specimen, tolerating temperatures as low as minus 13 degrees; so it is perfect in UK living conditions. It is ideal for the small Mediterranean garden, growing slowly to reach two metres in height and two metres in width. Like all our southern European plants, it loves a nice sunny spot, however, it is willing to put up with more exposed conditions.
Care:
When planting Palms, consider their like of well-drained soil. Mix plenty of compost into the planting hole, with a sprinkling of slow-release fertiliser and some grit in heavier soils. Palms need encouragement to get roots down in their first year, so regular watering is good husbandry. A thick mulch of compost in autumn in colder regions will protect the plant's roots.
Use:
This is the perfect specimen plant for an arid garden; plant it in a prime position where it will stand out and draw the eye. Chamaerops will also grow in containers, but protect them in the winter by standing the pot up on bricks and wrapping the crown in hessian if very cold weather is forecast. Underplanting with silver or green ground cover plants to lift the architectural qualities of this Palm.
Tip:
Nutrients can be re-imbibed from dying leaves on Palm. Let them completely die back before removing them.
---
Description:
This classic shrub is often overlooked by many modern-day designers, however, if you want a plant to do a good steady job in your garden, then these evergreen shrubs do exactly what they say on the tin. They have no problem with dry conditions, and their profusion of magenta flowers with orange/yellow centres are abundant throughout summer. This floral display is more pronounced due to the downy grey-green foliage they bud on, and the whole shrub will grow to 60 centimetres in height and width. Like all Mediterranean plants, it loves the sunshine so avoid planting in the shade.
Care:
Cistus has no problem in poor soils but avoid any that waterlogs. Lightly cut back shoot tips after flowering and cut out old dying stems as the plant ages, being careful to retain shape. Deadheading will encourage further flowering production. If the soil is heavy add horticultural grit. Add an annual mulch of a light compost such as leaf mould, each spring.
Use:
Drift plant Cistus in threes or fives to get the best effect; interspersed with plants that have silver foliage make these shrubs stand out. Cistus is loved by Bees and that is always a good reason to include it in any Mediterranean style garden.
Tip:
When planting with arid-loving plants they greatly benefit from gravel or pebble mulches, particularly if the soil is heavy. This will lessen the chances of rotting in very wet periods of weather. This not only looks good but perfectly suits the Mediterranean-style garden also.
---
Description:
Silver foliage is always a central theme in an arid garden and this spreading evergreen shrub has plenty of intense silver narrow oblong leaves. Reaching up to 60 centimetres in height and width, it is the perfect foil for hard surfaces such as rocks or darker green plant specimens. However, its silver foliage is not its only merit in the Mediterranean garden; it has eye-catching bright white single flowers all summer that start to appear in spring and continue throughout the summer generously spreading out over the plant. This Convolvulus likes to be sited in a sunny aspect.
Care:
Convolvulus prefers a free draining soil and will struggle in clay, but if you are still keen to grow this plant and have a clay substrate, not to worry; it is quite happy to grow in a container. Mulch around the crown with horticultural gravel to prevent the plant from getting too wet. Add a little sprinkle of slow-release fertiliser each spring.
Use:
A great ground-cover plant that looks very much at home when planted around gravel, pebbles or against rocks. Its intense silvery foliage is a great foil for deep green leaves; try tapestry planting with other green-leaved shrubs in a bed or border. If a container is your choice of planting position for this plant, then plan a few around the edge of the pot at the feet of a good specimen tree or shrub.
Tip:
With soft-wood shrubs like this Convolvulus, it is a good idea to give them a hard prune every few years. This stops them from getting too leggy and tatty, encouraging fresh new growth.
---
Description:
Larger shrubs can form the backbone of a Mediterranean garden, and the Portuguese Laurel will add structure to a border or perimeter of a garden. This hardy evergreen shrub has dark waxy leaves that are narrow and ovate in shape, born on dark red shoots. It produces spikes of white flowers in early summer, followed by dark purple fruits. A superb hedging subject, this Prunus is happy to grow in all soil types but will need it to drain freely. They are happy in full sun or partially shady aspects and if allowed will grow up to ten metres, but don't let that put you off as they do not mind being clipped.
Care:
Well-drained soil will soon get these plants established; add plenty of compost at planting time, although this Prunus does not need particularly fertile soil. Clip with sharp shears when needing to reduce the size (this operation is best carried out little by little, removing tip shoots regularly.)
Use:
This is a perfect boundary plant if wanting a live perimeter to the garden. Stagger plant for a hedging effect. Easy to grow in containers and looks great planted on either side of a pathway or doorway. The Portuguese Laurel can be clipped into shapes such as standards or pyramids if so desired.
Tip:
Sometimes it is tricky to grow larger plants in the seaside area with salt-laden winds and chalky soils. Prunus Lusitanica is fine in these winds, its thick waxy leaves protecting its moisture content. Look for this characteristic in a plant when thinking about planting on a windy site.
---
Description:
Once these classic Mediterranean plants would have been considered as impossible to grow in the UK, but with milder growing conditions they are becoming a more common sight. These truly incredible plants can live for over a couple of thousand years in parts of the Middle East. Primarily grown for their much-desired fruit and oil, they also make great ornamentals. Their small narrow leaves have a leathery mid-green texture on the surface and silver on the underneath; they shimmer and rattle in the wind. In warm weather they produce tiny white flowers followed by black fruits. This is the Gardening Express Olive, sold as a mini standard which is perfect to add that Mediterranean feel to gardens of any size.
Care:
Avoid cold winds when growing Olives, and pick a nice sunny spot to draw the eye. Stake in the first season whilst it gets down roots, watering as the plant desires. Olives are capable of a hard prune. Reduce the crown to encourage new fresh bursts of leaves. In colder parts of the country, Olives will need winter protection pruning. Apply a thick mulch in early autumn to keep those roots safe from frost.
Use:
Olives are happy in containers and look fantastic in a big terracotta pot, truly giving the Mediterranean feel to any garden terrace. Planting in open ground makes sure this special plant is used as a focal point.
Tip:
Avoid planting in frost pockets when planting Olives. These are dips in the terrain where cold air gathers and can cause air frosts, damaging the foliage.
---
Description:
Many 'Mediterranean style' plants have the advantage of being very architectural. Unusual shapes and forms give them good planting scheme merit and this Cordyline is certainly qualified to be included in any arid planting scheme. This Gardening Express variety has spiky sword-shaped leaves that are bright green and form magnificent spiky crowns that look striking against a blue sky. Sprays of white flowers are produced in summer. As they mature, this evergreen shrub, produces multiple stems and crowns of foliage, giving the garden a real exotic effect. A full-grown Cordyline will reach up to 8 metres over time but will stay smaller in the UK climate. Plant in a sheltered position out of cold winds in a sunny or partially sheltered position.
Care:
Cordylines like free-draining soil that enjoy a mulch in the autumn. An occasional liquid feed with seaweed extract will stop any nutrient deficiencies. Cut out any dead leaves from time to time. If you are planting in particularly cold areas, tie up the foliage and wrap the trunk in fleece during winter, although an older mature plant will become hardy to the cold.
Use:
Use at the back of a border, its height and architectural qualities will really lift the garden or site behind south facing seating areas, making for a dramatic backdrop. Cordylines are quite content in containers, which will contain their size, if you fancy growing one on a balcony.
Tip:
As the Cordyline develops multiple heads it's a good idea to remove the odd offshoot crown. This allows the plant to concentrate on its developed physical structure and if you place the removed crown in sandy soil a new Cordyline will root and begin to grow.
---
Description:
Gardening Express has a great selection of Lavenders, including some real stand-out performers. 'Munstead' is an old favourite of the gardener and are small evergreen plants perfect for the arid garden. The grey-green leaves are aromatic, making them a great ornamental feature which provides a foil for all sorts of other plants. In mid to late summer, it produces short spikes of flowers that pale to deep purple. This Lavender will enjoy a sunny sheltered spot and reach a height and width of one metre.
Care:
This English lavender loves the same horticultural attention that its relations enjoy. It is a lover of sunshine and will happily grow as long as its roots are planted in free-draining soil. Heavy soils may cause problems for Lavenders, so if drainage is impeded add grit and compost to the soil; seaweed meal or green manures are also good at conditioning if applied before planting. Trim back old flowering spikes once they have become spent, taking a couple of centimetres of the tips of the branches. Naturally, a Lavender will try to spread out by layering into the surrounding soil, and a light clipping of their growing tips will keep them compact.
Use:
Planting as a low hedge along pathways or borders makes the most of Lavender. They are great in numbers but are ornamentally strong enough to be planted as a single specimen. It looks great around taller plants. It can be planted in containers but will need replacing after five or six seasons. Bees love it too.
Tip:
Removing the small dead leaves that build up in Lavender will keep the plant looking fresh and help protect it from disease. Remove by picking over the plant by hand, it is a touch time-consuming but very therapeutic.
---
Description:
Sages come in many shapes and forms, making them a fundamental addition to the Mediterranean garden. They have low water requirements and are often loved by pollinating insects like our precious Bees. This particular Gardening Express variety is a real little cracker, a compact perennial which has deep violet-purple flower spikes that appear abundantly in late spring to early summer. These striking flowers are set off by mid-green, narrow pointed leaves, with the whole plant reaching up to 50 centimetres in height and width. They prefer a sunny aspect and like a free draining loamy soul.
Care:
If on clay or heavier soil, break down the clay with compost and soil conditioner. Otherwise, this Salvia is quite happy to grow in containers. Once the flowering is spent, prune back the shoots, removing the dead flowers and a couple of centimetres of the leaf tips. This will stop the plant from getting too leggy and encourage new growth. Leggy, older stems can be pruned out. Adding an organic mulch in early spring and a few feeds of seaweed extract in late spring will keep this plant healthy.
Use:
These plants look great in numbers in the garden, a short avenue of these looks amazing, framing a short pathway. It is also a great plant nestled in numbers through a border. For small spaces, this plant is happy in containers.
Tip:
Mildews and Botrytis are funguses that can affect the leaves of Sage plants. If spotted, remove from the plant immediately. If a bad infection occurs, then in autumn remove all the foliage from the growing space to stop the fungus overwintering in the soil through winter.
---
Description:
Great varieties of Phormium have come into the gardening world in recent years and their upright, arching, architectural form make them popular in Mediterranean gardens. This Gardening Express variety has special foliage; the sword-like leathery leaves, green striped with cream towards the margin provide year-round structure and interest.
The Phormium is a tough plant and will reach a height and width of nearly two metres. It prefers a free draining soil and grows in either sunshine or partial shade.
Care:
These prefer a sandy loam; so if you have heavy soil, mix in plenty of horticultural sand or grit, preferably mixed with a good organic matter. Quite a tough plant but really cold weather will damage foliage and maybe roots. Thick mulch in the autumn will help protect your Phormium.
Use: Very architectural plant, in a garden plant against a dark-leaved plant with a differing shape. Dotted through a border, preferably at the front, will get the most from these plants. Will survive in a container with regular feeding.
Tip:
Remove spent leaves by using secateurs, and cut them right down at the base helping the Phormium to form a decent clump.
---
Best plants for drought conditions
A Mediterranean-style garden is perfect if you have a south-facing garden or live in an area that doesn't receive a lot of rain. In the following video Chris Bonnett, a gardening expert for The Express newspaper, introduces some of the best drought-tolerant plants to beat long, dry summer periods.
Mediterranean Garden Inspiration
If you are inspired to create a Mediterranean garden at home, then consider some of the following ideas to further help create the look. Also look at some great Mediterranean and gravel gardens such as Kew, Beth Chatto's, Hyde Hall and Torre d'ariant Mallorca
Gravel Floor – in a small garden or an area of your garden, consider losing the lawn and having a gravel garden.
Clipped hedges & topiary
Painted walls (you can create the look of a rendered wall out of marine grade plywood clad fence-line)
Add a pergola – paint it black- its daring but effective
Look at this Mediterranean garden designed by Paul Baines MSGD for how to design a pool into a garden design.
Garden designer Karen Chamberlain has designed a Mediterranean garden in Essex with extensive paving and gravel areas
For further information on establishing a wonderful garden, read our guide to garden design principles.
---
Sources/references:
Mediterranean Gardens: A Model for Good Living by Louisa Jones – Bloomings Books, 2013, ISBN 978-0992290092.
Nicole de Vésian – Gardens. Modern Design in Provence by Louisa Jones
Planting Design for Dry Gardens (2016) by Olivier Filippi
Plants for Mediterranean Climate Gardens (2003) by Trevor Nottle
Sun Drenched Gardens: The Mediterranean Style (2002) by Jan Smithen
Mediterranean Gardening: A Waterwise Approach (1995) by Heidi Gildemeister
---
Notes
When starting in any garden it is always important to understand the unique conditions of your garden space. No two gardens are identical, with every garden having its special microclimates, soil, and growing conditions. All our guides and information are provided as general guides, and garden owners need to do their own research for each and every plant before planting. We cannot accept responsibility for plant establishment and survival in individual gardens.
Download Booklet
Download our printable garden style: Mediterranean Gardens – What are they? How do I create one? The best plants to make a Mediterranean garden.