What is a modern garden?
Contemporary living is diverse; the same said for modern garden design. Gardens are essentially an extension of the living space and a means of escaping the relentless pace of life. The average garden size has got smaller as the population increases, but this shouldn't be an excuse to create your private oasis. Modern housing also uses different materials from bygone years, with materials such as glass and cladding standing more prominent and eco-housing being more futuristic. As a result, modern garden design has incorporated the same materials to tie in the garden with the house.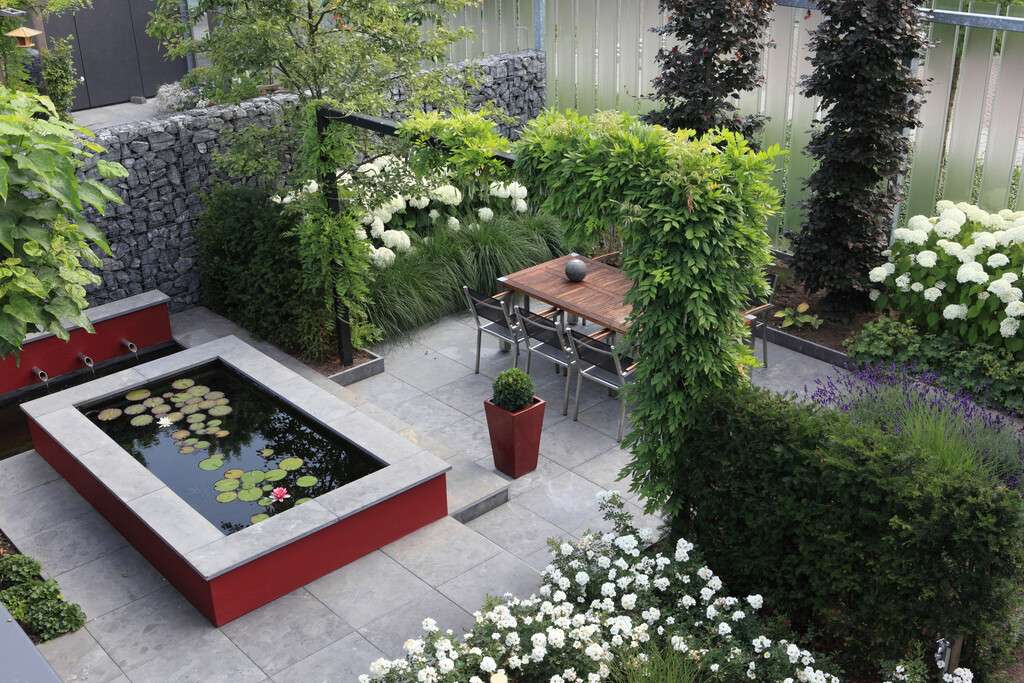 Modern Garden Ideas: Creating a modern Garden
Modern garden design tends to see the garden as an extension of your living area. Gardens often appear geometric and formal whilst employing materials used in house construction. There are several specific considerations when contemplating a contemporary garden.
Materials – modern gardens often employ glass, metal, geometric concrete paving and machined timber. There are no constraints; however, don't overdo it and respect the materials used on the dwelling.
Seating / Dining / Cooking / Furniture – modern gardens can act as an additional dining area; if this is the case, try to construct a generous seating area. Investigate early-on the type of garden furniture you will be buying, as the furniture itself will define the look and feel of the garden. There are some incredible outdoor cooking products now available – even IKEA sells garden kitchens
Plants – Modern gardens like to employ architectural planting where the foliage of the plants is more significant than the flowers themselves – look at our recommended list below.
Boundaries – Your garden fences, walls and boundaries will play a significant role in defining the finished look and feel of the garden. Consider alternative materials such as rendered blockwork or modern screens, such as those of Screen with Envy. 
Levels – changes in tiers within a garden add significant interest. Decking offers a cheap way to create level changes, whilst gabions are a modern retaining wall idea.
Lights – Lighting in the garden extends the amount of time that you can gain enjoyment from your garden. Consider once again how you intend to use your garden and at what times. A beautifully lit garden can be a significant extension of the house. Modern solar-powered lighting also means that garden lighting can be cost-effective.
Structure – Garden structures have taken on more importance since Covid with so many people working from home and installing a garden office. Additionally, for people stuck at home all day, a garden room offers a way to escape from the house. There are so many available options that you are spoilt for choice. 
Water – a water feature can enhance every type of garden and especially a contemporary design. I enjoy a reflective pool but again the choice of water features grows by the day. Keep your focus on all the other design elements you have selected and ensure consistency of design.
Accessories – Give some thought to how you want to dress up your garden. Planters can provide you with the means to inject some accent colour and plants into an otherwise empty space. Modern gardens without the right accessories can look stark and harsh – give them a little bit of personality. Be more adventurous and add some wall features such as external canvases.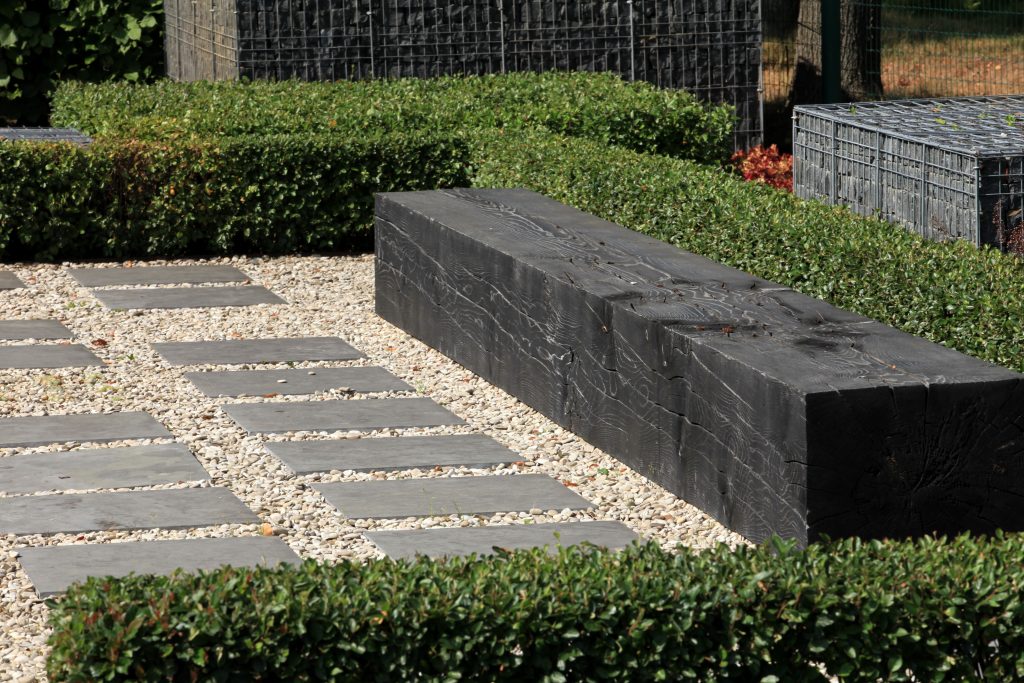 How to create a modern garden in 10 steps
Plan: Start by thinking about how you use the space. Is the garden for entertaining, eating or just relaxation? Consider maintenance requirements and how much time you can devote to upkeep. Think about the style and what plants will help to shape this.
Sketch: Sketch where you want the various garden elements to go. You must carefully measure the space, then start by identifying the key areas, such as the seating zones. If the garden is small, you may want to consider where you place garden features to draw the eye. Make a note of where pathways will be placed to join the various areas of the garden
Clear the space – Its time to clear the garden, and remove anything that isn't staying
Mark out the space – Use a rope or spray can to identify paved areas, planting areas and structures. Walk around the garden space and gauge if the seating areas feel adequate.
Establish changes in level – The first bit of hardened landscaping is to create the changes in tiers. If your garden is on a slope, you may need to build some retaining walls. If your garden is flat, consider using decking to create changes in levels.
Hard landscaping/water features – build your paved area, paths and bases for any structures. Make changes to your boundaries and fencing. Additionally now is the time to set up your water features. Consider installing irrigation to reduce maintenance time.
Construction of structures/buildings – install your garden structures and any outdoor buildings
Improve soil – before planting, ensure that your soil is going to help your plants to establish and thrive. Contemporary garden planting often includes bold architectural foliage plants that require decent free-draining soil.
Plant: Your garden finally comes to life when you install plants into your garden.
Accessorise: it's time to dress your garden with furniture, planters and wall art.
---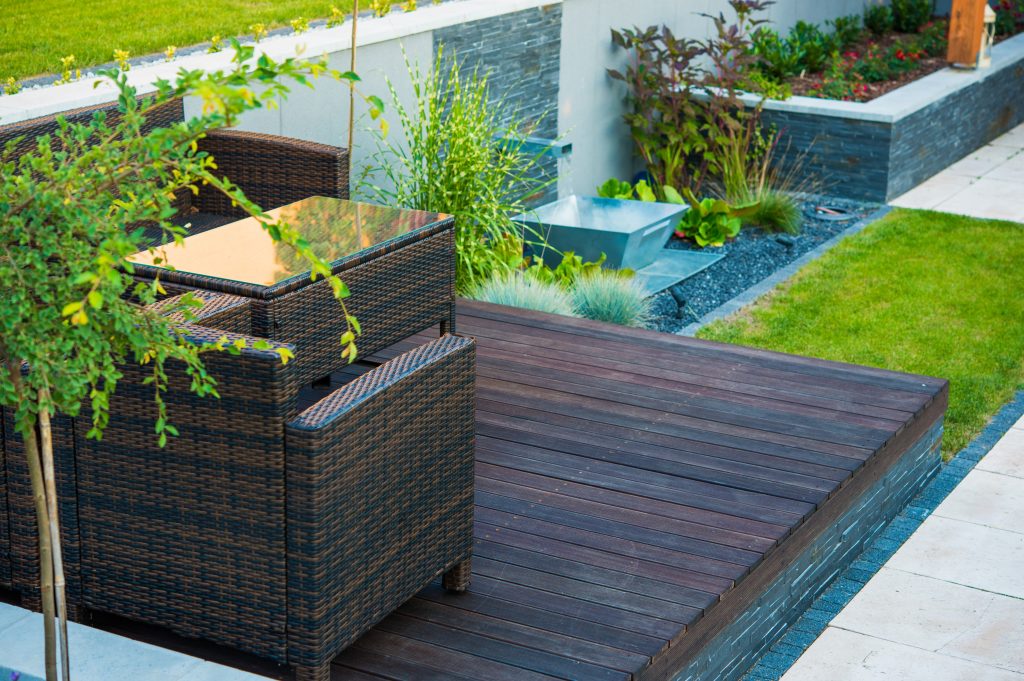 Top 15 Plants For a Modern Garden
Description:
This is a real a formal gardens favourite, found in great formal gardens such as Versaille and Hampton Court. It can grow into a large evergreen shrub reaching up 5 meters, but it is rarely seen in this form. Its ability to take heavy pruning and clipping means it is clipped into many shapes. it is true to say nothing says formal like the Box plant. Its small oblong glossy leaves are dense and profligate due to close clipping.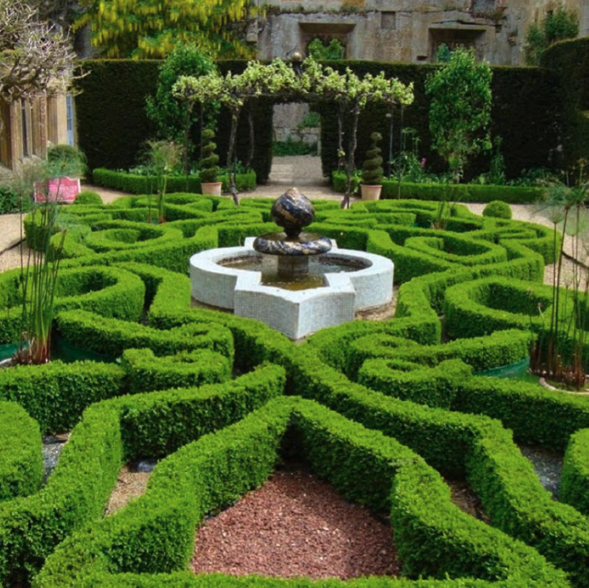 Care:
Regularly clip throughout the summer to encourage new growth; it will thicken the plant. Further this by applying a foliar feed a few times in spring.  If pruning Box into shapes, the art is not going too hard on the plant; little and often is the key.
Use:
The plant can be moulded into incredible shapes. Plants pruned into balls or twists or full-blown topiary have been common on the British Isles for centuries. Perfect in any size formal garden and quite happy in containers, use Box to make your garden space regal.
Tips:
Prune these plants gently using Shears only, An electric trimmer will tear at the foliage and cause damage and should only be used for larger hedge specimens like Privet. Keep shears nice and sharp and oil after use.
---
Description:
Euphorbias are a popular early summer garden plant, loved for their acrid yellow-green foliage. There are over 1500 different species of Euphobia so the modern gardener has lots of choices. Euphorbia 'Ascot Rainbow' (Martins Spurge) forms a mound of stunning creamy-edged leaves with a pink-flushed interior. Euphorbias have an architectural appearance that becomes more fascinating the closer you get. Ascot Rainbow grows up to a meter in height and spreads up to 75cm.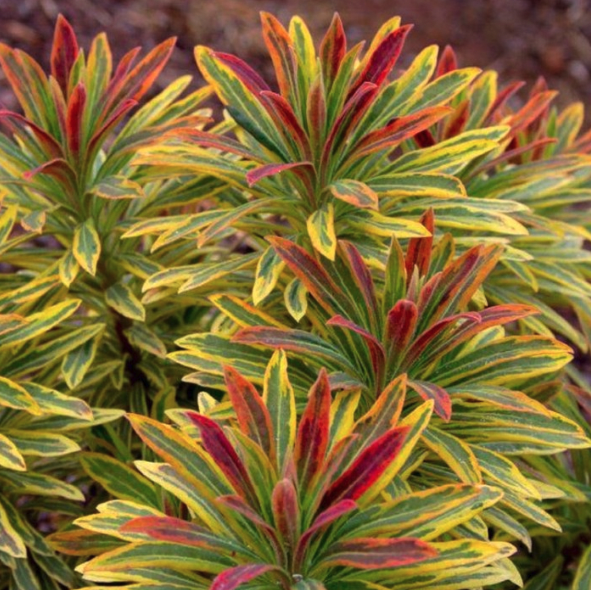 Care:
Grow Euphorbia 'Ascots Rainbow' in well-drained soil, ideally in full sun – partial shade. To stop Euphorbias from becoming leggy, cut back flowered stems once the flowers have died back.
Use:
The Euphorbia is a very versatile plant at home in the formal modern garden and cottage and informal gardens. It is considered drought tolerant, so is a favourite in gravel gardens and where maintenance needs to be kept to a minimum.
Tip:
All parts of the Euphorbia are highly toxic if ingested whilst the sap is an irritant, so wear gloves and glasses when handling. 
---
Description:
Grasses are a real asset to a garden when chosen and planted with thought. Their fine foliage and feathery flower heads are great for capturing light and wind. They are excellent foils for other plants, particularly large-leaved specimens or deciduous forms that can be heightened through the winter months. Carex comans 'Frosted Curls' is primarily grown for its foliage which is slender, silvery green and shimmers in the breeze. Its height and spread are up to 50cm, and it will take both a sunny and partially shaded aspect. It will grow in an exposed north-facing garden in a wide range of soils; in short, for such a gentle-looking plant, it is hard as nails.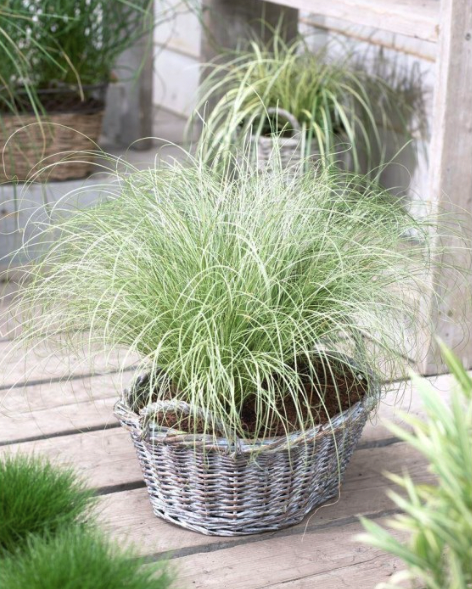 Care:
This tough plant will probably only have one main demand and that is it needs well-draining soil and will dislike soil that waterlogs. Removing any dead leaves will keep it looking at its best, so from time to time just run your hands through its leaves, this removes spent foliage and is incredibly therapeutic. A bone meal base dress at planting time will encourage root development.
Use:
Planted in numbers in a block or filling out a container is the way to get the best out of this Carex. It will look great in a modern garden with a specimen shrub or small tree rising out of it, particularly a multi-stemmed tree.  Great for cascading over the side of containers or raised beds.
Tip:
Evergreen grasses can become tired after a few seasons, but that does not mean they are finished. In autumn, re-invigorate them by cutting them back and lifting and dividing and then replanting. Top-dress with a good slow-release fertiliser and attention to watering come the spring.
---
Description:
For a tough but exotic-looking plant, very architectural by nature, look no further than Cordyline 'Red Star'. Planted singly in a container or to the side of a doorway, this plant makes a statement with its spiky lance-like leaves that come in burgundy deep red. These spiky leaves grow from a crown adjacent to a single stem; however, as the plant ages, it can produce multiple stems and crowns that reach 1.5 metres in height and reach. Proving its versatile nature, it is happy to grow in both a sunny and partially shady spot.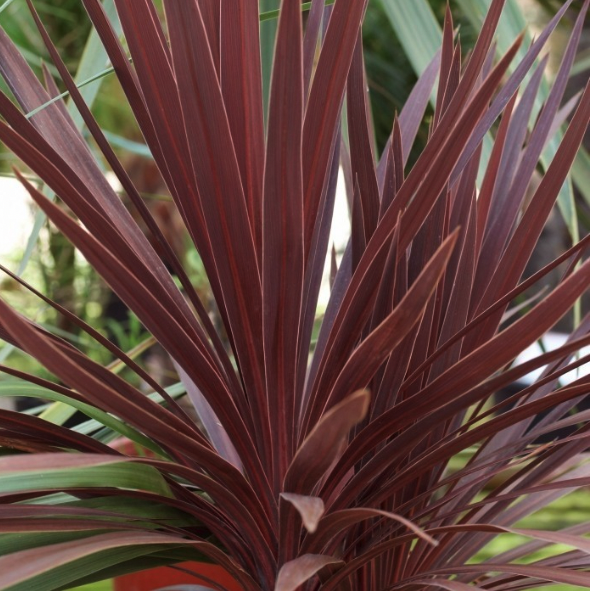 Care:
Avoid cold, windy spots if possible and plant ideally in loamy soil. If your soil is a heavy clay, mix plenty of grit and well-rotted manure into the planting pit. Alternatively, grow in a nice big terracotta pot with decent potting compost. An annual sprinkle of slow-release fertiliser will keep this Cordyline happy.
Use:
This is definitely to place into your garden as a specimen plant. Site it somewhere its shape and colour can be fully appreciated, the centre of border, near an entrance or in a large pot on a patio or terrace.
Tip:
The leaves of this Cordyline are quite sharp and so keep away from pathways corners or edges, especially if there are young children around. Alternatively, use them as a barrier or defence in any area of the garden that is vulnerable to entry.
---
Description:
Hydrangeas are a graceful, special genus of shrubs; they always stand out in a garden. Hydrangea 'Limelight' is a superb addition to a modern outdoor space. Its flowers are truly amazing, conically shaped and up to 30cm in size; they are that beautiful subtle lime green colour.  The flowers are long-lasting and gradually fade to white, tinged in pink. The floral display appears in autumn to mark the change in the seasons, but the plant is so much more as it has striking yellow-green leaves and pale grey-green stems that may tinge pink in cooler temperatures. Hydrangea 'Limelight' will grow up to 2 metres in height and width and is happy to grow in sun or partial shade and can cope on an exposed site.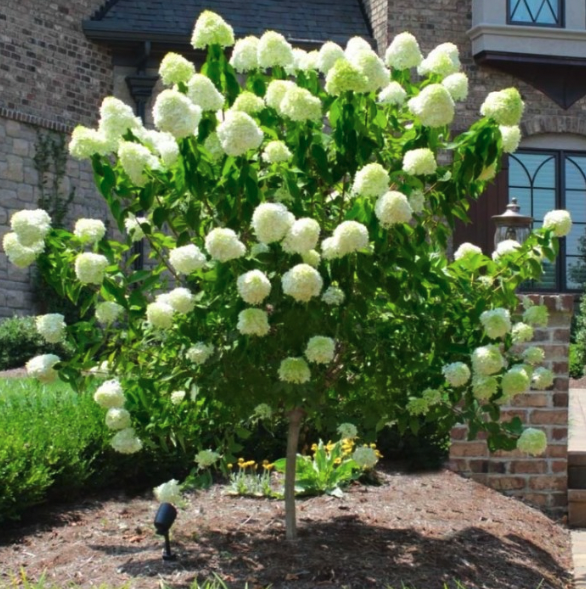 Care:
This Hydrangea is truly Winter hardy, growing in all soils bar chalk. It needs moisture-retentive soil that is not prone to water-logging so plenty of organic matter as a base dress and as a mulch applied in spring will aid this requirement.  Retain dead flower heads though out the winter before deadheading in the spring.
Use:
A Specimen shrub, although if you have the space, a small grove of three or five will look amazing. They can cope in a large pot with some under-planting but may need replanting after a few years. Planted along with a small tree with a similar seasonal nature will bring out the best in these wonderful shrubs.
Tip:
Medium to larger shrubs benefit from layering, which helps them spread and can even produce offset cuttings that can be lifted and planted elsewhere. Gently pin down a low branch to the soil with a tent peg. Do this in the spring and check for rooting in late summer; if the branch has rooted, remove it with secateurs and pot it up to grow on.
---
Description:
The Bay tree is another commonly found plant in formal gardens. if left to its own devices it will grow to an 8-metre evergreen shrub, although that can take up to 30 years. More commonly, it is pruned into a standard shape and placed in containers outside doorways, making it perfect for the modern garden. Its leathery green, ovate leaves are dense, and the plant also produces small yellow-green flowers in spring, preceding glossy black fruit. Bay is a tough plant, growing in all aspects and soils and will take an exposed site.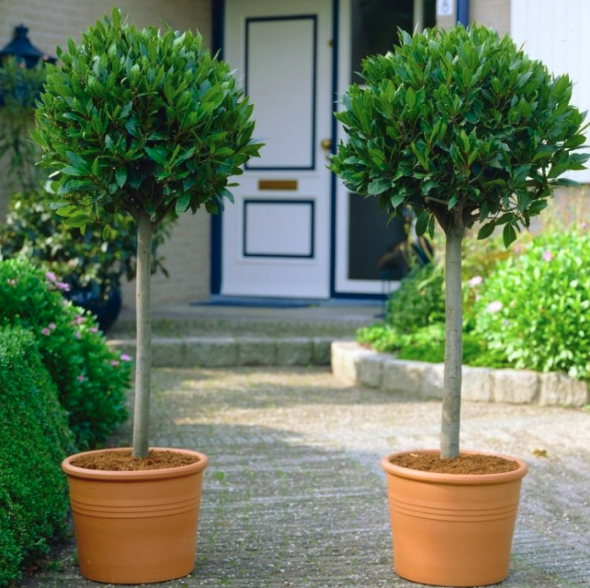 Care:
A few foliar feeds, preferably with Seaweed extract in spring and early summer, is a good practice. Top-dress with mulch in early spring, and if growing in a container, add slow-release fertiliser. Clip out any damaged leaves and if shaping your Bay tree, a little and often is a good pruning policy.
Use:
More formal garden royalty that can be trimmed into formal shapes such as standards and pyramids. Happy to grow in containers if space is short, but a formal patio or terrace is desired. Shaped Bay trees make great knot garden center pieces.
Tip:
A decent foliar feed, like Seaweed extract, diluted in water and either sprayed onto the plant in a water sprayer or diluted into a watering can, is a great boost to an evergreen plant. Seaweed is particularly effective as it contains multiple nutrients and acts as a tonic. It is also very quick acting.
---
Description:
'Flaming Salix' is a real talking point in a modern-style garden, and it's a hard plant to ignore. Long narrow foliage from which it gets its name flushes deep pink in spring, covering its entire surface. The leaves then become mottled with green-white and pink as they age but there may be a second flush of pink later in the summer. Its younger stems are orange-red in colour, and yellow catkins can be seen in spring as the leaves start to break. It's a fast-growing tough tree reaching 2.5 metres and will prefer being grown in sun but is tough enough for an exposed site on any aspect, it is also quite happy in a pot.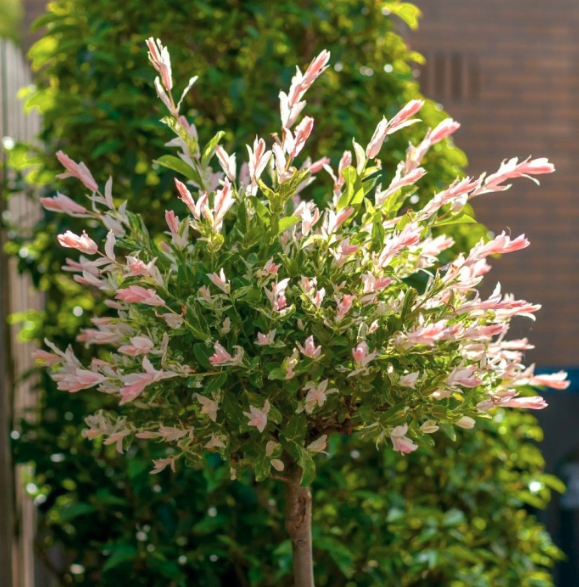 Care:
Grow in moisture-retentive fertile soil, and add organic matter in spring as a mulch to keep the soil in good shape. Careful pruning of the previous seasons' wood in late winter will encourage a repeat of the orange and red stems and make the pink flushes more pronounced. A good rule is growing to the desired size and then pruning to a framework in future years. A top dress of bone meal after planting will help the roots of a newly planted plant establish. 
Use:
Grown commonly as a standard plant. its head is clipped into a rounded shape grown from a single stem. Its bright colours will stand out nicely against a light-coloured wall or lit-up background. Planted as a pair in containers on a terrace or patio will also look great but make sure they get plenty of water.
Tip:
Clip regularly to maintain shape and remove any shoots coming from the base of the stem. Position in pairs outside the front of a doorway for impact.
---
Description:
Once these classic Mediterranean plants would have been considered an impossible to growing the UK but with milder growing conditions are becoming a more common site. They truly incredible plants that can live to over a couple of thousand years in parts of the middle East. Primarily grown for their much-desired fruit and oil they also make great ornamentals. Their small narrow leaves have a leathery mid green texture on the surface and silver on the underneath, the shimmer and rattle the in wind. They produce tiny white flowers which may produce black fruits but that is not always guaranteed in the UK. Gardening Express Olive plants are tolerant most soils but need a sheltered sunny spot.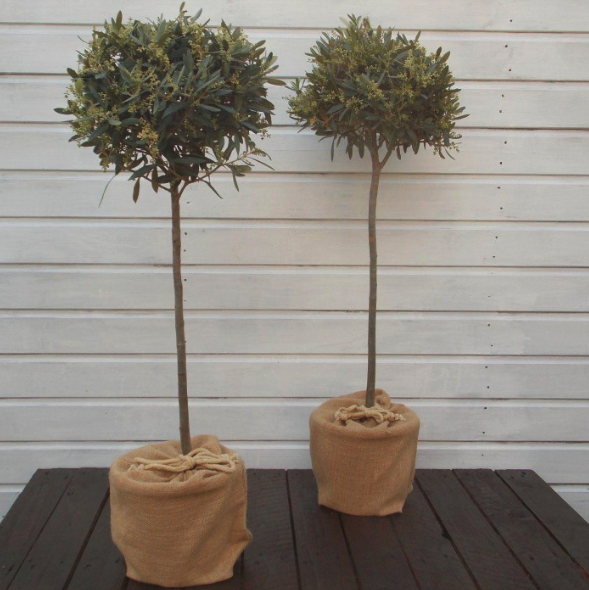 Care:
Avoid cold winds when growing Olives and pick a nice sunny spot to draw the eye. A low stake in the first season whilst it gets down root is desired as is watering. Olives are capable of hard prune and the crown can be reduced to encourage new fresh bursts of leaves. In colder parts of the country, Olives will need winter protection pruning; apply thick mulch in early autumn to keep those roots safe from frost. 
Use:
Olives are happy in containers and look fantastic in a big terracotta pot, truly giving a Mediterranean feel to any garden terrace. Planted in open ground make sure this special plant is used as a focal point.
Tip:
In colder areas, it is trickier to grow the more tender plants like Olives, however we can take measures to protect these plants through the winter months. Protect the roots by spreading a good thick compost mulch up to 7.5cm in depth around the plants base in the autumn. To protect from cold winds, gently wrap the crown and foliage in fleece or hessian.
---
Description:
The New Zealand flax (Phormium tenax variegatum) is a plant that fits well in various garden types but looks great in a formal modern garden. Its' tough leathery, sword-like leaves form arching dense clumps of foliage. It is an evergreen perennial by nature, and its leaves are variegation of green and cream and can reach up to 1.5 metres in height and width. In spring, it sends out large panicles of large dull red flowers. Phormiums enjoy a full sun position but tolerate all the ranges of soil. It takes both sheltered and exposed sitting.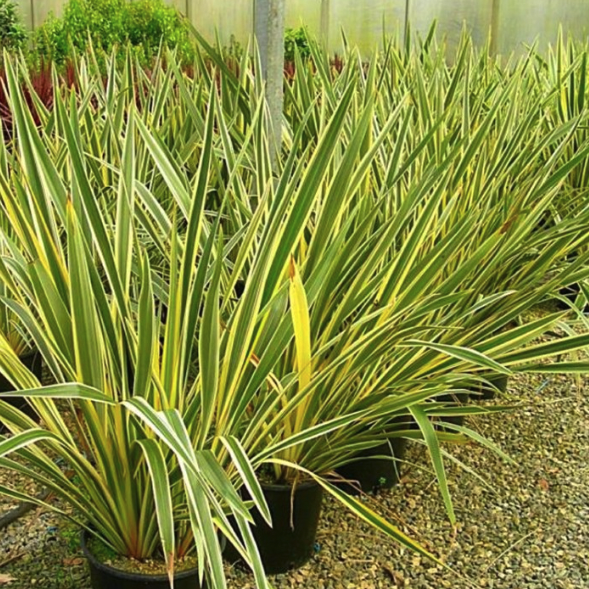 Care:
In an ideal world the Phormium prefers a good loamy soil so if its heavy clay, mix in plenty of horticultural sand or grit, preferably mixed with a good organic matter. Phormium is a tough plant, but really cold weather will damage foliage and maybe roots. Thick mulch in the autumn will help protect it and water in the first growing season as the plant is establishing.
Use:
Would look great in a tall narrow container to accompany its lanceolate upright leaves. Rising out of lower ground cover planting also emphasises its wonderful, variegated leaves. A modern-looking plant for a modern garden.
Tip:
Over time these plants can form thick clumps and as older leaves are cut back the plant can become unsightly. If this happens dig up your Phormium in autumn and using a spade divide it up into quarters or more dependent on its size. Clean up the roots and replant or pot on. 
---
Description:
Larger shrubs can form the backbone of a Modern garden, and the Portuguese Laurel will add structure to a border or perimeter of a garden or even be planted in containers. This hardy evergreen shrub has dark waxy leaves that are narrow and ovate, born on dark red shoots. It produces spikes of white flowers in early summer, followed by dark purple fruits. A superb hedging subject, this Prunus is happy to grow in all soil types but will need them to drain freely. They are happy in full sun or partially shady aspects and, if allowed, will grow up to ten metres but don't let that put you off, as they do not mind being clipped.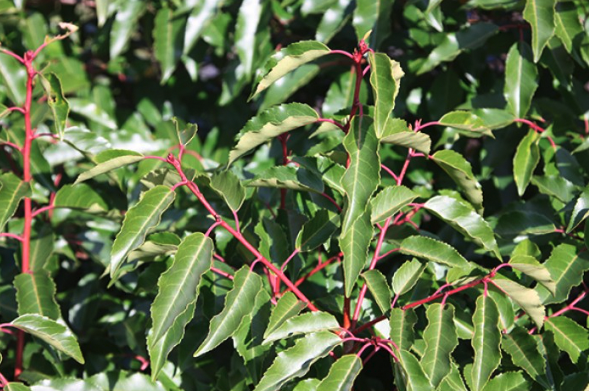 Care:
Healthy, well-drained soil will soon get these plants established, and plenty of compost at planting time, but this Prunus does not need particularly fertile soil. Clip with sharp shears when needing to reduce the size, and this operation is best carried out little by little, removing tip shoots regularly. An application of slow-release fertiliser in spring will be beneficial.
Use:
This is a perfect boundary plant if wanting a live perimeter to the garden. Stagger plant for a hedging effect. Easy to grow in containers and looks great planted on either side of a pathway or doorway. The Portuguese Laurel can be clipped into shapes such as standards or pyramids if so desired.
Tip:
When trimming a lusitanica plant, beware of nesting birds, in fact, its best to leave trimming until May when the bird fledglings would have left.
---
Description:
A bright and cheery climbing plant that has an exotic look and feel about it. Campsis will look great softening the hard front of a plastered wall or rambling through some railings. Campsis 'Indian Summer' is a deciduous perennial with dark green compound leaves and produces stunning trumpet-shaped yellow-orange flowers that appear from mid-summer and last into autumn. They climb using ariel roots which further gives them that tropical feel. They can get quite large, up to 4 metres but will take a haircut if required. This climber is perfect for a nice sunny wall.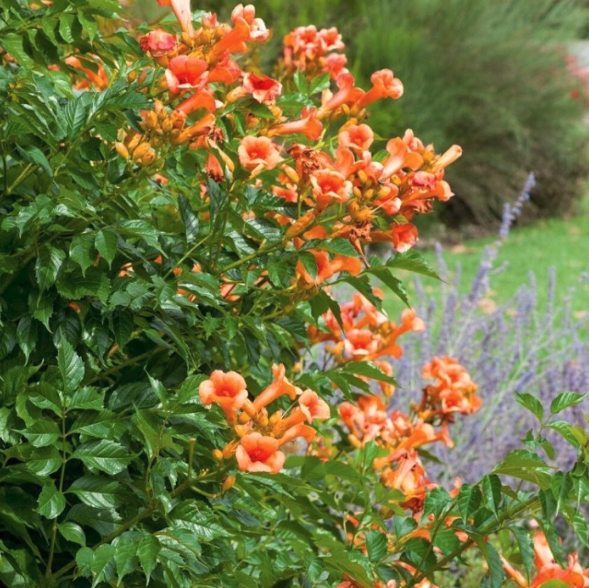 Care:
Plant Campsis 'Indian Summer' in loam-rich soil, adding compost or well-rooted manure if the soil is poor or heavy and needs it.  A few good foliar feeds of Seaweed extract early in the season will keep this plant healthy, as will a little sprinkle of slow-release fertiliser. Pruning back the flowering wood after the flowers have become spent will encourage new growth to produce the following years' flowers.
Use:
Planted on trellis on a South facing wall is the perfect spot for climbing Campsis. Plant seasonal bedding like Begonia at its feet to add to the exotic feel. You can plant Campsis in a container, trough or raised bed, but attention to watering and feeding is required, however, it's fair to say that this plant is well worth it.
Tip:
Plants that flower in mid to late summer have usually flowered on growth that was put on in the current year, prune back the old flowering shoots in autumn or early spring so the plant will produce new flowering material.
---
Description:
A relation of the Holly, this evergreen shrub or small tree, has a dense habit with small spiny glossy green leaves and small white flowers born in summer and followed by black fruits in autumn. It has real garden merit as it is easily pruned into a low hedge or clipped into an evergreen specimen feature. Ilex crenata is happy in sun or partial shade and is happy growing in an exposed site having the ability to withstand cold winds. If left to grow on its own accord, this slow growing plant will reach up to 8 metres.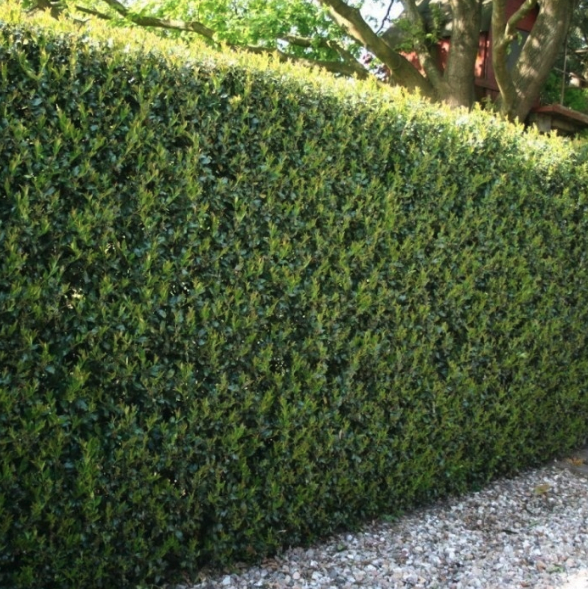 Care:
Grows in nearly all soils but will not like its feet too wet, so it needs to be free draining Apply slow-release fertiliser. Clip regularly through the growing season with sharp, clean shears. If growing as a larger specimen under plant with woodland ground cover and bulbs
Use:
A versatile plant that can be grown to form an excellent dwarf hedge. As a shrub, it can be clipped into shapes or let grow as a small tree or large shrub. Ilex is bird friendly plant if allowed to grow, it's good to under plant with woodland ground cover and bulbs.
Tip:
All good gardeners use lines to mark out their work. If using this Ilex as a low hedging subject use a gardener's pegs and lines to mark the planting area. This invaluable tool is also great to use when clipping your hedge to shape and will keep you literally in line.
---
Description:
This amazing dwarf grass is as near to true blue as it gets. When grown in clusters of sevens and nines, it becomes almost sculpture-like with its neat habit. It combines beautifully in the modern garden with contemporary materials such as galvanised planters and architectural plants such as Phyllostachys nigra (Black bamboo).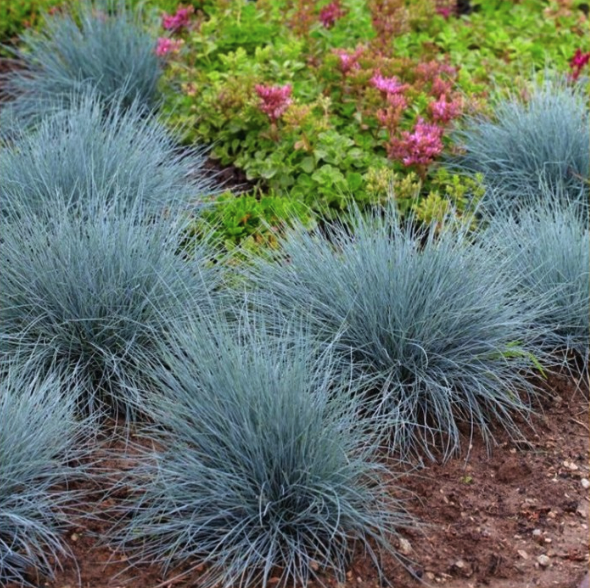 Care:
Grow in poor to moderately fertile but well-drained soil. Full sun is required for the vivid blue colouring to shine through. Comb through the plant with your hand every winter to remove dead foliage and other garden waste.
Use:
The perfect plant for the modern garden but works equally well in cottage and coastal schemes. Piet Oudulf did wonders for grasses and drift planting popularity. Take a look at some of his planting schemes for further inspiration. If you are feeling adventurous try combining with Ophiopogon nigrescens.
Tip:
Divide every three years or so as the centre of the plants tends to die off.
---
Description:
The Photinia genus has become hugely popular in recent years, both with designers and gardeners alike. They are tidy, elegant shrubs that are perfect for the modern garden. In smaller spaces, Photinia can be clipped to shape or grown in a container. The bright pink and red fresh shoots in spring are beautiful and striking, giving any modern garden a lift. The leaves of this evergreen shrub darken through summer but are mottled with a lighter green and are the perfect foil for the large clusters of white flowers in summer, followed by red fruits. Photinia 'Pink Crispy' will reach a height of two metres and a width of a metre plus. It grows in a sunny or partially shady position but in all aspects and tolerates the full range of soils.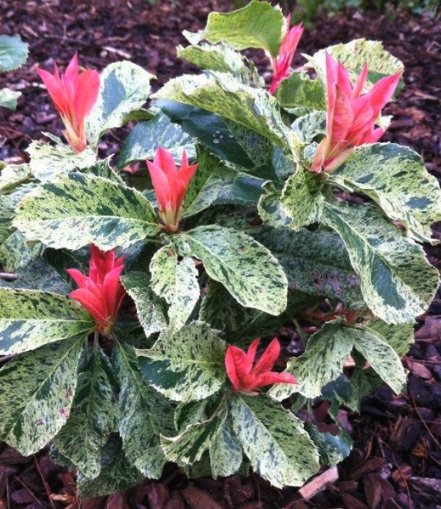 Care:
Plant your Photinia in free-draining soil, if the soil is prone to water logging, add plenty of compost and horticultural grit to the planting pit or plant in a container. It will enjoy being watered well in the first year to aid establishment so keep an eye out for periods of dry weather. A mulch in spring is a good idea as is a sprinkle of slow-release fertiliser. Clip-out tips stems in late to encourage plenty of new coloured growth in spring and keep to the desired shape.
Use:
There are many ways you can use this handsome shrub. If space allows, it can be used as an informal hedge or dotted through a mixed shrubbery. It is fine to grow in containers and can be clipped into an attractive standard. A few of these plants, in galvanised containers on a patio or balcony, will give a modern garden a real lift.
Tip:
Removing weeds may seem like an obvious job but timing is everything. The rule is not to let them flower and set seed. Keep them out at all times, some weeds like Chickweed only take three weeks to flower from germination so observation is everything.
---
Description:
A deciduous, hardy Hibiscus whose late summer flowering and compact shape make it an excellent addition to the modern style garden. The almost tropical-looking flowers are gentle white to soft pink with amazing red heart-shaped markings at the base of their petals. They are born in August, generously covering the plant and present into September. They provide the modern garden with a generous cover of colour as other floral displays of plants end. This Hibiscus Hamabo will grow to around 2 metres in height and is upright, and multi-stemmed in shape. They will be most happy when planted in a sunny aspect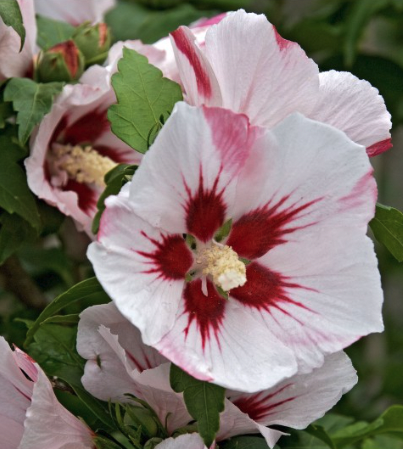 Care:
Hibiscus Hamabo likes a rich soil which does not water-log. Dig in some well-rotted manure at planting time. A liquid feed of a Potash fertiliser will encourage a good flower display. Watering in the first season and in times of excessive dry weather. During the flowering spell, pick off dead heads to encourage further bud production. Hibiscus can be gently clipped to shape into a standard over time.
Use:
This medium-sized shrub looks great in groups of threes and fives if room allows, lightening up a border in August with its colour. In smaller spaces, use as a specimen shrub, which should rise out of ground cover for the best effect. On balconies or terraces, plant in a large container.
Tip:
The term Potash refers to fertilisers that contain the nutrient Potassium. This nutrient is great for helping the plant produce fruit and flowers, A few good examples of a Potash fertiliser are Tomato feed and sulphate of Potash.
---
Modern gardens can be accommodated in small gardens or larger estates. Adopt the principles in this guide to create a contemporary space. For further information on establishing a wonderful garden, read our guide to garden design principles.
How to create a modern garden on a budget
If you are creating a modern garden on a budget then I suggest focusing on the boundaries and furniture – either of these elements can ruin the modern garden 'vibe' if not implemented properly so invest your money there. If your budget stretches to it then look at concrete paving over natural stone and invest in younger plants rather than looking for more mature plants.
---
Download 'how to make a modern garden' booklet