Ready to learn about our favourite front door plants and design tips? Your front door is the gateway to your home, and what better way to make a lasting impression than with a stunning array of plants and flowers adorning your entrance? In this article, we've handpicked the top 20 front door plants that will bring colour, beauty, and charm to your home throughout the seasons.
Overview of our top 20 front door plants
Buxus balls
Petunias
Bird of Paradise
Ferns
Lavender
Hydrangea
Topiary Bay Trees
Peony
Magnolia Shrub
Rose
Geranium
Azalea
Dahlia
Fuchsia
Japanese Anemone Plants
Hibiscus
Primrose
Daphne
Topiary – Olives, Yew & Other Plant Types
Ornamental Grass
For more details on these plants, read below.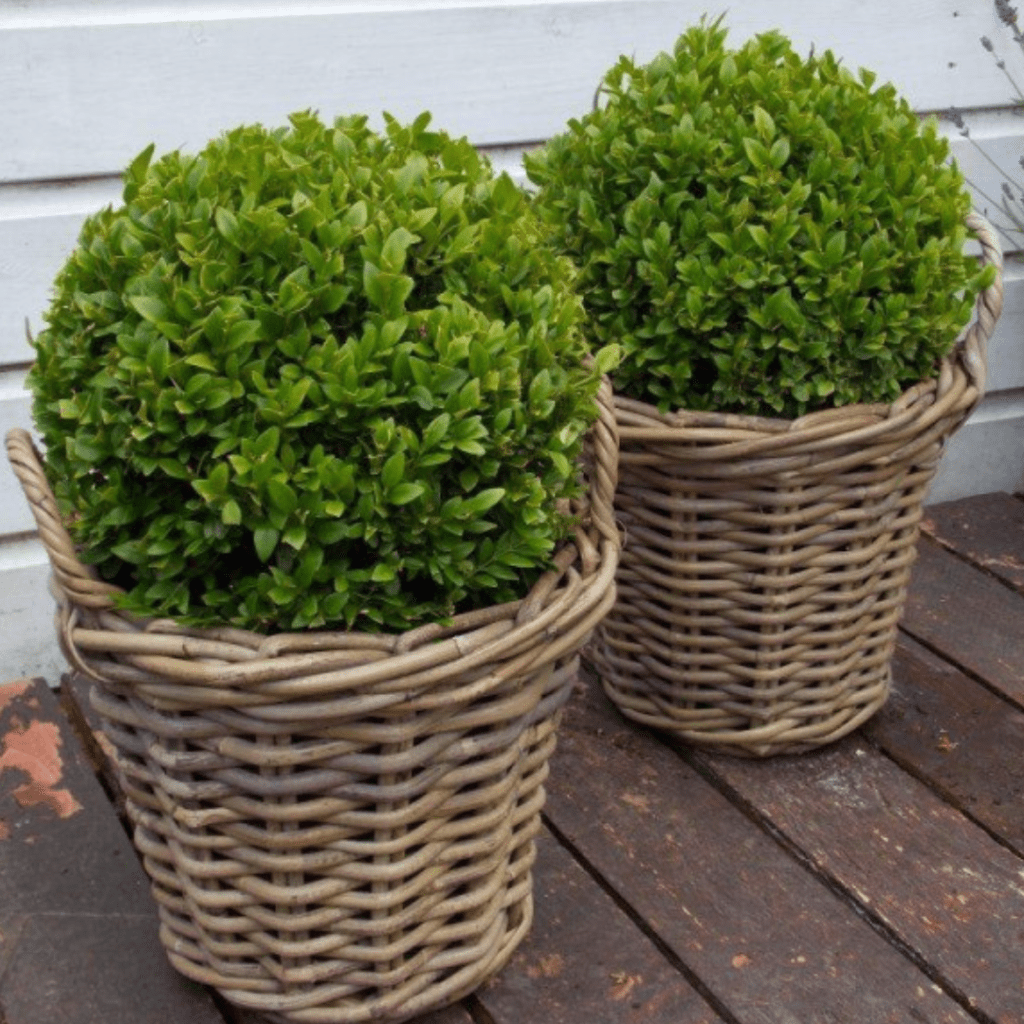 Buxus Balls
Looking for a more traditional entryway plant? Buxus is the answer. Tiny, glossy leaves make this evergreen the perfect choice for year-round cover in a more formal garden. They are easy to care for but require a little maintenance to keep their shape.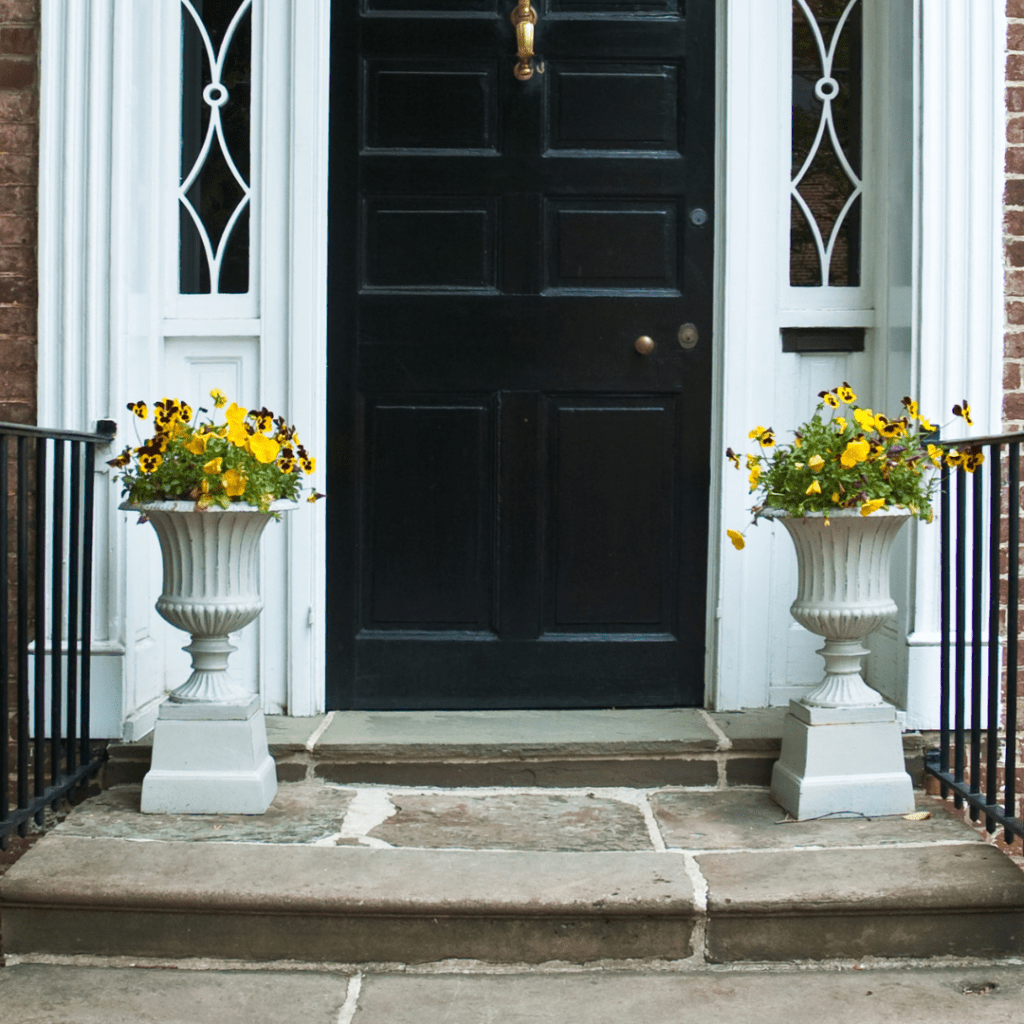 Petunias
Petunias are a colourful option for any front door that receives lots of sun. They look great in any container, hanging basket and even window boxes. These also require a little maintenance so make sure to water them regularly and deadhead as required.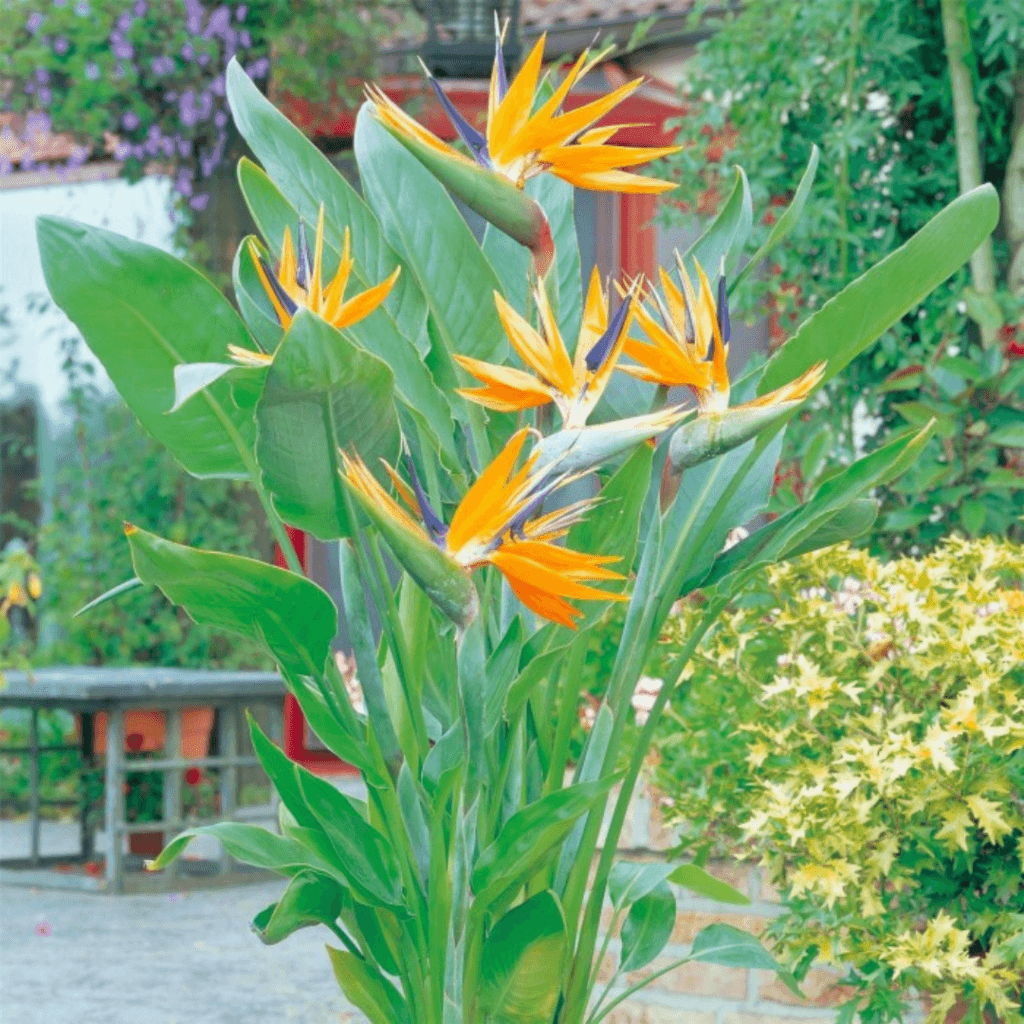 Bird of Paradise
If you are going for a tropical, Mediterranean garden style, adding a Bird of Paradise plant on either side of your door could be the perfect statement piece to pull it all together. But remember, they struggle to withstand cold weather, so care for them as needed.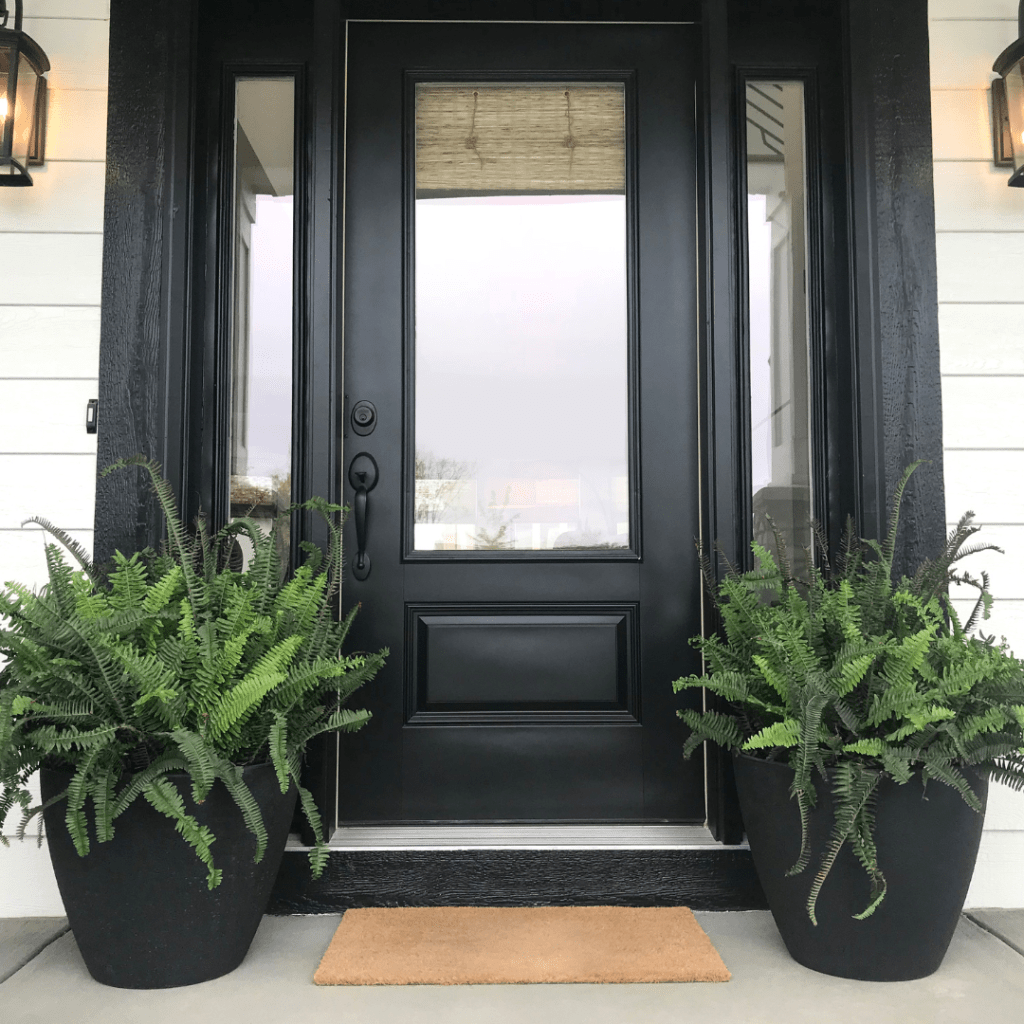 Ferns
Ferns can make the perfect statement plant with their lush green foliage, perfect for pots on either side of a door or in hanging baskets. But make sure to keep the soil moist and in shaded areas; they aren't keen on being in direct sunlight. Learn more about Fern plant care here.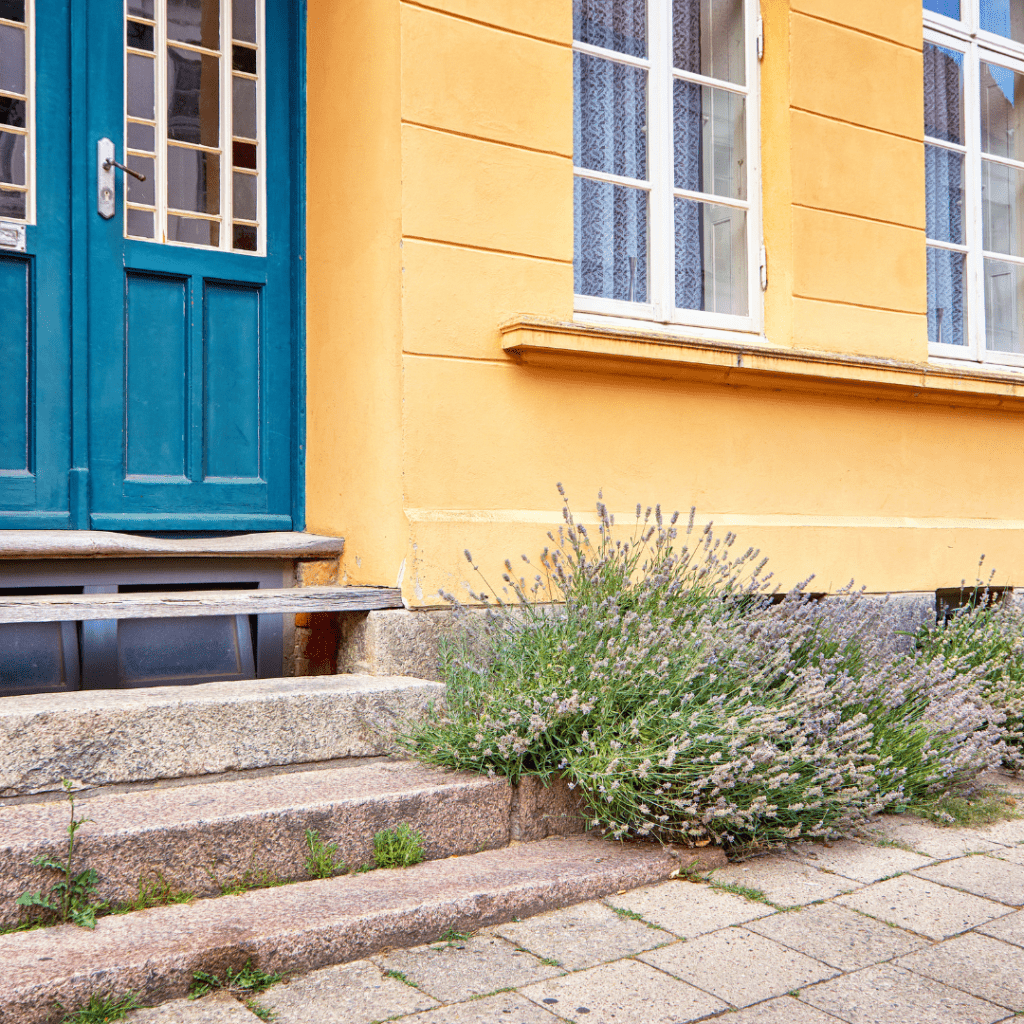 Lavender
Prefer a more subtle pop of colour? Lavender is the perfect eye-catching violet with a calming fragrant smell. These make excellent additions to any Mediterranean or Cottage garden.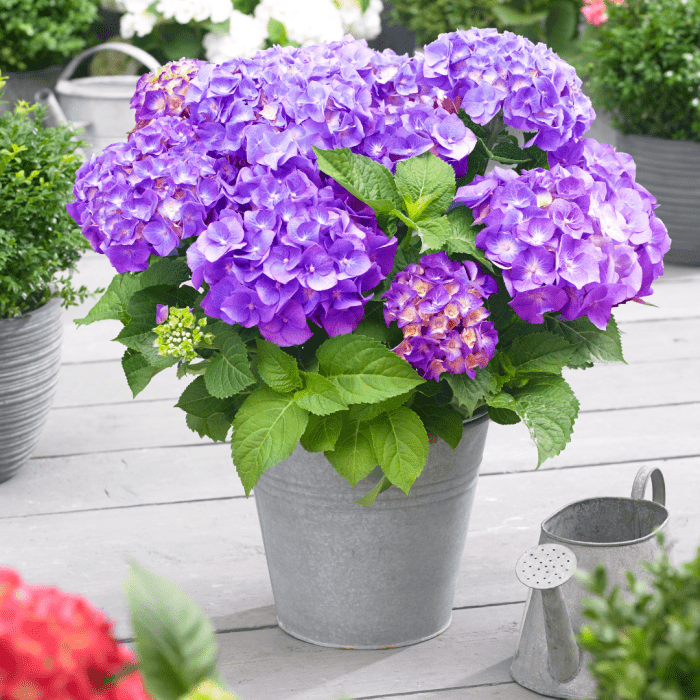 Hydrangea
With many different styles of Hydrangea, there is sure to be one for all gardens. We love the "Hydrangea Macrophylla Little XS Purple – Compact Mophead Hydrangea" for this.
Topiary Bay Trees
Topiary Bay Trees add a touch of elegance and natural beauty to the front door, enhancing the overall aesthetic and creating a welcoming atmosphere.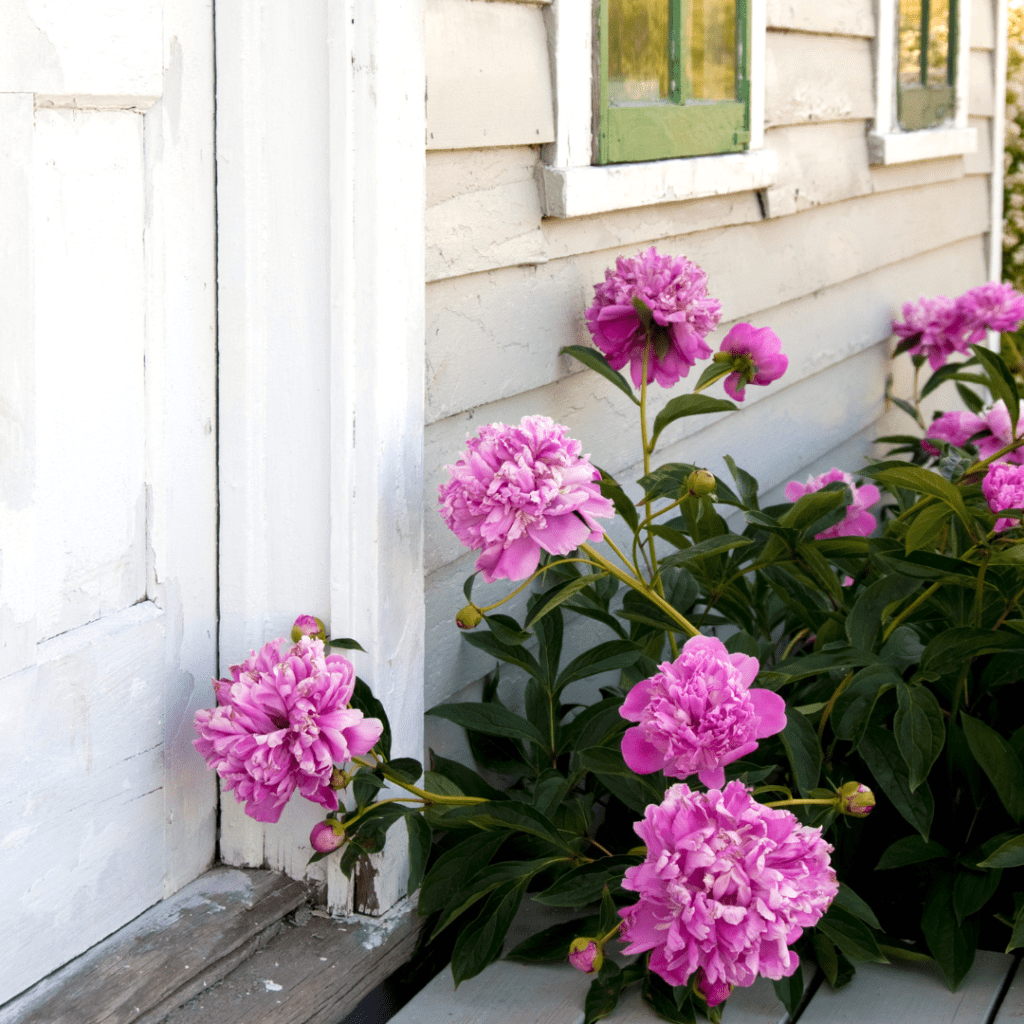 Peony
Peonies are stunning flowers that add vibrant colour to any entrance. But remember, they need sunlight and good air circulation to grow best.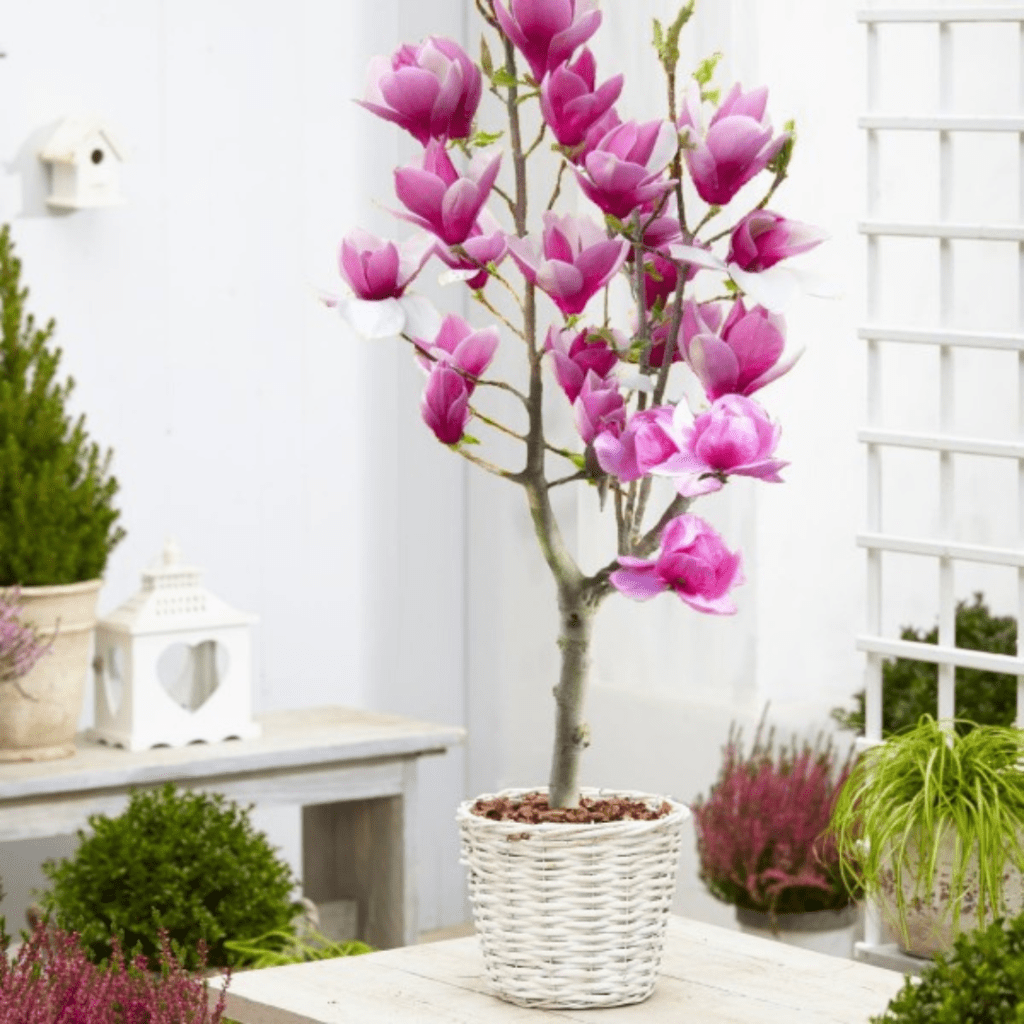 Magnolia
Think you need to grow full-scale trees the enjoy Magnolia flowers? Think again, a Magnolia bush or standard patio tree is a brilliant way to add these stunning flowers to your porch.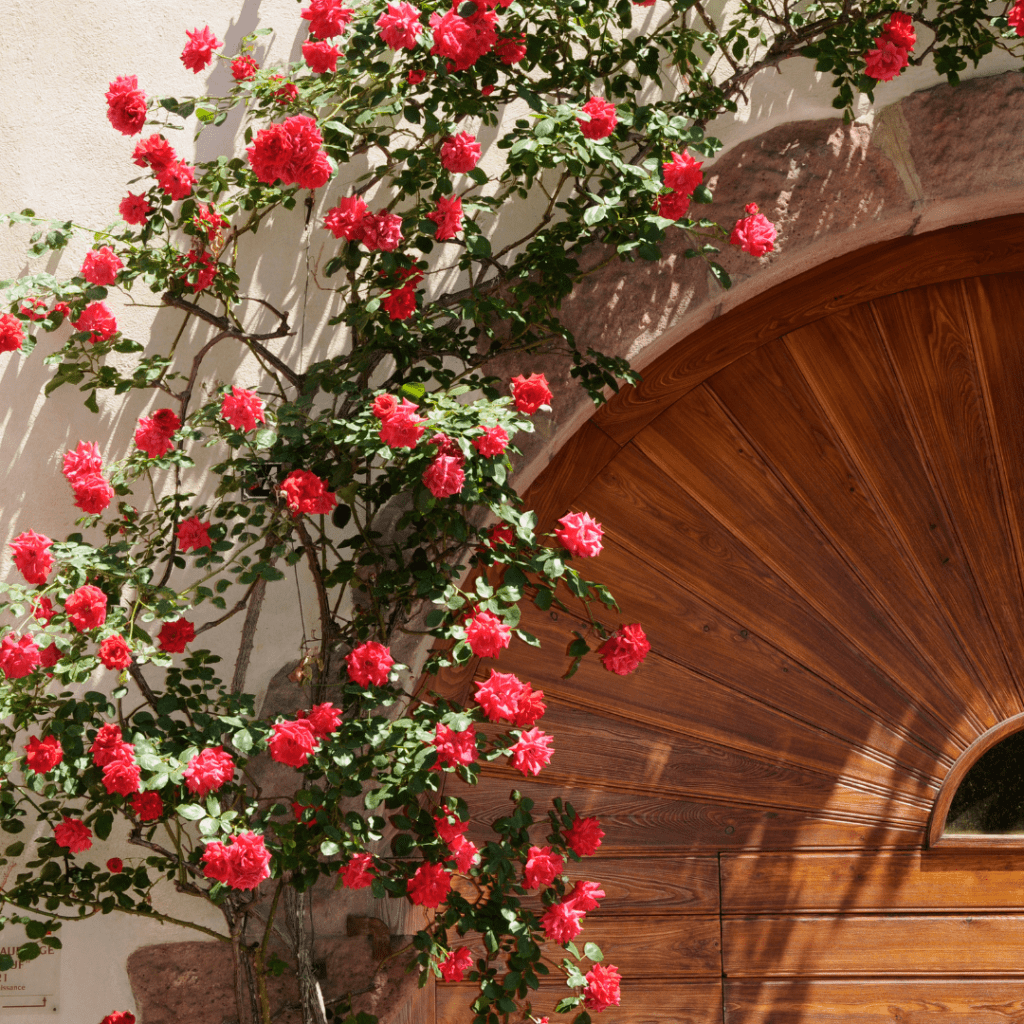 Be it potted Roses, standard patio tree Roses or climbing Roses. These spectacular flowers bring a traditional element to any home, perfect for a cottage garden.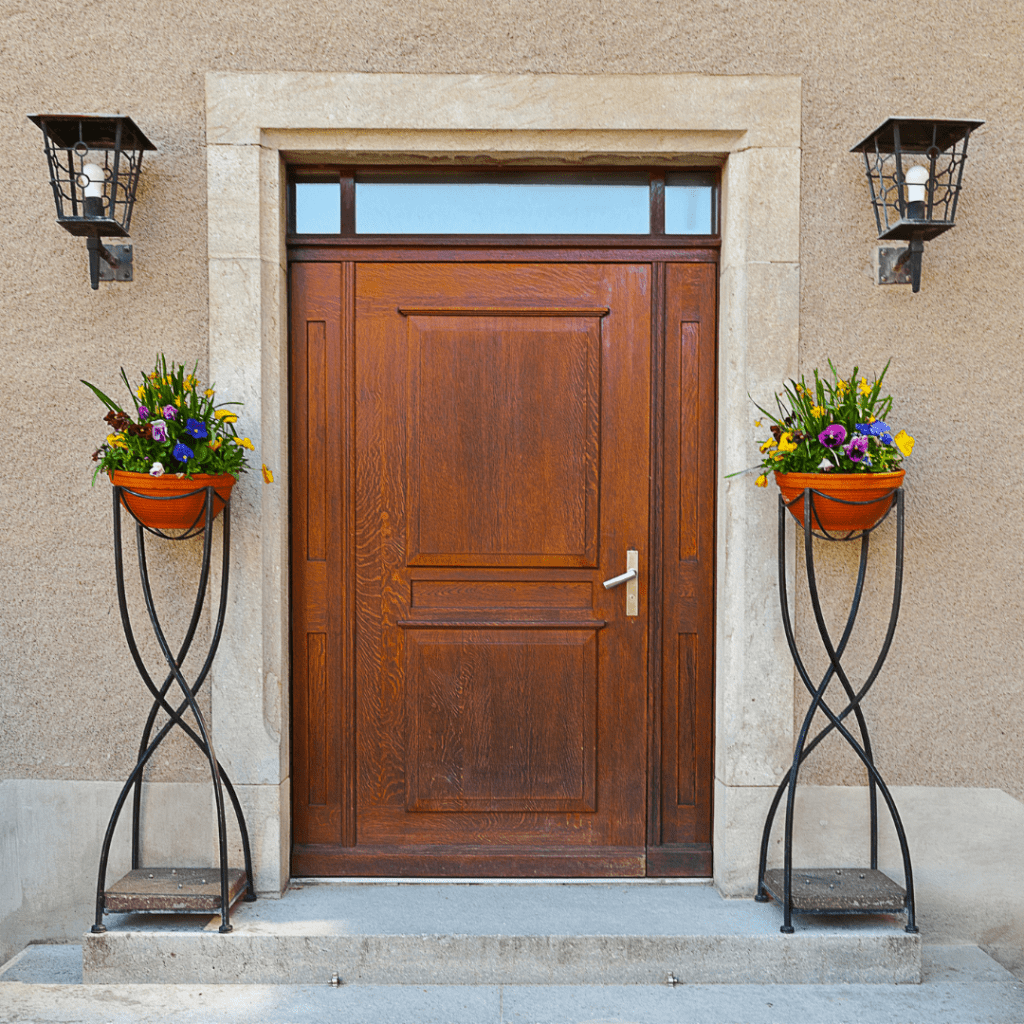 Geranium
Geraniums are a great choice for front door plants are they are fairly hardy perennials. Put them in some interesting planter on their own or in a combination of plants for a stunning display.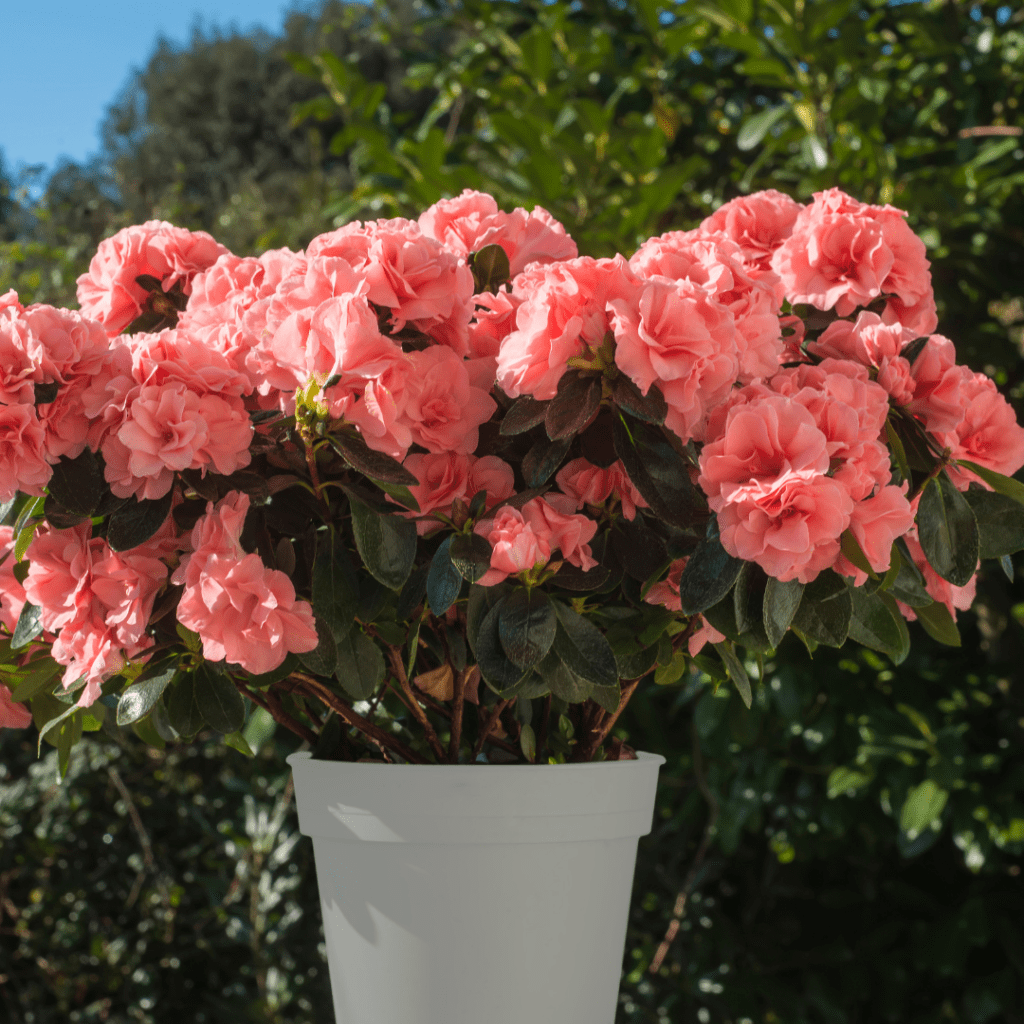 Rhododendrons
With its bright flowers and dark foliage, these plants look incredible on either side of the front door, marking the entryway. They are fairly simple to care for. For care instructions, please read our article here.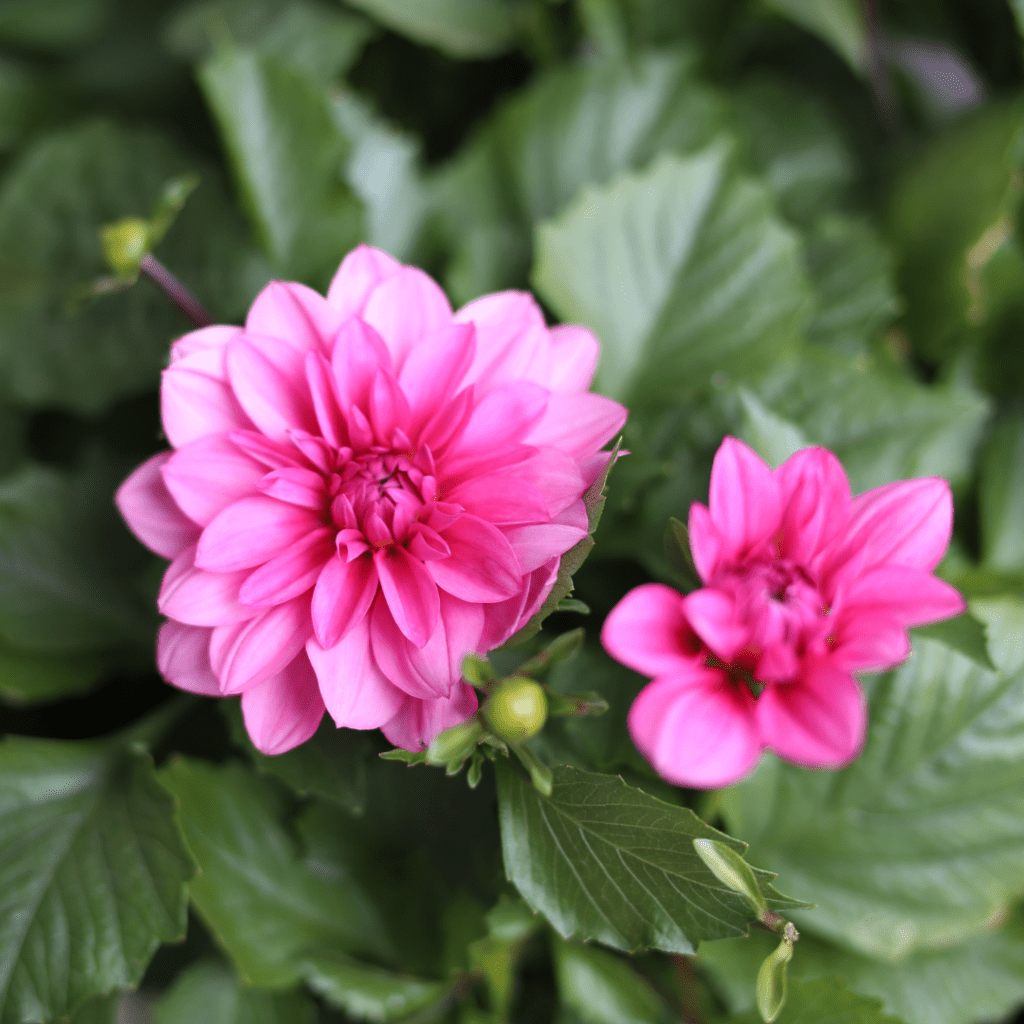 Dahlia
Dahlias are a real show-stopper in any garden, making them an excellent addition to any planter beside the front door. Continuously flowering from July to the first frosts, Dahlias provide colour when so many other flowers are past their best. We love the Dahlia Cafe au Lait for its soft colours.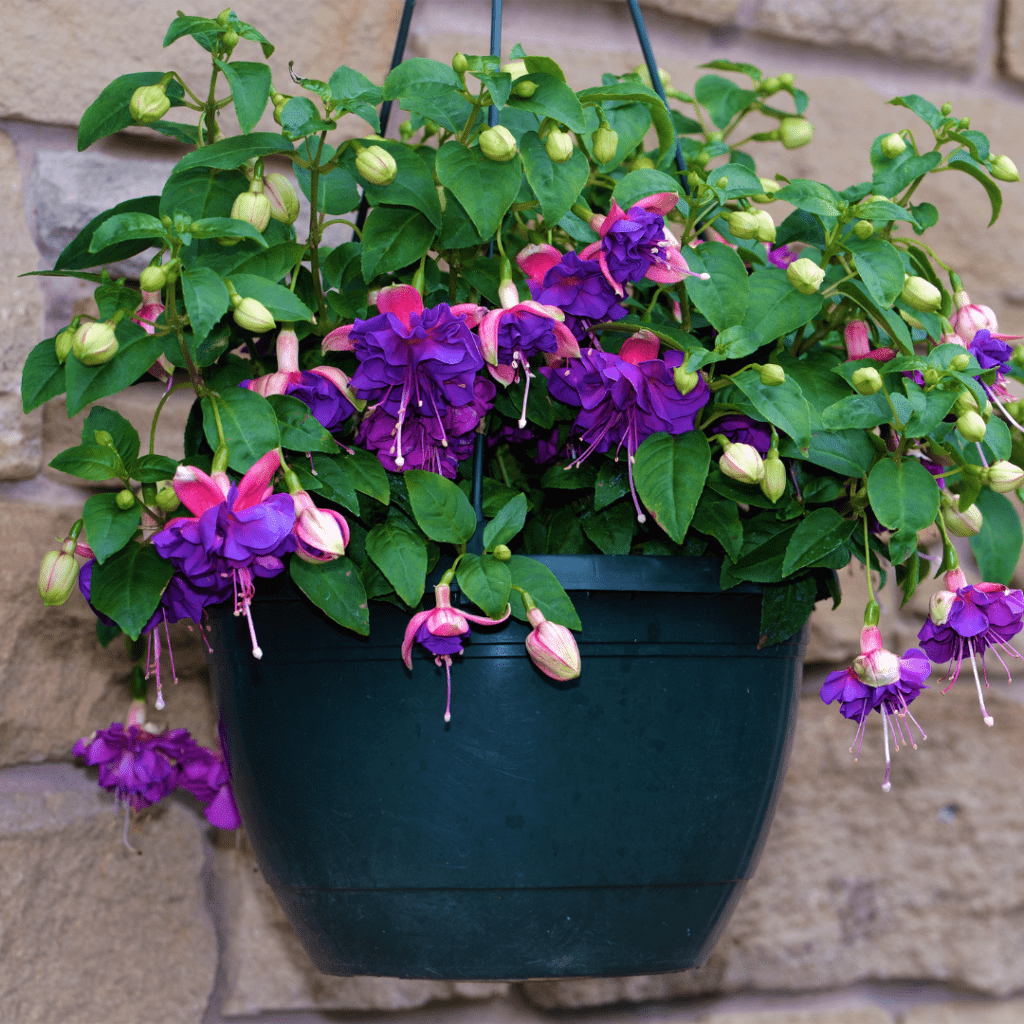 Fuchsia
Fuchsia plants come in various colours and are a great choice for container gardening. They are perfect for adding a pop of colour to a shady area and can survive in sunny areas with the correct care. We recommend Pair of Fuchsia Tree Standards 'Paula Jane' – Gorgeous Patio Fuchsia Trees.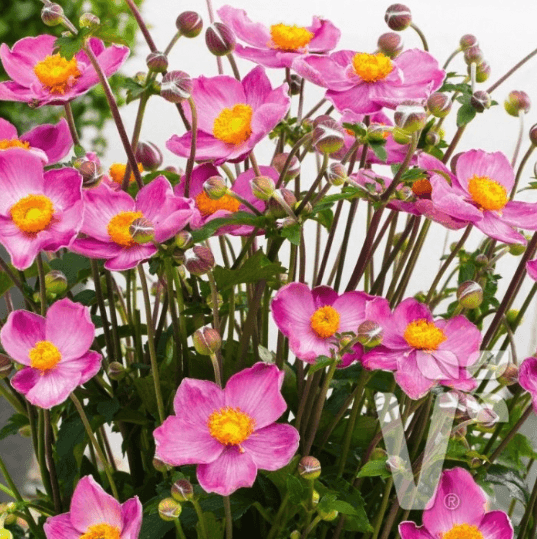 Japanese Anemone Plants
One of our most captivating herbaceous perennials is the Japanese Anemone, which will steal the spotlight in any garden. With its delicate and graceful flowers, these stunning blooms come in an array of enchanting colours, adding a touch of elegance to any landscape.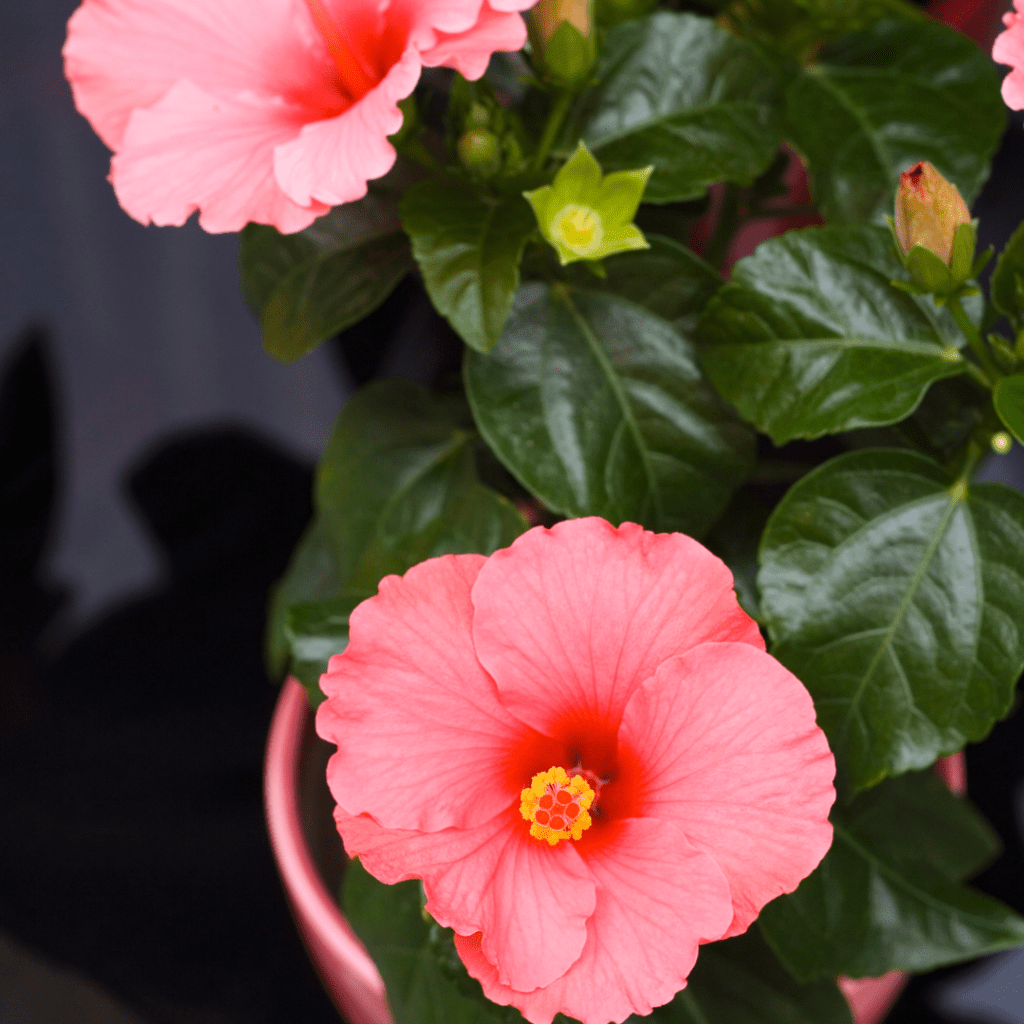 Hibiscus
These versatile trees and shrubs are a must-have in any outdoor space. With their large, showy blooms and fragrance, they are a great way to frame your front door. They are perfect for cottage gardens, tropical gardens and Mediterranean-style gardens.
Primrose
Primroses are ideal for window boxes and containers, giving your garden some instant colour. Add a collection of different coloured primroses for more interest. The Primula Denticulata Collection – Drumstick Primrose Plants are perfect for filling in hanging baskets beside a front door. When early spring flowers begin to fade, these exquisite Primulas will happily fill the garden with colour and interest.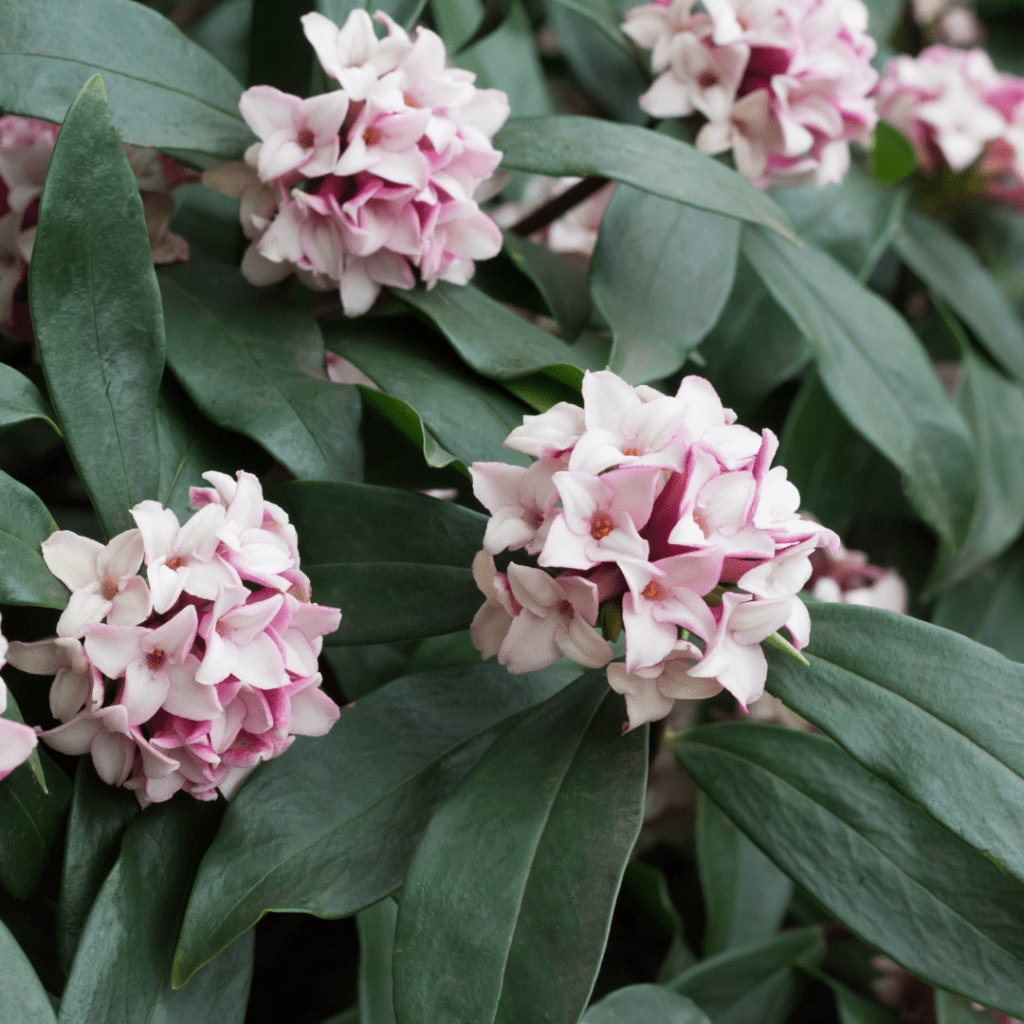 Daphne
With its soft appearance and sweet scent, Daphne adds a trace of refinement to any garden. Daphne is a slow-developing scrub, local to Asia and Europe and is valued for its fragrant blossoms and evergreen foliage. It grows best in partial shade, perfect for planting under trees or in areas that receive dappled sunlight. We love the Daphne Perfume Princess for a more fragrant plant near the front door.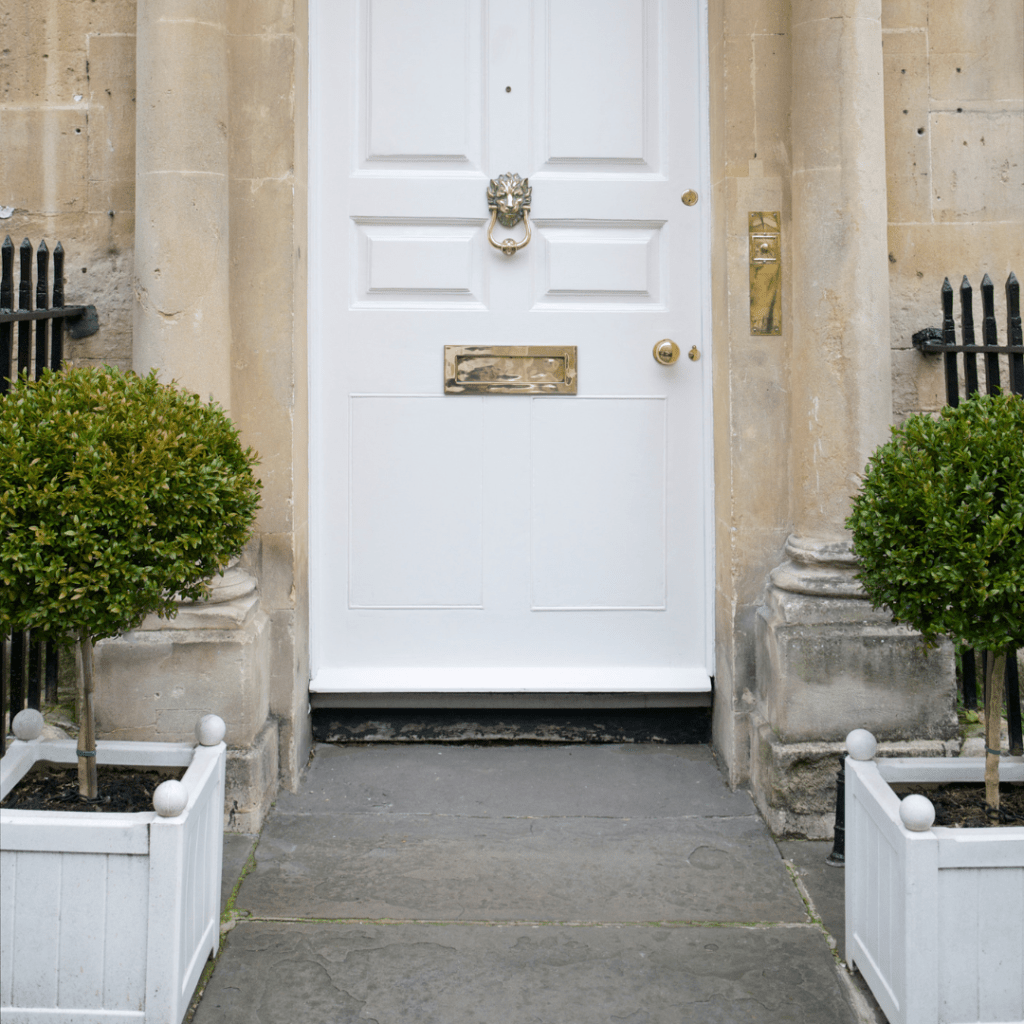 Olives, Yew & Other Topiary
It's not just Buxus and Bay trees that can make stunning topiary, but several other plants, including Olives, Yew, Photinia and Ligustrum. The English Yew Topiary Ball – Taxus baccata is a perfect option if you need a specific shape and size, as they can be shaped to fit your style.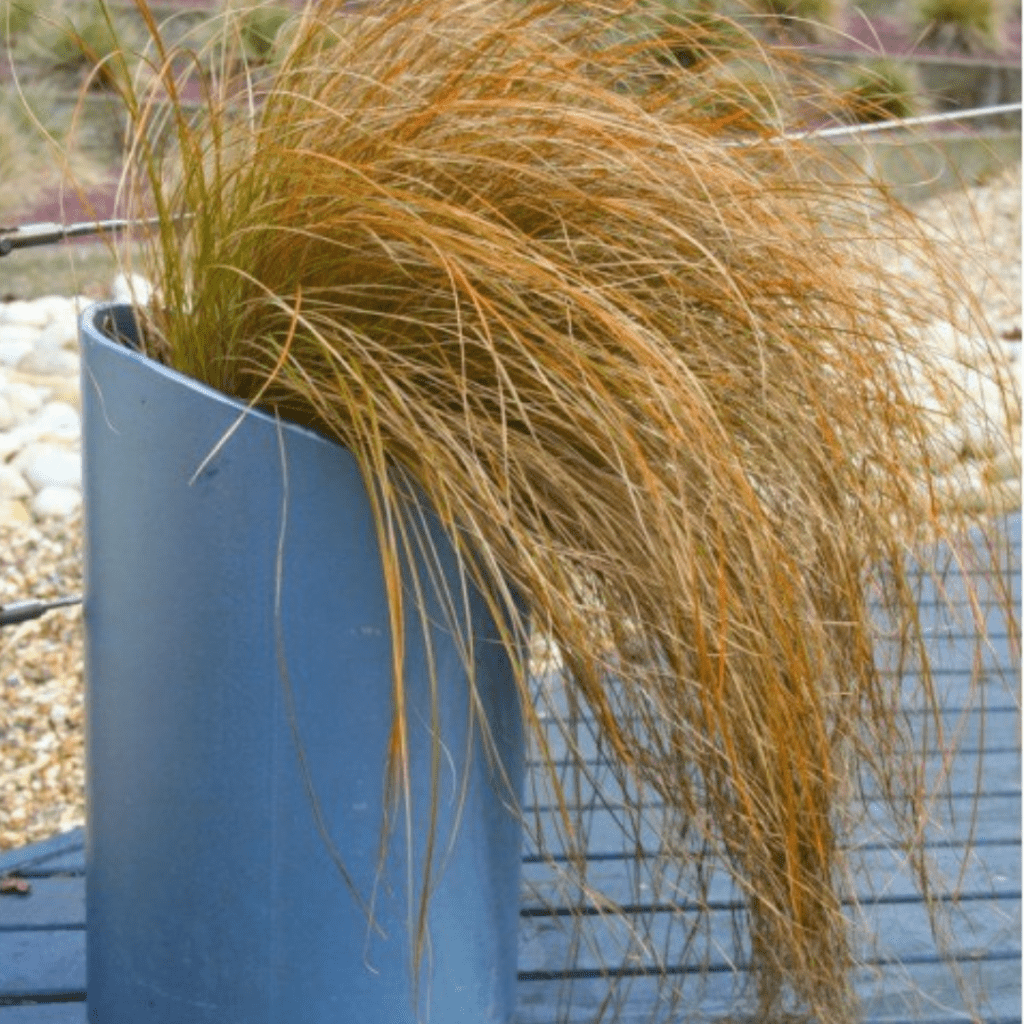 Ornamental Grass
Ornamental grasses are fantastic for softening hard landscaping and using them to contrast against other plants. Grasses are easy to grow, low maintenance and offer year-round interest. Try including grasses in the Mediterranean, prairie and modern garden designs.
5 Top Tips for Designing With Front Door Plants
Group of potted plants: Grouping potted plants around the front door is a great way to add more greenery, especially if you have a driveway, as potted plants can soften the hard landscaping.
Add climbers: If stairs lead up to your front door, grow a climbing plant to emphasise your guests' direction, or grow them around the front door to frame the main location. Wisteria, Jasmine and Roses are perfect for this task.
Add fun planters: Add some more interest by mixing up the sizes and designs of the pots and planters around your door. Mix the colours of the planters and flowers to create a fun aesthetic. For bonus points, if you have children or grandchildren, get them to decorate the planters to add a cherished memory you will see every time you enter the house.
Mix textures: Consider adding different textures for interest. Ornamental grasses and ferns are great for planting and mixing different textures with flowers.
Go oversized: Have a big entranceway? Add larger plants like patio trees or topiary to balance the space and size.