Plant pots are a great option if you're new to gardening or want to upgrade your garden setup. Here are some tips for choosing the right plant pot and the right plants for them. Along with tips on watering them properly and keeping them looking good.

Plant Pot Sizes
Houseplants often come in small pots that make it easy to move them around the house and put them on tables and shelves. When growing plants outdoors in a container, the size of the plants must be larger to ensure stability against the wind and other outdoor elements. Make sure to choose a pot that is at least one inch wider than the root mass of your plant. For plants that are expected to grow quickly, allow for up to four inches wider than the root mass.
What is wrong with having a bigger pot?
There is evidence that increasing the size of a pot by a factor of two can help some plants grow by as much as 40%. Any plant's health depends on having the appropriate amount of water, food, and soil.
However, if the container is too large for the plant and has poor drainage, excessive watering could cause the soil to slowly dry out, leaving the roots damp and increasing the likelihood of root rot. Or, the vast quantity of soil will be too dry if too little water is used.
From a perspective of proportionality, a planter that is too large may also have an impact on the overall aesthetics.
What if the plant pots are too small?
However, you shouldn't put your plant in a smaller pot. The plant may become root-bound, resulting in sluggish or stunted growth if the planter is too small for the plant. If housed in plant pots that are too small, trees and other large plants may easily tip over.
Pot size chart & recommended plants
All pot sizes are approximate and will vary depending on shape. To calculate your pot size, we suggest using this calculator, or as a guide, look at our pot size chart and recommended plants for round pots: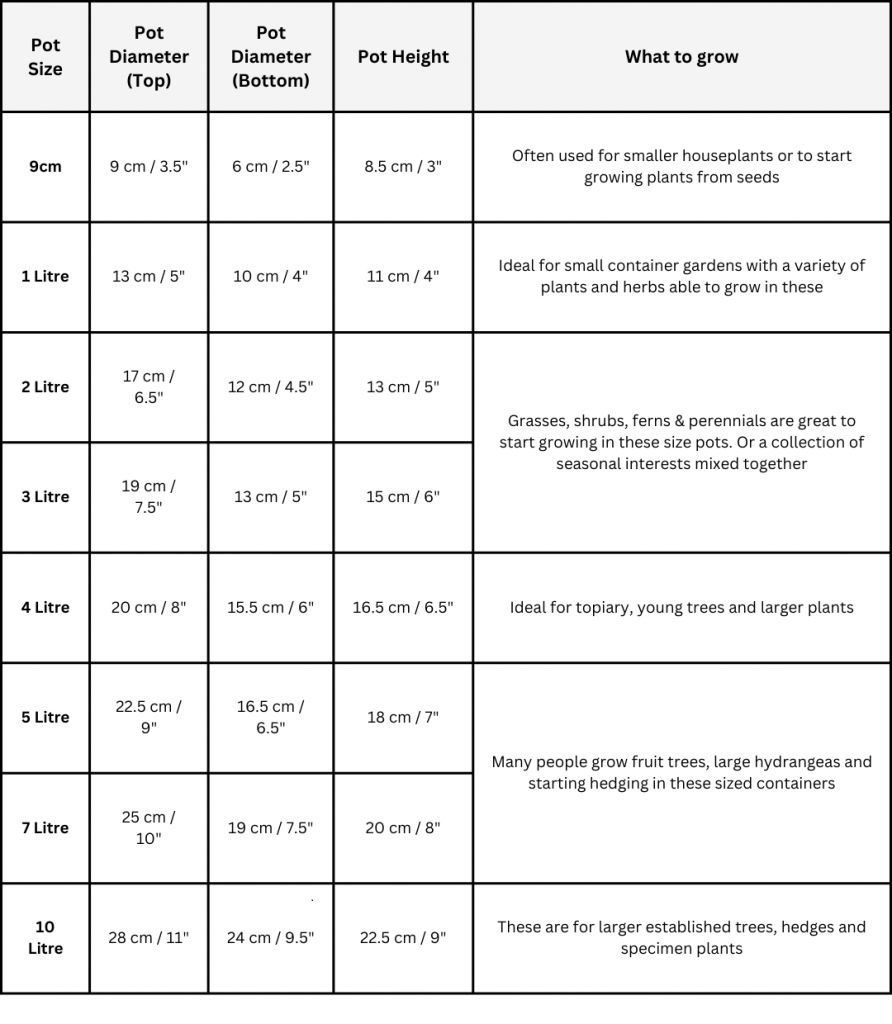 Plant Pot Shape
Pot shape is not a big factor when it comes to a plant's performance, but it does have an impact on your ability to arrange and look after your garden.
Square containers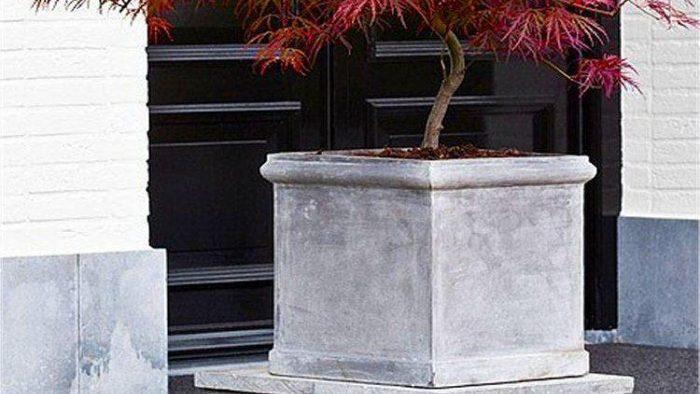 You can neatly arrange your pots with square containers. They also look great when used to line a path or mark an entrance. With fewer gaps between planters for water to pass through, a square arrangement can make it easier to water container gardens.
In addition, a square pot provides more surface area for planting and more volume for the same height. Thanks to the shape, there is a larger amount of space to add potting soil and nutrients. If you want to grow rows of flowers or herbs for consumption, having this extra space is great.
Rectangular plant pots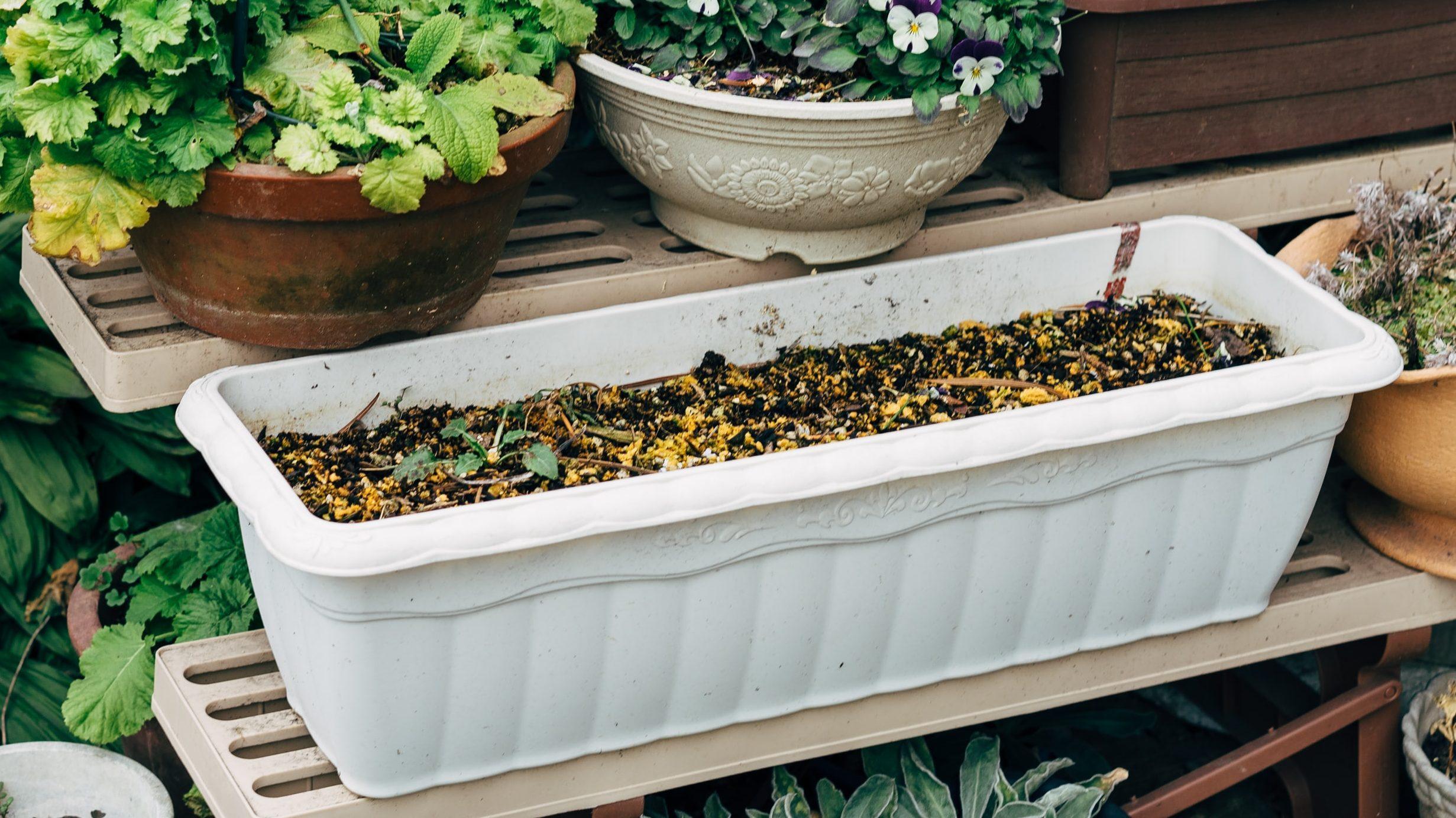 Because of their practicality, rectangular planters are popular. They have distinct "front" and "back," or "left" to "right," so you can plant flowers, vegetables, or even hedges in an even row! Since drainage is intended for the back, you should remember to drill some holes in its bottom. The pot's water will drain appropriately as a result of this.
Round plant pots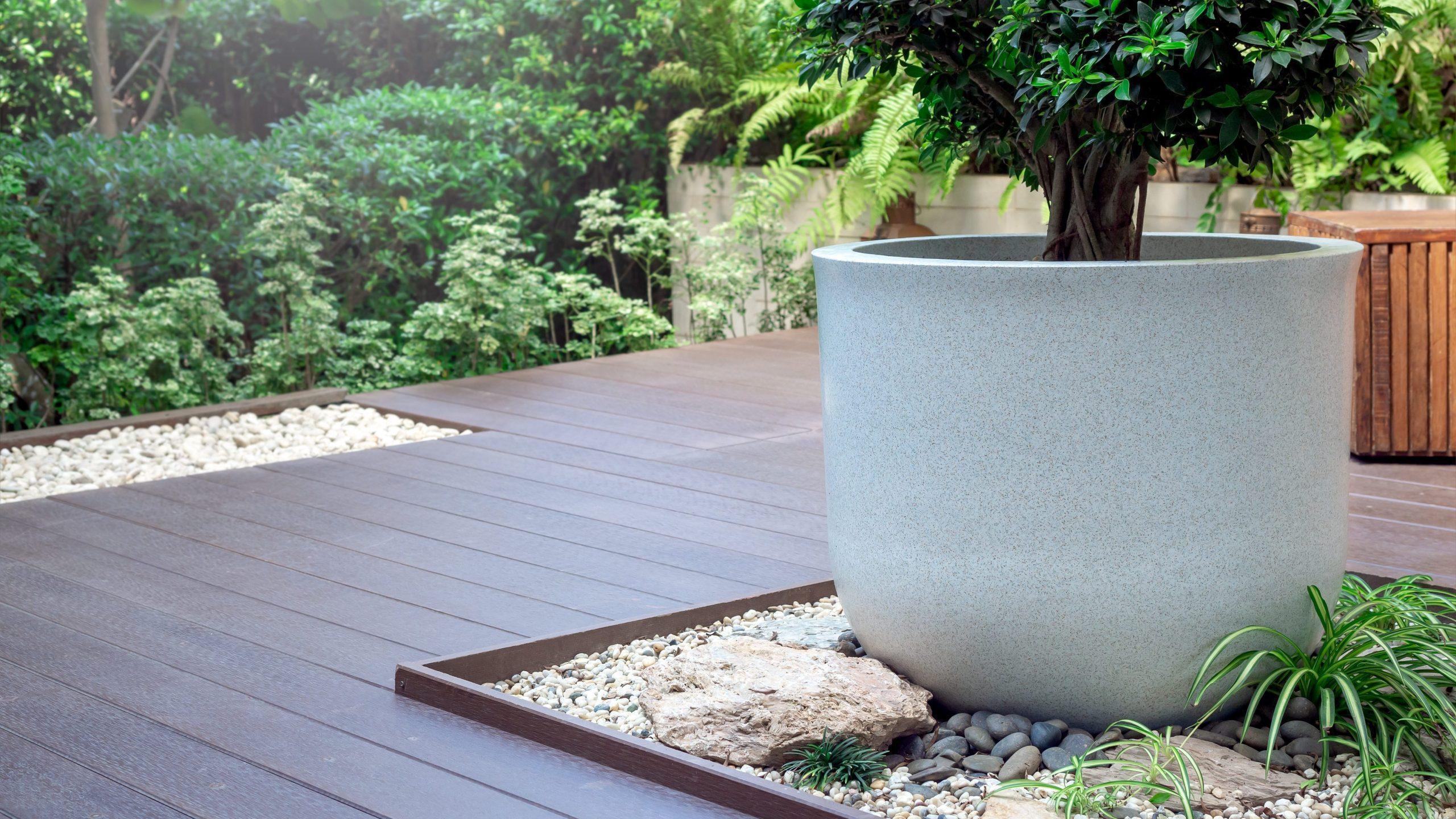 The most common uses for round planters are for flowers, vegetables, and herbs. They are favoured by some due to their adorable appearance and wide range of interior design applications.
However, due to their lack of a front or back and tendency to tip over, they are unsuitable for large plants and make it more difficult for them to grow together evenly. As a result, a round planter is preferable for a single plant or a small number of plants. Round containers are also popular because of their sleek, modern curves and high-stability bowl shape.
Avoid round pots with tapered bases if you want a round design for a large plant like a tree because these have more stability issues. There is also the contention that round pots encourage the growth of circling roots, which hinder the plant's ability to absorb water. If you have the appropriate container, this won't be a problem!
Tall pots or small pots
Tall pots are the best option because they have the highest air-to-water ratio and allow for better gas exchange. The best choice for a wide variety of plants is a tall, wide pot rather than a tall, narrow one. Most watering methods and requirements will be satisfied by this.
However, succulents and cacti typically thrive in shallow containers. This is due to the fact that they have numerous thinner, shorter hair roots that remain close to the surface in addition to a single main taproot that extends deep into the pot.
Drainage
Potted plants require proper drainage. If you want to experiment with how much water each plant needs, it's always best to choose a container with holes in the bottom rather than one without. Therefore, unless you are very familiar with the plant and the amount of water it requires, it is best not to use a container without a drainage hole.
The drainage holes reduce the likelihood of root rot by allowing excess water to drain away. To catch any water that seeps out, place a saucer underneath the planter.
Plant pot materials
Once you know what plant pot size and drainage you need, it is time to decide on the pot material that you purchase. While the differences between pot materials are largely aesthetic, there are a few distinctions that can affect the health of your plants.
Plastic plant pots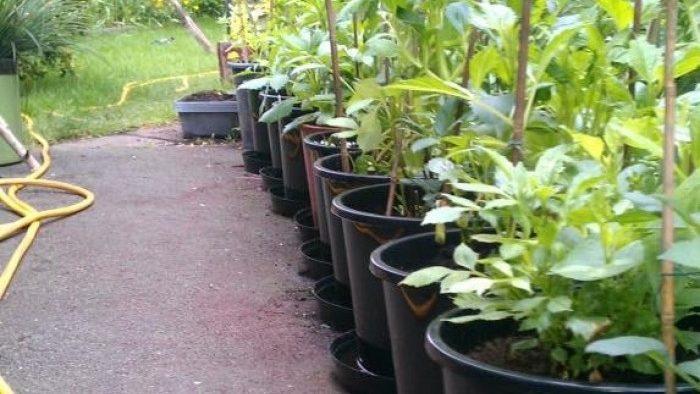 Affordable, lightweight, durable, and versatile in appearance, plant growth is aided by plastic pots. Some have rolled rims to give the impression of thickness, while others have finishes that look like terra cotta, concrete, or stone. Pots made of more conventional materials can be more expensive than those in smaller sizes. While more expensive pots don't crack or fade as quickly, cheaper ones may do so over time. A great plastic plant pot is the Twist 'n' Lock plant pot, we have a video below that explains why they are so good.
Suitable plants: Planting flowers and other plants in plastic pots is possible. They usually work well with most kinds of plants.
Perfect place: The best place to put these pots is outside. Plastic pots are also ideal for verandas and balconies.
Terracotta plant pots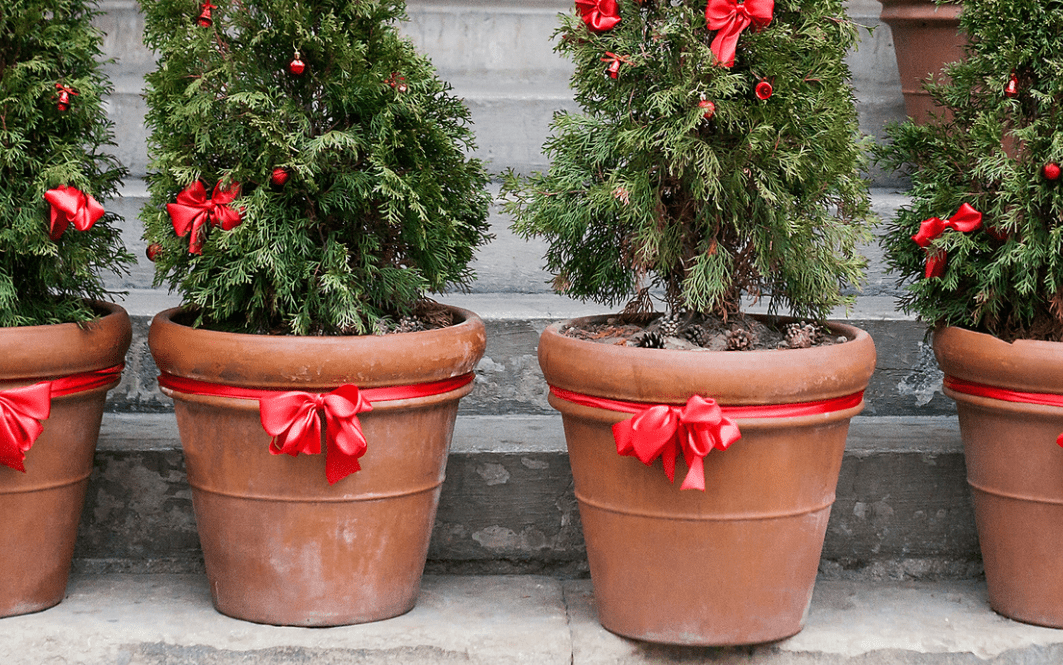 Terracotta pots, made of red clay, are the standard for container gardening. After absorbing soil water, the porous terracotta material dries out. These pots are ideal for dry-soil plants because they can quickly solve the problem of overwatering. They are excellent pots for preventing root cot issues and soil diseases.
Suitable plants: Terracotta plants are best suited for dry-soil-loving plants like cacti.
Perfect place: Indoor, at pretty corners of the home. Outdoors for dry soil-plant gardening.
Hanging basket
The current fad is basket-style hanging pots. We frequently observe the scene in most homes, which undoubtedly enhances décor and inspires creativity in living areas. Unique hanging plants may be an excellent option for these locations. Because hanging baskets give plants a lot of drainage, you shouldn't put anything wet under them. These are great options for succulents and other small plants.
Suitable plants: These basket pots are best for begonia, tassel ferns, and other hanging plants.
Perfect place: They look great on verandas and as hanging pots on balconies.
Concrete plant pots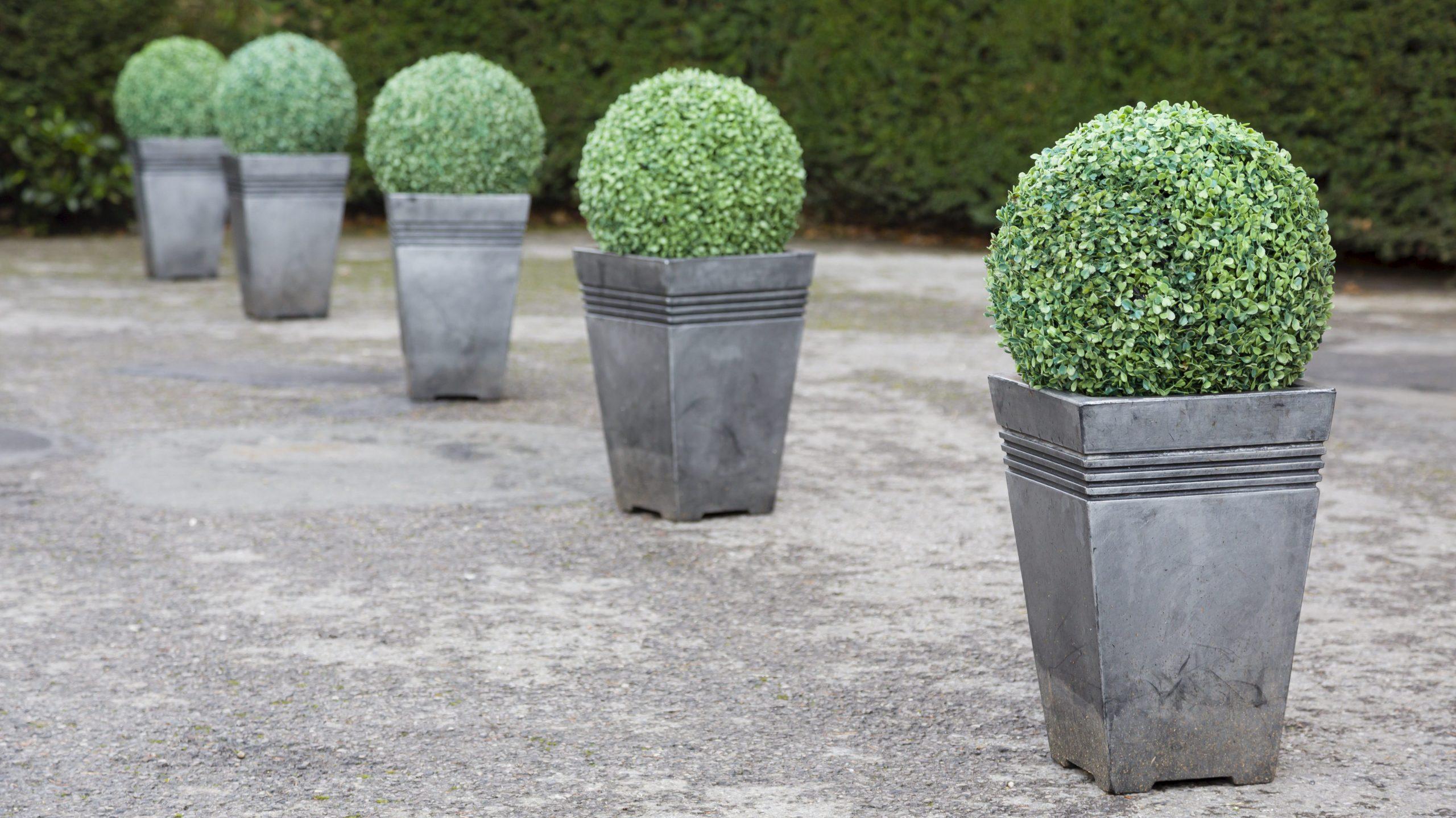 Concrete pots are suitable for plant growth because they are attractive, long-lasting, and affordable. In large sizes, they can be pricey and heavy, making it hard to bring them home or move them into the garden. Take into account where they will remain because they are made of concrete, making them heavy. Concrete pots are the best choice if you adore succulent plants. Because they are porous, water can quickly be absorbed or evaporated from them.
Suitable plants: Cactus and similar variants are best fit for concrete pots.
Perfect place: They are great decorative pieces in place of a border or beside stairs/ paths
Metal plant pots
Pots made of brass or copper, metal buckets, and other metal containers can be very decorative. By drilling drainage holes into the bottom of buckets or metal tins, you can create a beautiful container garden. These typically last longer the thicker the metal. Metal pots made of copper and brass add a touch of sophistication and modern flair to our homes and gardens.
Plastic liners can also be used to plant in these pots, assisting in protecting roots from the transfer of extreme heat and cold, which is one disadvantage of metal. Since they can quickly heat up when placed outside, metal plant pots are best kept indoors.
Suitable plants: Copper and brass metal pots can be used with any indoor plant. These are able to fit both large and small plant pots.
Perfect place: The best places to fit them well can be in pretty corners close to walls and tabletops.
Recyclable & sustainable homemade plant pots
Don't forget, you can also recycle and upcycle other items to make plant pots. For example, using old teapots to hold small flowers and a painted tire filled with compost and bedding flowers makes a good addition.
How do I plant in a pot?
Follow these simple steps to fill your plant pots with your favourite plants:
1. Choose your container: following the guidance above, choose a large enough pot that you are able to move to allow your plants to flourish.
2. A pot with multiple drainage holes at the bottom is ideal to allow excess water to drain correctly. If your plant pot only has one central hole, fill the base with shards of terracotta. This will prevent soil from leaking out of the hole.
3. Add a multi-purpose compost to around three quatres full. We recommend using Compost King- multipurpose compost for this. Now you can add your plants.
4. Choose a central focal plant. Perhaps a tall plant with good foliage or an annual climber. Then choose contrasting colours or textures to make an intriguing display. You can also try trailing plants to spill over the container edges. Or create a bulb lasagne for seasonal interest.
5. Leave 5cm between the top of the soil and the top of the container. This prevents the compost from spilling out when watering.
6. When you have finished planting up the containers, consider placing them on pot feet so that excess water drains freely. This also makes it easier to move when they are raised.
How do I keep my plant pots looking good?
Plants in containers will require more attention than those in the open ground. Root growth is restricted in containers, and plants can't get as much moisture from them as they can from the ground.
To prevent waterlogging, maintain an even supply of water and ensure adequate drainage, this can be done using pot feet. Because the plant leaves act as an umbrella from rain, this may be insufficient for plants in containers. After rain, check the soil's moisture level to see if the container needs to be watered manually. If you spend a lot of time away from home, you could also set up an automatic watering system. For crops that produce fruit and flowers, use a liquid fertiliser with a high potassium content and a high nitrogen content if the plants appear yellow or worn out.