Introduction
Add a touch of colour to your garden with these exotic, bell-shaped fritillaria. In this post, we will show you how to plant fritillaria bulbs. Read on to learn everything you need to know about planting these bulbs.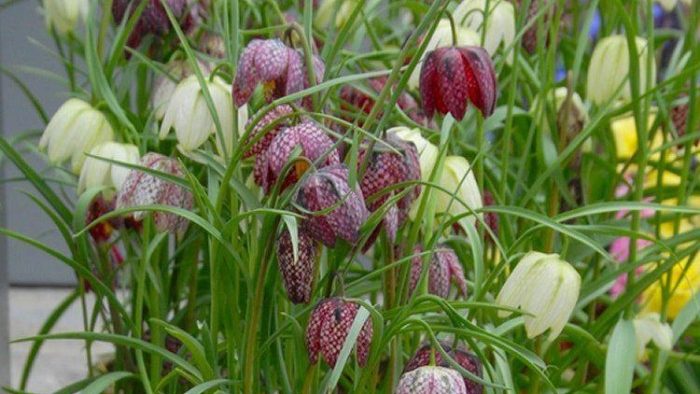 When and where should I plant my bulbs?
The best time to plant fritillaries is in September and October, so they can flower in April and May. It is also possible to plant fritillaria bulbs in post in spring. You should check the growing conditions for your species of Fritillaria as there are two different growing conditions needed. Some will require well-drained soil and full sun, but some will require moisture-retentive soil in partial shade.
Planting Fritillaria
Plant bulbs 2-3 times the depth of the bulb, with 10-15 cm distance between each bulb and with the pointy end facing upwards, then cover in soil and water gently. You could also plant your bulbs in a container making a bulb lasagne with other flowers, learn more here.
Further Care
Allow foliage to die completely after flowering
For larger fritillary, apply mulch and tomato fertiliser in spring
Frequently Asked Questions
Do fritillaria bulbs go dormant?
Yes. Once they have finished blooming in spring and the leaves die back on fritillaries planted in borders, cut the stems back to just above the ground level. Your fritillarias can remain dormant in the soil until growing again in the following spring.
Why did my fritillaria not flower?
If your fritillaria bulbs have not flowered, it is likely that the growing conditions were not ideal for the plant.
Download Care Guide
Shop Fritillaria Now