Growing Rubus idaeus is a breeze. From mid-summer to mid-autumn, you can harvest bowls of fruit from just a few plants. They are edible straight from the plant, can be used to make jam, summer pudding, and wine, and they keep well in the freezer.
The late summer-fruiting, long-caned Rubus idaeus "Tulameen" variety is ideal for growing in containers. Train the long canes to climb an obelisk, wigwam, wall, or trellis. In the middle of summer, Tulameen' produces a large, sweet fruit in high yields.
It is well known for attracting bees and other pollinators to Rubus "Tulameen." It has pollen and nectar-rich flowers.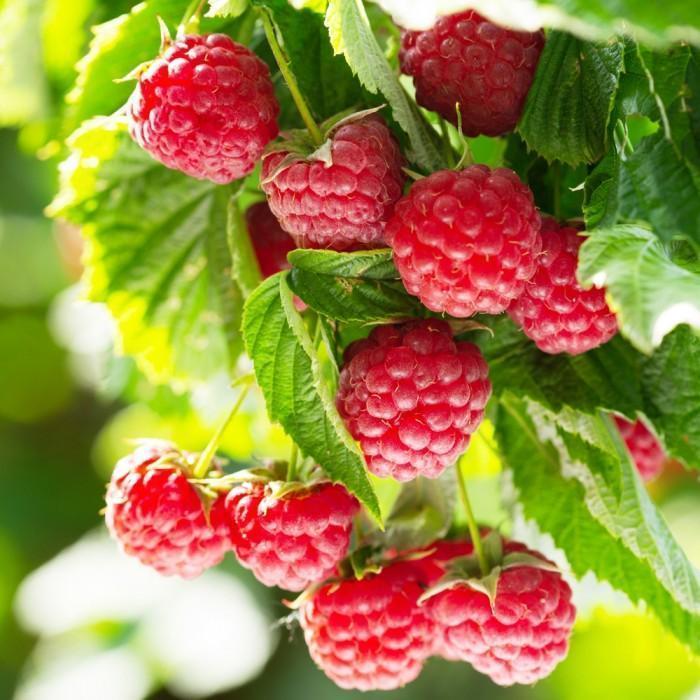 Key Facts:
Botanical Name: Rubus idaeus 'Tulameen'
Common Name: Raspberry
Family: Rosaceae
Plant Type: Fruit
Flower Colour: Foliage – White, Green
How to grow Rubus 'Tulameen'
Ultimate Plant Size: 1.5m height, 1.5m spread.
Aspect: South facing, west facing
Sun Exposure: Full sun
Hardiness: Hardy
Soil Type: Well drained, moist, light, sandy, clay, chalky, alkaline
Growing
The late-season deciduous raspberry cane known as Rubus Idaeus Tulameen is also known as Raspberry Tulameen. It has a very high yield of well-flavoured raspberries and produces canes that are upright and free of spines. The production of berries lasts for a long time. Overall, it was a great performer, so it came as no surprise that it wanted the Award of Garden Merit (AGM) from the Royal Horticultural Society.
When planted in soil that is between neutral and acidic, it grows best. Mulch the soil with acidic bark mulch to ensure optimal pH levels of 6.5-6.7 for vigorous growth and abundant berry production for best growth. The Rubus Idaeus Tulameen likes a place that doesn't get too wet but retains moisture. For maximum crop yields, it ought to be extremely fertile and rich in organic matter. Choose a location for your planting that gets filtered sunlight. Although it can thrive in light shade, it will not produce as many berries there. The Raspberry Tulameen benefits from the application of a general slow-release fertiliser at the beginning of March. Bone meal and blood are also ideal. Apply an organic mulch around the base of the canes after fertilising.
Keep Rubus Idaeus Tulameen's surrounding soil moist. During fruit set and development, keeping the soil evenly moist will help increase harvest yield. Use drip irrigation or a soaker hose to water your plants to get the best results. This will prevent the foliage, flowers, and fruit from getting wet, which can lead to fungal or disease infections.
Raspberry tulameen should be planted between November and March. They should be planted in rows and supported by wire or a post. Place each plant of Rubus tulameen 45-60 centimetres apart. Set each row apart by 1.8 meters. Try not to plant the roots too deeply. The distance between the soil's surface and the roots should not exceed 5 centimetres. In containers, you can grow single plants.
In February, reduce the canes to ground level. If the Raspberry Tulameen's canes become overcrowded during the summer, you can trim back a few of them to give the plant enough room to grow. To maintain the shape of the raspberry canes, any suckers that begin to grow away from the main canes must be removed immediately.
The Rubus Idaeus Tulameen is the ideal raspberry plant if you want robust, flavorful berries at a high yield. It produces berries for an extended time every autumn and thrives with little care.
Plant Calendar
| | | | | | | | | | | | | |
| --- | --- | --- | --- | --- | --- | --- | --- | --- | --- | --- | --- | --- |
| | Jan | Feb | Mar | Apr | May | Jun | Jul | Aug | Sep | Oct | Nov | Dec |
| Plant | | | | | | | | | | | | |
| Flowers | | | | | | | | | | | | |
| Fruits | | | | | | | | | | | | |
| Prune | | | | | | | | | | | | |
| Harvest | | | | | | | | | | | | |
Shop Now

Related Articles
Learn more about growing raspberries at home! In this article you'll learn how to grow at home from seed, propagating them from cuttings or buying plants. You'll also find out the different types of raspberry plants available, what kind of soil they like best and how much light they need to thrive.