Choosing Plants to Grow in Your Garden – RHS AGM Plants
It is never easy choosing plants to grow in your garden. If you are new to gardening, the choice can be overwhelming, and you don't want to make any mistakes by choosing the wrong plant for the wrong location. More experienced gardeners face a different quandary in that it is hard to decide on a plant with such a huge range of available plants. The RHS plant finder has over 75,000 plants listed; this is a daunting array of plants for anyone to consider.
The good news is that there is some guidance that you can take from the Royal Horticultural Society with their Award of Garden Merit (RHS AGM plants) list.
What is the RHS Award of Garden Merit?
The Royal Horticultural Society (RHS) Award of Garden Merit is an award given to plants that have achieved a high level of excellence in their field. The RHS has a long history of recognising excellence in horticulture, and the Award of Garden Merit is one of their most prestigious awards.
The RHS Award of Garden Merit is designed to help gardeners choose the best varieties of plants for their garden. This award indicates that the plant is recommended by the RHS.
The RHS state that:
To achieve this impressive accolade, plants must meet the following criteria:
– outstanding excellence for ordinary garden decoration or use
– be available
– be of good constitution
– not require highly specialist growing conditions or care
– not be particularly susceptible to any pest or disease
– not be subject to an unreasonable degree of reversion in its vegetative or floral characteristics."
In simple terms, the RHS is helping you to identify great plants to go into your garden. Although we all have different growing conditions within our gardens, the RHS has tried to identify plants with a great chance of thriving within a broad range of gardens.
Trials are ongoing, and so far, over 7,500 plants have been recognised with the Award Garden Merit (AGM), including fruit, vegetables, shrubs, perennials and trees and flowers.
Who Makes the Award of Garden Merit?
The RHS uses committees including nurserymen, growers, and horticulturalists to run trials of plants at RHS gardens where their performance can be assessed. Awards are given out by the committees once plants have been proven to grow well in the trials.
What does AGM mean after a plant name?
To identify a plant as having been awarded AGM status, it can be listed with the letters AGM after its name. Additionally, look out for the badge below, which can be shown on the plant label and also where the plant is promoted.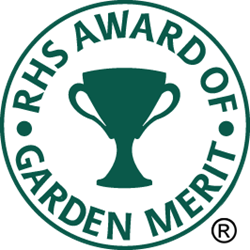 RHS AGM Plants List
We have put together a list of RHS AGM plants we have for sale below. The RHS website publishes and updates the full list.
RHS advice on plants
The RHS is recognised as one of the leading horticultural organisations in the world, and the AGM is a highly valued award. If you are looking for plant recommendations for your garden then the RHS AGM list is a great place to start.
Buy RHS AGM plants online
Gardening Express has been selling Award of Garden Merit plants for many years. We hold a massive range of plants in stock all year round. We offer quick dispatch and delivery. Our secure packaging ensures that your plants will arrive in great condition ready for planting out.