Having spent ten years as a garden designer in East London, I learned plenty about designing terraced house gardens. Your typical English terraced house garden is long and thin, proportionally speaking, which for many homeowners, leaves them short of ideas. In this guide, I share my decade of experience in how to tackle these tricky spaces and create a wonderful extension of your living space.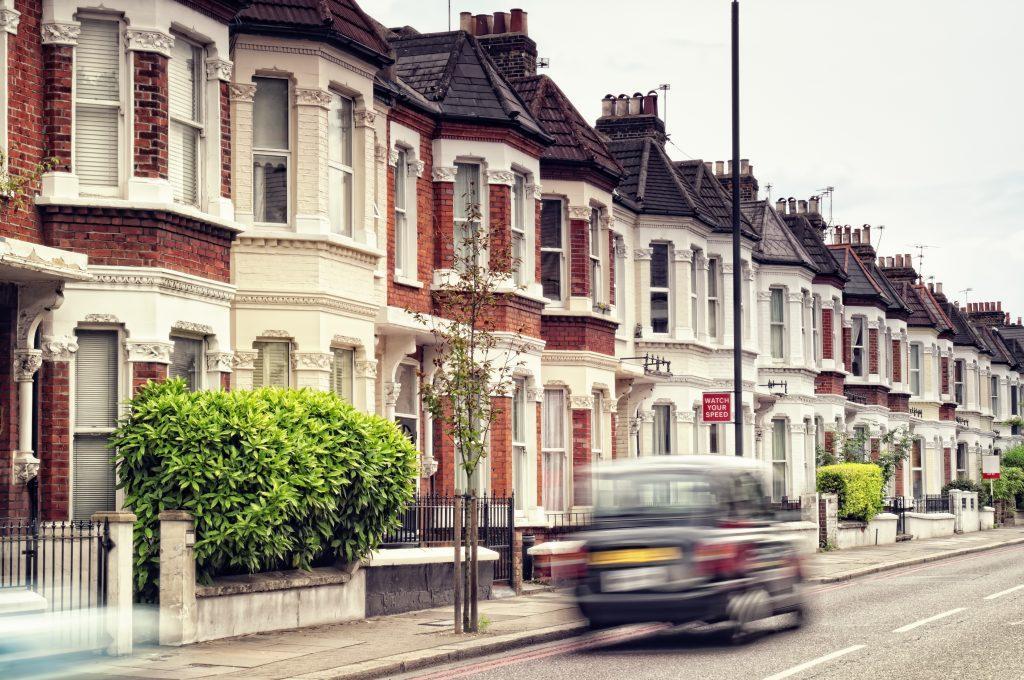 What are the issues with owning a terraced house garden
If you are the owner of a Victorian terraced house or townhouse, then your garden is the perfect opportunity to increase the amount of living space that you have. Terraced house gardens present several unique challenges I will discuss before explaining how to overcome these issues.
(1) Garden Access Issues
The single biggest issue I come across with small terraced houses is getting decent access to the garden. Often several homes in the same block will share an access gate which lies down a narrow alleyway. For day-to-day access, this can be fine; however, if you are looking to make significant changes to your garden, then this is a major issue.
Landscaping a garden requires a lot of materials being brought into and out of a garden and plenty of digging. Much of this work is best done with a mechanical digger, and the material is transported by a wheelbarrow. If waste material has to be pushed around many houses, then the time to undertake the work will be significantly higher and the cost. I have worked on many gardens where shared access was such a problem that the labourers had to create a walkway for the barrows through the house, which was a major inconvenience for all parties.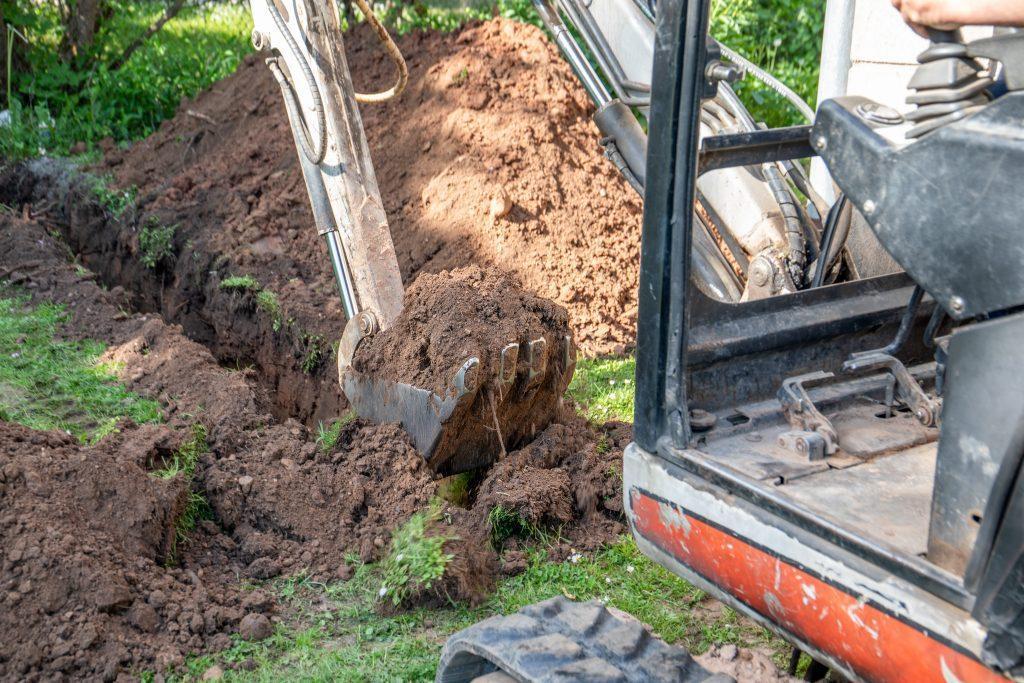 An additional access issue concerns getting from one end of the garden to the other. If you own a decent size space this could require an expensive pathway which eats into valuable lawn space.
(2) Garden Shape Issues
There is something about terraced house gardens that makes them always seem to be an awkward shape. You are either dealing with long, thin gardens or small gardens that are box-shaped. Either way, similar problems exist when you want an outdoor garden oasis.
(3) Garden Privacy Issues in Cities
If you live on a terrace or townhouse in a city, the chances are that privacy is going to be problematic. The long gardens, unfortunately, provide ample space where there is the opportunity to be overlooked. I also found in the gardens of London and Essex where we worked that so many townhouses have loft conversions which further erodes any change of privacy. In addition, many terraced houses have a communal right of way which cuts across your garden so that the mid-terrace garden owners can access their garden.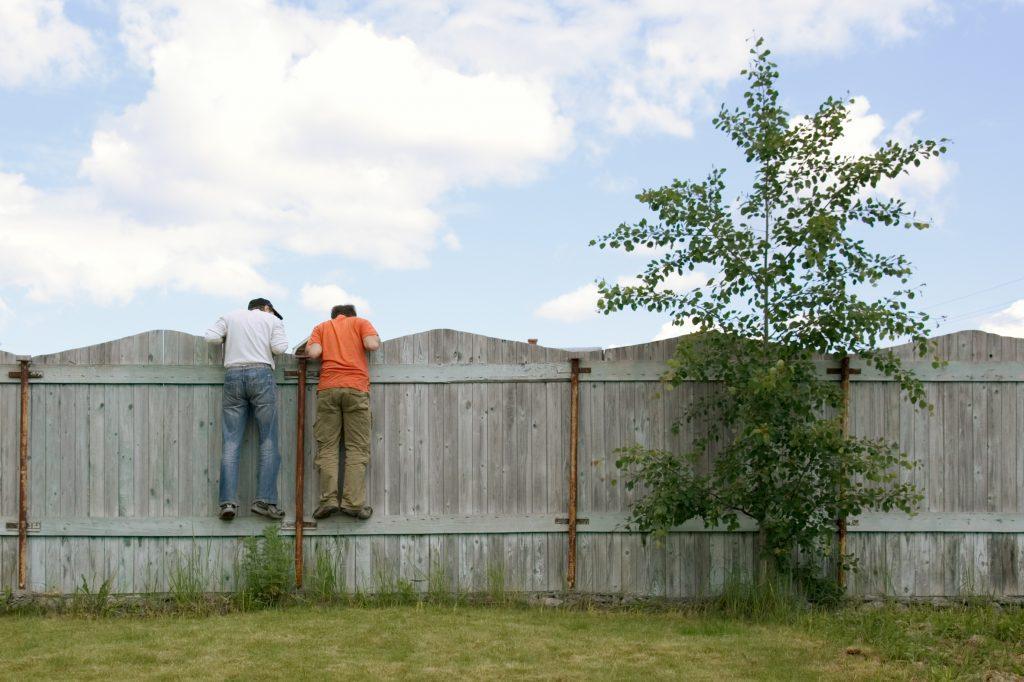 (4) Garden Shade Issues
Urban areas, by their very nature, create a lot of shade areas which can affect a large proportion of gardens in the area. Tall, high-density housing results in pockets of dark shade, which can be tricky areas to plant and find places to sit and enjoy the sun. If you find that light is restricted to your back yard read our guide on plants for shady gardens.
(5) Garden Lighting and Power Issues
Power and lighting in your garden are luxuries worth investing in if possible. Unfortunately, the length of typical terrace house gardens can mean this is an expensive option. You need to have secure cables which can take the whack of a poorly directed garden spade or fork, and this is costly.
(6) Garden Noise Issues
If you live in heavily populated areas, you need to expect some levels of surrounding noise all the time. Most of the time, you get used to this annoyance, but it can be a problem when you want to chill in the garden.
(7) Cat and Fox Issues
When you live in a town or city, you will get unwelcome guests in your garden. Cats and foxes can be a real nuisance as they make a mess, can destroy your property and be very noisy. Gardens make lovely living spaces for foxes who love roaming at night and screaming for hours. Near to where I live is a garden that has been neglected, and a family of foxes have made this their home; at night, they walk from garden to garden searching for food.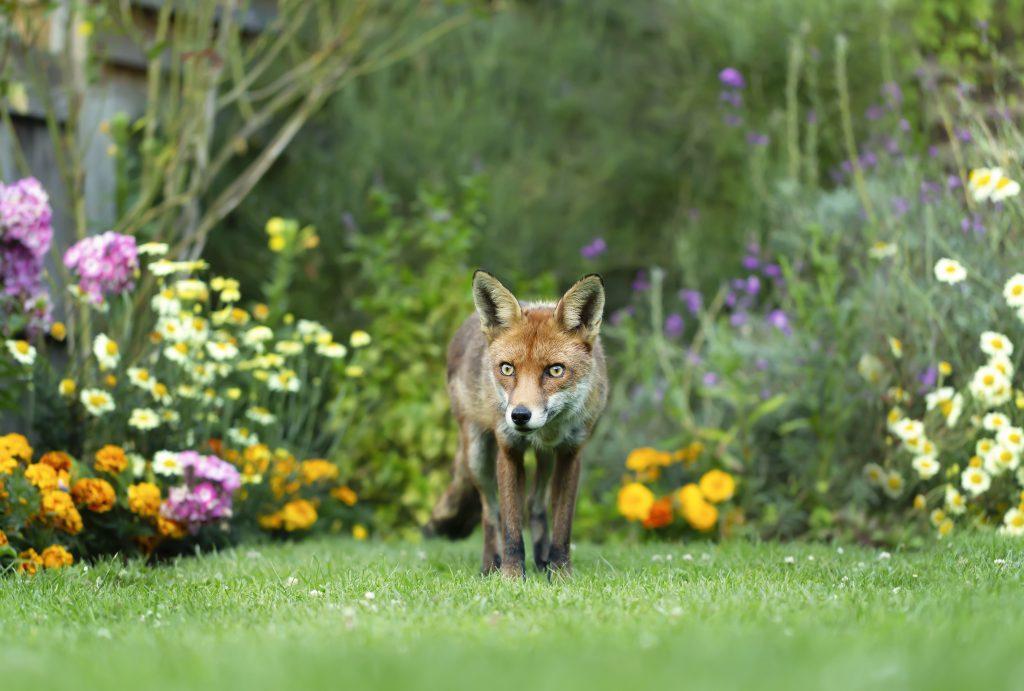 (8) Lawn Issues
Terrace house owners often struggle to decide if they want a lawn or not. Long, narrow lawns can take a lot of time to mow, and if the lawn is right next to a fence, you need to use a strimmer. This is a lot of work for a patch of grass and is not exactly low maintenance.
---
How to design a victorian terraced house garden
When working with your typical townhouse garden, there are a few techniques that can be used to make the most of the space.
(1) Consider how you want to use the garden
Before you do anything in the garden, sit down and make a list of what you want to use the space for. Is the garden going to be a space primarily for sitting in and relaxing, or do you want a more active space? As a designer, I firmly believe that form should follow function, i.e. make sure the area works for you and then dress it up to suit your taste.
(2) Borrow ideas
One of the advantages of living in a high-density residential area is that there are plenty of gardens around yours that you can look at for ideas. An even better idea can be to use Google Earth to take a snoop around your local area for some ideas.

(3) Survey your garden (and your neighbours)
You must measure out your garden accurately and identify what objects and plants will be staying.
Look into your garden access for clearance and bringing in equipment. A pro tip is to determine if there are ways to get to your garden through a neighbour's garden. It may prove cost-effective to buy your neighbour a present if they allow the landscapers to go through their garden if access to your garden is limited.
I strongly suggest that you also take a good look into the surrounding gardens and note any objects that could affect where you want to sit in your garden. Your neighbours may have smelly compost bins or children's trampolines which you will want to avoid.
(4) Break up the space
If you have a long, thin space then the most important garden design tip is to break up the space into a series of garden rooms, each with its own identity. Strangely enough, if you can obscure the view of much of the garden, it will seem more extensive and more interesting. Unless you need a very long single piece of lawn, you should consider breaking up the space into a series of zones.
You can break up your garden by including planting beds that run across your garden, installing some interesting fencing or even using structures. By establishing some screening across your garden, you will have gone a long way to adding essential privacy to your outdoor space.
You will find that once you have broken up the space that designing each of the smaller areas becomes much easier than a single large space. In essence, you have created a series of courtyard gardens which can have their own identity.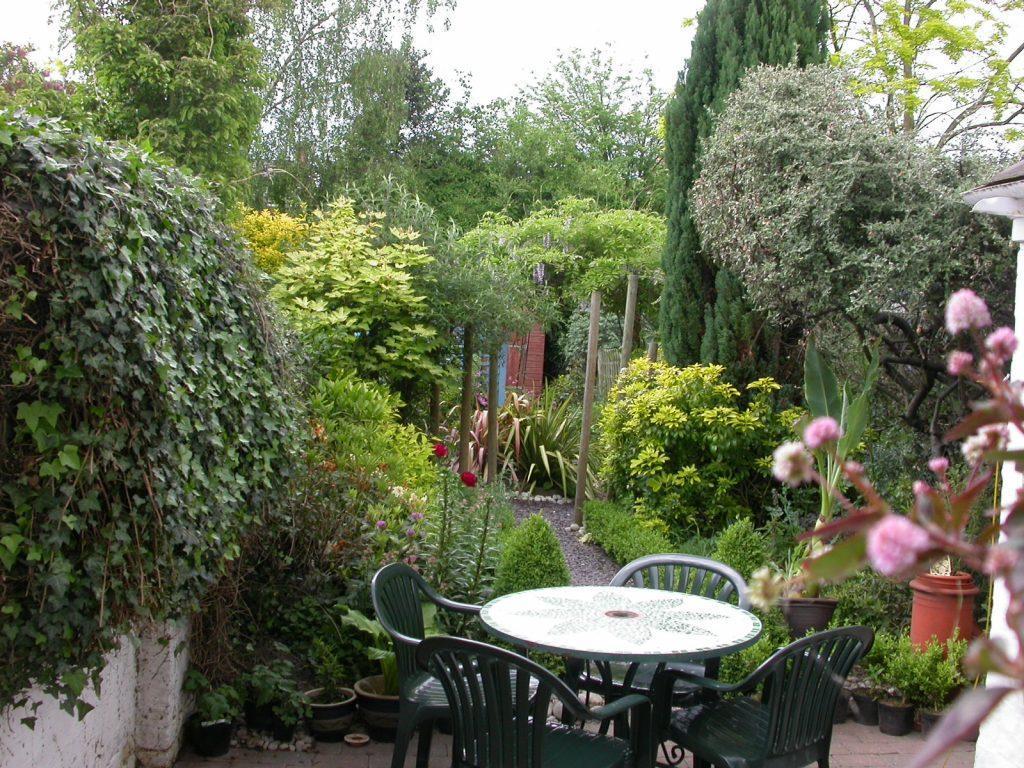 (5) Change the direction of the garden
Designing your garden on a 45-degree angle so that your eye is drawn diagonally across the longest axis of the garden. Garden designers often use this trick to give the garden a dynamic feel and draw the eye away from the long boundary lines.

Circular designs also work well to break up square or rectangular areas of a garden. Circular laws create large deep pockets for planting that help to disguise boundaries. Geometric designs can be used to add a modern feel to a garden.
(6) Identify your seating areas and walkways:
Whenever I design a garden, my early thoughts go towards the hard-landscaping areas. You want to ensure that you have the best places to sit that catch the right amount of sun whilst affording you some precious privacy. Ensure you have looked into the neighbouring gardens to site your seating areas away from their noisy or smelly areas.
The best tactic to guarantee you some privacy is to try and create a few seating areas in the garden. You will then have a choice of where to sit regardless of what is happening in your neighbour's garden. It is worth noting that seating areas for four people with a table require a space of approximately 3m x 3m.
(7) Use pathways to control how people circulate around the garden.
Meandering walkways help to break up narrow terrace house gardens creating a more relaxed environment. Flowing lines distract from the extensive boundary lines of long gardens.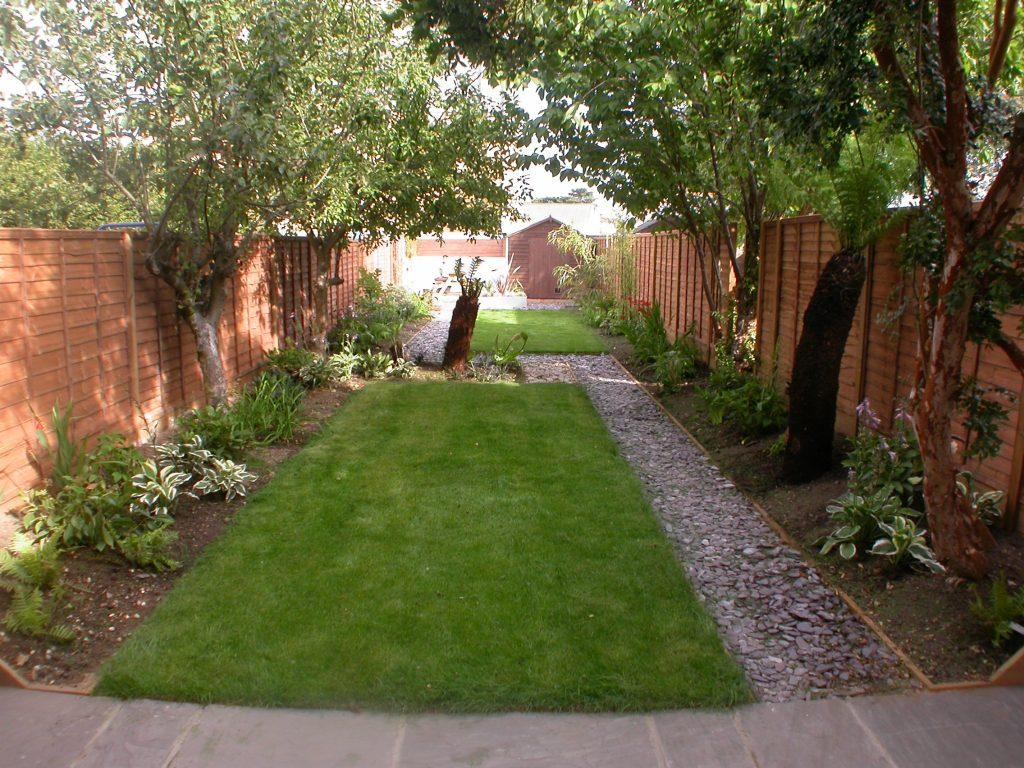 (8) Vertical Planting
For privacy and stylistic reasons, you must select the right plants to add height to your garden. With gardens being butted up against each other, you are not going to have complete privacy; however, you can create a series of private pockets within your garden. Unfortunately, many tall shrubs and trees grow outwards as well as upwards, and this can eat into your precious space. You need to select the right plants for your garden carefully – we have included the best plants for terrace house gardens at the bottom of this article.
Consider climbers and rambling plants which will scramble over garden structures such as pergolas, providing essential garden privacy. Evergreen plants give structure to your planting, ensuring you have some year-round interest in your garden.
(9) Create deep planting beds
By creating deep pockets of plants, you will create a natural feel to the planting rather than a single lineup of plants along a boundary. Deep planting beds allow for great planting combinations, with flowers appearing during different seasons.
(10) Use boundaries for style and sound proofing
The boundaries of terrace house gardens heavily influence the feel of a garden. Carefully consider if the existing style of boundary ties in with your vision of the garden space.
Pro tip: Urban garden fencing ownership and maintenance cause many arguments between neighbours, so you must investigate who owns and maintains your fence lines. I would strongly advise that you discuss any prospective changes to fence lines with your neighbour. You can find out who owns a boundary line by looking at your tile deeds or visiting land registry.
There are endless boundary options for gardeners these days; each area of your garden could have a different style of boundary. Style is only one consideration here, the boundary will affect how much privacy, light and noise your garden receives. Modern trellis can help with privacy and give a contemporary look along classic lines.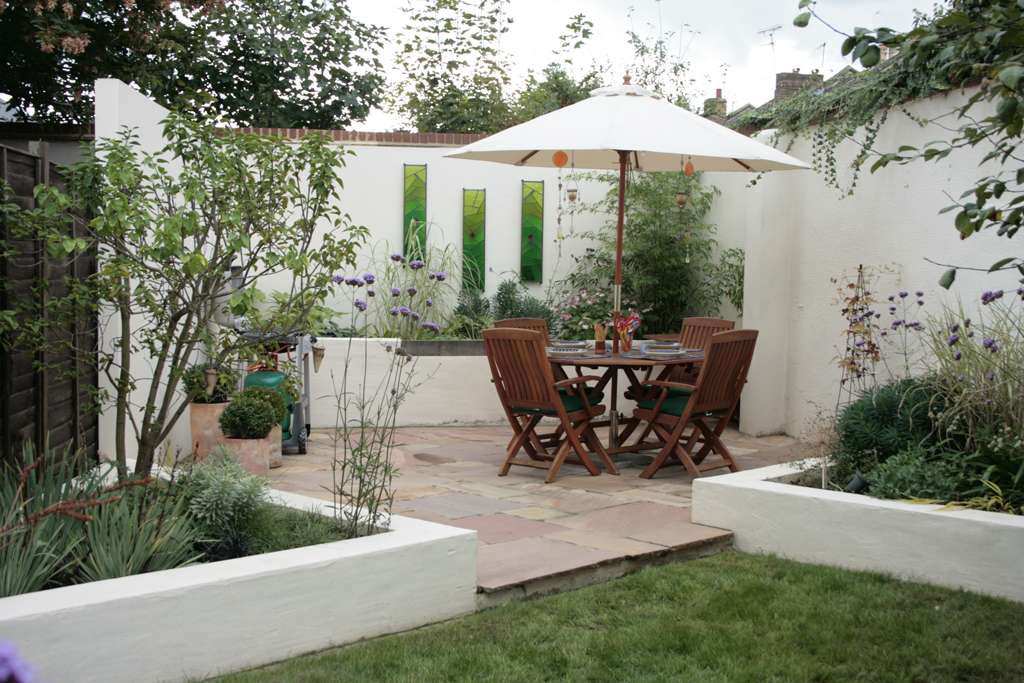 If noise is a problem in your terrace, consider dense planting or acoustic fencing to soften the impact. Both work well whilst offering different looks.
(11) Consider an artificial lawn
Artificial lawns work well as pathways which consume valuable space in a small garden. Artificial lawns can also cope with shady areas, which is common in urban areas.
(12) Use focal points to draw your eye around the space
Focal points can include water features, art or planters. Use these points of interest to link various garden areas together or define the spaces' uniqueness.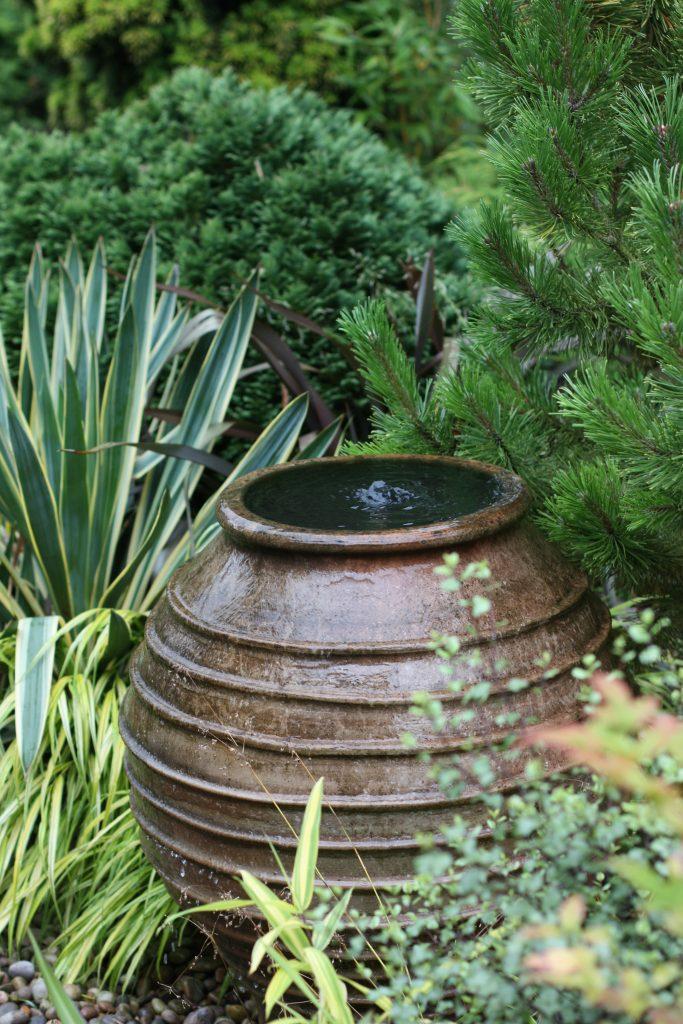 (13) Make the edge of your lawn part of a path
Where space is at a premium, materials need to work hard to earn their place in the garden. With terraced house gardens, I like to edge lawns, so they are easy to maintain. Edging blocks take up space so I make them part of the path.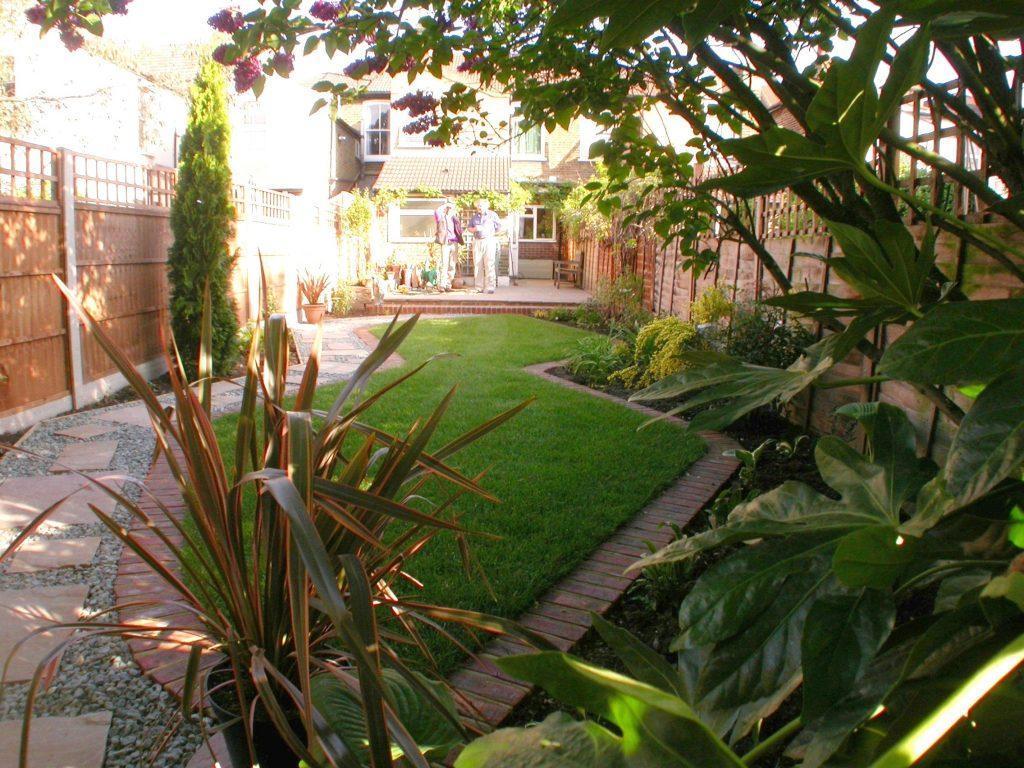 ---
Don't be put off if your garden is in an awkward shape. Any garden can be an asset. Follow our tips above for terraced house garden ideas and be inspired to create your very own garden oasis.
---
Front garden ideas for terraced house
Front gardens of houses are a bit of an oddity regarding design and usage. Your front garden is the first impression that anyone gets of your house, yet it is the one area that gardeners hate to work on. As the homeowner, the chances are that you don't sit out in your front garden that much. You pop out to give it a tidy-up before retiring back to enjoy the rear garden. I know many gardeners who wish they didn't even own a front garden; they see it as somewhere to park the car, leave out the recycling and enter the house.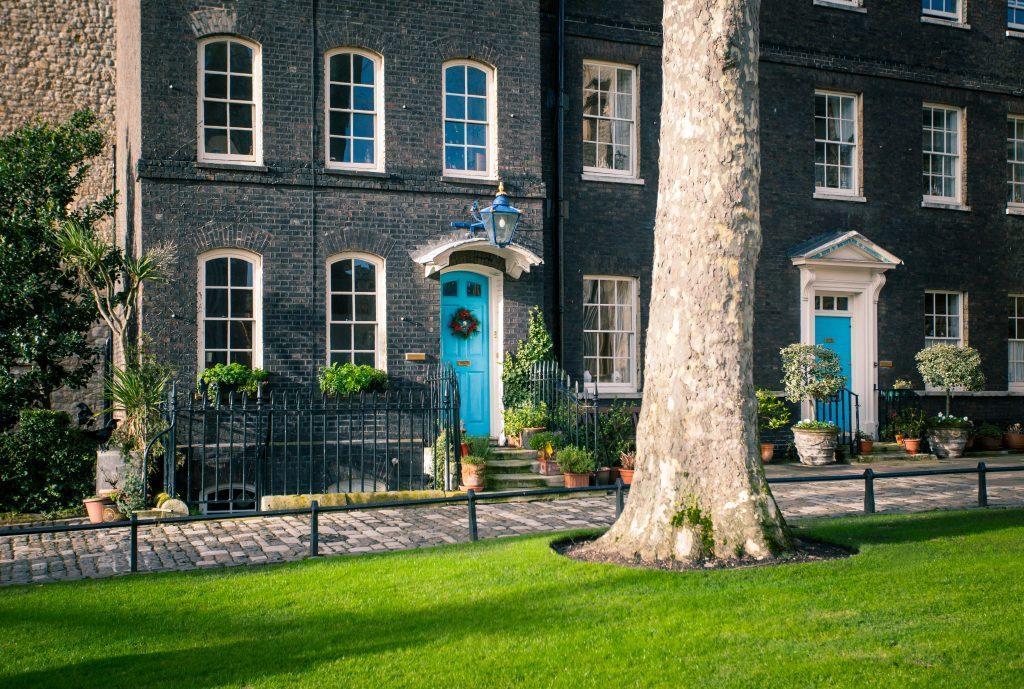 If you have a terraced house, then the chances are that you have a small area of only a few square metres, which makes it an awkward size to do anything with. Another issue with front gardens is that you feel like you are out on display when working out the front, ready for your work to be judged by the neighbours.
The final gripe about gardening in the front garden is that you are vulnerable to being caught by a chatty neighbour who likes nothing better than to while away a few hours talking about nothing in particular.
Despite all these issues, front gardens should be embraced. They can frame your house, allow you to grow alternative plants to the back garden and welcome you home in style. Here are the best ideas for terraced house-front gardens that I have applied over the past decade or so.
Front garden ideas for victorian terrace
Be functional: Very few people enjoy gardening outside the front of the house, so make it easy. Front gardens need to work and perform certain tasks such as parking the car and taking out the bins. Give yourself space to do these tasks easily in all seasons.
Try to be original but in keeping: There are few sights sorrier than walking down a street and seeing one homeowner trying to outdo the rest of the street with an over-the-top front garden. There is nothing wrong with your flowers being the starts of the neighbourhood but over-the-top landscaping looks ridiculous.
Use containers but make them big: Large containers framing a front door look classic and timeless. Other pots crammed full of flowering plants looks wonderful but always aim for big heavy pots that hold plenty of moisture and are not easy to steal.
Evergreens – aim for some evergreen shrubs that give you some structure all year round, and then complement them with some flowering perennials and bedding plants for a show of colour. Evergreen
Add lighting that shows off your planting and feature pots and leads you safely to the front door. if you put some hard work into your garden make sure you can appreciate it when you come home and its dark
Don't make it a litter trap – front gardens, unfortunately, attract litter, and many terraced houses tend to be based in city centres. Late-night revellers tend to discard their litter so try to find ways of stopping your garden from becoming the litter bin. Wrought iron railing can be a great choice if you have a low wall to mount them on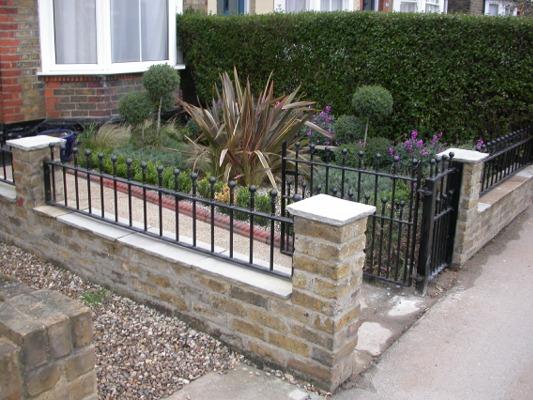 Best plants to use in terraced houses and townhouse front gardens
The following plants are recommended to be used in the front gardens of terraced houses, can take some neglect, don't grow too large and deal with passing traffic:
Choisya ternata 'Goldfingers'
Cordyline Australis
Cotinus 'Dusky Maiden'
Eryngium Bourgatii
Euonymous fortunei Harlequin
Euonymous fortunei Silver carpet
Pachysandra terminalis
Pinus mugo Winter Gold
Potentilla atrosanguinea 'Scarlet Starlit'
Potentilla fruicosa Abbottswood
Sedum Spot on Pink
Be bold when you select plants for smaller spaces such as front gardens. Don't select small under-sized plants, go big and bold.

Chris Bonnett – gardening expert for the Express Newspaper
A terraced house with a garden is a fantastic opportunity to extend your living space outside. Your front garden should welcome you and guests to your house, whilst the back garden is the perfect place to relax. Don't follow the norm; go against the grain and create the garden of your dreams.
Victorian Terraced House Garden Design Ideas
This video by 1228Home Design should inspire you to transform your garden and make the most of your space.
If you would like to learn more about creating a wonderful garden read our guide on garden design principles.