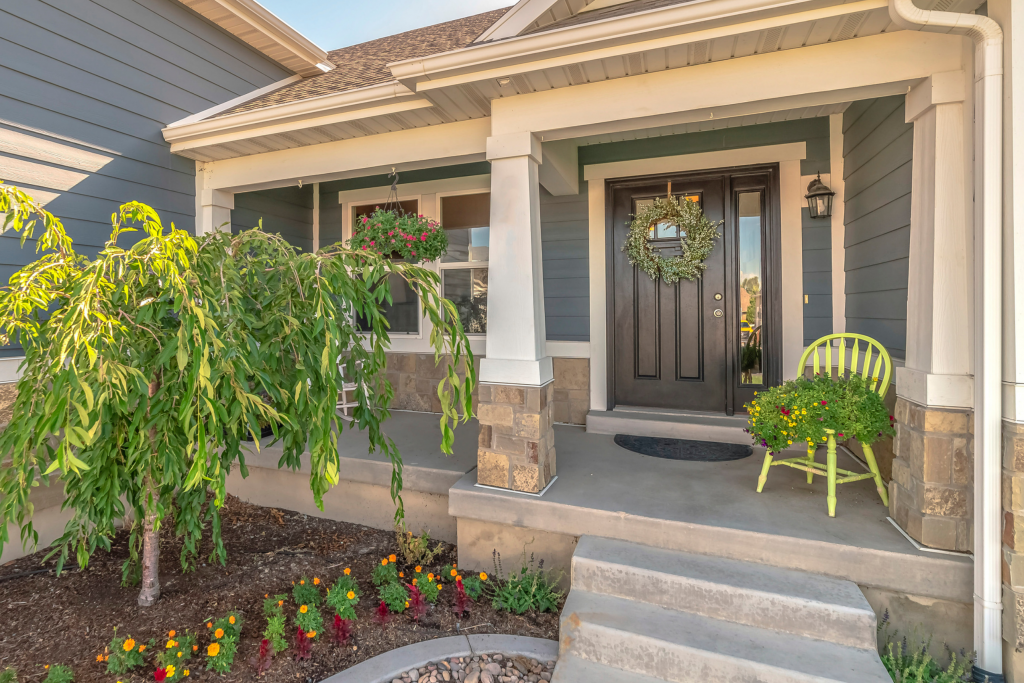 The front garden of a home is seen by everyone who passes by, so making it look great is essential. A well-designed front garden will not only boost your home's resale value but also enhance its curb appeal. It's also an excellent place to showcase your style and make a statement about who you are as an individual or as a family.
Even if you have a limited budget, you can still create an outdoor space that feels tailored to your tastes and home. Making it possible to create an outdoor space that rivals your neighbours' when working on a budget. With the right planning and execution, your front garden will be full of lush greenery in no time. Here are 11 tips for designing a beautiful front garden:
Plan before you jump in
Before you buy one plant, make sure you have a plan in place. Get inspiration from photos, magazines, and books. Get to know the basics like what your drainage issues will be, which plants you should avoid, how much sun you will have, what time of year you will have to plant and so on. It is also important to be mindful of the size of your front garden, in the UK most front gardens are small; but do not worry, a small garden has lots of potential. We also have a list of small garden ideas and inspiration.
Once you've done your homework and have a general idea of what you want, you can start thinking about what you will need to achieve your goals. Your plan should include information about the existing conditions such as sun exposure, soil type, and drainage. You can collect this information by marking your lawn with spray paint, taking a soil sample from the site, or hiring a professional to evaluate the conditions. You can also ask your neighbours about the existing conditions of their garden and how they use it.
During the planning process, you must also consider if any planning permissions are going to be required. The guidelines on the gov.uk website can be found here.
Decide on your landscape design theme
This might seem a little premature, but it's good to have a general theme in mind before you start shopping for plants. After all, you might find a great deal on a certain type of plant that doesn't quite fit your theme. If you don't have a theme in mind, you might find yourself stuck with a mishmash of plants that don't go together. Or maybe you'll end up discarding perfectly good plants because they don't fit your theme. In short, it's much easier to know what plants you're looking for when you have a general idea of what you want your garden to look like. To help find a theme, check out our garden styles articles. "A cottage or modern garden style are the most popular front garden design themes to take inspiration from," says Chris Bonnett, gardening expert for The Express Newspaper.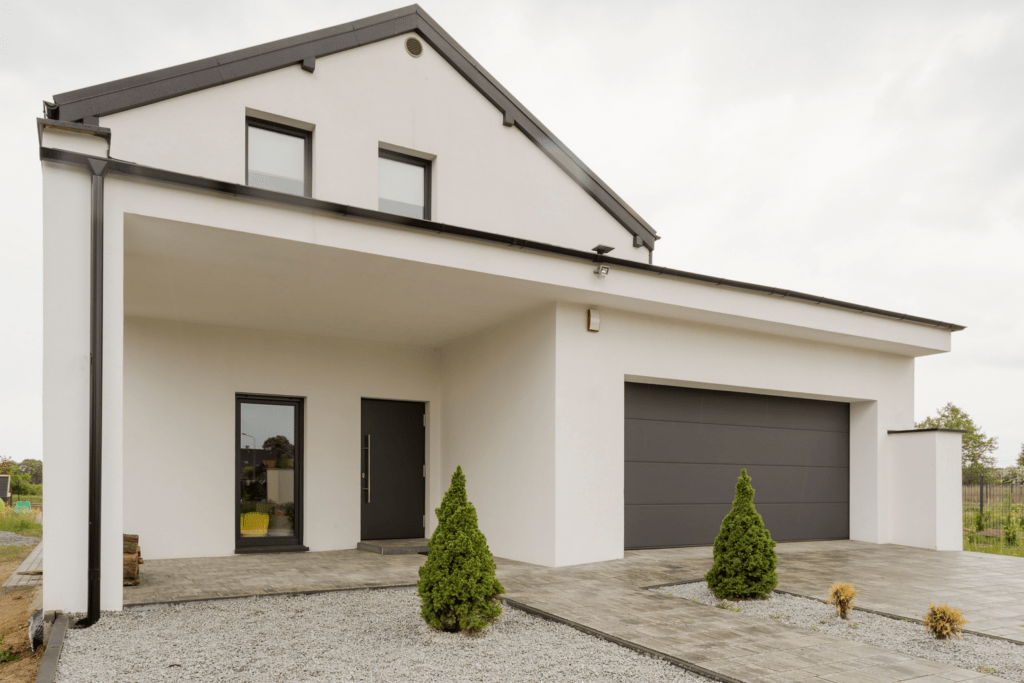 Be mindful of drainage and soil conditions
There are a few factors you need to consider when designing your front garden. First and foremost is drainage. Excess water can cause damage to your garden's root system, leaving it vulnerable to diseases and pests. You, therefore, need to be mindful of where you place plants that are prone to retaining water. There are a few things you can do to increase the drainage of your garden. A common recommendation is to use a soil amendment called organic matter, like compost or mulch, which can help improve your soil's drainage. You can also change your design to accommodate for drainage. For example, you can add a straight path or a walkway as your entranceway. Another thing you can do is to plant drainage-friendly plants like succulents. If you aim to be parking a car in your front garden, consider using materials that easily drain such as gravel.
Top Tip: Don't build up paving or soil against the house wall, this can lead to damp issues.
Creating structure
It is important to think about how borders and fences will be used in the structure of your front garden. We prefer to swap fencing for hedging as this is a tactical plant for creating privacy and reducing unwanted pollution.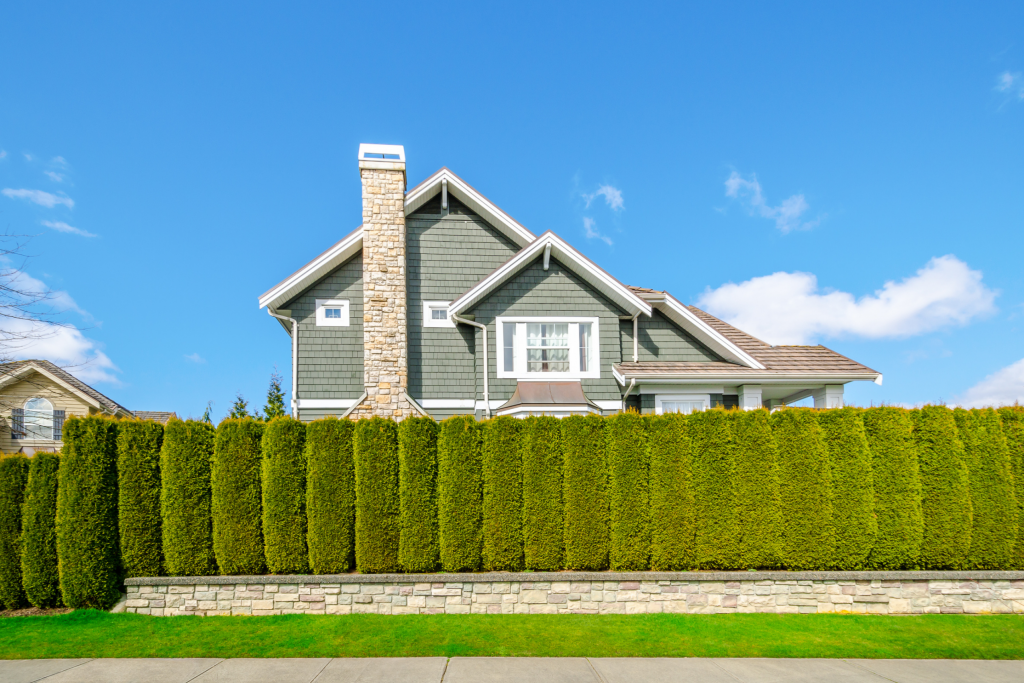 However, if you wish to use fences, you can paint a picket fence white (yes – like the stereotypical American houses, but who doesn't love the clean style) or soften fences with climbers to create a more welcoming environment.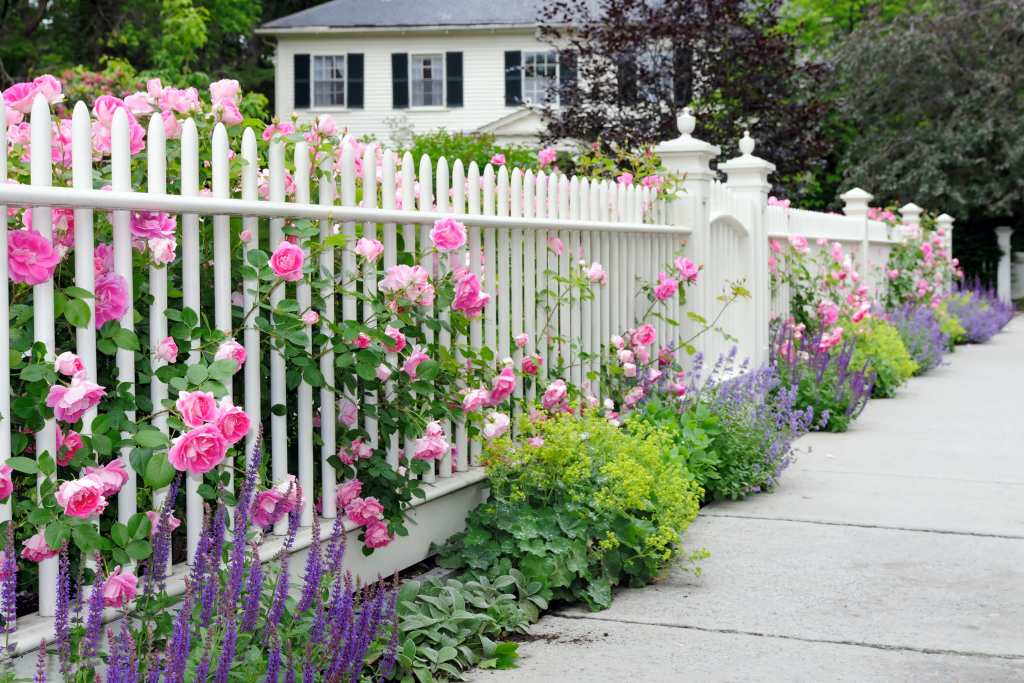 We also suggest creating a structure by planting across three levels to create interest. The first level would be lower-sitting plants in borders, the second level would be contained plants or low-sitting hedges. For the top level, consider hanging baskets, archways, or trees. A multi-level planting structure makes a front garden look more planned and adds variety to the environment.
Celebrate your entryway
The walkway leading up to your front door can be the perfect place to add interest and make a statement. This is an excellent area to add decorative elements like stepping stones, decorative planters, or a pathway constructed from a different material.
There are many options for walkway materials, including concrete, brick, pavers, and soft materials like decomposed granite or sand and gravel mix. Each material has its pros and cons, so it's important to consider what your walkway will be used for, how much it will be walked on, and the overall aesthetic of your home. If you don't want to spend the time and money laying bricks or installing pavers, consider using bark mulch as a walkway material. This is a soft, easy-to-install material that can look beautiful in a cottage or woodland garden style. Remember to keep the path route simple and direct, otherwise, people will find a way to walk over grass or plants to get to the door. But make sure to not use gravel or bark mulch directly up to the front door as these materials are easily brought into the house.
Why not frame the front door with an archway, containing flowering climbers to add a little more colour to the front garden? You could also frame the front door with potted plants or trees on either side, making it perfect for seasonal interest.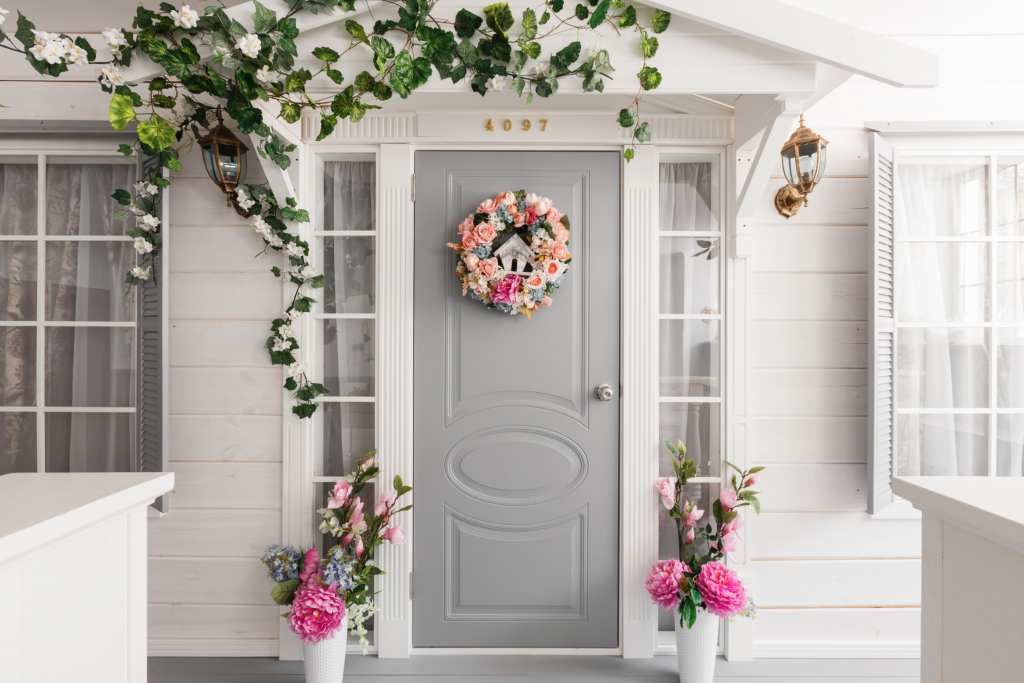 Use edging to make everything look tidy
Edging is the best way to define your garden beds, pathways, and other areas of your front garden. It looks tidy and well-maintained, while also serving as a barrier to keep weeds, leaves, and other debris from getting into your garden beds. You can use many different materials for edging, including brick, rocks, logs, metal, or decorative plastic materials. It's best to match the edging with the materials used for your walkway and decorative elements. Make sure to install edging at least 1 foot away from the garden beds to ensure the soil has plenty of room to breathe. For a formal garden design, consider using multi-height topiary that is well-maintained.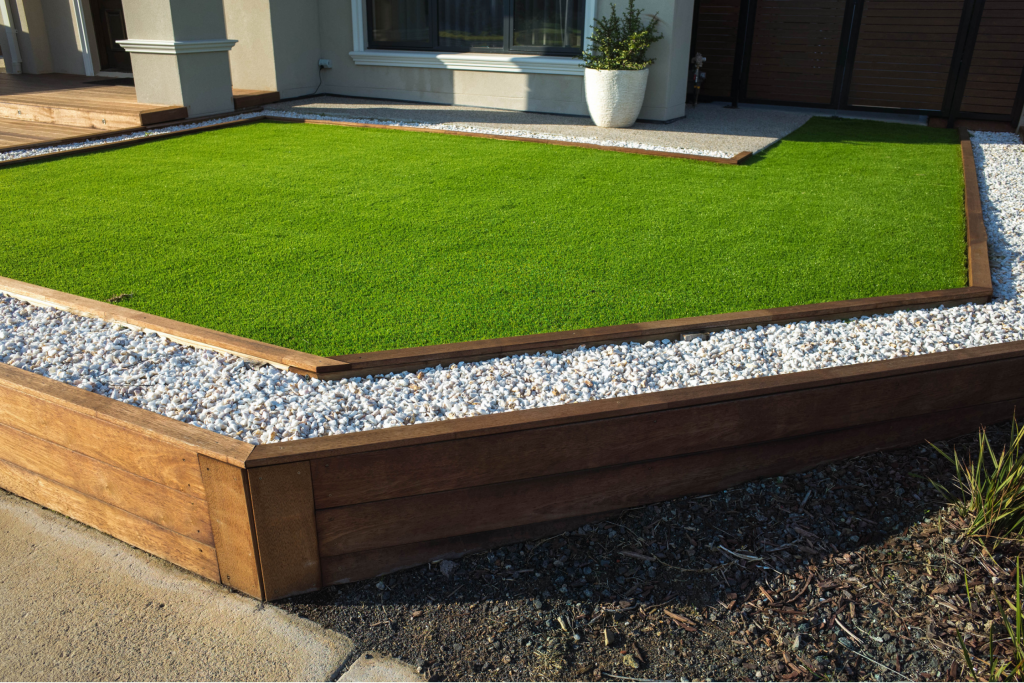 Utilise focal points
There are many beautiful plants and flowers that can add colour and interest to your front garden. We highly recommend choosing a few to use as focal points in your garden bed. Focal points are plants that stand out from the rest. They're often vibrant and colourful, and they sometimes even smell amazing. Some great plants to use as focal points are annuals, perennials, and shrubs. Annuals are wonderful for adding colour in the spring months and fall – but if you live in a warm climate, they can also add colour throughout the summer months as well. They're easy to grow and maintain, but they can be a bit costly. Perennials are a great choice for the long term, as they come back year after year. However, they're a little more costly than annuals. Shrubs are great because they add both colour and height to your garden bed. They're also relatively inexpensive.
Choose the right plants
There are many plants that look great in a garden bed. However, it's important to choose plants that are appropriate for your climate, soil type, and the amount of sun and water they receive. If you're unsure which plants to choose, look at our selection of plants for garden conditions articles. Also consider what colour combinations will complement your house most, we have a colour combinations in the garden article to help.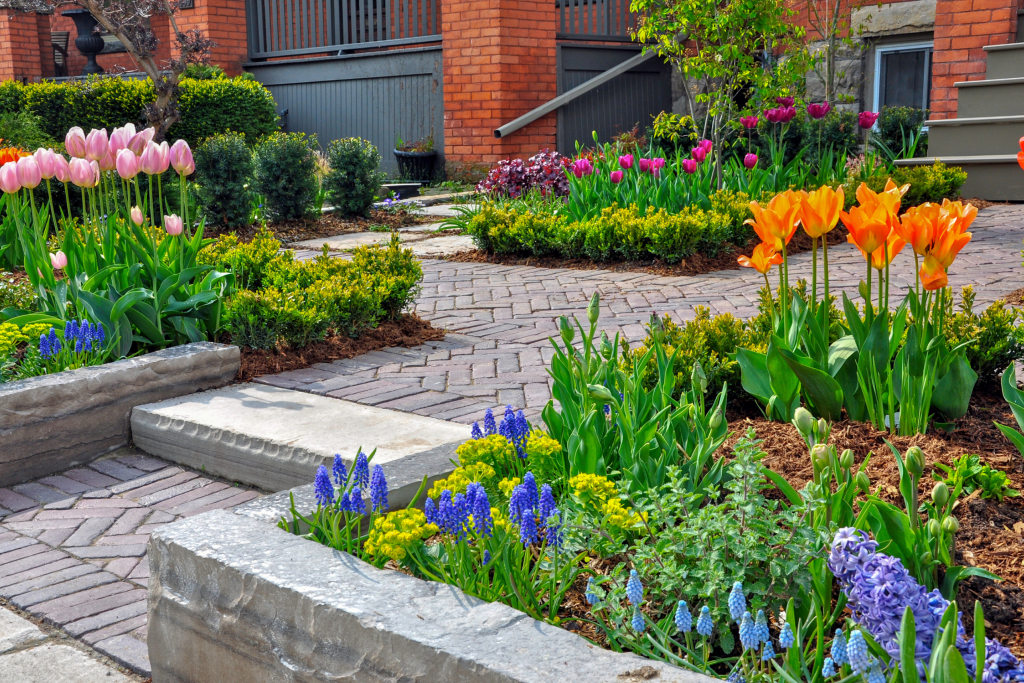 Add interest with shrubs and trees
A beautiful landscape design isn't complete without trees. They bring so much beauty and charm to the front garden and are excellent for bringing attention to your home. They're also fantastic for blocking noise and pollution from the street. If you want to add height to your garden bed, but you don't have much room for plants, consider planting trees.
If you have enough space, planting both shrubs and trees will create the ultimate focal point in your garden bed. Combining the two will create visual interest and bring a variety of textures and colours to your front garden.
If you're looking for a bit of colour without the maintenance that annuals or perennials require, flowering shrubs are the perfect solution. Flowering shrubs come in many different colours, shapes, and sizes, so you'll be able to find exactly what you're looking for. Plus, flowering shrubs are relatively inexpensive. These are great for adding colour to any part of your garden, including the sides of your home. If you want to add colour to your front garden, but don't have a lot of space, consider planting shrubs that grow upwards to add height to your garden bed.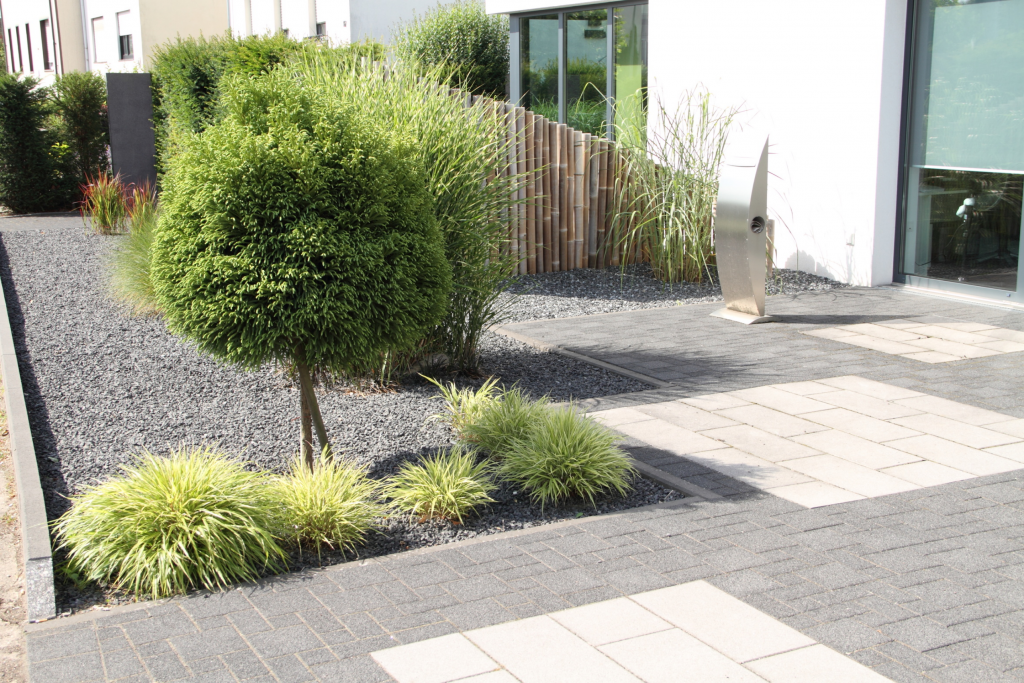 Rotate your plants for beauty and variety
One of the best ways to make your front garden look beautiful and fresh is to rotate your plants. By rotating your plants, you prevent diseases and pests from infecting your garden bed. You also give your plants the nutrients they need by rotating them to new soil every year. There are many ways to rotate your plants. One method is to place your plants in different spots each year. Alternatively, you can mark your garden beds and move your plants around within the beds each year.
Don't forget the finishing touches
Now that most of the front garden has come together, consider the finishing touches. A bench at the door gives space for you or a visitor to sit and enjoy the view, a space to rest bags whilst opening the door, or an area to add extra seasonal potted plants.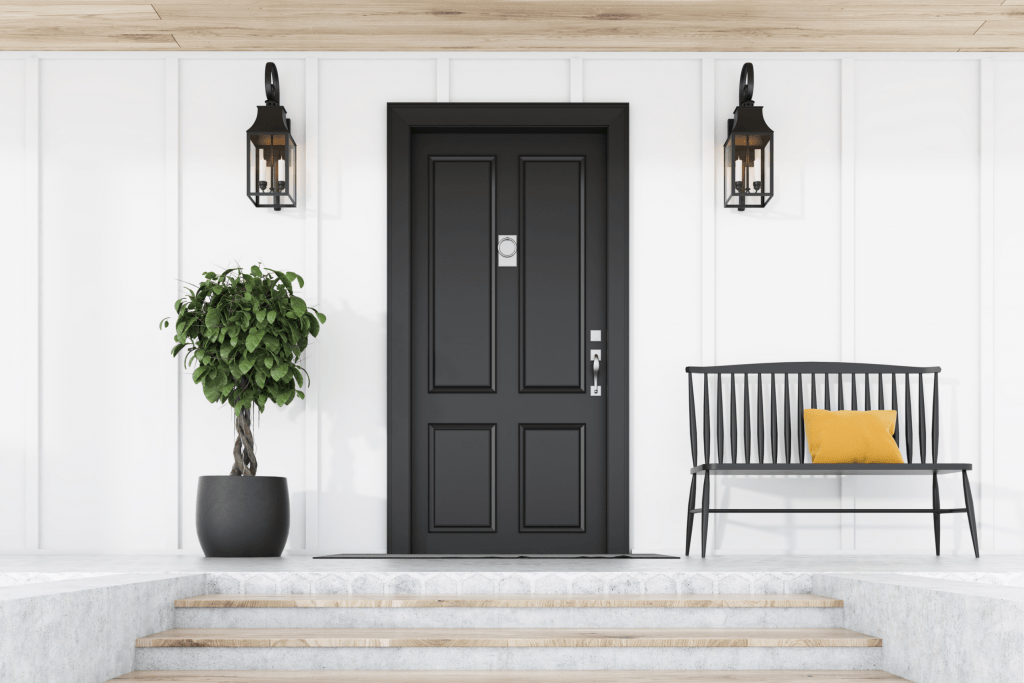 If you have a tree, consider purchasing a curved bench that wraps around the tree, again adding some additional seating or just finishing the design with something a little old-fashioned.
Conclusion
So, to create a perfect front garden it is important to plan before you start, including aim, soil types and garden style. Use hedging or fences to create structure. Celebrate the entryway with soft path materials, framing the door with an archway made from climbers and using potted plants or trees for a little more interest. Also, use edging that matches surrounding materials to make look clean and tidy. Add interest with flowering shrubs and trees. Don't forget the choose flowers carefully to match your garden style. We have 15 Plants for a Front Garden to help.