What are 'in the green' bulbs?
'In the Green' bulbs are growing plants that are removed in late winter or early spring, either while the bulb is actively growing or in flower, or when it is beginning to die back after flowering. These plants are very useful for quickly adding flowers to bare spots in your winter garden because they are easy to grow and establish quickly.
How & when to plant them
'In the green' bulbs, which bloom from January to March, should be planted in the early spring, rather than when they are dormant in autumn. Tease your plants carefully apart so as not to harm their roots when they arrive. Plant about 10 centimetres deep then fills with soil. After compacting the soil around the bulbs, water immediately.
Top 10 'in the green' bulbs
Please Note: All products selected were chosen by our content management team, with the product details and stock available at the time of selection – 9th March 2023
1. Tulips Red Riding Hood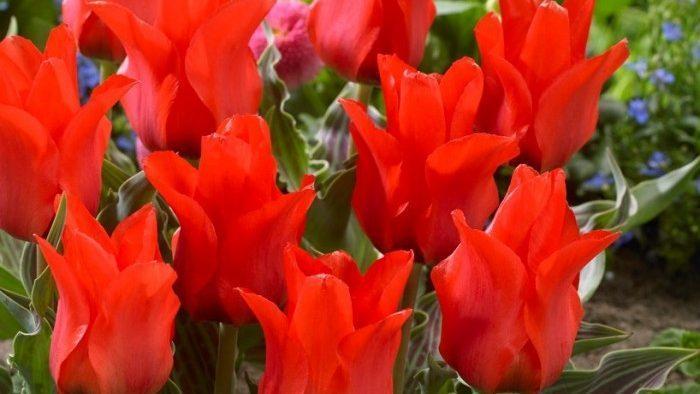 Tulip Red Riding Hood is an elegant flowering plant that will bring a vibrant splash of colour to any garden or home. The deep red blooms appear between March and April, supported by striking green-mottled foliage. This easy-to-grow, hardy plant can be planted indoors or outdoors in full or partial sun conditions. Supplied as an approx. 1-litre pot crammed full of bulbs in bud and ready to bloom, Tulip Red Riding Hood will make a beautiful addition to any garden.
2. English Bluebells – Hyacinthoides non-scripta
Bring a touch of classic English beauty to your garden with Real British Native English Bluebells – Hyacinthoides non-scripta. These cultivated stocks are supplied in approx 9cm pots, ready for you to nurture into bloom in the spring season. This is a great way to help conserve these beautiful flowers, which have been on the decline in our woodlands.
3. Scilla sibirica – Siberian Squills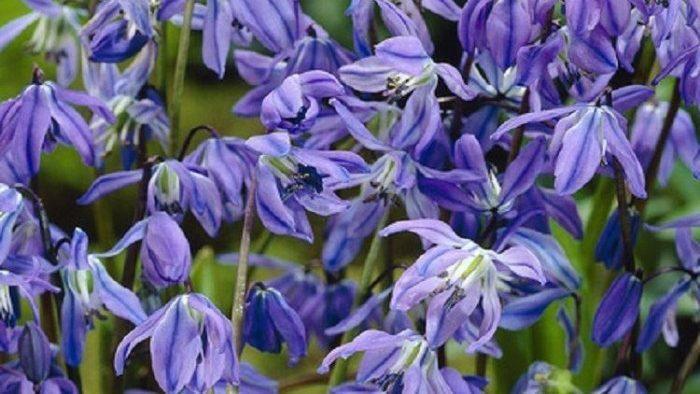 Siberian Squills are a choice and sought-after bulbous plant, perfect for naturalising in areas of semi-shade underneath deciduous shrubs. With dainty spikes of up to five nodding, bell-shaped, violet-blue flowers in March and April above slender, strap-shaped mid-green leaves, these beauties come from the area around the Black Sea making them extremely robust and reliable performers once established. Supplied as an approx 9cm pot crammed full of bulbs ready to bloom.
4. Tete a Tete Dwarf Daffodils in Bud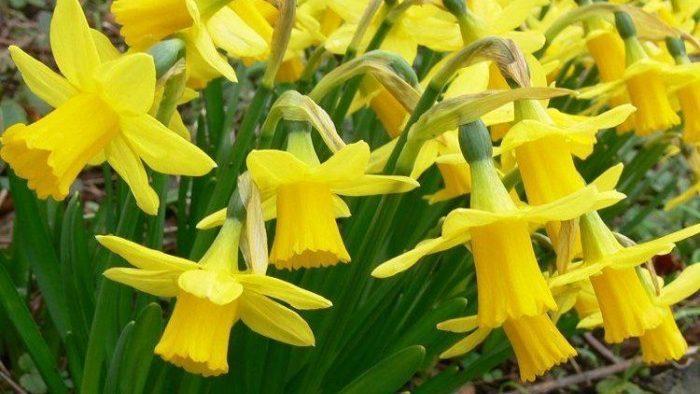 Tete a Tete Daffodils are the perfect solution if you didn't have time to plant bulbs in autumn and want something cheerful for your windowsill or garden. This all-time favourite dwarf, compact variety can add beauty and fragrance to any room when brought indoors in bud. Flowering from around the end of February to April, this variety has been bred to have multiple flowers for an amazing display if planted in multiples – you could end up with over a thousand flowers! Supplied as a 1-litre pot crammed full of bulbs supplied in bud ready to bloom indoors or in the garden!
5. Rare Double Flowered Snowdrops – Galanthus nivalis Flore Pleno (var hippolyta)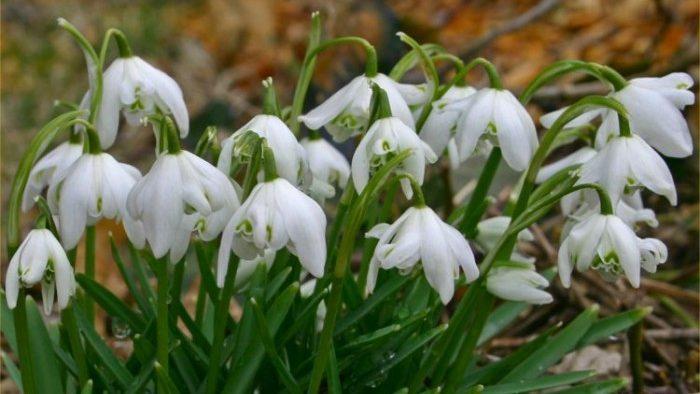 Welcome the arrival of Spring with these striking and beautiful Snowdrops. Our double flowering form is particularly special, given its rarity and hard-to-find quality. It adds a special charm to your garden when planted in grassy areas or under trees, naturalizing over time. Supplied ready-grown in bud (in season), the Snowdrops have milky white bells that are accented with green spots, nodding softly against the frosty ground. We offer them in approx 9cm to 1-litre pots.
6. Muscari Ocean Magic – Bay Blue Grape Hyacinths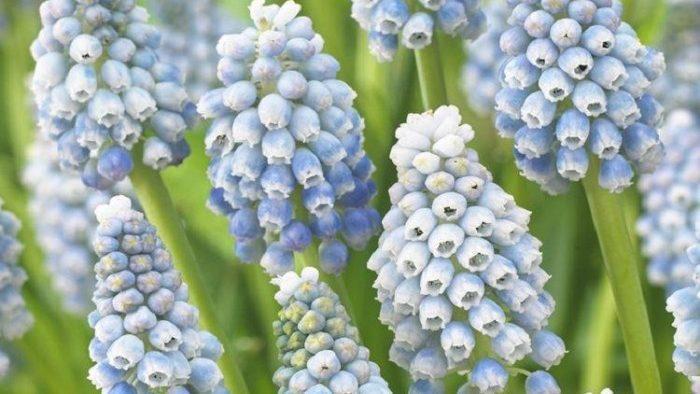 Grape Hyacinth 'Ocean Magic' is an elegant addition to any garden or home. These long-lasting and fragrant pastel-blue flowers contrast beautifully with other spring bulbs such as small daffodils and tulips, providing bright pops of colour in the early spring months. Perfect for naturalising under trees, in shrub borders, or indoors on windowsills and desks, these plants will bring long-lasting beauty to your space. Supplied as an approx 1-litre pot crammed full of bulbs in bud and ready to bloom indoors or in the garden.
7. Allium stipitatum Mount Everest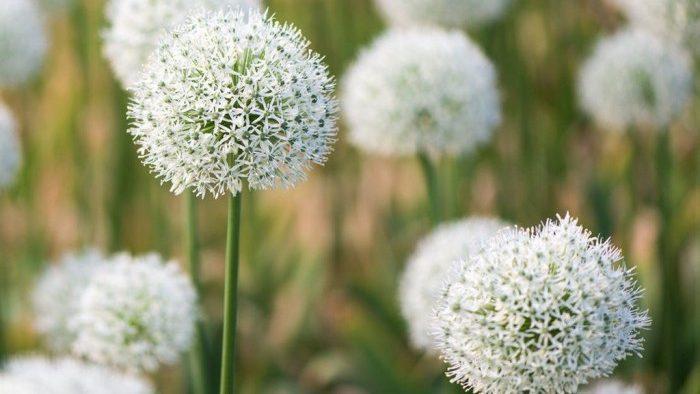 Allium Mount Everest is the perfect addition to any Chelsea Flower Show. Its white blooms and large pompoms of starry flowers add an elegant contrast to mixed herbaceous borders or modern plantings while its metre-tall stalks draw attention all season long. Alliums will keep their structural seed heads even after fading, making them a great choice for lasting beauty in your garden. This perennial comes in an approx. 2-3 litre container for easy planting and maintenance.
8. Chionodoxa Blue Giant – Glory of the Snow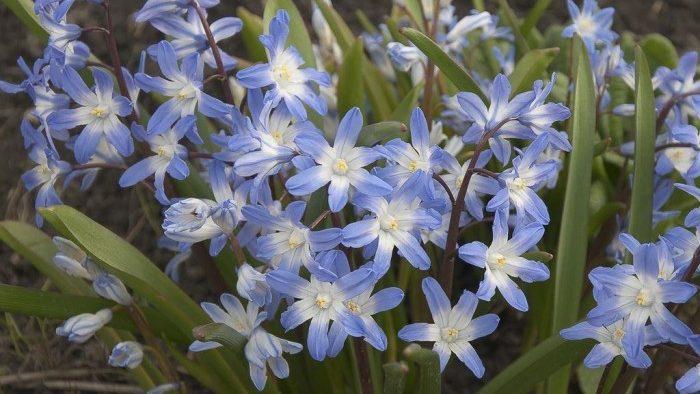 Bring beauty and cheer to your garden with Choinodoxa Blue Giant, a delightful bulbous perennial that produces starry blue blooms with an accenting white eye. Despite their 'giant' name, these plants top out at 20 cm (8 inches) making them great garden companions for snowflakes and snowdrops. Perfect for both beds and borders, they will spread gently to fill more space over time and require minimal upkeep once established. Supplied as an approx 1-litre pot crammed full with bulbs ready to bloom.
9. Tulip 'Quebec'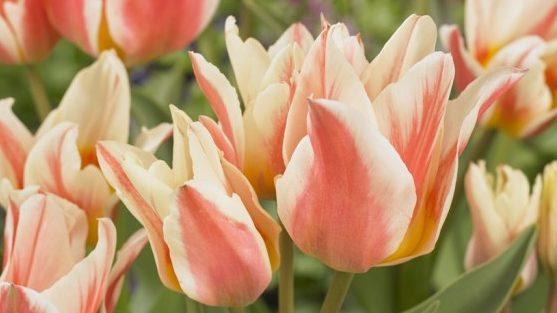 Experience the beauty of Tulip 'Quebec' in your garden. With a broad cream edge and a contrasting small yellow base, this gorgeous tulip is a rosy red colour that will bring your garden to life with its stunning multi-headed blooms (3-5 flowers on each stem). Its mottled leaves add extra interest and it flowers mid-spring with an approximate height of 30 cm. Supplied in approx 9cm pots.
10. Striped Squill – Puschkinia scilloides var. libanotica – Russian Snowdrops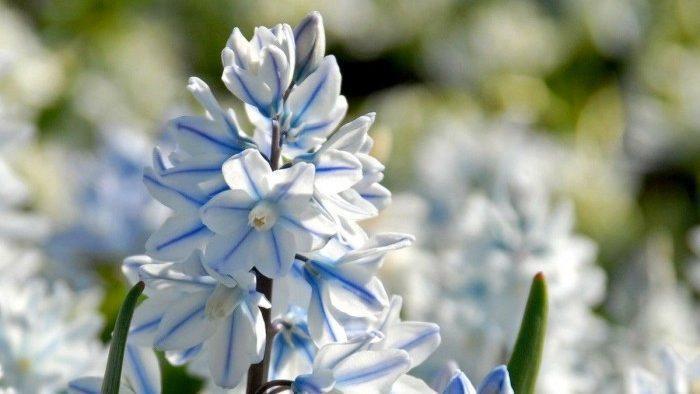 Puschkinia libanotica – also known as the Striped Squill – is a reliable, easy-to-grow bulb that adds a gorgeous touch of colour to your garden. Its delicate white flowers are flushed with blue and topped with darker hues running up the petals' spines. This hardy bulb produces its bright-green foliage around the same time, each upright stem carrying up to 10 blooms. With a height of 15-20cm, it's perfect for planting.