In the winter, we love adorning our homes with Christmas plants. And with so many plants having a special connection to the festive season, there are many ways to add some extra glitz indoors or outdoors this winter.
From Christmas trees to slightly more exotic plants, here are eight of our favourite Christmas plants. We also have a few maintenance tips to help and how to make it a permanent fixture in the household.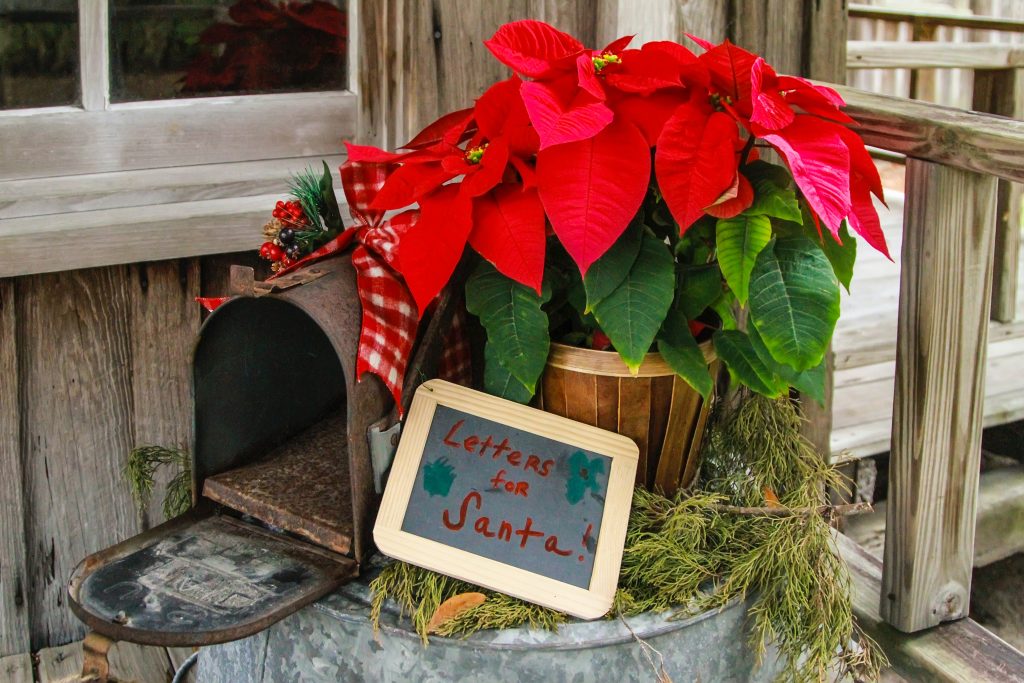 Top 8 Festive Plants for Christmas
1. Christmas Tree (potted and cut)
Christmas would not be Christmas without a tree, and it must be the real thing! Be it a main cut tree or small potted trees on either side of the front door, a tree seems to be the most iconic part of the festive period (besides the main man himself of course). Once lovingly decorated, a real fresh Christmas tree cannot be beaten.
"Christmas trees in pots, used to decorate your home and garden during the holiday season, are becoming increasingly popular. Potted Christmas trees can be kept year after year with a little care. Look for Norway Spruce or Blue Spruce varieties if you enjoy the scent of a traditional Christmas tree," says Chris Bonnett, gardening expert for The Express.
Care Tip:
For a cut Christmas tree it is important to allow the tree to sit in a bucket of water to settle before moving indoors. To make the tree last for as long as possible, make sure to water daily and keep away from heat sources. For full Christmas Tree care instructions, check out our guide here.
Potted Christmas Trees have very similar care to any other container-grown tree, make sure to position them in a sheltered area if possible and water them frequently. If bringing indoors, try to leave this as close to the main day as possible and take it back outside promptly.
After Christmas Care:
A cut tree will only last a few weeks before it inevitably dies. To dispose of your Christmas Tree correctly, research what your local area offers. Some councils have specific requests for how you dispose of your trees, so you must check your areas requirements.
A potted Christmas tree can be kept for several years, so long as you water frequently and re-pot when needed.
2. Orchid
Multiple flower heads that resemble moths or butterflies are on display on this stylish plant, which comes from Southeast Asia. They thrive in warm daytime temperatures, with bright indirect light, and cool night-time temperatures. The plants are simple to care for, have long-lasting blooms, and give off an exotic vibe wherever they are displayed.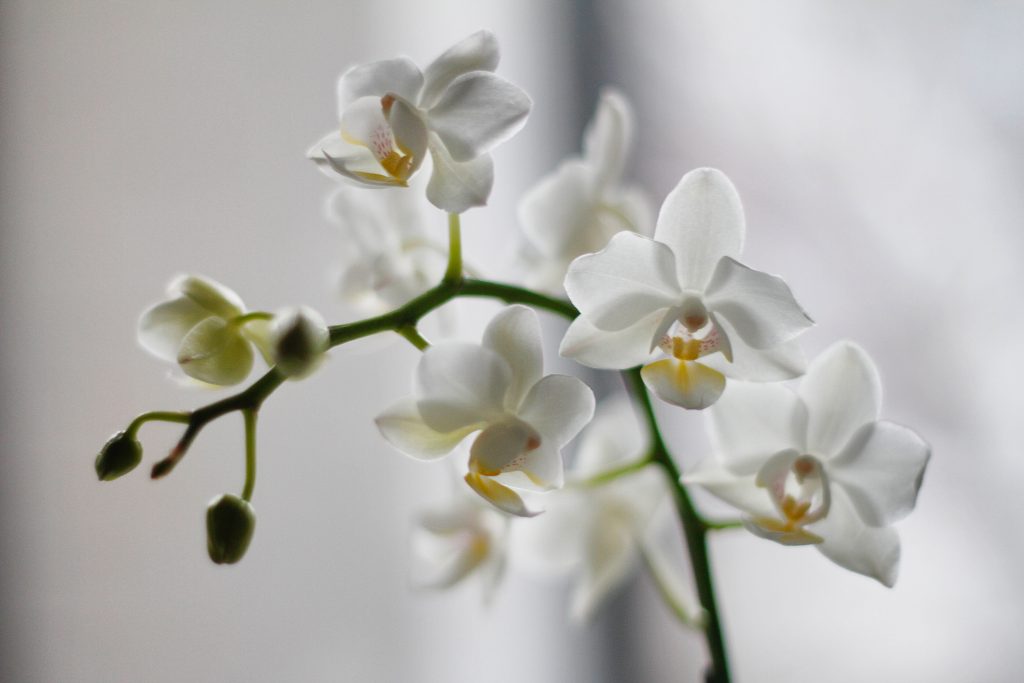 Care Tip:
Give orchids bright, indirect sunlight in a slightly cool room. They do not adjust well to sudden changes in temperature so try to keep the room at a constant warmth. Water weekly until water comes out of the bottom of the pot.
After Christmas Care:
Keep in a south, east, or west window and water frequently, providing an orchid fertiliser occasionally. In late summer, allow the leaves to dry out or wrinkle to trigger the plant to set new buds. When a new stem appears, start watering again but do not add fertiliser.
3. Amaryllis
Known for being able to bloom indoors, Amaryllis is perfect for a table display if you're planning a Christmas dinner party. These are traditionally given as a gift at Christmas in a range of colours, but the two main varieties are the Red Lion – Hippeastrum and the Double Cherry Red – Hippeastrum.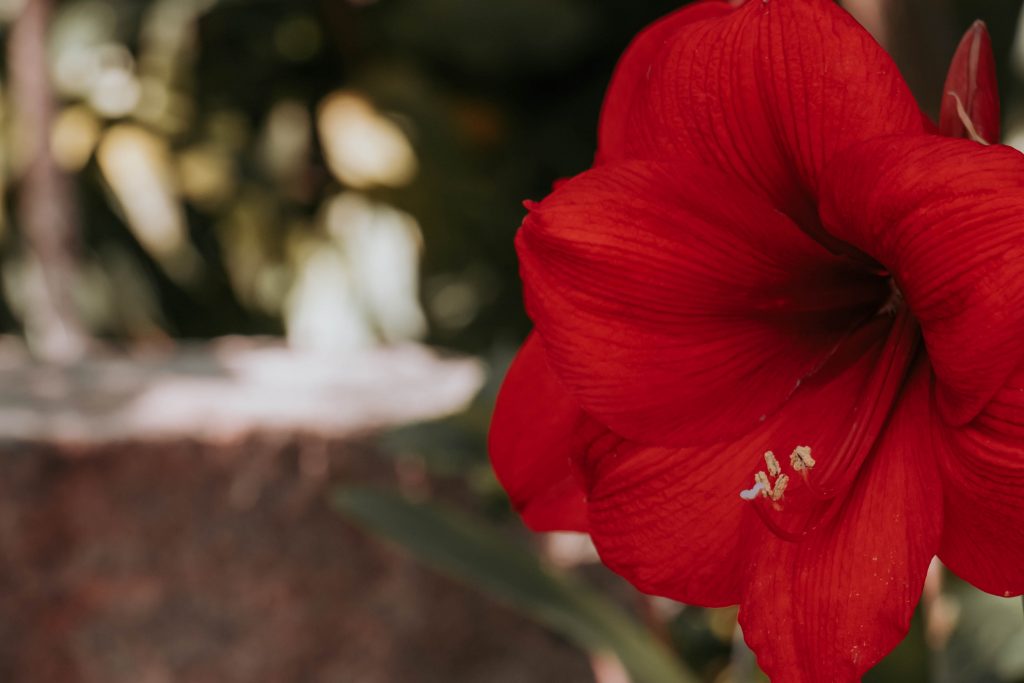 Care Tip:
Plant in a tight container indoors with moist, rich, well-drained soil. For best growth, place in a bright spot away from direct sunlight and rotate the pot every few days to keep the plant growing straight.
After Christmas Care:
It is possible for the Amaryllis to flower again next year but does require lots of care. To learn how to do this, check out our guide on how to grow an amaryllis.
4. Holly
During the winter, Holly holds bright red berries that are truly a sight to behold. It lends itself particularly well to the creation of seasonal wreaths, garlands, and other decorations for the holiday season because of its dark green, glossy foliage that is slightly speckled.
A haven for wildlife in the garden and very appealing to garden birds. It will be wonderful in a blended bush line, utilised as an occasional containerised specimen. The glossy, green leaves are evergreen and spiky, yet the prickles remain soft. Small, white flowers appear late in the spring and are followed by dark, red berries later in the season. Naturally, because it is evergreen, it will give the winter garden the structure it needs.
Care Tip:
Holly thrives in moist, well-drained soil in a sun or shaded area. Prune depending on your requirements, they respond well to being cut back and trimmed to formal shapes and hedges. For more Holly 'Ilex' care, check out this guide.
After Christmas Care:
If planting your holly to keep year-round, we recommend doing this in the winter months by digging a generous hole and adding well-rotted compost into the soil. Place the plant in the hole and backfill, firming around the base of the plant.
5. Cyclamen
These hardy, easy-to-grow cyclamens have pretty, marbled, heart-shaped leaves and upright, fragrant flowers that give them a long period of interest before they die back to the ground in the summer. This autumn-flowering cyclamen often has flowers that appear well before the leaves do. On gloomy autumn days, the charming flowers seem to appear even more vibrant as they rise above carpets of silvery marbled foliage. Additionally, you can use it to great advantage in seasonal patio displays.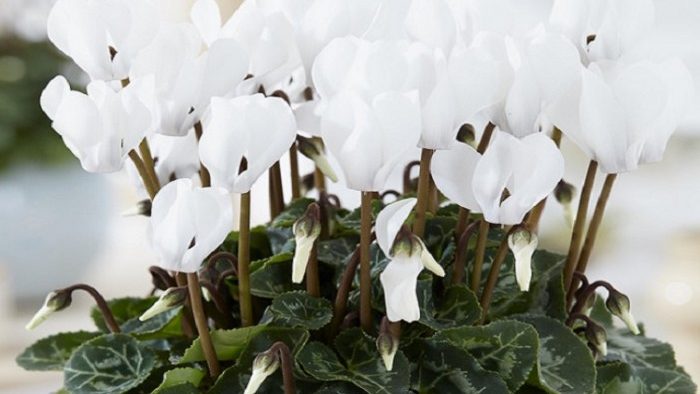 Care Tip:
Even though they are typically planted in shade, they thrive in sun as well. They will happily naturalize in grass or under deciduous trees if the soil is well-drained. It thrives best in well-drained soil under deciduous trees or shrubs, where it can naturally grow on its own or in groups with other autumn-interesting plants. Or grow your cyclamen indoors in a cool, bright room out of direct sunlight. It is best to keep the soil moist, but do not overwater.
After Christmas Care:
To get your cyclamen to flower again next year, you need to let it go dormant over the summer by reducing the amount you water them.
6. Poinsettia
Poinsettias are the essential Christmas plant; you can find them everywhere, and they have become as much a tradition as the turkey and the tree! It is common for people to mistakenly believe that the brightly coloured bracts are flowers when in fact they are the tiny, insignificant yellow buds in the centre.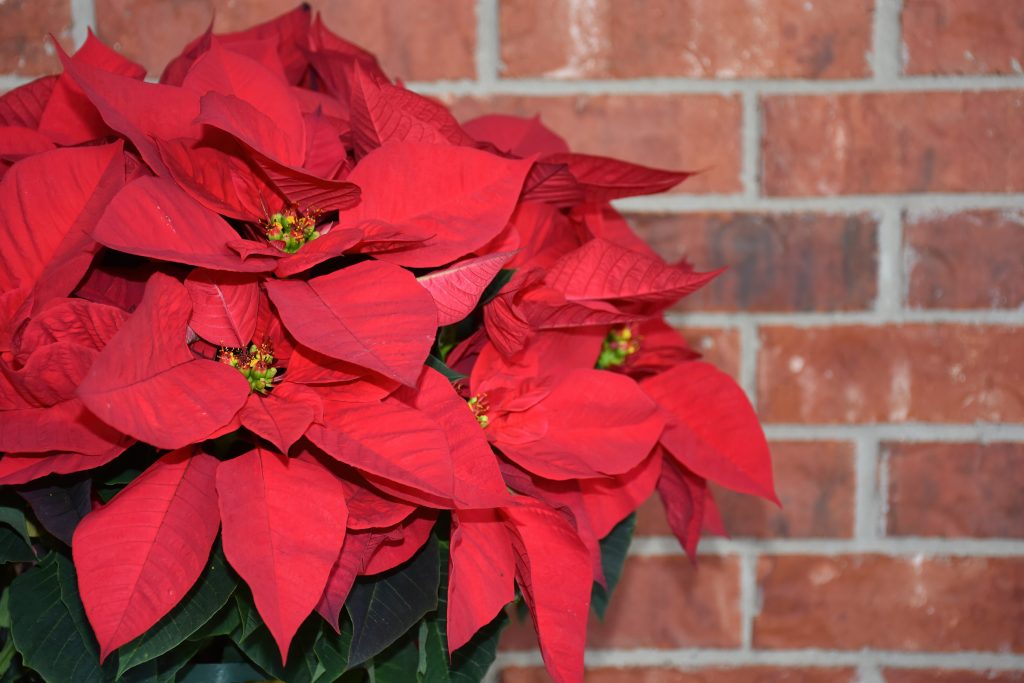 Care Tip:
Keep the compost just moist and place it in a brightly lit room to ensure the brightest bract colour. Only water your poinsettia when the top level of soil has dried out. Mist regularly to promote humidity and keep the colour looking its best for longer.
After Christmas Care:
Getting a poinsettia to re-flower after Christmas can be very difficult but is possible with lots of care. To learn how to do this, why not check out our 'How to care for a poinsettia' care guide.
7. Rosemary
This kitchen staple yields a robust indoor or outdoor bush that is frequently trimmed into a topiary or pyramidal form to resemble a Christmas tree. Amid a gloomy winter, its fresh piney scent is energising and, of course, makes a savoury addition to roasts.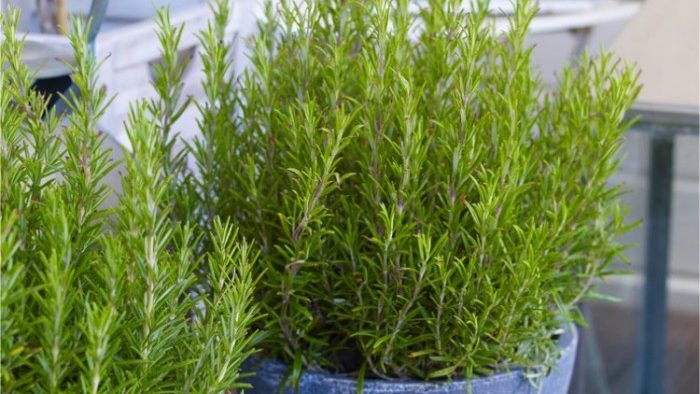 Care Tip:
Keep the rosemary in a bright room, the more light it gets the better. Also make sure that the container has good drainage and that the soil is being kept moist, over or under-watering can cause the rosemary to die.
After Christmas Care:
You could continue growing indoors, or plant it outdoors in a sunny area once the frost has stopped (typically in March). If planting outdoors, give a monthly slow-release fertiliser and make sure to water to keep the soil moist. Don't worry about keeping the shape, let it grow naturally then cut it to shape again in winter if you would like.
8. Heather
These easy-to-grow evergreen Heathers are perfect for planters or a carpet of colour in the garden. An absolute garden classic is to team with a selection of dwarf conifers with various colourings and textures. Flowering from Autumn right through to Spring and even into early summer, these are ideal for groundcover and winter tubs.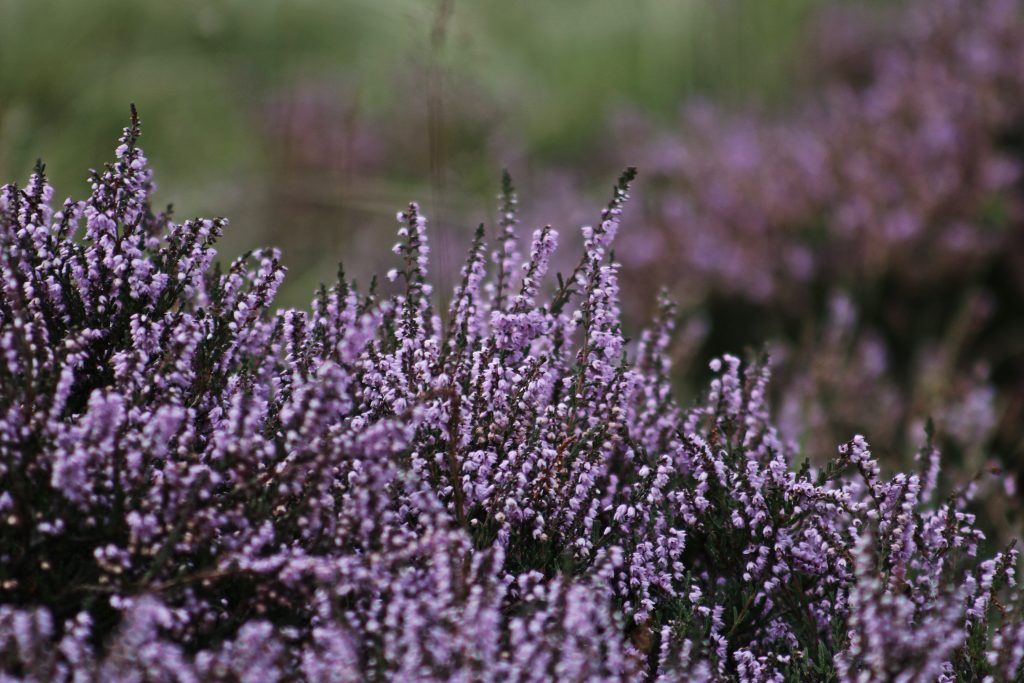 Care Tip:
Heathers are best planted in spring but can be planted in autumn for winter-flowering interest. Heather can be planted in containers or in the ground, but there must be free-draining soil with rich organic matter. A sunny position is best, but some can be grown in light shade. Heathers will need watering regularly, keeping the soil moist but not over-watered.
After Christmas Care:
Apply an acidic mulch around the plants annually to maintain soil acidity. Heathers do not respond well to being cut back into old wood, so replacing them every few years is advised.
Conclusion
What is the best plant to get for Christmas?
The most popular plant brought around Christmas is undoubtedly the poinsettia. One of the most common Christmas plants given as gifts, its bright red and green leaves make it instantly recognizable, and a room instantly festive.
What plant can I grow for Christmas?
The easiest plants to grow indoors for Christmas include poinsettia, orchid and cyclamen; outdoors, holly, rosemary and heather are low-maintenance to keep until the following Christmas.